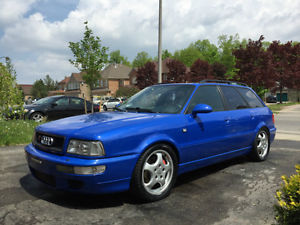 If yesterday's low mileage S6 Avant wasn't enough fast wagon love for you North American fans, I have just the cure. It's easy to forget that our neighbors in the Great White North have managed to enjoy European model legal status for a full decade more than that U.S. fans; thus, it's not abnormal to see some wild Euro cars come up for sale. Kijiji is nearly as much of a tease as Ebay.de, and today is no exception as a rare RS Blue 1995 RS2 Avant with lower miles has popped up for sale: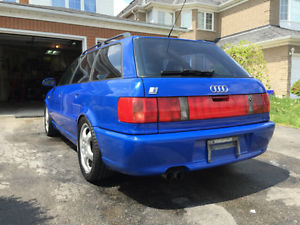 Year: 1995
Model: RS2 Avant
Engine: 2.2 liter turbocharged inline-5
Transmission: 6-speed manual
Mileage: 127,000 km (78,914 mi)
Price: $43,500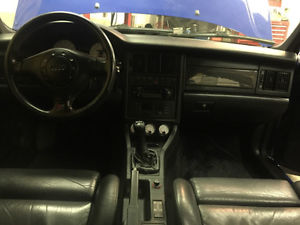 I have a 1995 Audi RS2 for sale (1 of 2891 world wide)
The RS2 was Audi's first RS model. Built by Porshce. Straight 5 turbo 350hp, AWD drive, rear diff lock, Porsche cup wheels and brakes. If you are reading this you know what it is so no explanation is really needed. Never sold in North America, this is a rare oppertunity!

Love this quote

"With so much power available, the RS2 could accelerate from 0 to 100 kilometres per hour (62.1 mph) in 4.8 seconds, and achieve a maximum speed of 262 km/h (162.8 mph) (electronically restricted), despite weighing over 1,600 kilograms (3,527 lb). In a road test conducted in 1995, British car magazine Autocar timed the RS2 from 0 to 30 mph (48 km/h) at just 1.5 seconds, which they confirmed was faster than both the McLaren F1 road car, and also Jacques Villeneuve's Formula One car of that time. Even by more modern standards, its performance is exceptional; it could accelerate on-par with the C5 generation Chevrolet Corvette and a 996 generation Porsche 911. The top speed was 166 mph."

127,000km, in overall extremely good shape. No accidents and only the mirrors have been repainted.
Everything works, power seats, on board computer, A/C, power windows locks, power seats, rear diff lock, all gauges ect……
I bought this car last Dec. about 1 month before we found out baby #2 was on the way.
We just bought my wife a new car, and now With having 4 cars i just don't have the funds or time to deal with them all anymore.

What does it need? There is a small oil leak, i've traced it to the oil pressure or oil temp sender (they are right beside each other).
Some pleather on the door panels has peeled back from age. Should be able to heat it up and glue it back in place.

The suede headliner is in tip top shape, all carbon fibre interior pieces are perfect, the carpets are perfect, even the factory floor mats are excellent.
Brakes are all almost new, doesn't need anything replaced mechanically at all.
I just put on 4 brand new Hankook V12 EVO2s 245/40/17s

They sell for 30-32k EURO which is $40-$44,000 Canadian before %13 tax, %6 duty, A/c Tax, soil sample test, shipping to Canada and then shipping to you, brokerage, and then dealing with the DMV. Never mind having to pay this much for car unseen, and trying to get it out of Europe.
Finding one is super rare in North America.
I imported this myself. originally sold new in Germany, then to Tokyo, then on to me.
Had the VIN verified by a friend at audi to make sure it was a real RS2 before i bought it.
The car has two aftermarket add ons. A Blitz boost controller and a set of H&R springs.

My asking price is $43,500 Canadian with clean clear Ontario tittle in my name.
EMAIL FOR A QUICK reply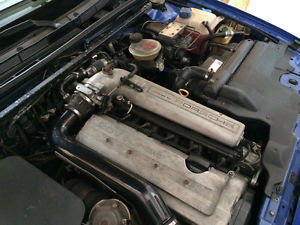 The car is in effectively near perfect condition, and very close to original specification – exactly as one would want it. The RS2 is the headline grabber for Audi outside of the Sport Quattro – it's the model that many outside of Audi circles recognize. As such, they've developed a pretty legendary status even if the performance can be achieved by a tuned S2 or S6. They were, after all, built in conjunction with Porsche – yet compared to the values of some comparable models, the RS2 is perhaps a better deal if you're looking for a sleeper performance bargain than a Carrera RS model or BMW M3. Of course, the RS2 suited a different crowd than either the circuit racer specials from BMW or Porsche and its name, while special, doesn't have the cache of either of the others. That doesn't make it any less special though, and there will always be a demand for these super wagons – especially in their signature RS Blue color and in original configuration. To me, mid-40s makes more sense long term for this car than the mid-20s does for a low mileage S6 Avant; but, that said we're still a decade away from these RS2s being completely legal in the U.S.. As such, we'll have to stop, stare and hope that our Canadian brethren visit us often and perhaps toss us the keys once in a while.
Thanks to our reader Toshihiko for a great spot!
-Carter