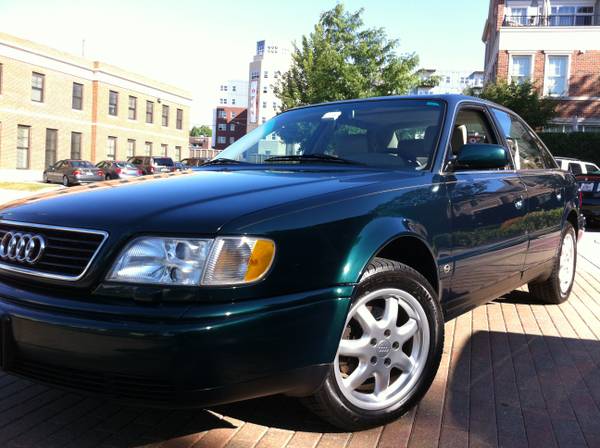 Ever see a car ad and think "Well, they obviously don't want to sell the car"? We see them a lot; from "feelers" to regular advertisements with ludicrous pricing, there are is no end to advertisements that make it apparent that the seller isn't in a hurry to move the car. Jalopnik recently wrote up a WRX ad that was one such example – the husband agreed to put the car up for sale to get a SUV when the family expanded. Of course, he didn't say he was going to sell the car, just that it would be put up for sale – which he did, at a little over double the current market rate. Clever. In any event, we do see some of these ads come up from time to time that it's apparent that the seller either thinks they have something really, really special or are just not looking to sell the car. Such is the case with today's 1995 Audi S6; it certainly looks splendid in Emerald Green Mica and has a clean looking Ecru interior, but at well over double the going rate for a 1995 S6 sedan, is the seller hoping it won't move? Let's take a look: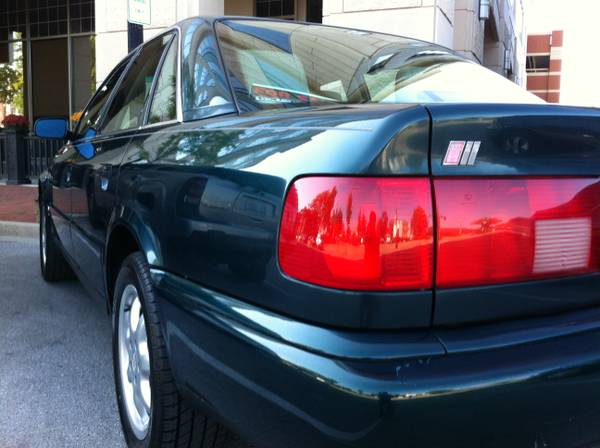 Year: 1995
Model: S6
Engine: 2.2 liter turbocharged inline-5
Transmission: 5-speed manual
Mileage: 161,333 mi
Price: "Best Offer Over $12,000"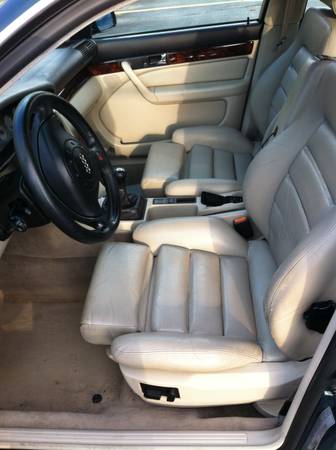 Legendary Audi S6 Sport Luxury Sedan . . .
. . . the S6 engine/drivetrain + quattro all-wheel drive system delivers smooth power continuously between all four wheels for superb cornering/handling & directional stability/safety regardless of road and weather conditions.
TECHNICAL: 2.2-liter, 5 cylinder, 227hp, turbocharged 20-valve engine, 5-speed Manual Transmission, Quattro all-wheel drive system, Alloy 7-spoke design wheels, ABS Anti-lock brake system, Anti-theft vehicle alarm system. COMFORT/CONVENIENCE: Power door locks/keyless entry, Heated front and rear seats, Power front sport seats, Power windows with driver's "one-touch" down, Dual power mirrors, Leather seat upholstery, Sport steering wheel, Sport instrumentation/dashboard, Tilt & telescopic adjustable steering column, Adjustable driver armrest, Tilt and slide glass sunroof. Outside temperature gauge, Walnut wood inlays for dash, console and doors, Illuminated vanity mirrors-left & right, Expandable ski/storage sack. Owner's manuals, multiple keys & full tank of premium fuel at delivery. MAINTENANCE: Recently fitted with Uniroyal Tiger Paw all-season tires, All maintenance current including timing belt service, clutch kit service, complete engine tune service. ***Best offer over $12,000*** Thank you!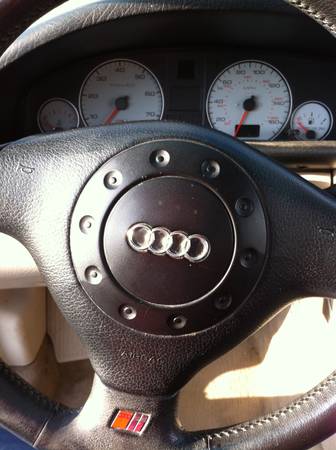 Hey, for your serious buying premium you do get a tank full of premium gas! So, there's that. The car rolls on Audi A4 "Swing" wheels that look quite nice, but are the wrong width and offset for the car – the original Fuchs or Avus wheels would be much preferable and for the premium I'd expect a spotless set. In that vein, I'd also expect a much better set of tires than the budget Uniroyal Tigerpaws, which hands down are the worst tires I've ever owned. They returned horrible fuel mileage, howled like a Banshee and could barely hang on in any sort of cornering situation at moderate speed, and were downright dangerous on my 200 Quattro in rain, snow or ice. On the rear bumper, the car appears to have some clearcoat damage – typical for Emerald Green mica, and coupled with the faded "S" badge on the back I'm wondering if the car was picked up and polished hard to get the current shine. Miles are acceptable but not especially low at 160,000, so there's no real value increase there. The car does present well, but without noting a serious amount of maintenance (ie, rebuilding to factory spec everything under the hood) this is a $5,000 car with a $200 detailing job and $50 worth of gas. It is ambitiously priced, but buyers could easily find an acceptable replacement car for less than half of the current requested bid.
-Carter