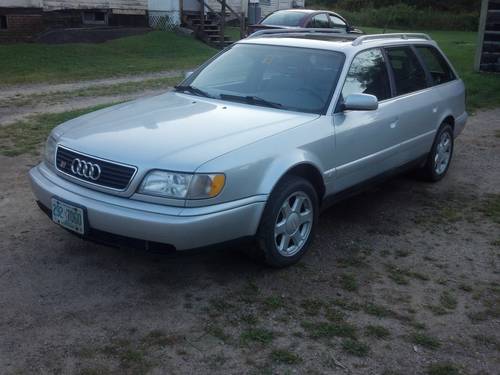 It's no secret that both the Audi 200 20V Quattro Avants and the Audi S6 Avants have a cult following in the U.S. Whenever we feature one, they draw a lot of attention, and rightly so, as they're great cars that offer a combination of speed, practicality, style and luxury that few cars are able to match. They also happen to be one of the most durable German cars to come stateside, with few seeing under 200,000 miles at this point. Generally found in a shade of green, pearl or black, occasionally one comes up in a harder to find (and to me, more desirable) shade, such as today's Silver on Grey 1995 S6: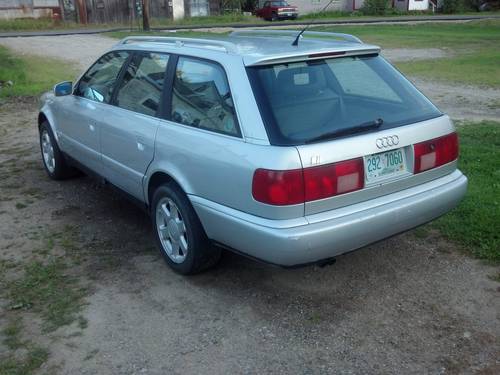 Year: 1995
Model: Audi S6 Avant
Engine: 2.5 liter inline-5
Transmission: 5-speed manual
Mileage: 200,000 mi
Price: $5,000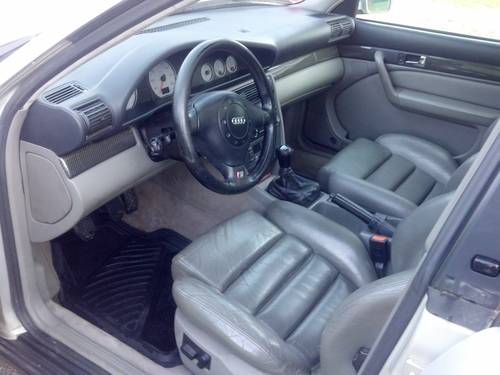 Price:$5,000
Address:Winchester, NH 03470 (map)
Date Posted:08/06/13
Year:1995
Make:Audi
Model:S6
Mileage:200,000
For Sale By:Owner
Description:
Runs perfectly, great fun. I did not build this car, hence I don't know everything about it, but I've been driving it for the last 30K miles. It was built, the story goes (I cannot confirm, but the title I got with it does confirm the name), by Peter Blaser, who apparently built custom Audi rally cars for a living, for his wife, who apparently didn't like it. I hear that the idea wasn't to get the most power possible, but to get a more tractable S6 for the street, hence the stroke increase. I think it was a little much for her, as it's still quite high-strung and certainly makes well over 300bhp, though I don't know how much. It'll do a 5.85sec 0-60 as measured by GTech, with my less-than-perfect driving, running 18psi of boost (it'll do much more, but I don't want to take any chances). It pulls strong right to redline, and the rev limiter always comes as a surprise. I got it from Force Five Automotive.
Comes with second set of wheels (15″) with Hakkas on them for the winter.
Has third row seat.
I just replaced the front control arms and bushings, as well as the rear bushings on the front subframe. A few of the coils are new as well. Timing belt replaced recently, valve job done at the same time. Has aftermarket stereo with bluetooth, USB, and AUX in wired up to the stock speakers and amp.
No rot on body, some surface rust has been sanded down and covered with protectant – that's the ugly-looking spots you see in the pictures. Interior in good, but not perfect condition. No rips or tears in leather. Stock SS dual exhaust with new collars, quiet and smooth on the road. More detailed pictures at http://www.flickr.com/photos/99944209@N06/sets/72157634965212140/

Mods:
-Stroked to 2.5L with unknown crank, possibly custom-made.
-Huge asymmetrical turbo (see pics, I don't know exactly what it is)
-RC 440 injectors, Motronic ECU and MAP sensor to match.
-RS2 downpipe, I have been told? Not sure why or if this is so. Judge for yourself from the pics if you can
-RS2 MAF sensor (who cares really, but perhaps worth mentioning)
-oil catch can – this motor seems to have been built loose, as it burns quite a bit of oil, especially when you drive it hard, but it hasn't gotten any worse in the time I've had it
-all Samco boost hoses
-custom coilovers with Koni yellows in the back
-Bilstein HDs on what I assume are stock springs up front
-SS lines in rear
-Adjustable wastegate cap
-aluminum flywheel
-300lph Bosch fuel pump
-much more, probably many things I don't know about.

Issues:
-High pressure power steering hose leaks slowly, haven't gotten around to replacing it yet.
-Driver's side heated seat is broken
-Cruise control doesn't work, probably due to bad switches on pedals
-Side mirrors have some corrosion on them
-Bilstein HD's are getting a little old and occasionally stick when you jack the car up
-Power steering rack boot should be replaced, comes with car. Rack does not leak
-BF Goodrich Comp T/A KDW's are about due for replacement. They tramline annoyingly anyway.
-Trim strips on the bottoms of the doors are coming off.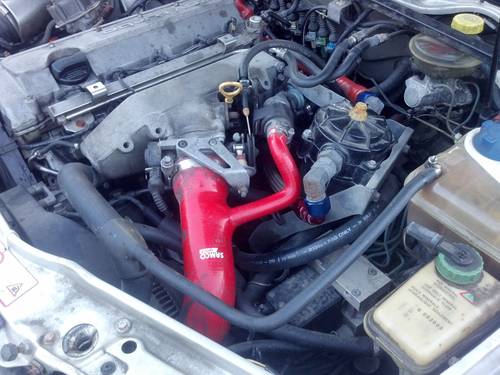 Since I saw a 1994 S4 new in Silver, I've always loved the understated metallic look of this combination. Like many of the others we have featured, this car is higher mile but was loved by the previous owners. This car has undergone some more serious modifications by the prior owner. Though the owner is unsure what the base for the motor is, it's fairly likely that the build utilized a Eurovan 2.5 bottom end, a favorite among those looking for more torque. If properly built, the motor should be as durable as the original, so I would expect many care free and quick miles. Many of the faults with the car are common the the chassis in general; delaminating mirrors, peeling trim, leaking power steering lines, and minor electric glitches like the seat heaters and cruise control are all pretty normal. While they can be a pain to fix, they shouldn't scare the prospective buyer away and generally aren't signs of neglect. Bonus items are the snow tires and 3rd row seat.
The last black S6 Avant we featured had 30,000 less miles and a more stock motor and was (in general) in similar shape. That car sold for just over $5,000, and I expect that the pricing on this car is spot on. This car is unlikely to ever be a show car, but represents a solid driver that you could have fun with for years to come.
-Carter