Warning!
This post is in our archives. Links in this post may have been updated to point to similar cars available to bid on eBay.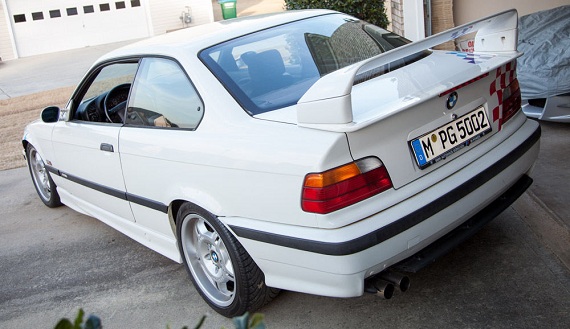 There are plenty of people that think that the E36 M3 came to the U.S. in neutered form, but if you drive one you'll realize that they're pretty capable cars right out of the box. But BMW knew that the M3 would be hitting the track, and right out of the box they offered a more track-focused version. Stripped down and with extra aerodynamic equipment, the Lightweight was an instant hit with club racers and track addicts, but many enthusiasts still felt that they deserved the full-fat M3. However, if the recent trends with the E30 have taught us anything, it's that even the less-special versions of the special cars will still command stronger money, and the Lightweight is certainly one of the more special E36 cars. Details like the moveable splitter and stackable rear wing, along with those great Motorsport-colored flags and forged wheels; I've loved this car since the first time I saw one pop up at the track in late 95:
Year: 1995
Model: M3 Lightweight
Engine: 3.0 liter inline-6
Transmission: 5-speed manual
Mileage: 66,000 mi
Price: No Reserve Auction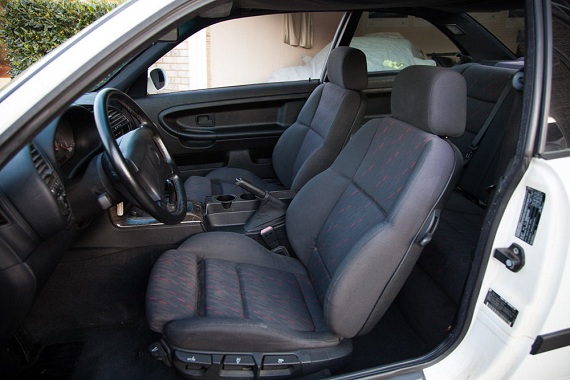 I am selling my BMW M3 Lightweight. I have owned this car since 2006 it was near impossible to find this car. This is a true M3 lightweight, there were only about 125 made world wide and approximately 85 came to America. Paul Walker was collecting these and he had 7 of these. I have done a few things to the car since I purchased it back in 2006, I have repainted the front end and back end of the car making the front end rock chip free, the paint is very nice, repainted the back end because the checkered flag had age cracks in it and the sun had burnt the original flag into the paint. The paint work was done by a professional body shop that specializes in only BMW's, Porshas, Mercedes and other high end cars. I crank up the car once a month and drive it around the subdivision other than that it is stored in my garage under a car cover, since I owned it. The car runs and drives great and is completely stock. The car has factory radio in working condition, with code.

The good: Car runs great; it shifts good, clutch transmission, brakes, tires, heat, radio, windows etc all function perfectly. The car does not have sunroof or AC BMW lightweights did have these options, also the car has a hurricane cloth interior. Some of the trunk kit is installed (front strut brace, x-brace and rear spoiler). I do not think the big oil pan was installed, I do not have that or front lower spoiler. The interior is very nice door panels are still intact as well which is rare for E36 cars.

The bad: The little carbon fiber trim that goes above the glove box is missing I replaced with a BMW black plastic trim part. The car has a few minor marks on the paint. The car has a crack in paint on A pillar about the size of a half dollar piece. The headliner is starting to sag. The adjustable front spoiler that came in the trunk kit did not come with the car. The car was in an accident in 1999, The driver fender, grill bar, hood and left headlight were replaced. Bobby from Strictly German a salvage rebuilder knew the owner of the car and purchased it and fixed it, and it passed a state inspection so it has a rebuilt title. He sold it to a collector in TN and I bought it in 06. The car needs a little bit of work to be 100% perfect and a good detail but this is a good start and this is a rare BMW collector's car for someone who will appreciate it.

Included with the car, Owners manual with all booklets, paper work from PTG with service info, GA title and radio code

The Vin number is WBSBF9322SEH08003

If you have questions or would like to arrange to see the car, it is stored in my garage under a car cover in Snellville GA

Specs on the lightweight:

M3 Lightweight specs
1. Rear axle ratio 3.23 (vs. 3.15 on standard M3)
2. Special sport suspension settings
3. Aluminum doors
4. European aerodynamics: GT front spoiler with adjustable splitter and aero
underbody panel
5. M rear wing with integrated brake light
6. BMW sports seats (instead of standard M3 seats), hurricane cloth only
7. Special interior materials and colors (seat centers Anthracite/red M cloth; lateral supports and headrest uncolored; door inserts are leatherette; interior is
all black). Carbon fiber interior trim (center console, glove compartment panel, door sills, ash tray)
8. Alpine White with diagonal Motorsport checkered flag design only available exterior color
9. "BMW Motorsport International" logo integrated into door steps in carbon fiber optics; side protection strip; glove box plaque
10. Forged alloy wheels, double spoke M3 design (7.5×17″ front, 8.5×17″ rear) 17×7.5 cast were stock…
11. YES handpicked motors.. I have heard stories that they went as far as to weigh each and every connecting Rod coming out of the factory to find the lightest ones… then dynoed each one…
12. special Lightweight carpeting without thick stock mat… Purchasers of the M3 Lightweight are also eligible to purchase a special racing only accessory package, installation of said devices voids factory warranty…
1. M3 GT baffled race oil pan with dual pickup
2. M3 GT adj. rear wing
3. Underbody braces
4. Shock strut tower brace
Deletion of:
1. Underbody insulation
2. noise reduction mats and interior trunk panels
3. underhood mat
4. Tool Kit
5. Sunroof
6. Radio
7. Speed Limiter
8. Air Conditioning
9. interior insulation

Specifications:
Vehicle type
5-passenger, 2-door coupe, front engine/rear drive
General
Unloaded weight, lb …… 2950
Weight distribution front/rear, % …… 49.7/50.3
Wheelbase …… 106.3 in.
Track, front/rear …… 56.0/56.9 in.
Length x width x height …… 178 x 67.3 x 52.6 in.
Minimum ground clearance …… 4.1 in.
Body
Type …… All-steel unibody w/aluminum doors
Aerodynamic drag coefficient …… 0.32
aerodynamic lift coefficients, front/rear …… 0.04/0.10
EPA size classification …… Subcompact
Engine
Type …… DOHC inline 6-cylinder, 4-valves/cylinder, variable valve timing
Camshaft drive …… Dual Simplex chins (primary & secondary), hydraulic
tensioned
Valve actuation …… Hydraulic lifters, bucket-type
Induction system …… Thermoplastic intake manifold, single-path cylinder
liners
Bore x stroke …… 86.0 x 85.8mm (3.39 x 3.38)
Displacement …… 2990cc (182 cu in.)
Max horsepower …… 240 @ 6000 rpm
Max torque …… 224 ft-lb @ 4250 rpm
Maximum engine speed …… Variable rpm limited: 6800 in 1st & 2nd gears,
otherwise 6500 rpm
Compression ratio …… 10.5:1
Engine management system …… Bosch HFM-Motronic with knock control
Fuel requirement …… 91 pump octane unleaded premium
Fuel capacity …… 17.2 gal
Emission control …… 3-way catalytic converter, Lambda oxygen sensor,
closed-loop mixture control
Drivetrain
Manual transmission …… ZF, 5-speed synchronized
Ratios:
1st ……4.20:1
2nd …… 2.49:1
3rd …… 1.66:1
4th …… 1.21:1
5th …… 1.00:1
Reverse …… 4.13:1
Final drive …… 25 percent limited-slip differential, 3.23:1
Exhaust system …… stainless-steel
Chassis
Front suspension …… MacPherson struts, arc-shaped lower arms, coil
springs, twin-tube gas-pressure shock absorbers, anti-roll bar, M-style
strut brace
Rear suspension …… Rack & pinion, engine-speed sensitive power assist
and variable ratio
Overall ratio …… 15.4:1 to 19.8:1
Turns, lock-to-lock …… 3.0
Turning circle …… 38.0 ft
Wheels …… forged alloy, 17 x 7.5J front, 17 x 8.5J rear
Tires …… 235/40ZR-17 steel-belted high-performance radials
Performance Data
Acceleration 0-60 …… 5.5 (estimated)
Fuel economy city/hwy …… 19/27″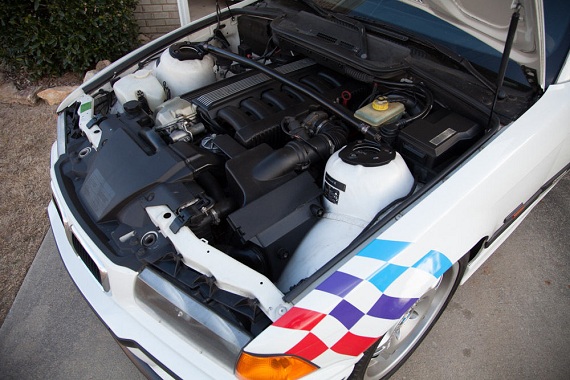 If you were looking for an out-of-the-box BMW track weapon in 1995, this was your car. It certainly has more street credentials than newer special versions of the M3, such as the "Lime Rock Edition" M3. In that car, you get a track map and a special color; in that light, the Lightweight was closer to an homage to the CSL than a few badges slapped on by Motorsport GmbH. Does that make it worth triple what a normal E36 M3 would run? Well, in the right condition, yes – it probably does. But this car was crashed and is missing some of the kit. A non-A/C, no sunroof car, this might be a great option for someone looking for a rare occasional track car – but as a collector, it would probably be worth it to wait for one that had a clean title.
-Carter