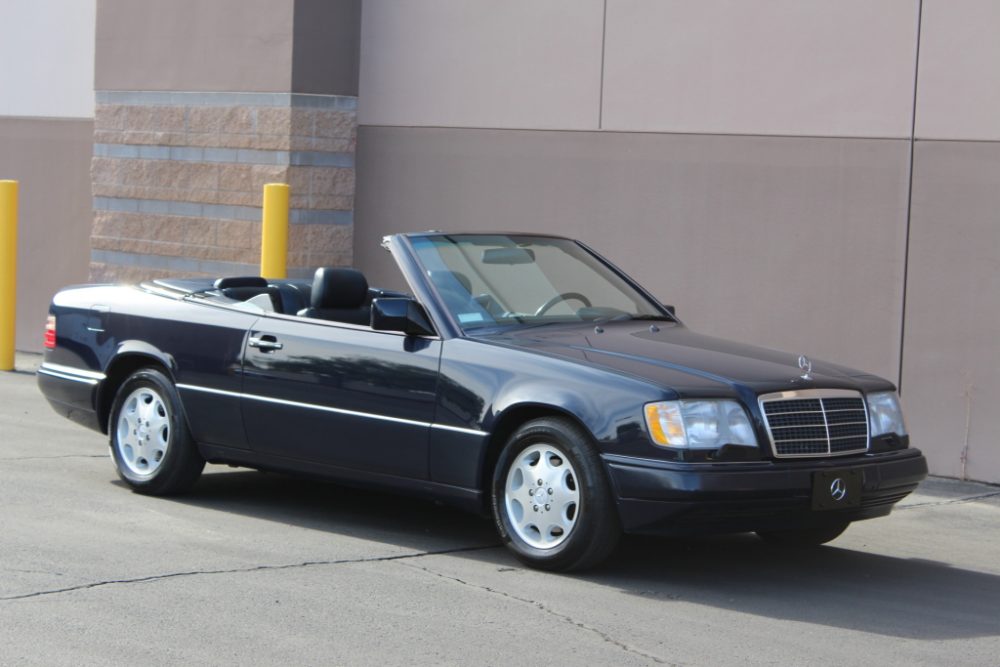 I hate to be cliché, but the facelift W124 Cabriolets are aging very well. It is safe to call them classics now, honestly modern classics, but still old enough to rent a car at the airport. The square handsome lines will never be offensive or jarring, and the quality is nearly unmatched. Even compare it to the same model year Rolls-Royce Corniche, and you'd be crazy not to pick the Mercedes. That has been keeping prices stable for as long as I can remember and it doesn't look like they are going anywhere. This 1995 up for sale in Arizona is nothing but blue over blue on blue. I think I like it that way.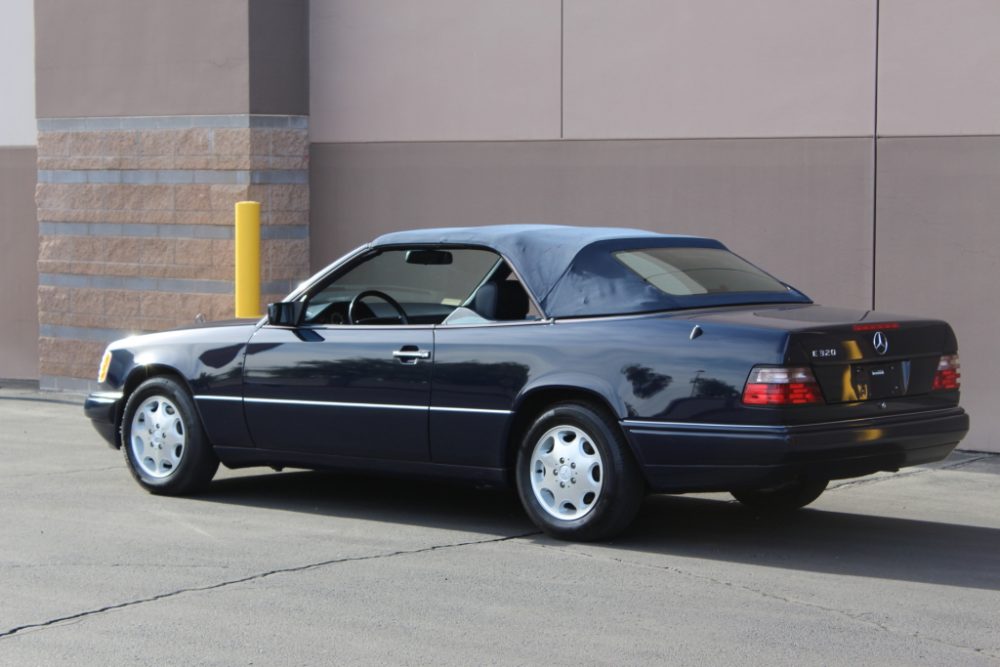 Year: 1995
Model: E320 Cabriolet
VIN: WDBEA66E5SC181878
Engine: 3.2 liter inline-6
Transmission: 4-speed automatic
Mileage: 61,585 mi
Price: $19,950 Buy It Now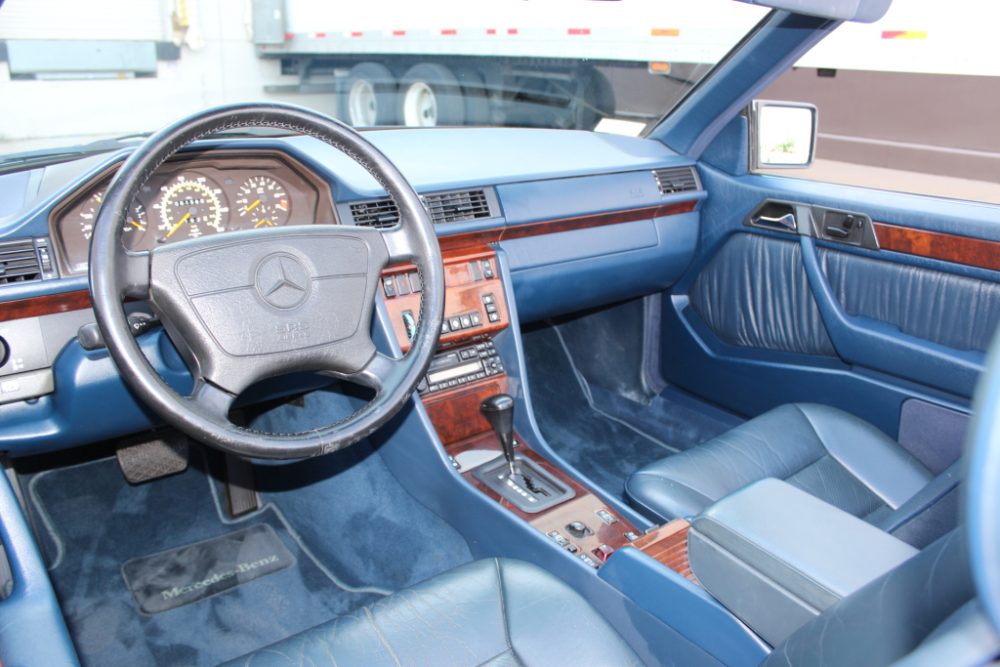 For sale is a beautiful 1995 Mercedes-Benz A124 E320 Cabriolet. The E320 Cabriolet was only offered in the USA between 1993 and 1995, with this particular being a late September 1994 production. Worldwide, between 1992-1997 only 12,000 E320 cabriolets were produced. This E320 is a two owner, carfax certified, low mileage car with only 61,000 miles! It has never been in an accident or modified. There are not many E320s like this left! This E320 was purchased new in Texas on April 13, 1995 and spent its life there until coming to Arizona when the second owner acquired the car in 2002. Included with the car are all records from the second owner that includes replacement od the wiring harness and top hydraulics. This E320 Cabriolet is in excellent condition and will surely please!

This E320 is finished in its original Midnight Blue (904) paint and is rust free. The car has always been garage kept and the blue paint is extremely vibrant and looks stunning. All of the rubber seals are still in great shape, the glass is all original, and the car retains all of its original VIN stickers. The cabriolet wears a new set of 195/65/15 Continental tires. The E320 does have some minor rock chips on the front end and a small ding on the drivers fender, nothing out of the ordinary for a 61,000 mile car. The windshield is free from any cracks, stars, or other imperfections. The Dark Blue convertible top does seals nicely and keeps the interior dry. There are no tears or rips in the top with it only showing wear in the corners from being used. Overall, the exterior of this E320 Cabriolet is in excellent condition and is truly a rare find!

The interior of this car is in superb condition! The E320 retains its original blue leather (262) interior that shows very well. The heated dual power seats are very supportive and show little to no wear on the bolsters, the carpet is in excellent condition, and the dash shows no wear at all. The door panels are in very good condition. The A/C system is original and still blows cold. The power convertible and windows operate as they should. The factory radio works as it should and is complimented by a dealer installed, when new, CD changer. Overall, the interior is in superb condition.

Mechanically the car is exceptionally sound. The M104 6cyl engine fires right up and is a blast to drive! This engine runs like a top and has plenty of power. The engine is mated to a 4 speed automatic transmission that shifts great through all the gears. The cooling system is in great operating condition and keeps the car cool in Arizona's heat. The steering is very tight and the car handles extremely well. The brakes feel great while stopping this sports sedan with ease. Overall, this car is mechanically sound and ready to be driven and enjoyed.
This E320 is an excellent weekend toy or daily driver. This is a great chance to own an exceptional, two owner, accident free E320 Cabriolet before they skyrocket in price like the 280SE Cabriolets. The E320 is outstanding, both inside and out, and is located in sunny Scottsdale, Arizona!

I can help arrange shipping anywhere in the world and international buyers are welcome to enjoy this gorgeous Mercedes-Benz!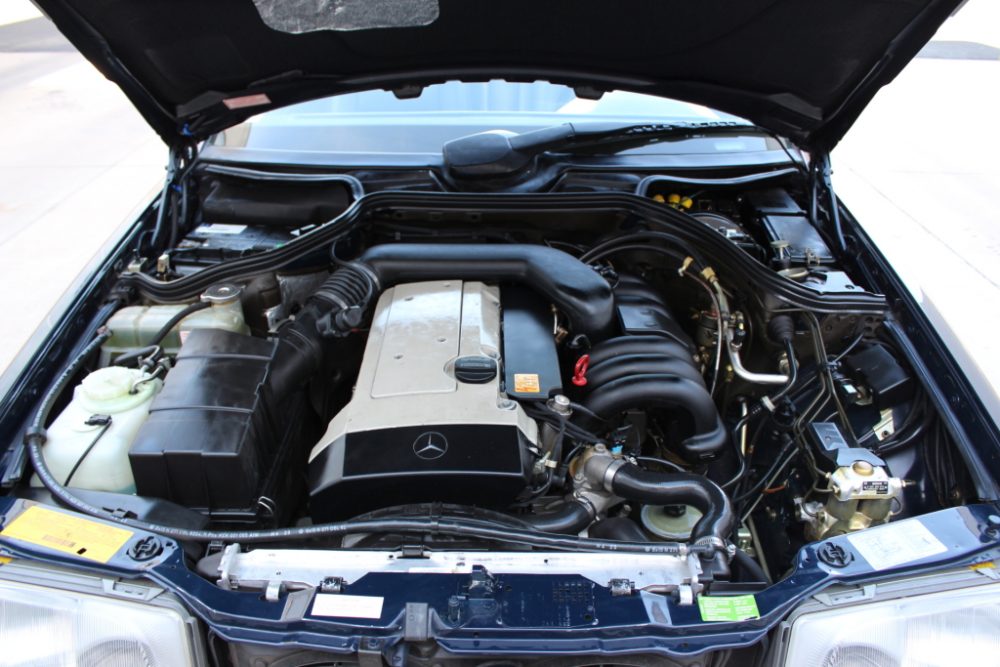 Like mentioned, this car is all blue. Midnight Blue paint, blue top, and blue interior. It is certainly very 90s and suits the car well, but maybe not everyone's cup of tea. This car has just under 62k miles and while that is great, a perfect example this is not. The top has a bunch of flaws which is a bummer, and there are some rock chips on the front end. If you can live with that, no reason to dismiss this car. The good news is the wiring harness and top hydraulics were changed out, so a little peace of mind could be had there.
The price of $20,000 is about right in line for cars with this mileage. I think the price may be just a tad high, by a few grand, given the top would probably need to be replaced to get the car perfect. However, if you are in Arizona where it rains four times a year, having the top up probably isn't a huge deal as the only time that will happen is when it is parked in the garage. Prices have stayed stable on these for the longest time, and probably aren't going to be shooting up, or down, any time soon. Only real thing to tank these cars is condition, so keep it nice and enjoy to value.
– Andrew