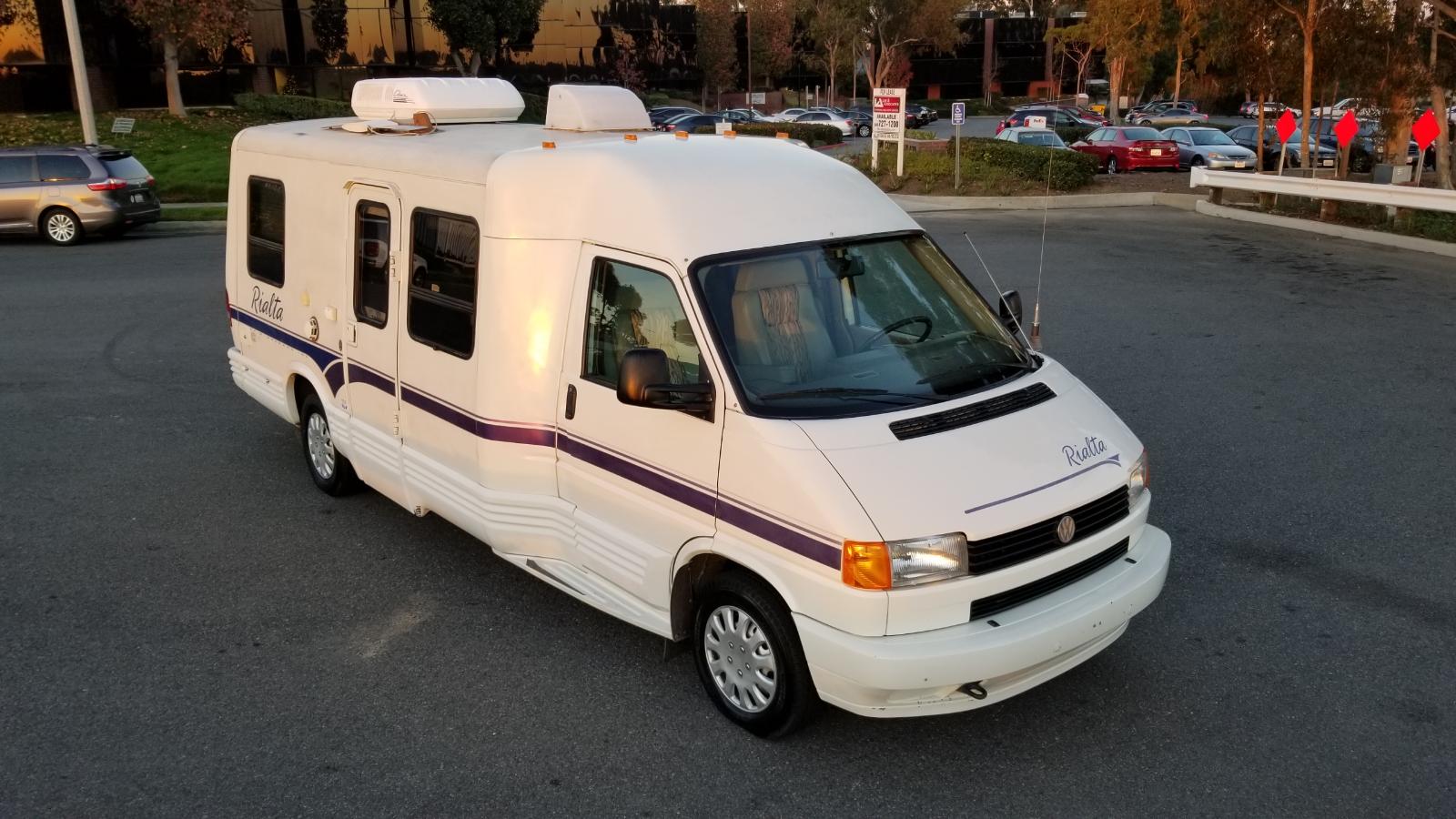 And now for something completely different. If you walked into your local Volkswagen dealership as a Westfalia devotee when the new Eurovans launched in the early 1990s, you were likely to be a lot disappointed. These came to the U.S. starting in 1993, and there were two configurations – the Eurovan and the Multi-Van (MV for short). The difference was the seating configuration, in that the MV had rear-facing seats behind the captain's chairs and a table in the middle. Easy, right? Well, then there was the Westfalia model. Volkswagen hadn't forgotten how successful the T3 was with the pop-top, so a new aerodynamic folding roof arrangement was added to the MV. But here was the catch – the new Westfalia didn't have the camping gear, but instead was effectively the same as the previous pop-top only Weekender. It was called the Weekender, too.
The full campers were only converted by Winnebago and based on a lengthened chassis. These started being produced in 1995 and replaced the Westfalia in the lineup but were not called Westfalias. But Winnebago also produced an extra-fat and extra-expensive camper, too – the Rialta. This took the front cabin of a Eurovan, the taillights from a Ford Ranger, interior fabrics from your Pyschologist's waiting room and a lot of fiberglass in the middle to make a small RV. Prices started around $41,000 – in 1995, mind you.
Though rare, you've likely seen one before, but unless you owned one (and maybe even if you did…) you probably didn't realize there were actually four different Rialta model configurations. Beyond that, Rialtas also followed the Eurovan production cycle with power, so early models had the 2.5 liter inline-5, replaced in '97 by the 12 valve VR6 and finally the 24 valve VR6 in the 2001 model year. What we have here is an early Rialta in the most popular 7-seat QD configuration, powered by the 2.5 liter: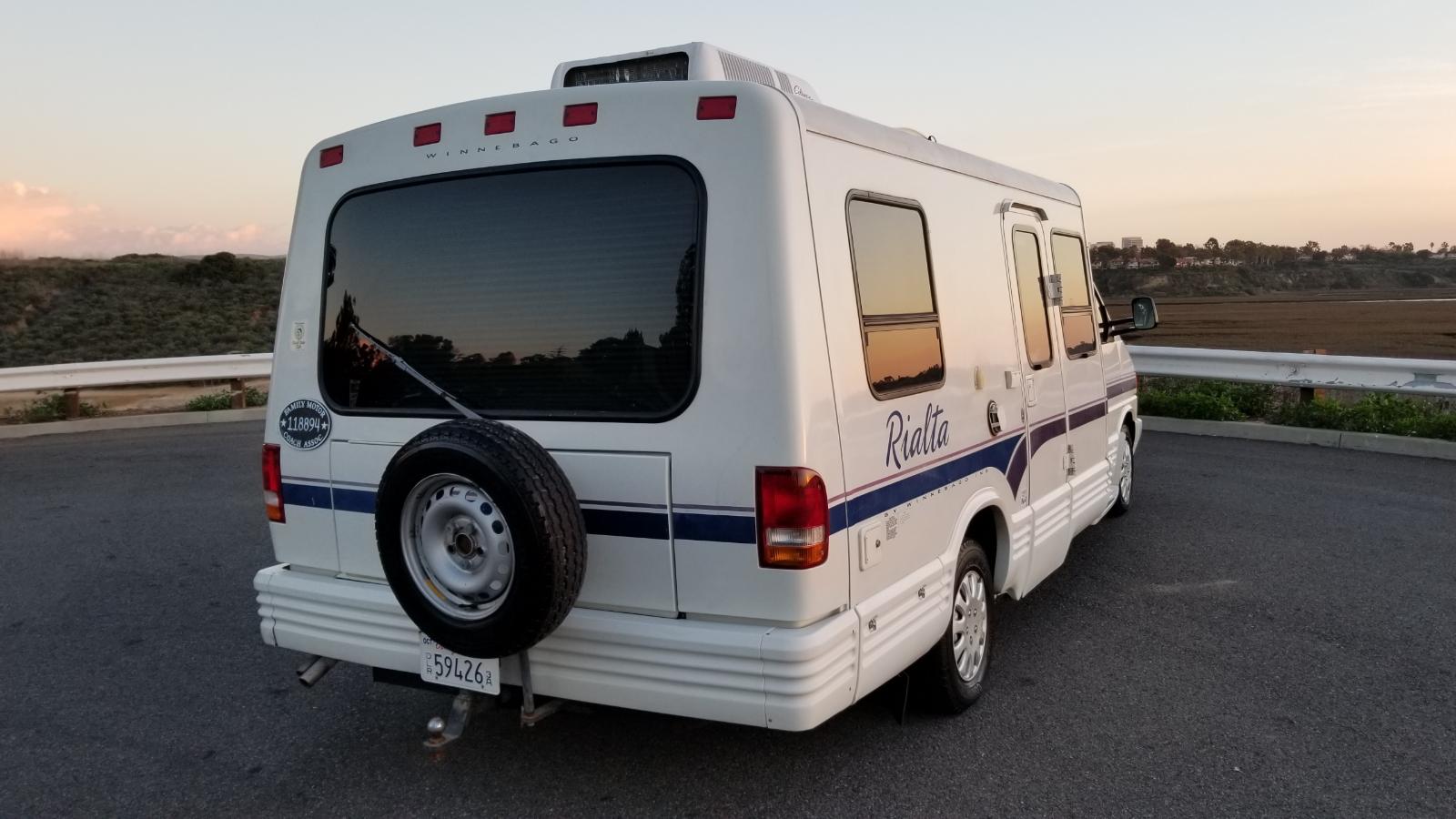 Year: 1995
Model: Eurovan Winnebago Rialta
VIN: 1WVAE070XSH017697
Engine: 2.5 liter inline-5
Transmission: 4-speed automatic
Mileage: 91,920 mi
Price: $16,950 Buy It Now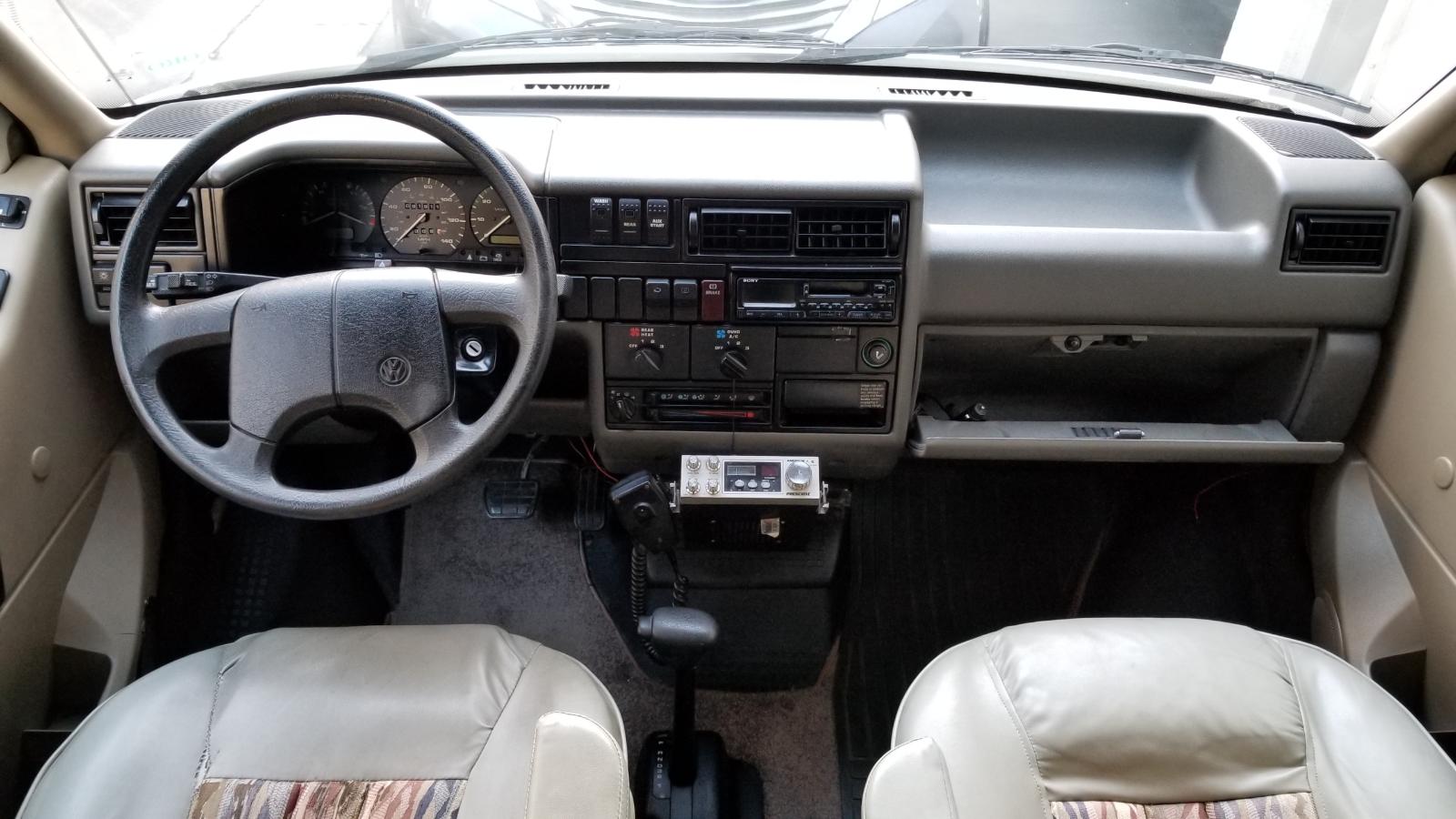 Here is a beautiful 1995 Volkswagen Rialta Eurovan full RV with all the amenities including Gas generator, swamp cooler AC, Shower, Toilet, Stove, Sink and much much more! If you know something about Rialtas, then I don't have to explain how nice these vehicles are! This particular van comes with original owners manual, purchase order, books and service records throughout its history. Please take a look at my video above and if you have further qeustins please call at 949 2 8 5 – 8 0 1 1

Exterior wise, the Rialta has all it's orignial paint and it is in greaat shape! There are no real dents or issues with the paint and body other than basic wear and tear from being 33 years old. See my video for a detailed description. I think the van looks excellent and I would rate the paint and body about an 8 out of 10 eastily. Has factory wheels with a brand new set of 2 ply Vanco tires.

The interior of the vehicle is very clean and the van was well kept. I can see it was owned by an older couple that used this for light touring around the US. The kept it up very well and never abused it. The van was never smoked in or used with pets on board. All the origial fabric on the seats throughout the van looks excellent. Driver seat has a bit of wear but still looks good and is comfortalbe. Both captans chair armrests work like new. All the interior plastic such as door panelss and door pillar grabs have no cracks or issues (rare). Has no cracks in the dash and all plstic switches, buttons and dials all look excellent. Steering wheel looks excellent. Has a period correct stereo system/cassette which still sounds great! Factroy CB still works good!

Mechanically, the 2.5l engine runs great. At one point, it had overheated and the previous owner had the engine rebuilt top to bottom which I have a 10,000 receipt for! Engine runs very well. Tranmission shifts smooth and has a brand new serial cable and valve body! As I said, tires are new Vanco 2 ply tires.

Hello and welcome to FMI Enterprises Ebay car store, my name is Pete. I have been a retail auto dealer since 2003 here in Costa Mesa, California. I am independent retail dealer and hand pick all my cars for resale. All the cars I sell go through a safety inspection looking for issues such as oil leaks, brake wear, steering issues, and or other safety related issues. I also personally drive each and every car and try my best to shake out any issues the car may have. I will generally make all necessary repairs or otherwise disclose to you.

At my "buy it now price" I can provide very competitive shipping rates to you – Example below

***These prices are based on major cities and are subject to change* Gas prices and time of year are major factors. I offer this shipping service with no upsell "broker fee" which is usually $150 or more! sometimes booking times can take 1 to 3 days but other times it can take 1 week depending on time of year and flow of cars to your area. Either way I try my best.

Florida – $850 to 1000

New York – $950 to 1200

Chicago – $850 to 950

Texas $525 to 650

North Carolina $950-1200

Northern California $250 to $350

Las Vegas $250

Arizona $250 to $350

Reno Nevada $450

Kansas $650-$850

Washington(state) $650

If shipping out of country, try these companies. I can deliver for $100 to the port of Los Angeles.

http://www.calship.com/

I am a licensed California Auto Dealer since 2003, www.fmienterprises.com 1835 Whittier Ave Costa Mesa, CA 92627/ #59426 California buyers must pay sales tax and license fees. Out of state buyers pay their own states sales tax and license as long as car is transported via licensed auto carrier. If the vehicle is picked up within California boarders and driven out of state, I must charge tax which is possibly applicable in your home state (you must double check this with your local DMV).

Deposits made by clicking "Buy It Now" are non-refundable.

If you want to use paypal for payment, you will have to cover the 2.99% paypal charges in fees.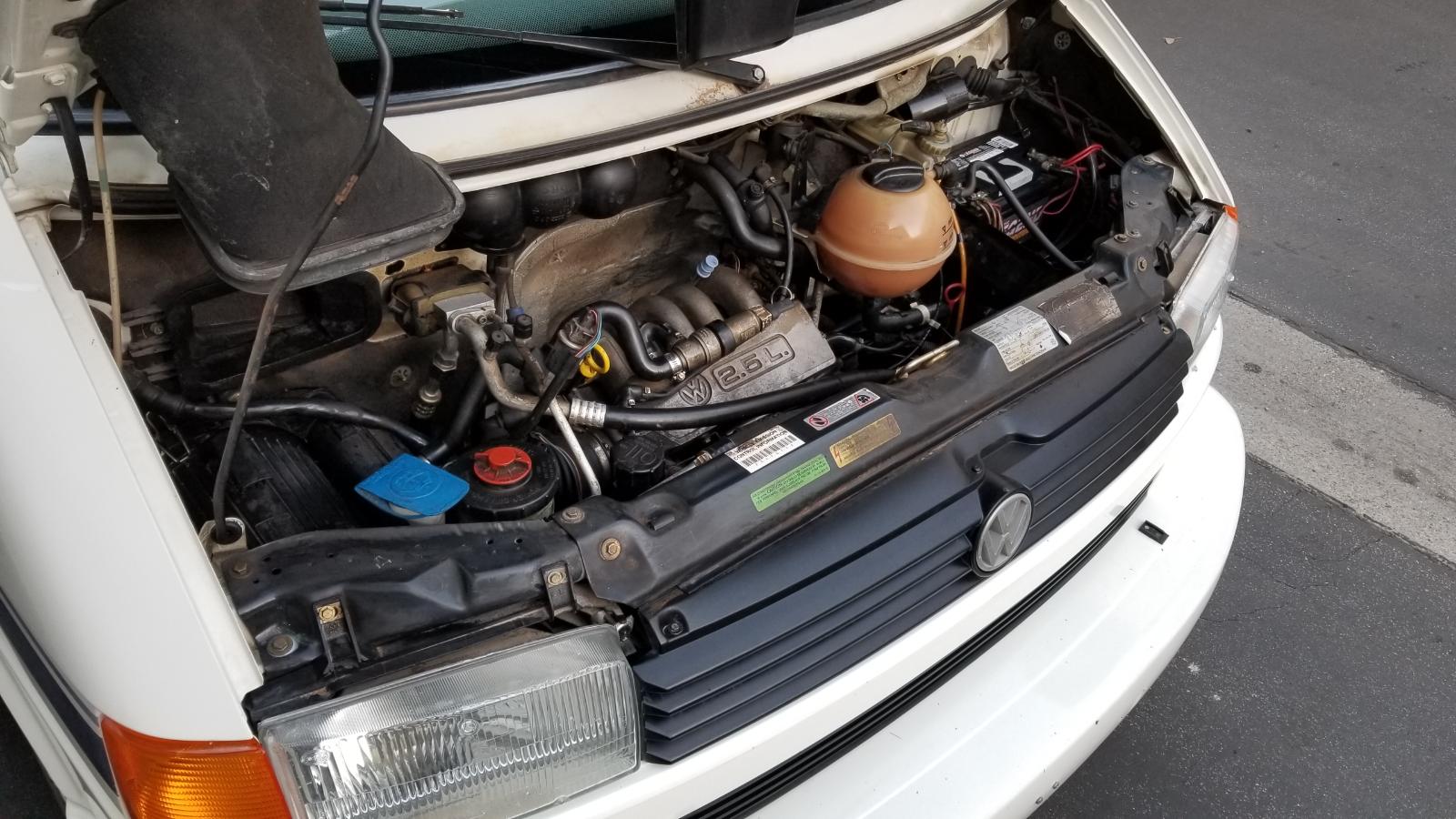 A few things stood out to me about this particular Rialta. It looked quite original overall which is impressive given that it's now 24 years old and basically a vintage camper. Sure, it needs a thorough pressure washing and polish, but that's what I'd fully expect getting into one. What I wouldn't expect was the 2015 rebuild on the motor to the tune of $11,000! The 2.5 is a pretty straightforward engine, so I can't help but feel bad for the previous owner, who clearly was taken advantage of. That's basically air-cooled 911 flat-6 rebuild money, or S14/S38 money, for goodness sake!
Yet today, a scant four years later, you can buy this whole RV for $16,950. Should you? The people into Rialtas say no, surprisingly. Though this one should have a relatively clean bill of health, Rialta specialists say to hold out for a VR6. Still, given the price of Weekender Eurovans (or especially the LWB Winnebago version), I can't help but think the Rialta – fat and unattractive as it may be – is a better option for making some happy campers.
-Carter