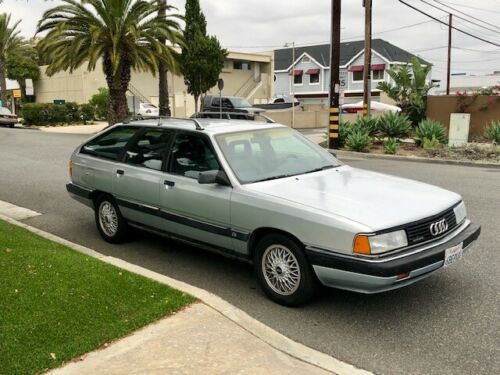 Although the C3 Audi chassis enjoyed a reasonably long production run of 1984-1991, each year introduced changes that, while evolutionary, were notable and make each specific model year feel a little bit bespoke. The biggest change was the 1986 introduction of Audi's all-wheel drive system of quattro to the large model range, making three distinct packages you could get the unique drivetrain in the luxury market. In the U.S. market, 1986 5000 quattros came only in "CS" spec and sedan – basically, fully loaded with only heated seats, Fuchs forged wheels and Pearlescent White Metallic paint as options. 1987 opened the options, but not with more gadgetry – the Avant, previously only available in front drive normally aspirated "S" form, joined the quattro lineup full time after being introduced about halfway through the 1986 model run. Alcantara also became a seldom-selected option. 1988 saw a very minor revision to the turbocharged "CS" models with new script badges in the rear and a few more options including heating for the rear seats and Velour interior options, but the big news was a new "5000S quattro" model, which came sans turbo and without the twin-bulb headlights, but shared the big brother turbo brakes and wheels. It was a smart move to drop the price on the quattro models, as the normal run 5000 reported outsold the 5000CS quattro by a measure of 4:1!
1989 was highlighted by a complete model refresh, moving to the European "100/200? model designations. Accompanying the change were some new colors and minor alterations, such as more upscale-looking 15?x6" BBS wheels (color matched on Pearlescent White Metallic examples, just as the aero and Fuchs wheels had been). But inside an entirely new sweeping dashboard setup would be the standard on big Audis for the next 7 years. Instead of the previously confusing "S/CS" monikers, turbocharged models now wore the 200 badge, while normally aspirated models were 100s. The Alcantara and Velour options disappeared on the 200 models, which came only fully-loaded, and Fuchs were no longer an option. The 100 quattro shared many components with the 80/90 quattros from the same time, including the NG normally aspirated motor instead of the turbocharged MC1. 100s also ran the familiar small-chassis 4×108 bolt pattern with accompanying smaller brakes, but oldly Audi commissioned BBS to make a run of 15?x6? wheels that matched the look of the 200's wheels outwardly. Mechanically, otherwise there were few changes to either model, though as with the 80/90 quattros, the option to lock your own differential was now limited to the rear, and then speed limited to 15 m.p.h.. While 1990 saw few changes to the run overall, there was a change in motor in the 200. A rolling change saw the revised (and very short lived) MC2 replace the MC1. Twin knock sensors allowed engineers to run higher compression; coupled with a reground camshaft, lighter mass flywheel and smaller K24 turbo meant that the MC2 could run less boost and spool more quickly for a better driving experience, but ultimately the facts and figures say the power was unchanged. As always, top of the heap was the 200 quattro Avant, like this Zermatt Silver Metallic example: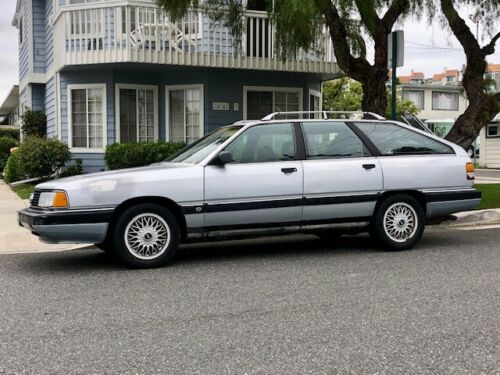 Year: 1990
Model: 200 quattro Avant
VIN: WAUH5444LN072034
Engine: 2.2 liter turbocharged inline-5
Transmission: 5-speed manual
Mileage: '135,402' mi
Price: $3,500 Buy It Now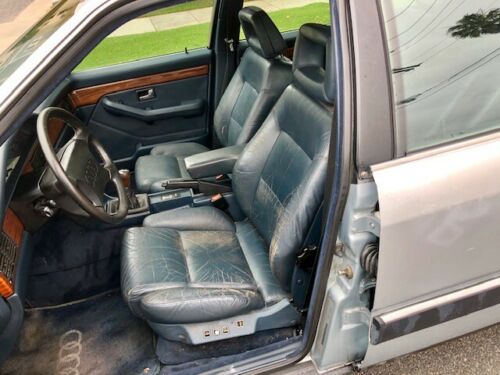 VERY RARE
1990 AUDI 200 QUATTRO TURBO WAGON
2.2 V10 TURBO

I AM PLEASED TO OFFER THIS VERY RARE AUDI WAGON
THIS IS A GREAT PROJECT CAR TO FINISH
I HAVE MORE THAN STARTED THE PROJECT
Kids starting college do not have the time to continue with this.

THIS VEHICLE RUNS AND DRIVES

TO DATE: COMPLETED WITH IN LAST MONTH
HARMONIC BALANCER
PLUGS
BATTERY
HOSES
HEATER CORE
FUEL PUMP
BRAKE MASTER CYLINDER
ROTOR
CLUTCH
WATER PUMP
TIMING BELT*****
DRIVE BELTS
$3500 Spent RECENTLY

vehicle still needs work sensors engine trans mount clear coat bad interior need re painted

PLEASE SEE You TUBE VIDEO
Call THOMAS FOR QUESTION 6784162070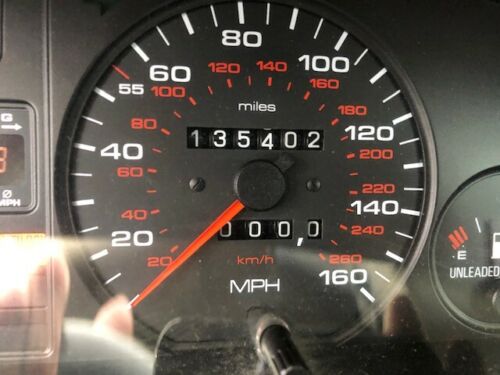 At least, I think it's Zermatt Silver. It might be Crystal Silver Metallic, as there was a changeover for the '91s. There unfortunately aren't quite enough close-ups for me to make a positive ID. What is shown, which is somewhat rare to find, are that this car was equipped with blue Kodiac leather sport seats – a very neat option! Outside of that, there weren't many things to select on the 200 avant. So what else stands out about this one? First off, the image above shows the typical Audi odometer rollover – if they're set to zero when they're being sold, they almost certainly don't work. Not that mileage is the be-all, end-all on these; they rarely appear with less than 200,000 today. But it's one more thing to add to the list of negatives; missing trim, broken taillight, dented tailgate, fried clearcoat, missing antenna – and that's just the visual stuff. The seller also notes that the car needs engine and transmission mounts and has a "bad interior". What's shown doesn't look all that bad, but the headliner insulation is notorious for failing on these cars and showering occupants (and the rest of the worn interior) with little bits of sticky, 30-year old orange bits. And that's assuming that's all that's wrong – there's no indication if the electronics, turbo and notoriously complicated and expensive hydraulic systems are in a good state. Then there's the worst part of old Audi ownership – NLA parts.
Basically, at the end of the day the seller is looking to recoup their $3,500 'investment' into this car. And, if they did what they said they did, I fully believe they spent that. The clutch alone is a $1,000 plus dollar job you don't want to do. But then this car is still about $5,000 away from being a $3,500 car unfortunately. The market is very soft on these early Audi wagons, despite how innovative and neat they are. While it'd be a shame to see them go fully the way of the Dodo, I just don't believe anyone will pay used Allroad money for a 10V quattro at this point. Now, if it had 10 more valves….
-Carter