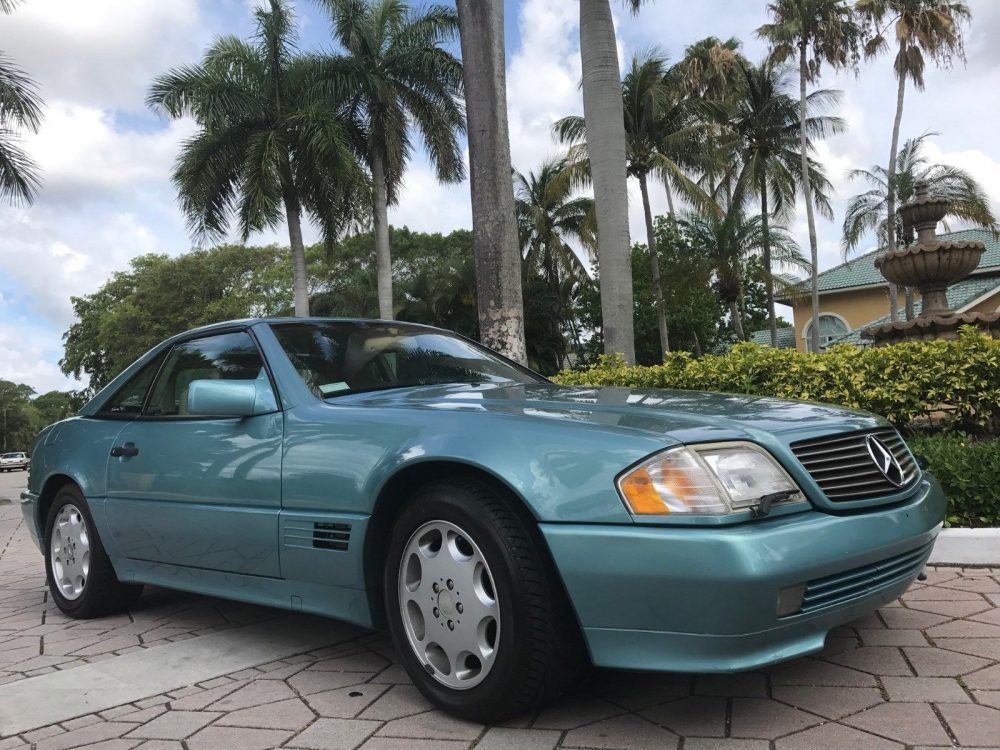 After looking at the wild GT R with an asking price over $260,000, I thought I'd get back to something a little more affordable. This 1995 SL320 painted in Teal Blue Metallic checks in with a hair under 43,000 miles and is a prime candidate to drive everyday or stash away in the garage for those nicer days. The tried and tested M104 inline-6 engine is a great engine to live with and won't cost you a mortgage payment if something goes wrong unlike the V8 and V12. But like anything, there is a catch, and this catch makes me bang my head against a brick wall.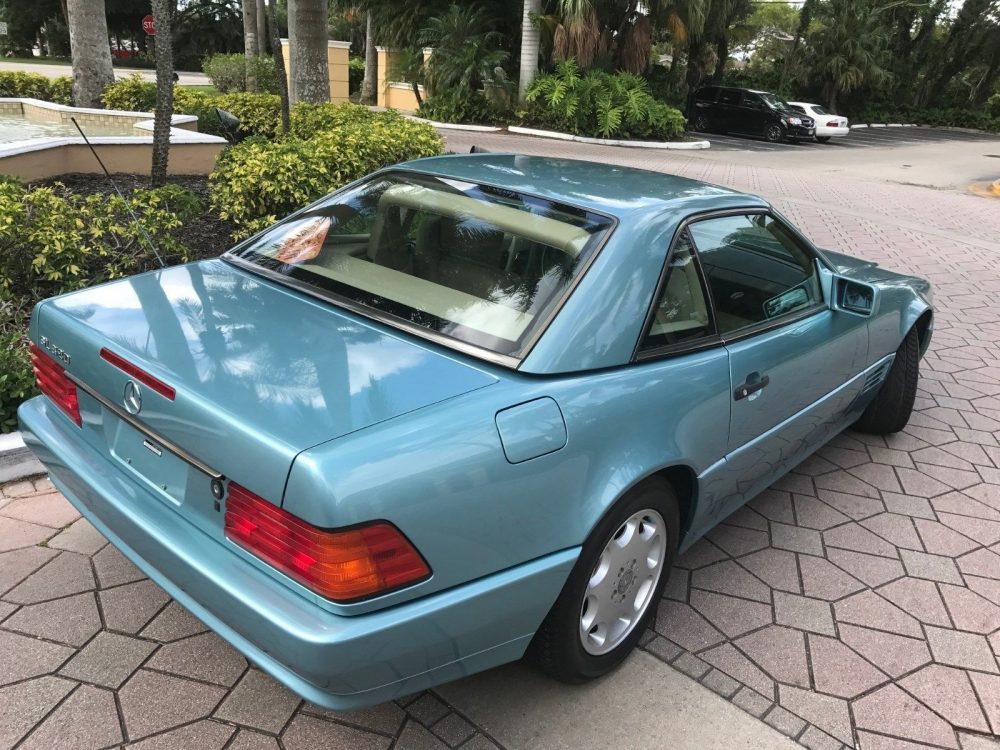 Year: 1998
Model: SL320
Engine: 3.2 liter inline-6
Transmission: 5-speed automatic
Mileage: 42,858 mi
Price: Auction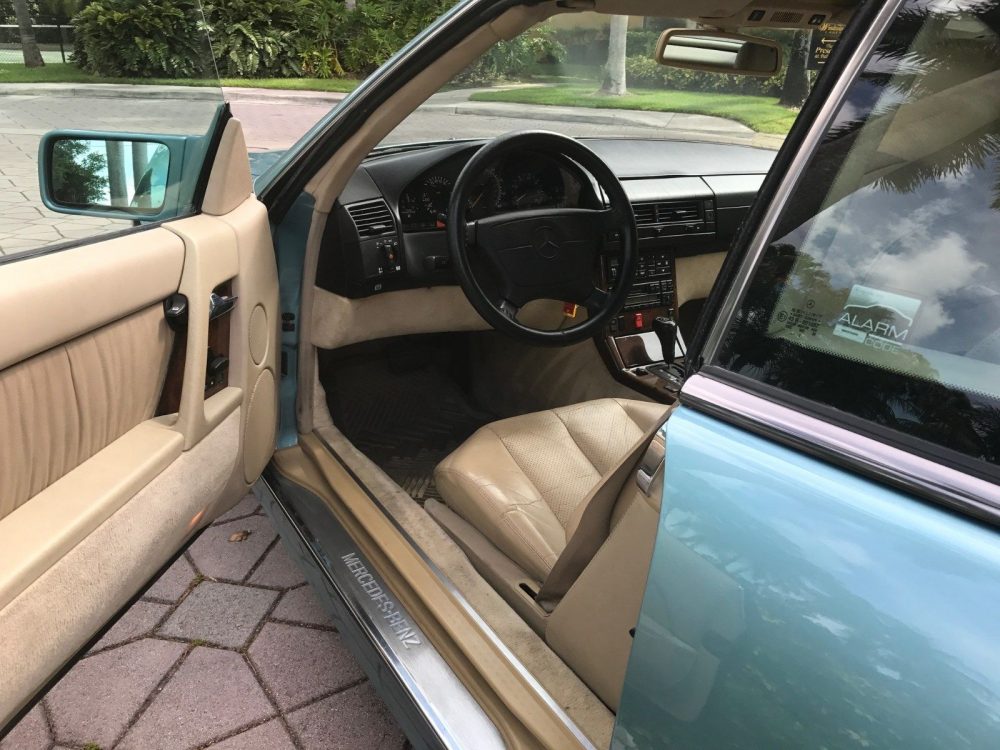 You are viewing a Rare SL with original 42,858 miles that have been kept in a pristine condition. It comes with the factory Teal pearl green exterior and the luxurious beautiful Tan leather interior with rich Wood trim throughout the interior ( see pics attached). A Bose Sound system with a built in Amplifier / and a subwoofer built into the cabin, vehicle comes with an auxiliary accessory to plug to a smart phone to transmit the calls and music through the sound system player. power seats with memory and cruise control.

This SL is powered with the German flagship straight 6 bulletproof powerful power plant that has been tested for millions of miles worldwide and runs for years and years with minimal maintenance and upkeep with an amazing fuel efficiency and great output, simple to work on without needing a Mercedes specialist ( check out the raving reviews on Edmunds.com how loved the 95 SL 320 is). This Benz comes with full documentations for services performed since the 35k factory Benz full warrantee. The plan for this Rare low miles SL was to store till 2020 and sell as a classic vehicle, but the local leased warehouse was sold and the lease wont be renewed ). This SL have not been registered for over 5 years, but set on a schedule and has been driven every 30 days since it was acquired over 5 years ago – A transporter tag get mounted on the back window and ran a 25 miles round trip to an assigned manager residence and back with it the next morning for many months.

We have the fully documented work performed while having this original low miles vehicle since acquisition includes the Pre-collectible storage work performed that includes: Brand new tires all around, fully serviced brakes and brake pads front and rear. A new air filter,a new cabin Hepa filter , a brand new compressor refrigerant oil flush / new refrigerant and A/C oil and a blower motor, Premium spark plugs and spark plug wires. Fully serviced transmission fluid and filter, fresh synthetic motor oil service and a new water pump , a new thermostat and housing . the coolant system have been serviced and flushed. the convertible top is in an exceptional condition and the convertible top rear windows are in brand new condition ( see pics attached), rear hydraulic top requires service to operate with the button, but can can go up and down manually. the color coded Aluminum Hard top is in a beautiful shape / same color as the vehicle came with the vehicle when purchased new from the showroom. As for the like new Hard top that is delivered with the Sl Series, It comes with all glass windows,rear defroster and luxurious headliner and stainless steel trim.

Please note, this SL is in a rare condition and mileage for the year, even the factory original quality control inspectors markings and thick wax coatings are still showing under the hood / on components in the engine compartment, the vehicle looks stunning and rust free in / out/ top/ bottom. For the matriculate collector, please note, this SL can be in a car show with the quality of the paint , carpeting / dash and controls and mechanical condition but again, for the Matriculate collector there are minor normal signs of wear on the vehicle if you stare into the common areas . Our goal is to provide this SL to someone that will enjoy it as a collector piece or as a daily driver (for an additional $2,000 we can make this SL fit for an indoor car show).

This Rare SL can be a daily driver, the weekend roadster or having it in outdoor car shows (or All 3). we are available to answer any questions you may have. Feel free to come down, road test and drive it back home or we can arrange shipping nationwide/ Worldwide including a priority shipping to Hamburg. we can also arrange to pick you up from Ft. Lauderdale airport ( 20 min. from our location). there will be a $199 dealership fee added to prepare the car and have all the pre-delivery inspections and fluids inspection/Title submittal / Synthetic oil service and fully detailed to have this SL ready for delivery.

A low reserve is set. Thank you for viewing our listing and we are available to answer your questions or send you more photos.
I have a real bone to pick with this seller. They went through all the trouble of doing a laundry list of repairs and maintenance. Then they tout how it is a collectible and real show car, but guess what? The top doesn't work. The entire point of the SL is the automatic top that functions flawlessly when maintained, but no, this seller couldn't be bothered with troubleshooting the problem. The seller even admits that they were storing the car just to have it as a collectible to sell and cash out on. But nope, just sell it as-is. While I'm ranting, there is no reason to have to roll bar up at any time on a R129. If the car even senses a roll over situation, the roll bar will deploy in 3/10ths of a second. I don't want to speculate, but I'm guessing the roll bar being up while the hardtop is on might be connected to the top not functioning since it is operated on the same hydraulic system.  Also, I'm really curious to see what is under the that poorly stitched together steering wheel cover. This is just one of those situations that drives me nuts when trying to sell (and buy) a car.
I'm really curious to see where the bidding stops with this one. The ad description is a mess in terms of trying to follow what is going on with this car and the photos are all over the place. The non-functioning top should reduce the price some, but at the end of the day this is still a R129 with just under 43,000 miles. You can always fix stuff, but you never take those miles back. The M104 cars are never as popular as the V8 and V12 R129s, but some people enjoy the simplicity of them. If I had to guess, anything over $10,000 will surprise me.
– Andrew