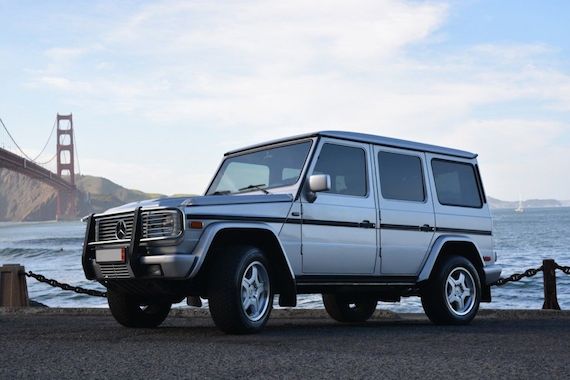 A little more than a decade has passed since Mercedes-Benz North America decided to finally import it's legendary Geländewagen and the truck is still in the lineup after 13 years in the market. Before this, it was up to private importers to bring this vehicle to our shores, most notably Europa International out of Santa Fe, New Mexico. Before Mercedes started officially importing to the G Wagen to the US, AMG variants were few and far between. This G-Wagen for sale in California began life as a G320 but has been transformed into a G36 AMG, with the AMG 3.6 liter engine supplanted under hood, along with AMG exhaust, 18" AMG wheels and the requisite brush guards for the correct look. If you've wanted an AMG G-Wagen but were perhaps a bit weary of the V8 thirst, this clone could be a good compromise.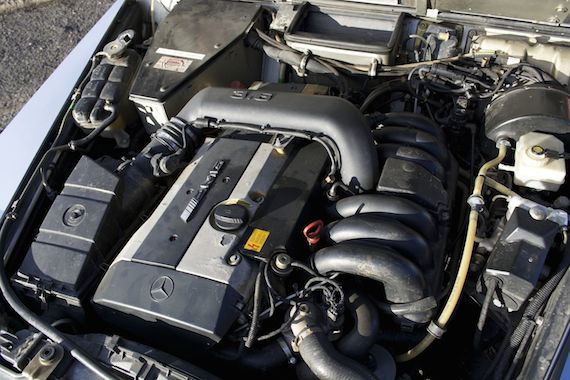 Year: 1997
Model: G36 AMG
Engine: 3.6 liter inline-5
Transmission: 4-speed automatic
Mileage: 140,000 mi
Price: $29,950 Buy It Now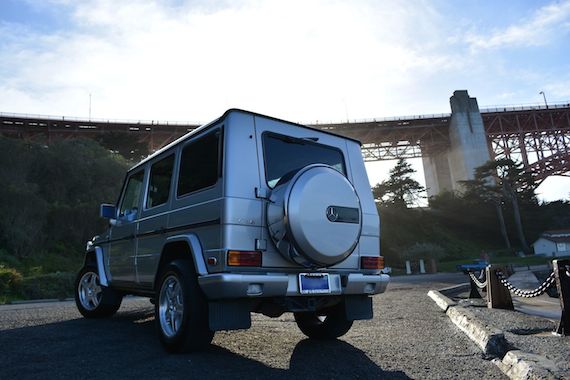 Geländewagen Background

The Mercedes-Benz G-Class or G-Wagen is short for Geländewagen. It is a four-wheel drive SUV produced by Steyr-Puch in Austria for Mercedes Benz and uses three fully locking differentials; one of the few vehicles to have such a feature. It is still in production as one of the longest produced Mercedes-Benz in Daimler's history with a span of 32 years.

Vehicle Specifics

VIN#: WDB46323117107340

This 1997 AMG G36 tribute is a beautiful driver restoration. This truck started as a 50 state legal European imported Mercedes- Benz G320 that has been updated to its current G36 AMG grandeur while adding some choice creature comforts. This truck is confirmed to be 50 state (specifically CA) legal by the original importer. The integrated Escort 9500CI system is a phenomenal upgrade and an incredibly clean installation. This car has extensive OEM upgrades and all the best bits from the newer versions of the Gwagon while maintaining the history of the über rare G36. Please read more below:

ENGINE

"AMG Chip" reprogramming maintains all OEM parts, but dramatically increases performance and gas mileage
New transmission (original housing with new OEM internal workings)
New seals, gaskets, etc in top end rebuild (<1000 miles since rebuild) 140K miles (shown in Kilometers and measured/recorded for accuracy by third party) EXHAUST Modified OEM exhaust (cleaner sound and better power/mileage) AMG factory tips INTERIOR New JVC head unit color matched to OEM dash lights with 2 USB's for iPhone/Android/tablet integration New Infinity Speakers all around OEM AMG brake and accelerator pedals OEM mats and covers Power windows Power steering Heated seats (front and rear) OEM cargo cover OEM spare tire cover and lock EXTERIOR 18" genuine AMG alloy wheels (period and vehicle specific) OEM G500 center LED break-light unit (allows for better rear window visibility) OEM convex electric rearview mirrors (high contrast coloring for improved visibility) OEM grill guard with body color matched light grills OEM spec HID headlight bulbs in OEM unit Matching HID fog light bulbs in OEM unit Factory matched 3M tint on all window glass OEM clear front and side marker covers OEM G500 front brakes w/ larger rotors and calipers ABS with new OEM rear drums and shoes Front and rear tow hooks New tires with <1000 miles since installation (installed since photos were taken) New Bilstein shocks at all four wheels with <1000 miles since installation EXTRA Escort 9500ci integrated front and optional rear radar and laser deflection OEM running boards included Additional OEM parts available upon request All original importer photos, emails, and information available. Additionally the service and modification records held by Collie Autowerks in San Rafael, CA and can be provided. Pre purchase inspection results also available from third party inspection. PLEASE NOTE THAT THIS IS AN "AS IS" SALE WITH NO WARRANTY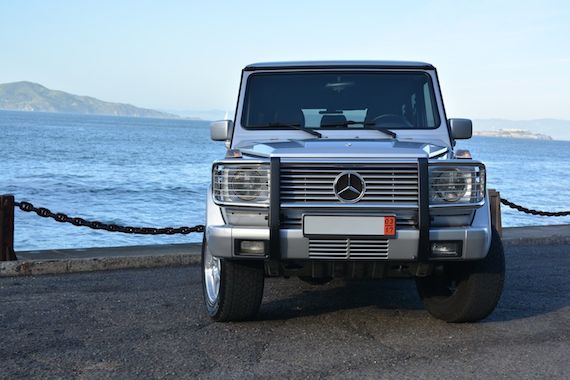 Ever since Mercedes started to officially import G-Wagens in 2002, prices of the previously imported examples have dipped somewhat, but not as much as one would suspect. For a clone of an AMG model and given the mileage, the price is a little bit steep, but this would surely be a conversation piece at the next Mercedes club meeting. We saw an earlier iteration of the G36 AMG for sale at 4Star Classics last year on offer for just under $27,000. I'd say that this clone is in the ballpark, but considering the one we looked at last April was the real deal, the seller may have to be a little bit flexible.
-Paul