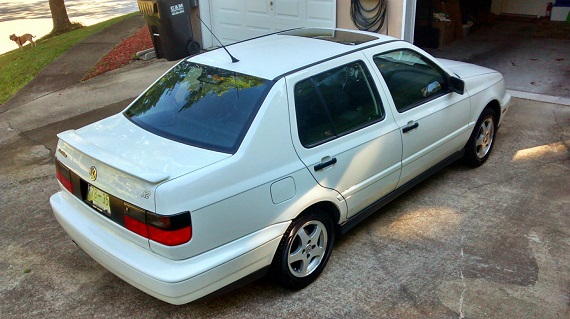 I'm a pretty big VW nut, but when it comes to the A3 Jetta even I admit they're just pretty darn boring. The Mk.2 Jetta had plenty of character for better or worse, but the third generation just seemed to be a bit lumpy and overweight in comparison. The crisp body lines were replaced by softer transitions that, well, just didn't look special. And there was the engine; gone was the awesome twin-cam 16V 2.0 GLi, replaced by a single cam 2.0 8V in the normal Jettas that were snatched up by New Jersey college girls. Sure, there was the GLX VR6 model that continued the quick Jetta tradition, but it seemed that most of the time you heard a droning automatic 4-cylinder Jetta leaving the lights. And the build quality just wasn't the best; memorably, a friend of mine purchased a brand new 1997 Jetta and I waxed it for him one day while he was at work. On my way to drop the car off, the sunroof broke in the open position. The car was two weeks old. So, it was ugly, slow and unreliable – and expensive. The normal Jetta bordered on $18,000 without many options in 1997, and the GLX model pushed you well into the 20s. Comparatively, the new Jetta stickers around $14,000 nearly two decades later. Towards the end of the A3's run, though, Volkswagen upped the ante with some limited edition models. There was the Jetta GT, which featured 4-wheel disc brakes and fog lamps, along with a spoiler and unique alloys. But if you wanted to be the cool dude on campus, you got your parents to buy you the Jetta Trek or Jetta K2. As far as I could tell at the time, they were normal Jettas (and Golfs) with roof racks and a bike or skis/snowboard. "Meh", I said, "just another poser Volkswagen". But the limited edition A3s were a bit of a treat: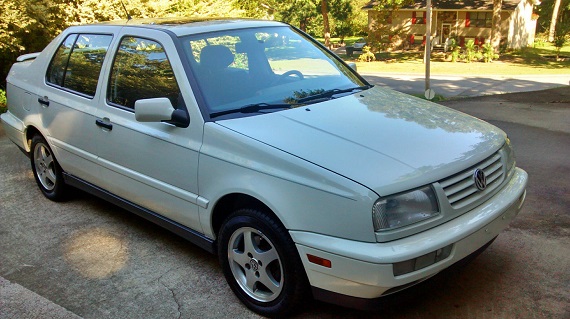 Year: 1998
Model: Jetta K2
Engine: 2.0 liter inline-4
Transmission: 5-speed manual
Mileage: 111,008 mi
Price: $5,500 Buy It Now
1998 VOLKSWAGEN JETTA K2 EDITION (SKI PACKAGE)

A RARE SURVIVOR IN SHOW QUALITY CONDITION

***SCROLL DOWN FOR OVER 40 DETAILED PICTURES BELOW***

FACTORY DELIVERY DESCRIPTION: JETTA K2 U/C DEP. L2115 2.0STD / ENG CODE: ABA / MODEL CODE:1W2LQ4

EXTERIOR COLOR CODE: B7 – LA9B COOL WHITE INTERIOR COLOR CODE: 01 SCHWARZ/SCHWARZ/SCHWARZ

IMPORTER #444

PRODUCTION DATE: 1997-10-06

DELIVERY DATE: 1998-02-09

K2 ORIGINAL TRUNK/DECK LID BADGING, ORIGINAL K2 VW BASEBALL HAT, AND K2 EMBROIDERED SEAT BACKS.

STORED IN CLIMATE CONTROLLED GARAGE

2 OWNER DRIVEN ON AVERAGE 6937.5 MILE PER YEAR.

FORMERLY OWNED AND SERVICED BY CAR COLLECTOR RAY VRANAS

A/C BLOWS COLD/ HEAT IS HOT (5 WAY ADJUSTABLE HEATED SEATS WORK)

ALL POWER WINDOWS/SUNROOF AND PNEUMATIC DOOR LOCKS WORK WITH 1 REMOTE TRANSMITTER INCLUDED

ORIGINAL "FLYER" VOLKSWAGEN WHEELS WRAPPED WITH RECENTLY INSTALLED TIRES

RECENT MINTEX REDBOX BRAKE PADS AND ROTORS

ORIGINAL STRUTS/SHOCKS/SPRING (RECOMMEND REPLACEMENT TO THE NEW OWNERS RIDE PREFERENCE)

TIMING AND SERPENTINE BELTS, VALVE COVER GASKET, WATER PUMP (WITH METAL IMPELLER) REPLACED AT 95K MILE (16,000 MILES AGO)

OIL CHANGED EVERY 3K MILE (VW RECOMMENDS EVERY 5K) USING 10w40 CASTROL OIL AND OEM MANN FILTERS.

COOLANT FLUSHED REGULARLY USING OEM SPEC G12++ PENTOSIN COOLANT PRODUCTS

ALTHOUGH THE CAR MAY LOOK NEW IT IS 16 YEARS OLD AND SOMETHING WILL EVENTUALLY BREAK

NEW OWNER WILL NEED TO REPLACE STRUTS TO PREFERRED RIDE QUALITY (OEM OR SPORT FIRMNESS).

THE CAR HAS ZERO DENTS TO MY KNOWLEDGE ON ANY EXTERIOR BODY PANEL

BUYER WILL NEED TO MAKE ALL ARRANGEMENT FOR PICKUP OF THE K2.

I WILL PERSONALLY PICK THE BUYER UP FROM THE CHATTANOOGA AIRPORT WITH THE K2 JETTA IF REQUESTED.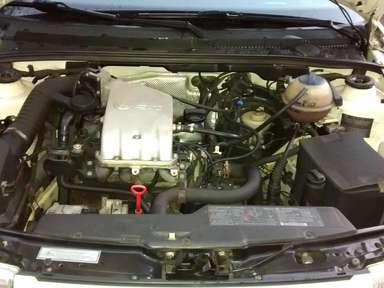 When my mechanic told me he had a Golf available for $1,500, I was sold before I knew that it was a K2 model. But it was the K2 model, replete with the roof racks from the factory. The skis were long gone, but that was okay by me. I noticed that the car had the same foglights as the GTi; cool feature, as you couldn't get them on a normal Golf. It had unique wheel covers in 1997, too. But stepping inside was where the K2 was really cool, with unique seat fabric hiding heated seats and GTi gauges. While I expected to be let down by the driving experience, the 2.0 ABA mated to the 5-speed manual was great fun – the car got over 30 m.p.g, was quite and nimble, and had melt-your-face heat and very good air conditioning. Yes, it was unrefined compared to Audis, BMWs and Mercedes-Benz of the same era – but it was much more fun than most of the Japanese cars I'd been in. It's been a few years since my Golf moved on to a new owner, but I always smile when I see these special edition A3s. Today's K2 Jetta is no exception and might be the nicest one we've seen in some time. Miles are lower at 111,000 and condition is great. The Cool White exterior shines and is set off nicely by the "Flyer" machined and clearcoated wheels that typically look shabby. The interior is just as I remember it and looks great too. While this car isn't as exciting as a manual VR6 would be in this condition, it's a neat and unique car that you don't see often anymore. As a collector, having the roof racks and original skis or snowboard would really make it pop at a show, because as is it's hard to tell apart from a normal Jetta for most. But if you want a commuter or daily driver with some character and some nice details, this K2 looks like a good choice!
-Carter