There are few things that fit together better than a W140 Mercedes with AMG Monoblock wheels. Just like the car, the wheels are big and flat. There are no thin lines, no 18 different curved spokes with fake bolts – just wide but simple 5-spoke wheels. I'd really like to own this combination, but I'd certainly have an aneurysm from my passengers slamming the doors like it's a 1987 Ford F150 with the word 'FARM' spray painted across the tailgate no matter how many times I tell them they are soft-close. If you have friends that take direction better than mine, then you are in luck with this 1999 S500 for sale in San Diego, California.
Year: 1999
Model: S500
Engine: 5.0 liter V8
Transmission: 5-speed automatic
Mileage: 155,500 mi
Price: Reserve Auction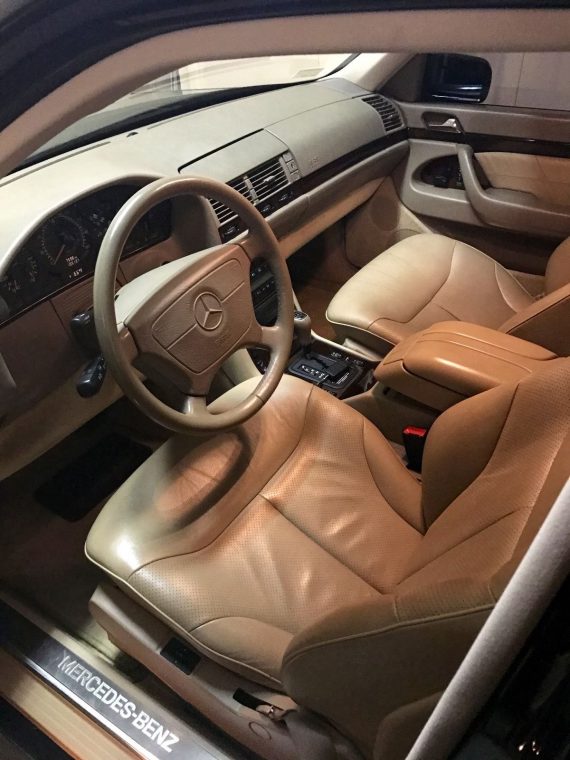 1999 Mercedes S500. Last of the "real Mercedes." Best and last year for W140 body style. Best and most overbuilt S class ever made. This vehicle is a well maintained second owner California car. The original paint is glossy with some surface blemishes but overall in very good condition. A paint correction to remove swirls with C Quartz finest coating has been performed. Garaged without paint oxidation, the paint is ding and dent free. Interior leather is in very good condition with original carpets. Burl wood trim is in excellent shape. This car is equipped with very rare 19″ original AMG mono block Mercedes wheels 19X8.5 front and 19X9.5 rear with new 255 and 285 Continental tires. These rims are extremely rare and perfectly offset for the W140. Original 16″ rims and tires are included with sale. Clear original Bosch european front turn signals are fitted. Vehicle is completely original except for bluetooth Alpine stereo professional mated to original Bose beta sound system. Original Becker tape deck included with sale. Recent services performed include overhaul of front suspension with new shocks, tie rods, ball joints, lower control arm bushings. Rear SLS (self leveling suspension) has been maintained and to new SLS hydropneumatic shocks were installed. New engine mounts and transmission mounts installed. Accessory vacuum pump replaced so all self closing doors and trunk work perfectly. All electronics work including electronic climate control and AC. This historic S500 needs nothing. As this cars's designer Bruno Sacco state, "Mercedes will never build another car like the W140."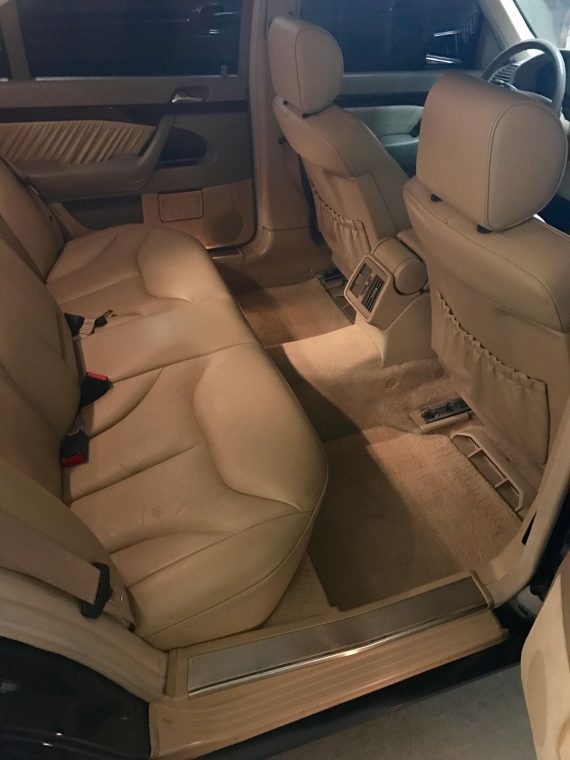 Like the majority of cars that are over 15-years old, a really nice W140 is getting harder to find. Most original owners have moved on to a nice Lexus because they couldn't take another second looking at a 'VISIT WORKSHOP!' message in their W220 that they sadly traded "up" to from a W140 . This particular 1999 looks really nice and the 19-inch Monoblocks finish this car off just right and scale the car more properly. The interior probably isn't my first choice, but it's tough to complain when it's so clean. Having over 155,000 miles, it could easily pass for half that thanks to San Diego weather and a garage for the majority of it's life.
I'm curious to see where the bidding ends on this car. Used luxury cars always are cheaper in California compared to the rest of the country and with the mileage on this car I doubt anyone sees it as some sort of collector car. There are better options out there if you want to commit to buying a W140 with the Grand Edition or a S600, so I doubt see we'll see this W140 end at an eye-popping price. But given its condition and rare wheels, it wouldn't shock me to see this S-Class touch $10,000.
– Andrew