If yesterday's mellow yellow 323Ci wasn't the sunshine you'd like to see, how about something a bit more brilliant in design and presentation? I have to say the fascination with BMW wagons and their ensuing high prices sometimes perplexes me, as Audi offered a sporty, manual, all-wheel drive Avant that is great looking, reliable and long-lived and will make you feel pretty special. That's especially so when it's optioned in one of the more rare shades available on the B5; in this case, LY1B Brilliant Yellow. I'm sure there will be claims that, like Pelican Blue and Tropical Green, these Easter colors make the jelly bean shaped A4 a bit too festive, but personally I love the look of this Avant: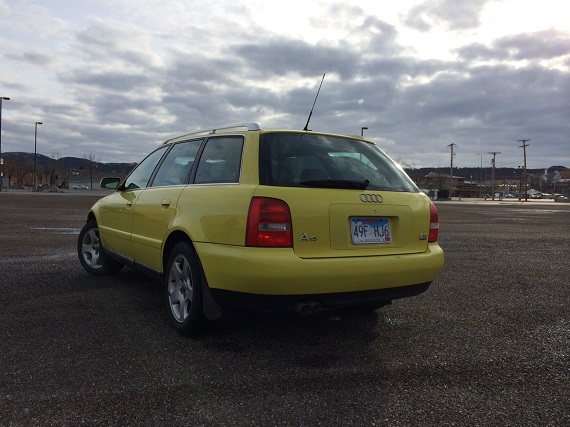 Year: 2000
Model: A4 2.8 quattro Avant
Engine: 2.8 liter V6
Transmission: 5-speed manual
Mileage: 171,000 mi
Price: No Reserve Auction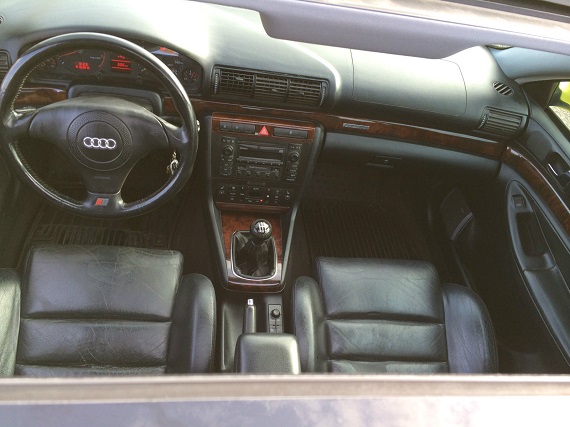 NO RESERVE AUCTION!!!! This Car Will Sell!!!

This is an extremely rare car ( Brilliant Yellow A4 2.8) that has been garage kept in immaculate condition from day one with EVERY service record from year 2000 to its most recent oil change. Once sitting in the driver seat it looks, smells, and drives like a brand new car. Money was never a question when it came to servicing this wagon and the drive will surly confirm that statement. I will just highlight some of the key points of service in this ad but shall you have any in depth questions please feel free to ask.

2000 Audi A4 Avant 2.8 All wheel drive
Rare Brilliant Yellow
2.8 Turbo motor
All weather floor mats both front and rear
Extremely clean! Never any animals or smoke in the car
Full real leather interior
Paint looks brand new
Electric adjustable front seats
HID Head lights
Fog lights
Heated seats
All wheel drive
Luxury windshield wipers front and rear
Heated rear window
Manual 5 speed
Bose sound system
Climate control with super Cold AC & Hot Heat
Power locks
Power sun roof
Built in garage opener (up to 4 different doors)
Power windows
Tinted windows
2 sets of wheels & tires (snow tires are currently installed)
12v charging ports in the front and rear
171,xxx miles ( driven everyday so it will go up)
Absolutely NO fluids leaking
Always premium fuel and high end synthetic oil
All original sets of keys 4 total

Timing belt replaced about 15,000 miles ago
HID Head lights
Water pump replaced
10s of thousands of dollars in receipts for certified preventative maintenance
Winter tires are currently installed (comes with another set of all season tires and wheels)

Check engine/ air bag light goes on and off from time to time, one of the LCD screens is starting to faint in display, and the rear right passenger window motor needs replacing. These issues may be corrected if it does not sell before the next service date.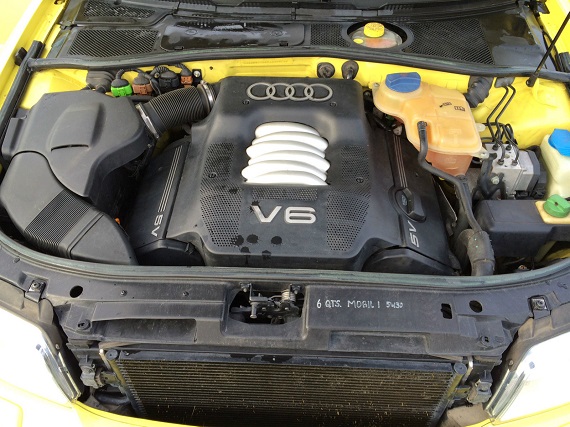 As these A4s go, this one is certainly above average and is exceedingly rare in this configuration. Despite that, A4s typically don't seem to draw the same enthusiast attention that the E46 325ix does, for example. That's a shame, because while this isn't really a "sporty" car, it's a very nice all-arounder that is increasingly infrequent to see. Bidding currently is only at around $1,100 on the no reserve auction, a massive value in the used all weather wagon market. The B5 has some known faults but just like the BMWs has an active community that support them and there are plenty around to grab parts off of. For something a little different than the typical grocery getter, the A4 is still a solid choice.
-Carter