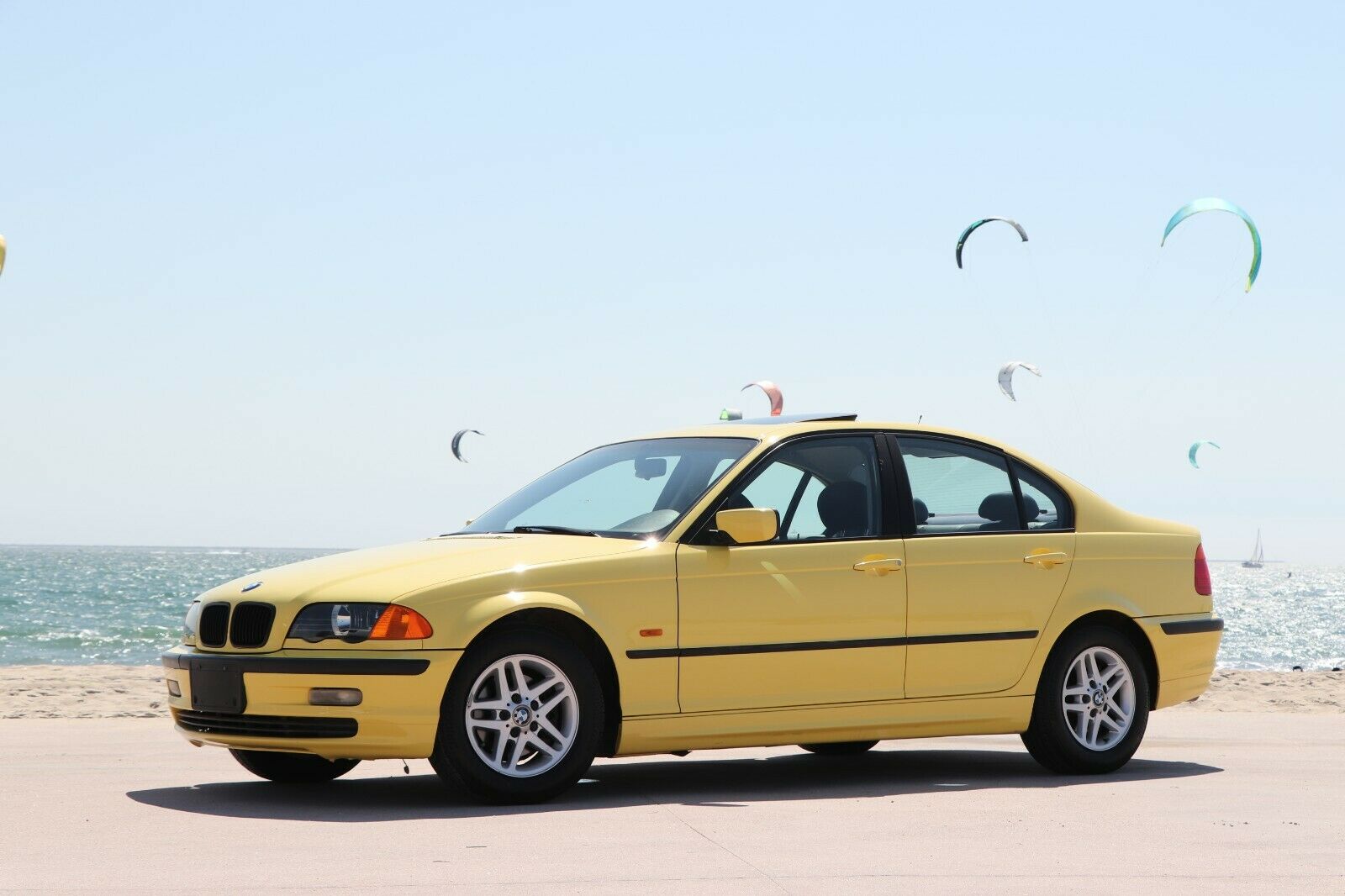 Every once in a while, a car pops up that I'd just love to know more of the history of. Case in point; today's 2000 BMW 323i. This was the second year for E46 in the US, and frankly the very early E46 323i models were pretty plain. But that's not the case today, and this one was special ordered from BMW Individual in Dakar Yellow. From there, it gets a bit stranger, because the ticking of special options didn't seem to continue….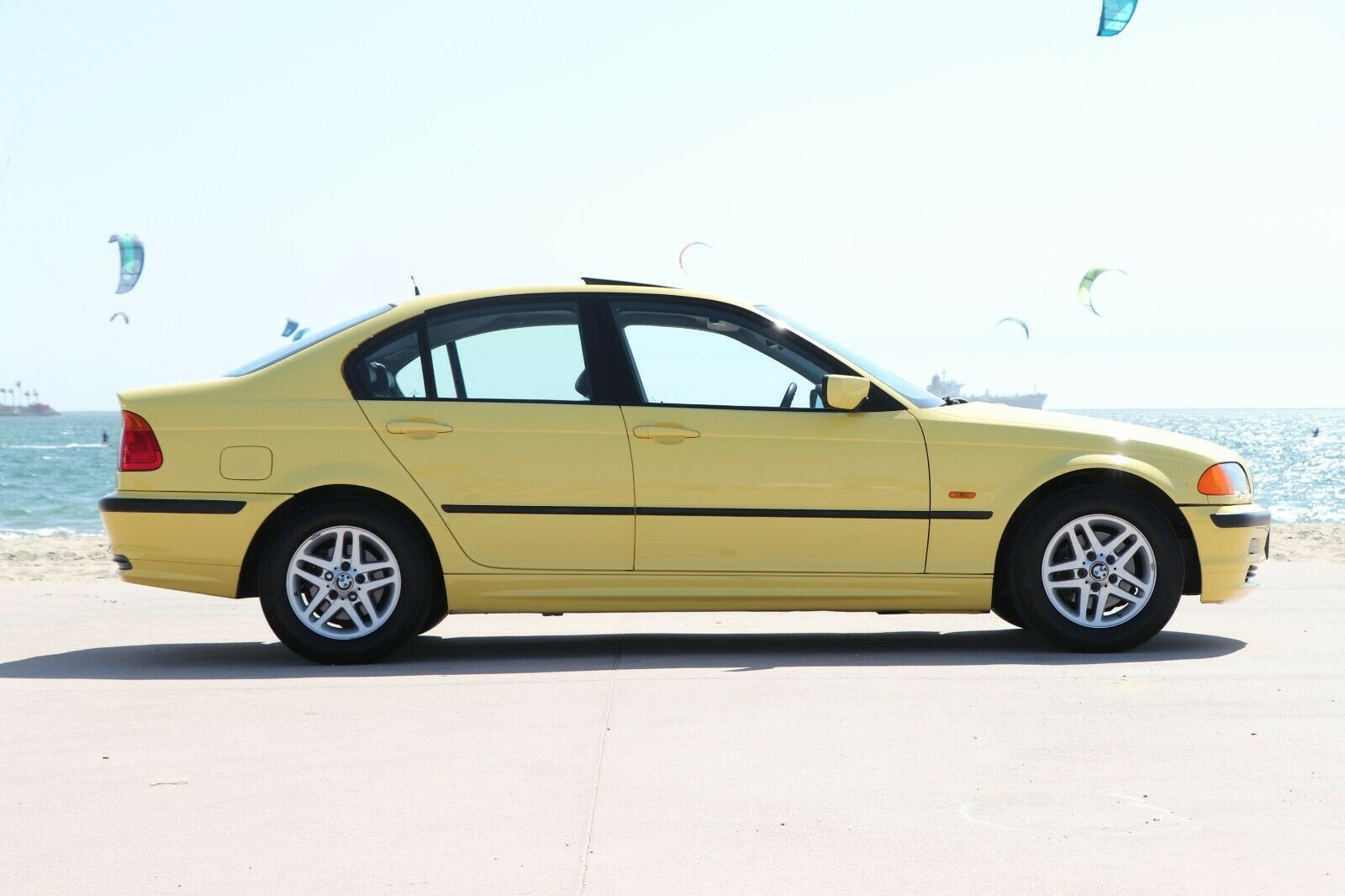 Year: 2000
Model: 323i
VIN: WBAAM3347YKC71856
Engine: 2.5 liter inline-6
Transmission: 5-speed manual
Mileage: 177,500 mi
Location: Newport Beach, California
Price: $12,900 Buy It Now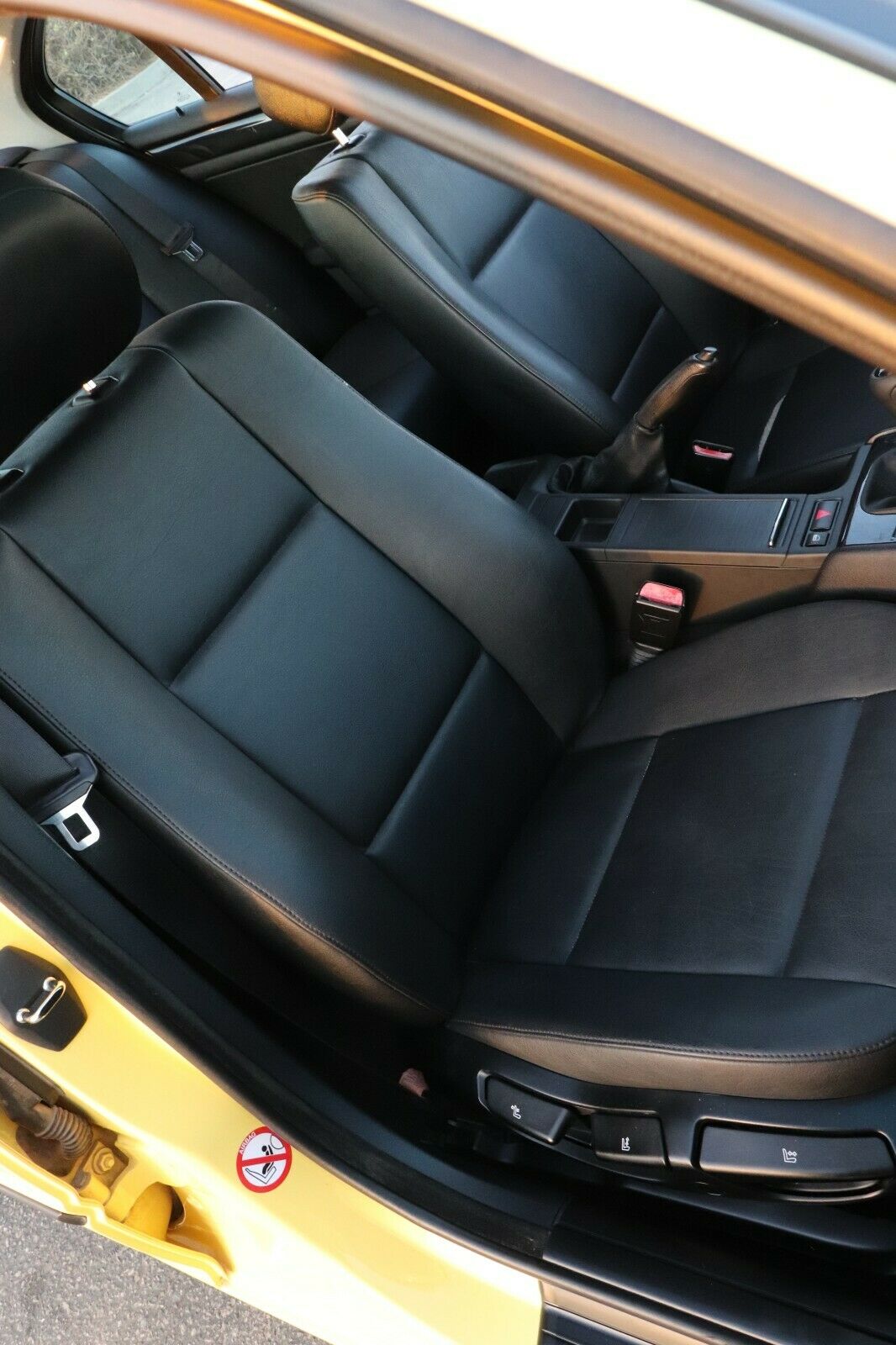 Possibly 1 of 1.
The 100% Organic Bavarian Banana.

Please help yourselves to a very in-depth detailed photo gallery inclusive of 180+ detailed pictures of this 323i/5 Speed Factory BMW Individual Dakar Yellow to further demonstrate the overall quality.

https://www.dropbox.com/sh/b91z3uvposmuxt6/AAA_mW5BUxmG6s9mv40iBD5ka?dl=0

Recent Services/OEM Parts Prior to Listing Include:

– Factory Pass. Airbag Recall Completed at Crevier BMW of Santa Ana, California.

– Fresh Hella Oil Sensor
– Fresh Front & Rear Shocks
– Fresh OEM Factory Oil Filter
– Fresh OEM Factory Oil Change
– Fresh OEM Transmission Oil Change
– Fresh OEM Windshield Washer Fluid Change
– Fresh OEM Windshield Washer Reservoir (Part No. 61667007970)
– Fresh OEM Windshield Washer Strainer (Part No. 61667006063)
– Fresh OEM Storage Partition (Part No. 51168205378)
– Fresh OEM Glasses Tray (Part No. 51168202188)
– Fresh OEM Center Console (Part No. 51168234154)
– Fresh OEM Center Euro Tray (Part No. 51167043093)
– Fresh OEM Coin Holder (Part No. 511.68217957)
– Fresh OEM Leather Shift Knob (Part No. 25117500299)
– Fresh OEM Black Imitation Leather Shift Boot (Part No. 25111434495)
– Fresh OEM Switch Cover (Part No. 51168236248)
– Fresh OEM License Plate Holder (Part No. 51188238061)
– Fresh OEM License Plate Screws (Part No. 07119907623)

—
You're either a leader or a follower in this world, theres no in between.
Become the custodian to a rare and unique Individual.

More than likely, this listing has intrigued you enough to further investigate to see if this is actually real.
Well Ladies and Gentlemen, the short window of time has come upon us, where a Factory Ordered BMW Individual Manual E46 has come available to market.

I'm just going to cut to the chase, this is the only one you're ever going to find.

More than likely the only 2000 Model Year BMW 323i Sedan, 5 Speed Manual, completed in the Unicorn Tier of Rarity, Dakar Yellow.

If you know your color palette, you should know this color is very prone to UV rays burning through the clear coat just like red over the years.
I am proud to tell you that all major body panels and paint to this car are original, aside from both bumpers to my knowledge, no peeling in the clear coat on major body panels, aside from very minor peeling on the door handles and mirrors. Now I kept this original, as I wanted to preserve the integrity of this 323i/5. As I believe the paint on this car to be 100% original aside from mentioned. It appears the prior owners either always kept this car garaged, or waxed at all times, or both.

This has to be one of the most passionately cared for 20 year old, 177,000 mile cars I have come across.
I am not one who typically "upsells a car" I tell it like it is. Is this car perfect? No, it's not, Don't expect it to be.
Is it going to be represented through the eye of an unbiased, passionate automobile enthusiast? Absolutely.

With that said, I would like to proudly explain the very few cons to my knowledge of this car:
– Front Control Arm Bushings are the slightest of worn (i'm a perfectionist so I noticed)
– Driver Window Switch is Reversed (Press Up to Open etc..)
– Slightest of Sagging in Rear Headliner
– Rear Right Window Regulator Expired
– Trunk Toolbox Missing Most Tools

Please feel free to take a brief journey to the page of my Seller's Feedback to see my past 100% positive history selling unique automobiles over the past decade.
Don't hesitate to reach out with any inquiries about this car at all, or even to just chat about cars. I always enjoy getting to know likeminded individuals. (no pun intended!)

Best of Luck!

—
Below I have attached a copy of a reliable VIN decoder I use, that states production date, factory options, color etc.. please use this as a reference.
Type

Value
VIN WBAAM3347YKC71856
Prod. Date 2000-03-17
Service History Contact Seller
Type 323i
Series E46 (3 Series)
Body Type Saloon
Steering Left Hand Drive
Engine M52/TU
Displacement 2.5
Power 125kw / 170hp
Drive HECK
Transmission Manual
Colour Special paint (490)
Upholstery Imitation leather/black (K4SW)
Check mileage

S411 Window Lifts,Electric,Front/Rear
S441 Smoker Package
S403 Glass Roof, Electrical

S662 Radio BMW Business CD
S640 Preparation F Tel.Installation Universal
S692 Preparation, BMW 6-CD Changer I-Bus
S676 HiFi Speaker System

S540 Cruise Control
S520 Fog Lights
S534 Automatic Air Conditioning

S210 Dynamic Stability Control
S274 BMW Light Alloy Wheel, Double Spoke 53

S876 Radio Frequency 315 MHz
S845 Acoustic Fasten Seat Belt Reminder
S818 Battery Master Switch
S832 Battery In Luggage Compartment
S823 Hot-Climate Version
S354 Windscreen, Green-Tinted Upper Strip
S853 Language Version, English

S925 Dummy-SALAPA
S992 Control Of Number-Plate Attachment
S926 Spare Wheel

—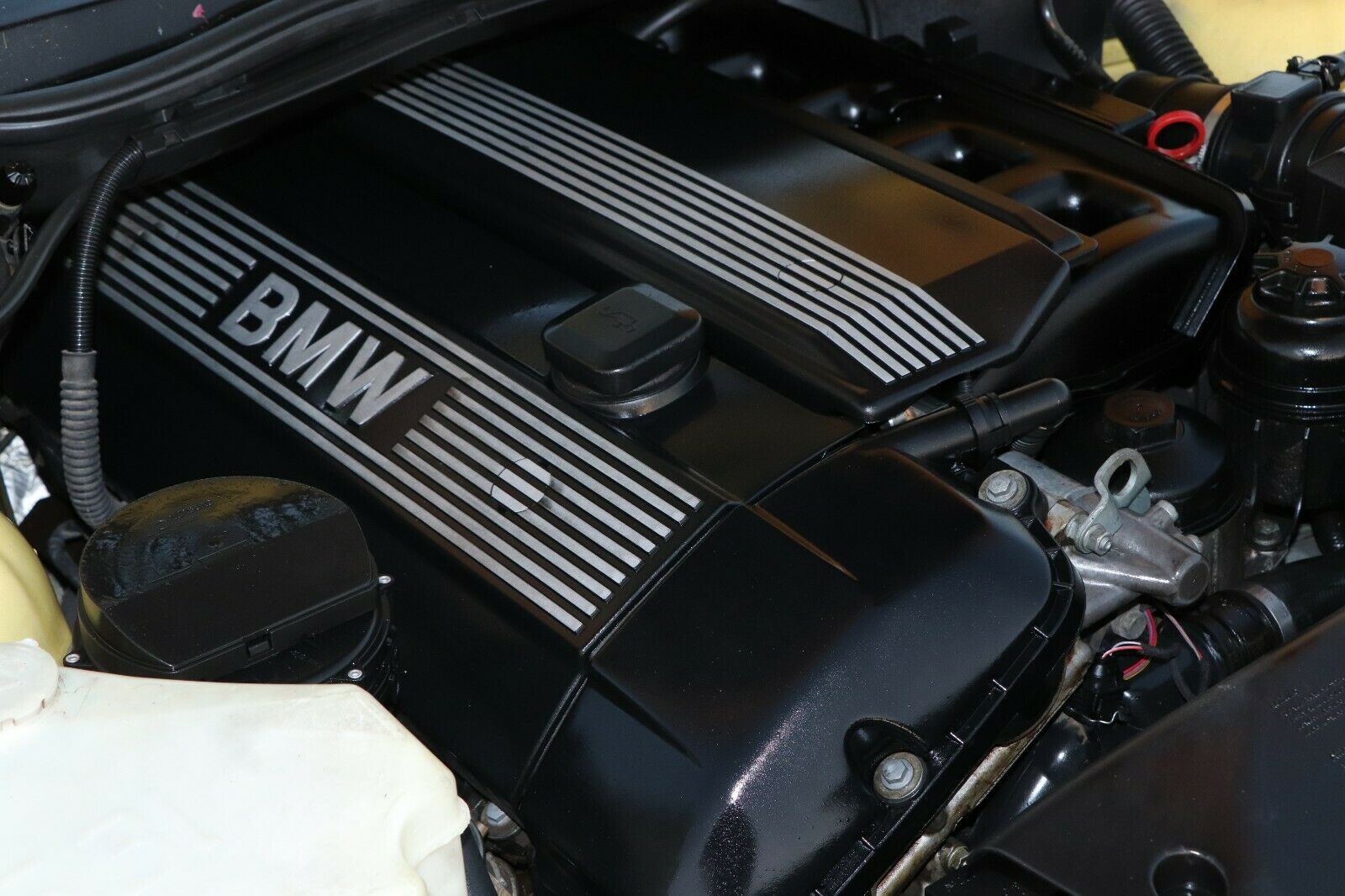 So why is this one weird? Well, if you wanted a Individual wagon, your sole option of engine for the US market was the 2.5-liter M52 in the 323i. But you could get a 328i sedan here in 2000, so the option for the lower-spec motor is strange to me when you're going through the trouble of special ordering a car. On top of that, it doesn't have the Sport package, which gave you better seats, better wheels, and better suspension. It also doesn't have leather, which out of all of the strangeness, I perhaps get the most – just jump into an older 3 with uncared-for leather and you'll realize why – but still, it's odd on a special order.
But here it is, in all its quirkiness. And it now has nearly 178,000 miles and the dealer has done all the importance maintenance, like replacing the plate frame screws and windshield washer tank screen (thankfully both with OEM parts!). So perhaps out of all of this the least surprising thing is the asking price of nearly $13,000. Before you check, yes – that does get you a M3, though you're likely looking at an SMG model for those haters and one that probably has some needs. But if you truly want to be an Individual, you wouldn't make that obvious choice, would you?
-Carter