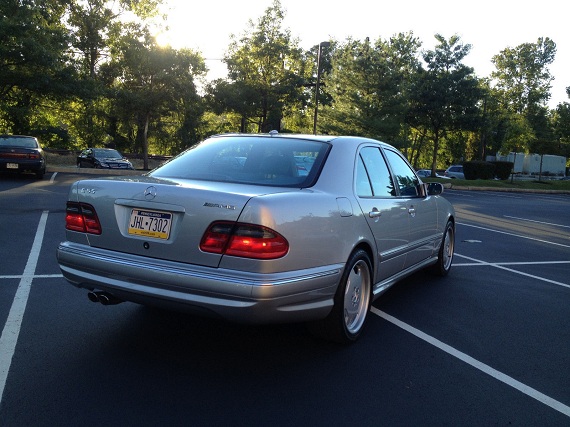 AMG models underwent an interesting adolescence when they were absorbed into Mercedes-Benz properly. At their birth they were the wild child, making bad boys out of unassuming Benzs by adorning them with spoilers, giant wheels and larger than life motors. But then there was a calming period when Mercedes started offering AMG wheels and body styling on basically every model, making the late 1990s and into 2000s hard to identify a true AMG from the run of the mill cars with big wheels. Since then, AMG has truly blossomed into a full-blown psychopathic anti-social Prius killing Frankenstein maker, but the cars of the early 2000s were more subtle and fly much lower on the radar. One of the best examples of this is the original E55 – a car outshone by both it's father 500E/E500 and the ubiquitous M5. Consequently, a smart buyer can pick up one of these Autobahn masters for not much money. Today's example is a perfect case in point: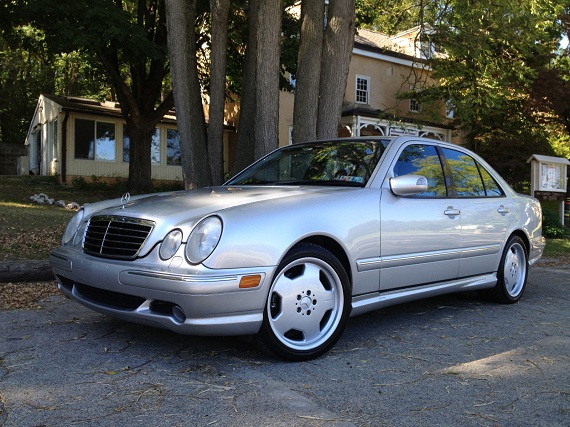 Year: 2000
Model: E55 AMG
Engine: 5.4 liter V8
Transmission: 5-speed automatic
Mileage: 85,222 mi
Price: $10,900 Buy It Now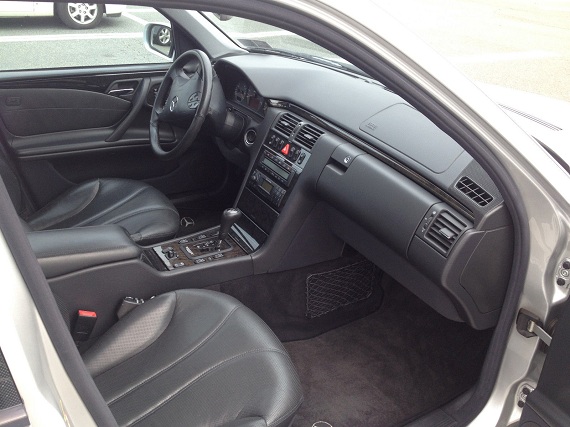 I spent almost a year looking for the best, low mileage W210 E55 AMG I could find. And found it a few months ago, but sadly a house purchase required far more cash then I expected. So after selling an Alfa, a GTI, I now have to sell my AMG. The car is amazingly clean, and looks as good in person as it does in the photos. Underneath, inside and under the hood all are clean and show how well maintained and pampered this vehicle has been. The exterior and interior of this car are very impressive.

I bought the car from the second owner. The car fax is a little confusing since he leased it as a used vehicle in 2000 then bought it off lease. The paper work that comes with the vehicle will verify that the second owner started ownership in 2000 when the car had around 15k on it. The car has a clean car fax (which I can email to you if you are interested). There are no accidents or issues. I have most of the service records for the vehicle which show that it was usually maintained at the Mercedes Benz dealer. I had Mercedes Benz do a pre-purchase inspection and they found no problems. The brakes are at 50%, the tires are Michelin Pilot Sports all around with good tread. The car does not use any fluids. All the gadgets, buttons, windows, power sunshades, headlight washers, AC and etc all work. The only fault is I only have the one key, and it sometimes says there is a bulb out even though all the lights work. This car was always garaged (and still is), and has never been driven in winter. The wheels have no curb rash. You can tell this car has always been loved.

I do have the car for sale locally and recently had an interested buyer do a thorough inspection of the car. He found a few issues that initially raised some concern on my part. The passenger side valve cover gasket has some very slight oil residue on the front, and when he read the car's OBD outlet he found the code for a possible oxygen sensor code. I called the Mercedes Benz dealer that did the pre-purchase inspection and voiced my concern about these issues. They expressed that all E55 AMGs of this vintage have some oil residue on the valve cover gaskets and that they were not concerned. As for the oxygen sensor they were not concerned since the car passed emissions with no problems and runs and drives with no issues. I am disclosing everything I know about this vehicle. It looks beautiful, is solid and tight with no rattles, shakes, or noises of any sort. Like everyone says "I would not hesitate to drive this car across the country" and in this case it would be the perfect ride! I am driving the car a few times a week so the miles are going up. If you have a zero rating please contact me before you bid. Please do not hesitate to call or email me with questions or concerns.

On Nov-08-13 at 06:54:47 PST, seller added the following information:

I forgot to ad that the transmission service was just done. There were no issues with the transmission, it shifted smoothly and has no problems. But since I planned on keeping this car for a long time the service was done. Mercedes Benz fluid was used, all the fluid from the pan and converter was drained, new filter, upgraded electrical plug, and filled perfectly using optical thermometer. The oil was just changed at the Mercedes Dealer when they did the pre-purchase inspection.

The other item to clear up is that is says four owners on the car fax when it is only three. The second and third owners are the same person since he leased the vehicle then bought it out at the end of the lease. Then I purchased the car from him.

The car is currently inspected and insured so if you would like to come take a drive please contact me.
Thanks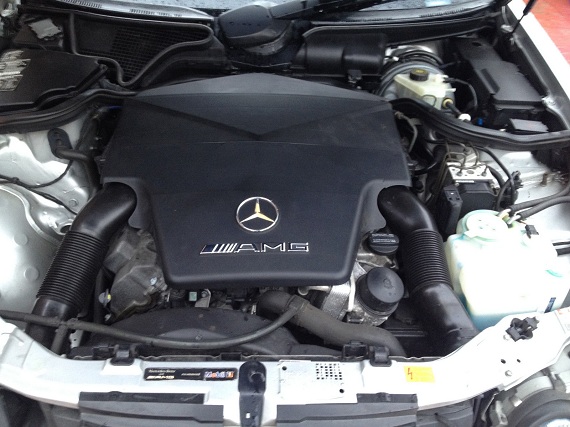 $11,000 is well shy of what the equivalent M5 would bring, and even in some cases less than E34 M5s. Heck, we've even seen original S4s and 200 quattros start to bring this sort of money. With lower miles in the classic and signature silver over black, the seller has been seemingly very up front about the condition of the car and needs – of which it has few. The car looks in very impressive condition and much nicer than the last E55 I found for V8 week a few months back. If you're looking for a fast executive sedan that you can generally hide pretty well in and afford to keep, this might just be a great option for you.
-Carter