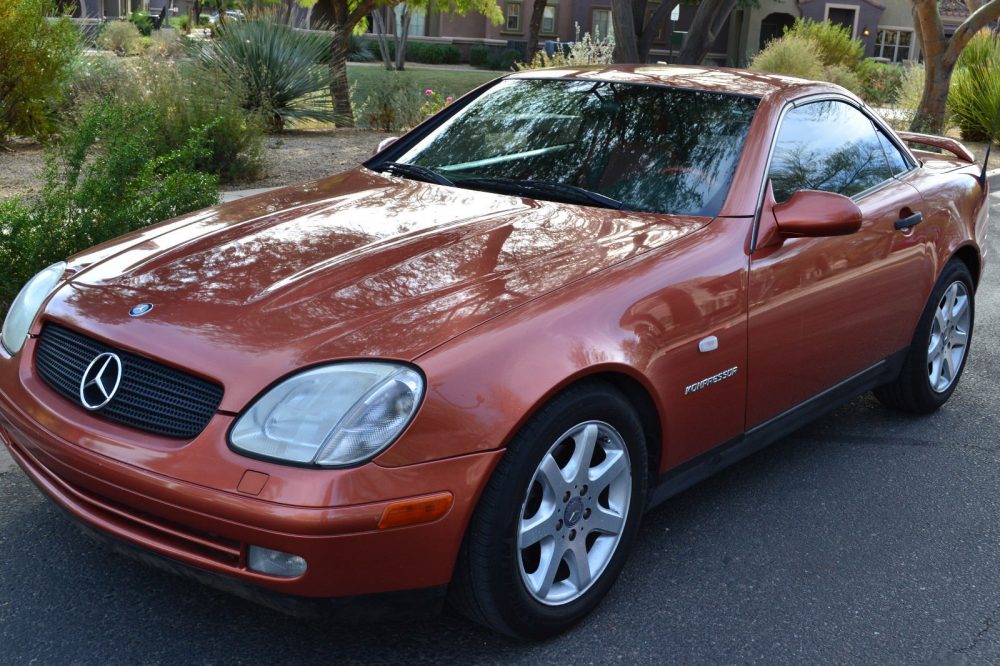 The first generation Mercedes-Benz SLK was all about fun. When the SLK was launched, Mercedes said it was "driving in a new dimension." I kind of get what they were after but I'll just chalk it up to some marketing-speak. While the R129 was the serious roadster with a serious price tag, the R170 was the light-hearted option that checked in at $40,000 as opposed to the $80,000 and up if you went with SL500. There was a finally an option for people who didn't want to spend starter home money for a Mercedes convertible. The best part about it was that the normally ultra-conservative styling you were used to seeing was moved towards something that still could be recognized as a Mercedes, but a breath of fresh air and a look into the new millennium. You want a crazy color? Sure. Matching seats? You got it. And how about something those stuffy R129 buyers don't have, an automatic, retractable hardtop? Yep, that will make Morty and Barb from the club jealous. How about one more thing, a supercharger. Now we are going crazy!
All this was really great in the late 1990s. Times were good, money was flowing and there was no reason to believe that you when you bought a SLK, you weren't getting that same standard of quality that you were used to from every Mercedes convertible of past. All the way from the 300SL and 190SL to the R129 and C124 and everything in between, those were really special cars. There is a reason why the W111/112 Cabriolet is still a six-figure car and Pagodas even in the roughest of condition are starting at $50,000. The thing with the SLK was that all of a sudden the generous amount of leather and wood you were accustomed to in your top-down Mercedes was suddenly replaced with vinyl and plastic. Lots and lots of plastic. It's tough to blame Mercedes as they needed to directly compete with the BWM Z3 that was well into production and buyers didn't care all that much because they got a convertible with that giant three-pointed in the grille for half the price they usually are. Everyone wins.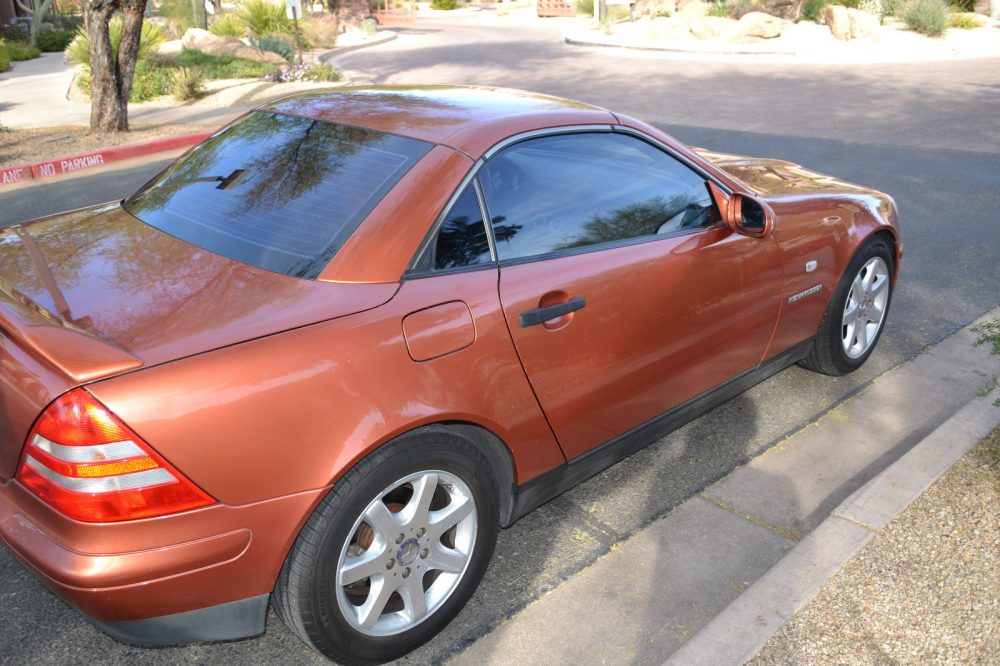 Year: 2000
Model: SL230
Engine: 2.0 liter supercharged inline-4
Transmission: 5-speed automatic
Mileage: 132,000 mi
Price: No Reserve Auction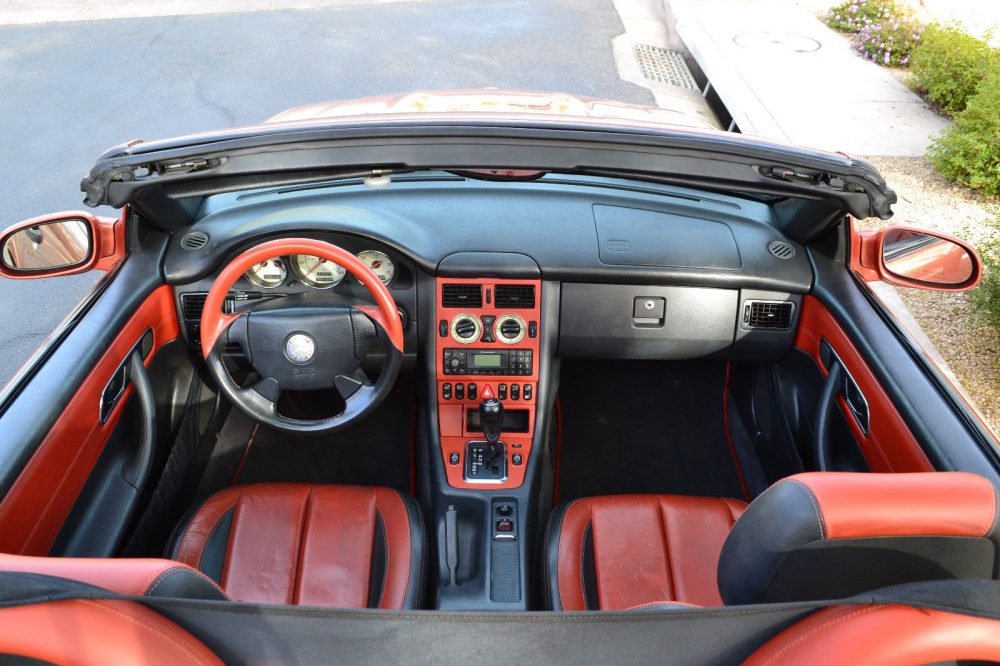 Selling my 2000 Mercedes slk230 DESIGNO edition. car is in good conditin. No issues. passed emissions not long ago. Top is working properly. No tears or rips inside. Tires in very good condition. Please ask if you have any question. Buyer is responsible for shipping.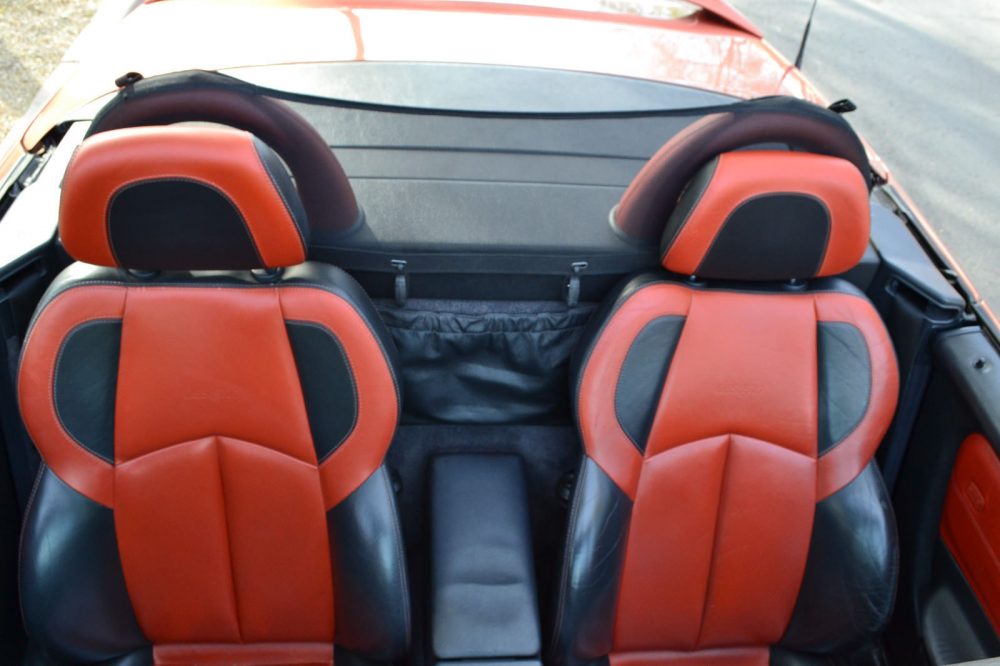 Whenever I see a SLK for sale, even in AMG guise, I usually gloss of them because I personally don't find them all that interesting for the reasons I said in opening. But this example up for bid in Phoenix, Arizona I couldn't ignore thanks to the outrageous amounts of orange. Orange exterior, orange interior and even orange headliner. Mercedes didn't even mess around and give this paint some fancy name, it is simply called "Orange." Which brings me back to my first sentence. What kind of person do you need to be to buy this car new? Even now, you have to be just a little different, a little more vibrant or just don't really care at all to own this car. Because that is all this car really is, just a show piece that is fun. You'll never convince anyone that you bought it because it is fast or a great handler and surely you won't fool anyone that you bought it because it has that legendary Mercedes quality of past. I'm actually surprised at how well this specific example has held up because some R170s out there are aging quite tragically. The Designo interior has normal wear that any car that is 18 years old has and the exterior has it bumps and bruises to match. The ad description is light on information so I don't know anything about the mechanical condition of the car, so lets assume it is just average.
So what is going on in terms of values for the R170? Outside of the most pristine cars, AMG included, I don't think they'll ever be a collectible market for these. They aren't aging well at all thanks to the steps Mercedes needed to take to have a $40,000 hardtop roadster and they certainly aren't the most beautiful cars ever made. But Mercedes did what they needed to do with these. Get people into the brand at a discounted rate and hopefully keep them coming back to other (and more expensive) models. The reality is that you can pick up an early SLK for a few thousand that probably needs a ton of help and even the best models are having trouble cracking $10,000. Great bang for the buck if you purely want a small roadster, but that is pretty much all you will get out of these. As for this car, this outrageous color combo will probably draw a few people in, but I can't see it going for more than $7,500, if that. Either way, an interesting point in Mercedes history to look back on.
– Andrew