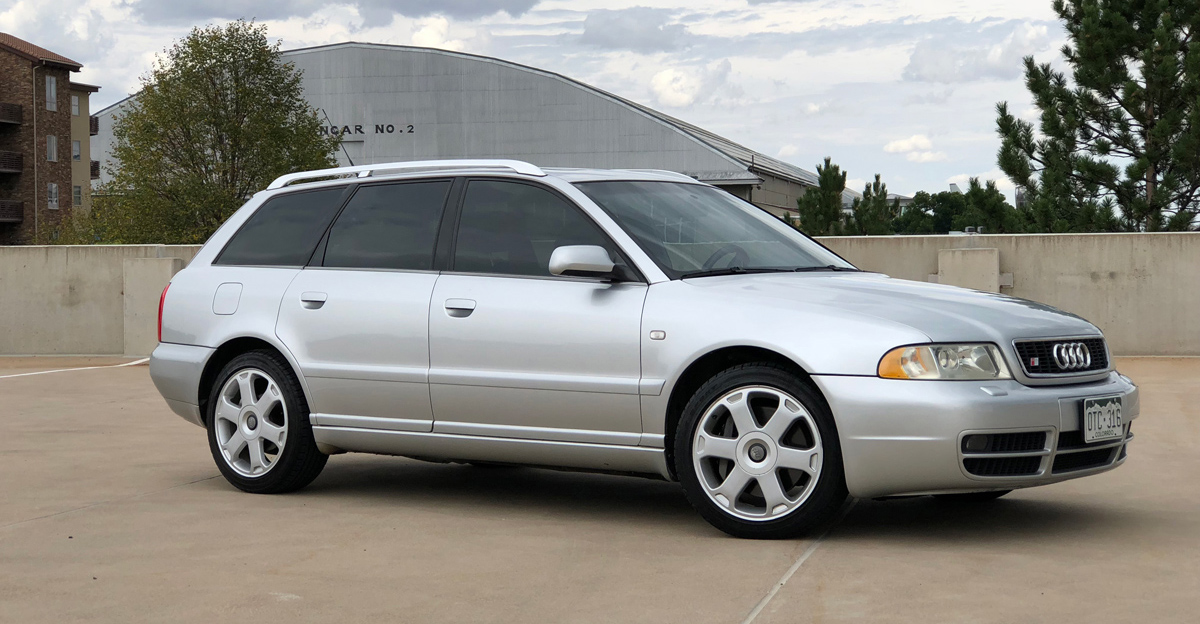 It seems appropriate to follow yesterday's S8 with this model. In just a few years, Audi went from only one S model with very limited production imported in the C4 S6 to three models. Top of the range was the S8, but it shared its running gear and sonorous V8 in a slightly detuned state with the new C5 S6. For Audi enthusiasts, though, big news came with the launch of the new S4.
It was unrelated to the first S4 because of Audi's renaming strategy in 1995. That meant that the new S4 was based on the small chassis B5, and U.S. enthusiasts finally got a taste of Audi's M3 competitor. Performance came in the form of a new 2.7 twin-turbocharged V6 30V and was mated to either a 5-speed Tiptronic transmission like its bigger siblings or a 6-speed manual. Like other B5s, the S4 made use of the 4th generation of quattro technology driving all four wheels. This utilized a Torsen center differential with open front and rear differentials, both of which employed the ABS sensors to electronically 'lock up' the slipping wheels when a speed differentiation was detected. Like other S models, some light revisions to the bodywork and more pronounced exhaust were present, along with polished mirrors and 17″ Avus-design wheels. Most notable was the large front bumper cover with 6 gaping grill covers which hid the twin intercoolers for the motor. With 250 horsepower and 295 lb.ft of torque, you had an all-weather 155 mph warrior. And, it was available as an Avant: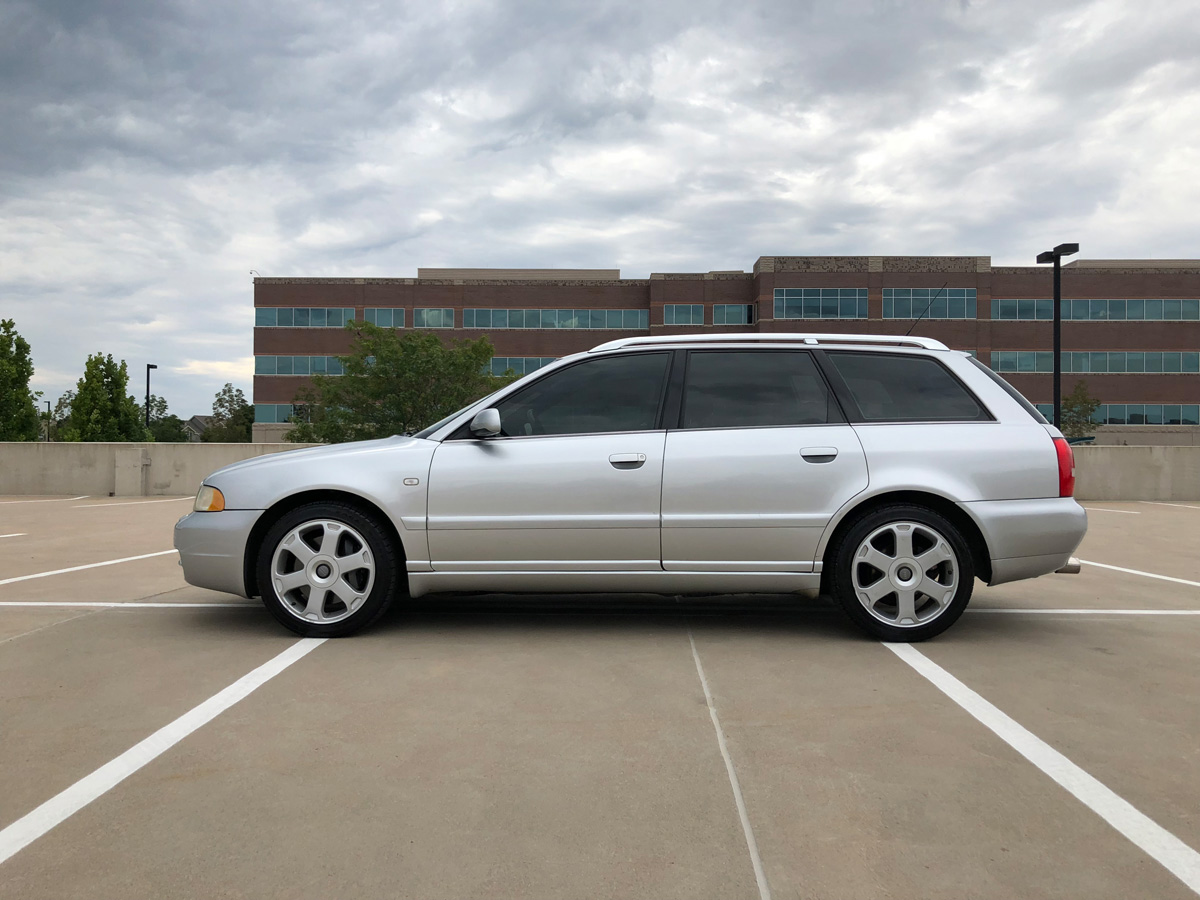 Year: 2001
Model: S4 Avant
VIN: WAUXD68D91A100782
Engine: 2.7 liter twin-turbocharged V6
Transmission: 6-speed manual
Mileage: 134,000 mi
Price: $7,500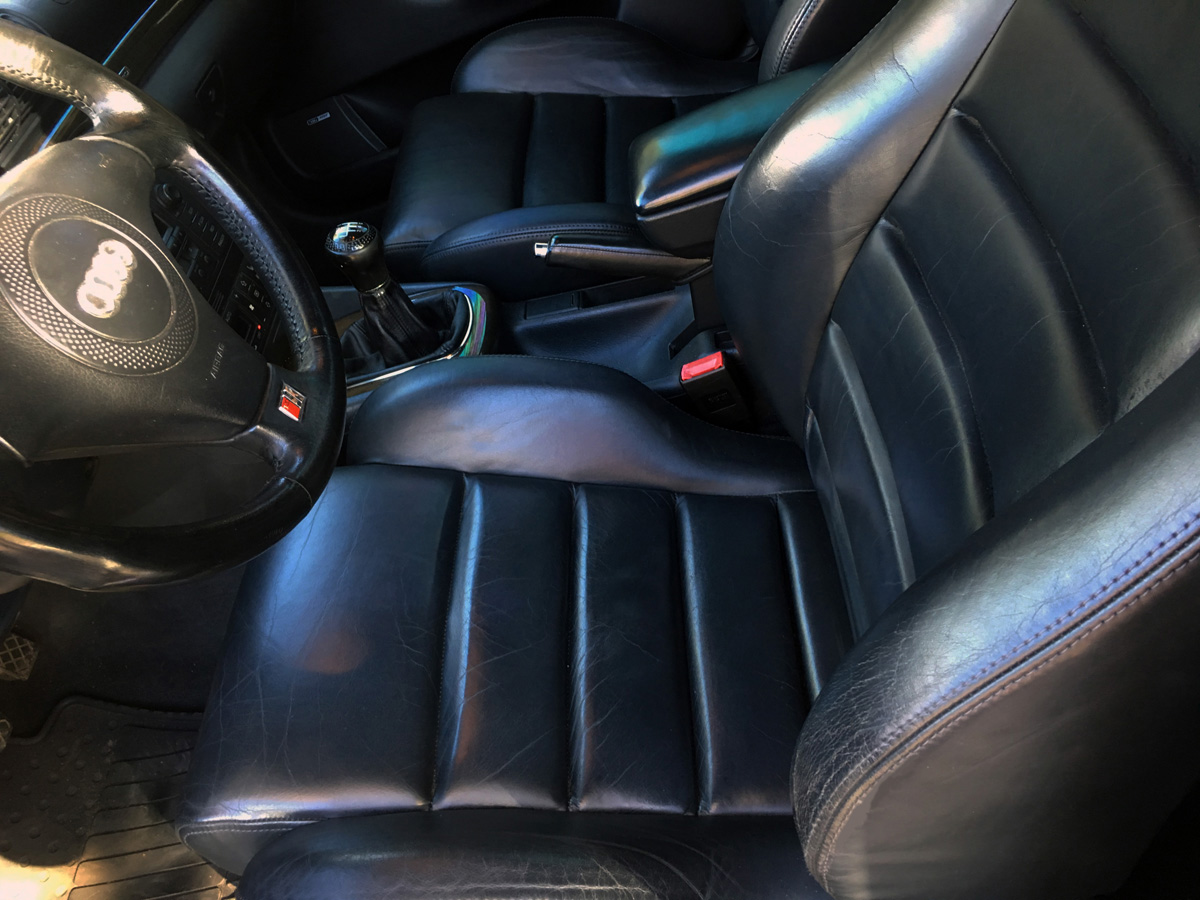 2001 Audi (B5) S4 Avant
Light Silver Metallic / Onyx
2.7T 30v V6 (APB)
6-speed manual transmission (01E EDU)
winter package + premium package
WAUXD68D91A100782
Under 134,000 miles

Our family takes pride in this rare wagon. Driven and maintained with care. Colorado car since new. Fantastic driver. Selling to make room in our garage for another classic Audi.

Very clean body and paint. No rust anywhere, clean rubber and glass, auto-dimming mirrors like new, all lenses clean and clear, working headlight washers and fog lights, working rear wiper / fluid. Aero wiper arms front and rear with clean blades. New matching early B5 sport badges. Factory wheels in fine condition.

Great interior. Flawless headliner and maple trim. Gorgeous, well-kept silk nappa sport seats. Six-level seat heaters up front are fully functional; no hot spots or broken elements on either side. Satin-black RS4 door handles, black hazard trim and ashtray trim. New OE Sport mats. Original all-season trunk liner, cargo cover and net. Original Bose Symphony head unit and speakers. Bluetooth wired in neatly via Blitzsafe aux adapter. Power windows all work, central locking works, seatback pockets still nice and tight. Sunroof tilts and slides smoothly.

Dialed-in stage 2 performance. AMS / Abt chip rated 310 hp / 370 lb-ft on 91 octane (documented in this chip shootout hitting 324 hp). ST coilover suspension, AWE Twin 2 stainless catback exhaust (NLA). Neuspeed 19mm rear anti-sway bar. Forge diverter valves. Apikol rear diff mount and snub mount. EGT sensors deleted. Rated under 12 pounds per hp with this setup. Passes Front Range emissions without issue.

Solid mechanical condition. Clean VCDS diagnostic scan; no CEL, no Airbag light, working ABS. Newer OEM Lemförder / TRW control arms, tie rod ends, and sway bar links. Axles and CV boots in good shape. No leaking diff seals. No coolant leaks from newer afterrun pump or t-stat housing. No boost / vacuum leaks. Steering pump and rack are silent, valvetrain is silent, tensioners are silent, wheel bearings are silent. Shifts smoothly in all gears and the clutch take-up is correct. Cruise control still works. Starts right up and idles evenly at all temps. Deka Gold 765 CCA battery tests strong. No vibrations or noises from stock Lucas HP2 brakes; pads are 90% all around. Hand brake is strong and tight. Hood strut and hatch struts holding like new. Auto climate control is fully functional with hot heat and cold a/c.

Nearly new Goodyear Eagle Sport 225/45/r17 all-season tires ( 9/32nds) on original Ronal Avus 17-inch alloys. A spare Avus and original spacesaver spare are also included. Zero leaks, patches, bulges or other tire issues. Currently stock ride height with alignment to factory spec.

All recent work done professionally with receipts from Autosport Werks: new OE front brake hoses with fresh ATE dot 4 fluid. New 034 street-density transmission mounts. New center clamps on the exhaust. New bushings on rear anti-sway bar. New N75 valve, NGK laser platinum spark plugs, fresh M1 0w40, OEM oil filter and air filter.

The stock K03 turbos are hardly silent at this altitude but the seals remain all good: between valve cover gaskets, oil pan gasket, and any typical blow-by the car lost only a quarter-quart of oil over a year / 3k miles. They are always warmed up and cooled properly, and hold all of the tune's 14 psi without issue. I am not a hot-shot driver and I never, ever beat on this car. The car does not smoke on cold start or otherwise.

A spot of visible weep from the PS pump is the car's only hydraulic leak; I've never had to top off the fluid. The timing belt and related components have ~65k miles on them according to records. Another inspection this month shows the belt remains tight and crack-free as shown in photos.

Premium Package features HomeLink transmitter, auto-dimming mirrors and digital compass (all working); Cold Weather Package has heated front seats, heated outside mirrors (also working), expandable ski sack. One of fewer than 300 matching examples shipped from the factory. Original gauge faces, steering wheel, and hood badge included if you prefer the North American look. Working keyless entry remote, two extra keys, original manuals with radio code.

We looked at B5 S4 Avants for more than two years before immediately snatching this one up after a lengthy inspection by Curtis at Autosport Werks of Broomfield. It has a rebuilt title from a documented side impact in May 2016. No damage to unibody; no airbags deployed. Driver-side doors and B-pillar trim were replaced by B5 specialists at APB Motors of Commerce City with excellent paint work. Rebuild made this car very clean and a lot more affordable. Insuring it has been no additional cost over our last Audi. Happy to pass on the savings to the next buyer.

All inquiries and questions welcome. john.eding@sbcglobal.net. Thanks for looking!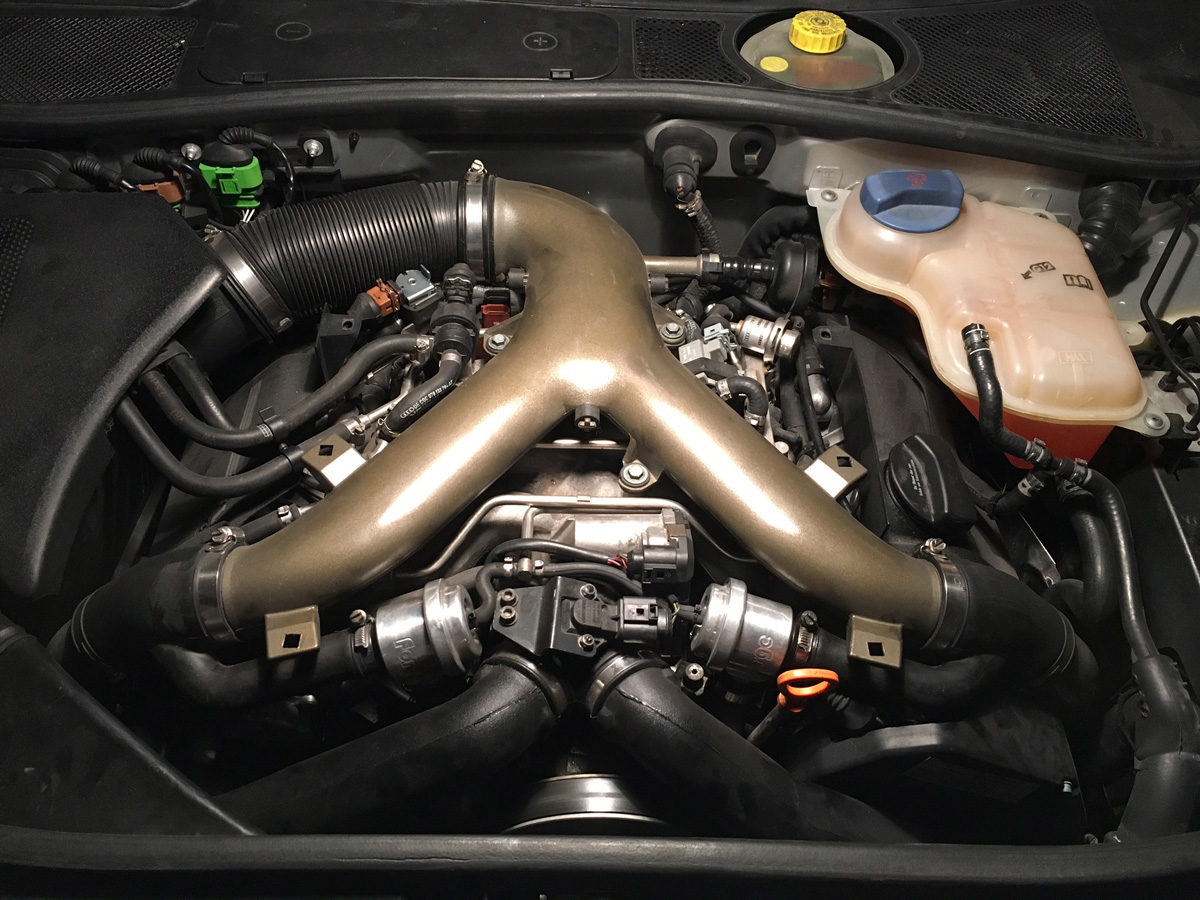 While the M3 trumped the Audi on pure driving engagement, the Audi was a much more practical choice for many. As a bonus, being turbocharged meant that the motor could be turned up – as is the case here. With some not unsubstantial modifications, this was the same basic motor that went into the B5 RS4, where it produced 50% more power. This runs the middle ground with a more conservative 310 horsepower and enough torque to scare E46 M3 owners in a straight line. The Light Silver Metallic was popular on the S4 Avant, as Audi claims that it sold 358 of the 1,254 2001 Avants in that color. It's matched well with the maple trim and black leather. The seller includes a great photo gallery and plenty of receipts, as well as a detailed description.
Downsides? From a pure collector standpoint, the branded title and repairs would rule this one out. Now that those people have left the room (were they even here?!?), this one looks like a winner. The repaired status means the price is much more affordable than most clean, similar mileage 6-speed Avants come to market. If you're looking for a great condition and exhilarating family hauler, this one looks like a winner.
-Carter