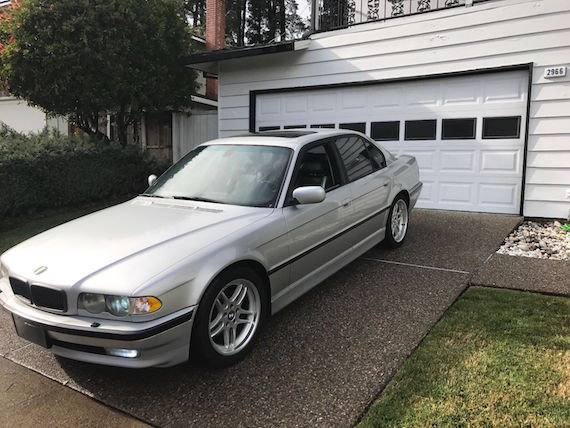 What's better than an E38 740i? A 740i with the Sport package, which adds 18″ M-Parallel wheels, shadowline trim, sport suspension and seats. And what's better than a 740i Sport? A 740i Sport with a manual 6-speed gearbox. Wait, what? Yes, you read that right. While these cars were only available from the factory with an automatic, a brave soul with a healthy supply of time, money and genius has converted this 740 to a stick shift by swapping in a transmission from an E39 540i. That should turn this luxo-barge into a bit of a canyon carver.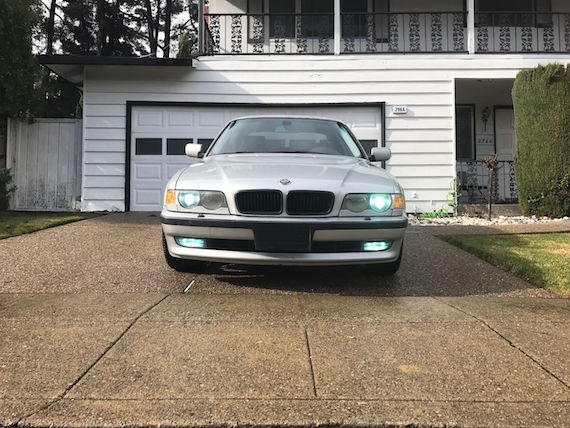 Year: 2001
Model: 740i
Engine: 4.4 liter V8
Transmission: 6-speed manual
Mileage: 202,000 mi
Price: $7,500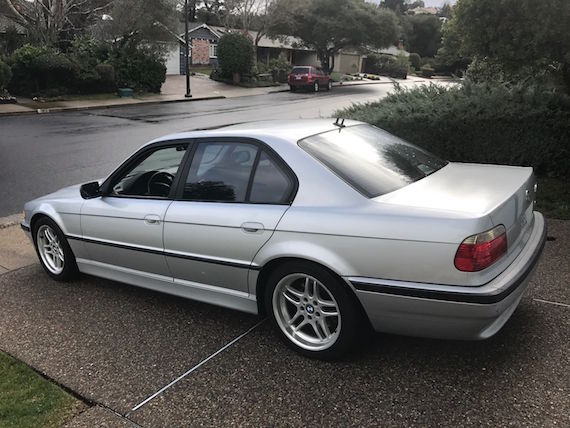 2001 BMW 740i M Sport Package — 6 SPEED MANUAL TRANSMISSION —

The transmission and majority of the parts were sourced from a low mileage e39 540i, custom driveshaft, new clutch master cylinder, euro e38 shifter boot, etc.

Being a sport package it has sport seats, black shadowline trim, sport suspension, a 3.15 sport differential, and sport steering wheel and staggered 18″ M-Parallels. Car runs and shifts great, steering is tight and responsive. The car feels like a larger E39 M5.

-Clean California title
-Registration just paid until October 2018
-Clean Carfax
-Staggered M-Parallels with 2 fairly new front tires, rears still ~40% tread
-New Front Brake Rotors and Pagid Brake Pads w/new front pad wear sensor
-Full DOT 4 Brake Fluid Flush
-LEMFÖRDER (High Quality) Front Lower Control Arms and New Front Thrust Arms (5k miles ago)
-New spark plugs 4k miles ago
-Black Kidney Grilles
-Muffler delete (slight growl now, no drone whatsoever)
-Recently replaced GRAF waterpump, BMW blue coolant, & OEM Behr thermostat
-Clutch is tight and grabs great
-New shifter bushings so they are tight with almost NO play between gears
-545i e60 shift linkage for shorter throws
-OEM BMW "M" 6 speed black leather weighted shift knob
-Ice cold A/C
-Hot heater
-Power front seats
-Heated front seats
-Power windows (new driver's side rear regulator installed ~ 4k miles ago)
-Power Moonroof (opens but when closing switch works intermittently, can manually close if needed)
-6 CD changer
-OEM 16:9 widescreen Navi
-DSP equipped car
-White LED interior bulbs
-Aluminum gauge cluster rings & new cluster bulbs
-OEM HID headlamps with 8k bulbs
-HID foglights with matching 8k bulbs

Asking $7,500

Contact: 415-990-8525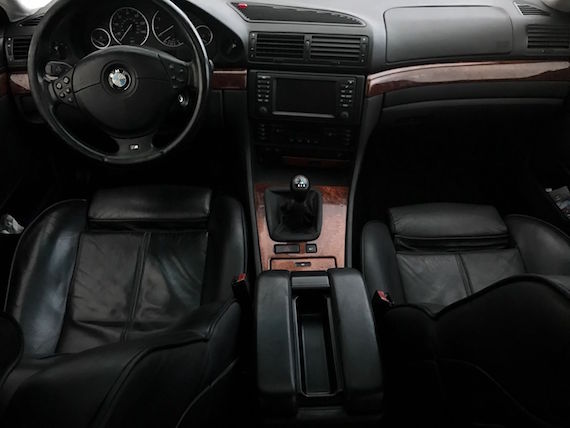 The car presents nicely in Titanium Silver over a tidy looking black leather interior. It may not be a very exciting color combination but it does suit the restrained and classy lines of the E38, a quintessentially stealthy executive sedan. The six speed manual gearbox is here allied to the torquey 4.4 liter, M62 V8 (also found in the 540i) which puts out 282 hp. I imagine the ability to shift your own gears makes this a lot of fun to drive. The seller says the car "feels like a larger E39 M5." There's probably a bit of hyperbole there, but I can see what he's getting at.
Condition looks good with no particularly remarkable flaws apparent from the photos, except for what looks like a smallish dent on the rear right wheel arch. The muffler delete and black kidneys will not be to everyone's taste, but I could live with them (I'm curious to hear what the exhaust sounds like). Some service history is mentioned in the ad, with recent work completed on the front suspension, brakes and cooling system.
Miles are high at 202k and there is a slight mileage discrepancy reported in the AutoCheck history. That might explain why the car didn't sell back in January when it first appeared on eBay. Potential buyers would want to inspect it closely and, if possible, have a professional check to make sure that the swap has been completed diligently. The $7k asking price is strong money for a car with such high mileage, but the manual transmission is quite a sweetener.
It's possible that this is the same 740i manual featured in a Jalopnik article dating from 2011. The color, miles and location would seem to match and I can't imagine there are many other manual swap E38s out there. Back then it was up for sale with a similar asking price, but with 50k less miles.
– Craig
Edit: A big of googling throws up a listing on BaT from October '16, with some helpful info about the car in the comments section.