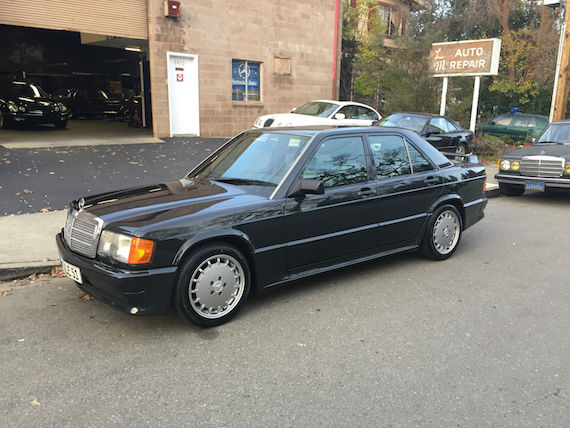 Last week I wrote up a tidy looking 190E 2.3-16, the boxy, 80s DTM-racing inspired version of the W201 from Mercedes that has never really gained the same kind of attention as its obvious competitor, the E30 M3. Perhaps that is changing, as more of these come to market in respectable shape. The general consensus among enthusiasts, however, seems to be that these cars are neither desirable nor fast enough to merit the higher price tags we're beginning to see. (Once upon a time they were firmly in the sub-$10k category, whereas now sellers seem to want the mid teens and up for non-basket case examples.) But maybe the skeptics will be won over by a an imported 2.5-16 like this one?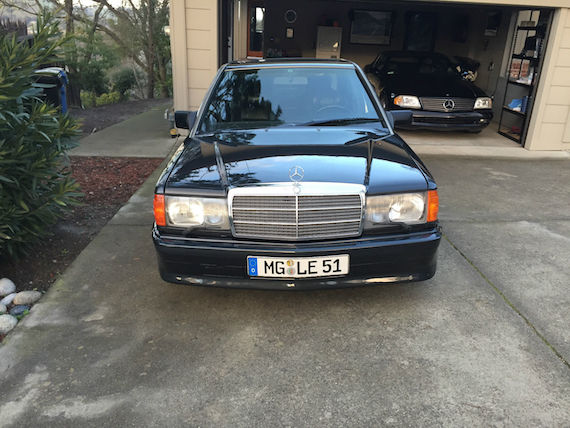 Year: 1990
Model: 190E 2.5-16
Engine: 2.5 liter inline-4
Transmission: 4-speed automatic
Mileage: 74,000 mi
Price: $44,995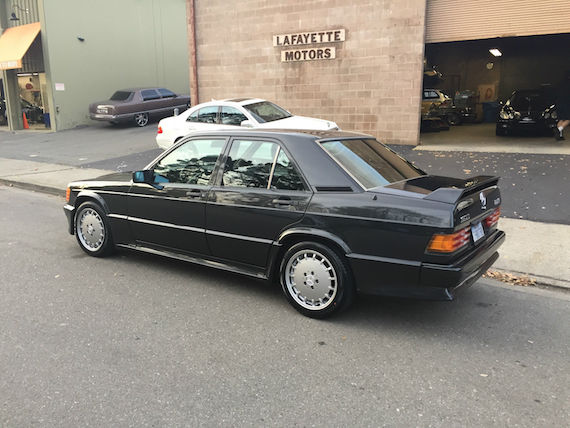 Selling a very rare and collectible 1990 MBZ 190e 2.5-16v Cosworth. If you're reading this ad, you know how special this car is and it's place in 1980's automotive history. The car is fast with amazing acceleration and low-down torque supplied through a 4 speed automatic with none of the notchy, long throw gearshift issues that plagued the 2.3 models with the manual gearbox . Beautiful condition, completely stock, blue-black exterior, full black leather interior with Recaro seats, Becker stereo, MBZ fire extinguisher, owner's manuals, first aid kit, three keys, OEM MBZ EVO I 16″ alloys wearing new 225/45/16 tires, (still have OEM 15″ alloys with new 205/50/15 tires). Recent full service including new front OEM Bilstein shocks, OEM MBZ exhaust, air filter, fuel pump, fuel injection tune. Needs nothing. Legally registered with a clear Montana title. Car is equipped with a catalytic converter – OBD I. It has passed CA smog on a test run. Many collectors are starting to realize the collector value of Cosworth's in relation to the BMW E30 M3 of the same era. European values are already rising and good low mileage examples are fetching premium prices. Email with questions.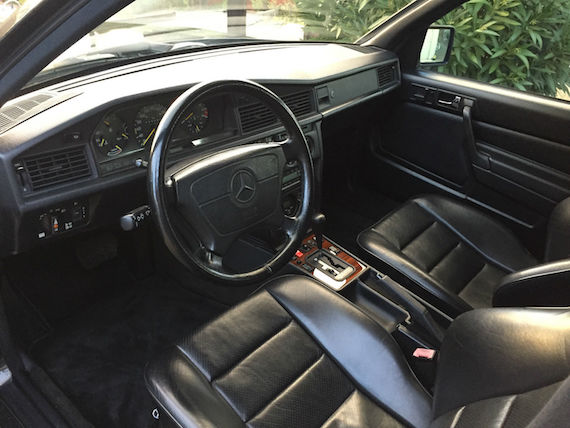 In America the 190E "Cosworth" was only sold with a 2.3 liter, four cylinder engine and badged as a 2.3-16. But elsewhere in the world, the 2.3-16 was replaced by the 2.5-16 in 1988. The M102 motor was bored out to 2.5 liters and equipped with a double row timing chain (the single row timing chain was a weak spot on 2.3s). Power output was increased to around 200 hp, a bump of around 20 hp over the smaller engined-cars. This car is located in California but a check of the VIN (visible in the image of the slam plate under the hood) reveals it to be a Japanese import. I think there is a touch of hyperbole in the seller's comment that the car is "fast with amazing acceleration," but it should at the very least be quicker than the 2.3.
Condition looks impeccable: the 199 Pearl Black looks beautiful over a flawless looking black leather interior. The car has benefitted from a recent service and is said to require nothing.  While it's equipped with an automatic gearbox, instead of the infamous dog-leg pattern 5-speed Getrag manual, I'm told that the automatic on these performs quite well. 16″ EVO I rims are a nice upgrade. The only flaw visible in the images is a little bit of vinyl lifting on the interior door panel (a common problem on W201s).
As neat as this car is, I think $45k asking price is pretty incredible. In my estimation, it's probably worth around half that, though it could be worth much more in future. The seller is presumably banking on the extraordinary condition of this car, and the relative rarity of the 2.5 liter engine, to get him that kind of money.
– Craig