I've come upon this one a little late as there isn't a lot of time left in this auction, but it's a wild and interesting enough 930 that it's worth our time. Porsche's Sonderwunsch ("Special Wishes") program provides customers with a wide array of features from which they can build themselves a very unique car. In most cases buyers keep things rather sane and choose a specific color for either the exterior or interior, or they select a couple of interesting interior details. Every now and then a customer goes further…quite a bit further. From the outside this 1989 Porsche 930 Cabriolet shows a few obvious touches with the side strakes and revised front air dam similar to what we see on the Slantnose. When we step into the interior that is when the customization really takes off. Just take a look: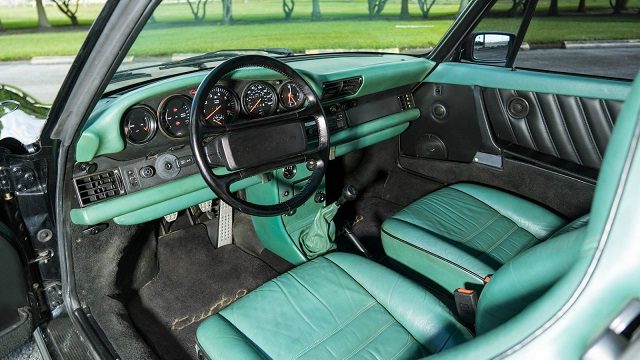 Year: 1989
Model: 911 Turbo Cabriolet
Engine: 3.3 liter turbocharged flat-6
Transmission: 5-speed manual
Mileage: 27,000 mi
Price: Reserve Auction
This stunning 1989 Porsche 930 Turbo Cabriolet is one of just a handful of Sonderwunsch Porsche 930 Turbo Cabriolets produced in that model year, and presents beautifully in black with a green custom leather interior. Sonderwunsch translates to special wishes, and serves as Porsche's in-house customization program that builds bespoke automobiles at the request of the owner. Their range of available services is all inclusive—drivetrain, suspension, exterior or interior—and nothing falls outside the scope of their capability and quality standard.

This 930 Turbo has been factory customized with the following features: custom body work consisting of rear-fender air intakes with horizontal strakes, a special-order (leather-to-sample) green full-leather interior, a center console with extra gauges, leather dash, and additional under-dash glove boxes.

This car has been babied all it's life. Still retains it's original paint and upholstery. The odometer was converted to MPH at 6347 km (documentation sticker still in door jam). New odometer shows 23,510 miles. Total miles on car equals 27k miles.

The final year of production has always been considered the pinnacle year for the first generation of Turbo cars that were built from 1976-89. The 1989 model year is the first to feature a 5-speed gearbox, and was the beneficiary of all the evolutionary changes that included the higher-displacement 3.3L engine, DME engine management, upgraded brakes sourced from the 917 racecar, 16-inch wheels and a host of small-detail improvements.

This gorgeous 930 Turbo has undergone a recent comprehensive engine reseal at a cost of $11k. A/C was fully overhauled at the same time. Invoice and pictures available. Car runs great, and everything works as it should.

Please call with any questions: 305-772-6900

Car is available for inspection in Miami. Please have this done BEFORE you bid. $500 non-refundable deposit due within 24 hours of auction end. I am a dealer, so if you are a Florida resident, I am required to collect sales tax, and tag fees. Please bid accordingly.
That got a little weird quickly. I think we can rest assured that you aren't likely to come across another 930 with an interior like this one. That it's a Cabriolet and, thus, that mint green will be on full view just makes it that much more bold. The appeal obviously will be a little limited given its brashness, but you certainly can't say the original buyer was risk averse.
I love seeing these Porsches even if I many times don't care for some of the options and combinations selected. This one would fall into that category. I imagine this would be a car I might love to spend time looking over at a car show, but probably wouldn't want to take it home. It's a 930: boring should not be on menu. We can quibble about taste.
As an '89 930 and with so many unique options the selling price could be pretty high, but there's a lot of legwork to be done to verify everything. In addition to the obvious of verifying the originality of the special wishes options there is the matter of its importation. This clearly was not a U.S. 930, but from where it originally came and when it found its way here we aren't told. Along with that will be validating the low mileage. As I said, a good bit of work but hopefully doable. Bidding is at $91,100 and reserve unmet. I expect that will have to rise significantly. Will it?
-Rob