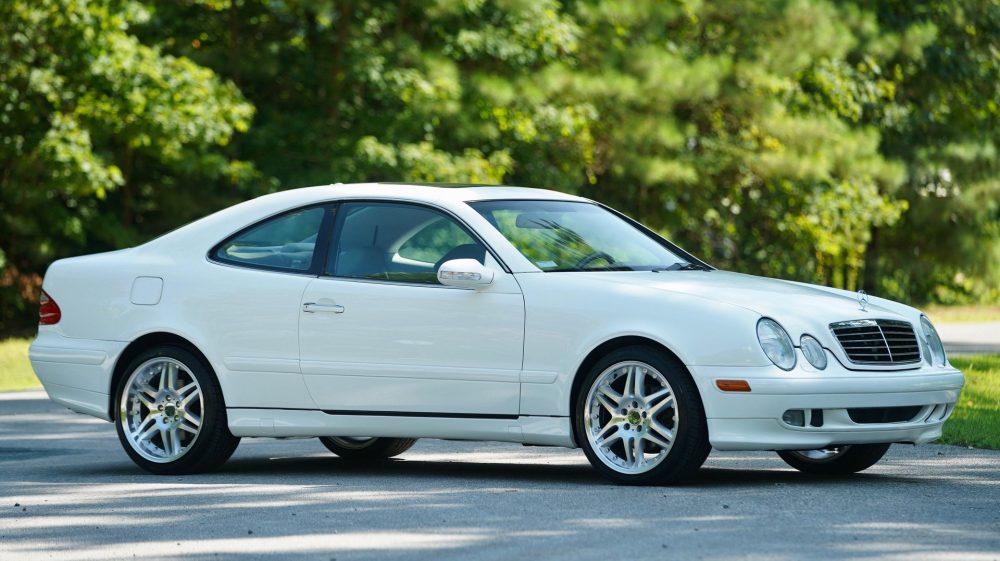 Dumping a bunch of money into a car and having it be worth than what you spent is rarely a math problem that makes sense. Usually if the math does make sense, you have to spend tens of thousands of dollars, sometimes hundreds of thousands. With today's car, that is not the case.
This is a 2002 Mercedes-Benz CLK320. A seemingly forgettable car in terms of Mercedes coupes as it followed up the legendary W124 coupe and a long line of stately coupes prior to that. It was based on the W202 C-Class but had every intention of making you think it was an E-Class coupe. It was not. The build quality with a step backwards from the W124 with cheap materials and soft looks, but that didn't matter to prospective buyers as it had a "fresh" look heading into 2000 and the lease deals were good. Then the car got old and everyone moved on. Today, they are pretty worthless in the Mercedes world outside of the very best CLK55 AMGs and it will probably stay that way. The seller of this CLK320 had a different feeling about that. Let me explain.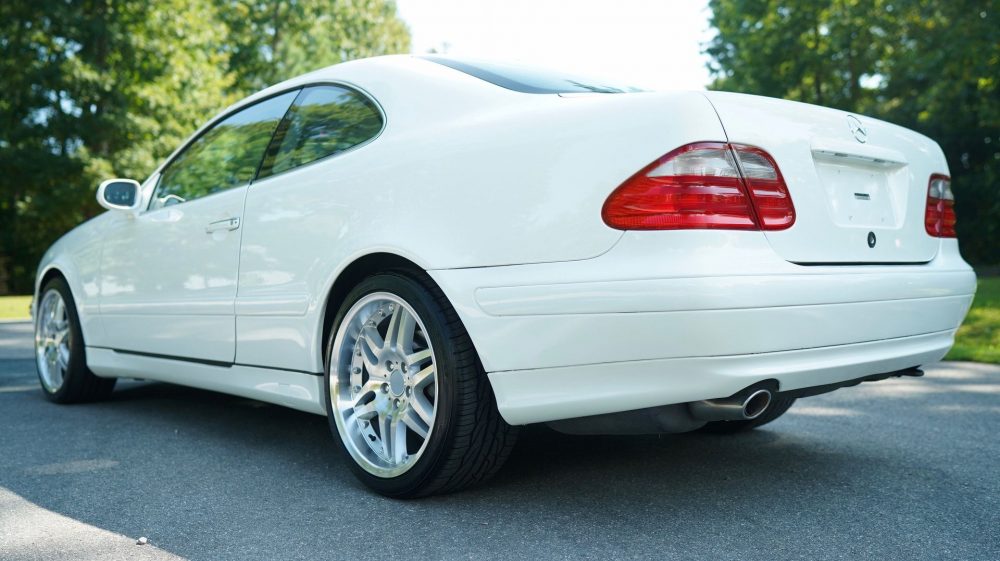 Year: 2002
Model: CLK320
VIN: WDBLJ65GX2T106605
Engine: 3.2 liter V6
Transmission: 5-speed automatic
Mileage: 52,128 mi
Location: Charles City, Virginia
Price: Reserve Auction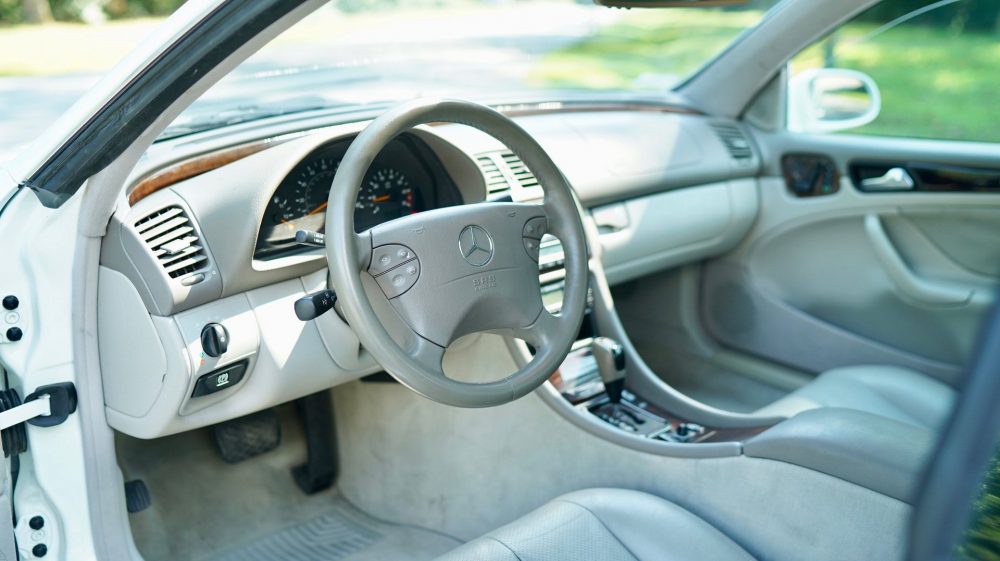 Davis AutoSports is proud to offer this one of kind 2002 Mercedes CLK320 with only 52k Miles. You simply do not find these cars with these miles and condition. This CLK comes with a perfectly clean Carfax and a clean and clear title. This CLK are great driving cars and these engines are very popular in the Mercedes community for their longevity and reliability. This car was directly traded in here at Davis Autosports and was locally owned.

The exterior of this CLK has been fully restored in house by Davis AutoSports, we did a complete color change to the 2020 Mercedes S Series White. The body is completely perfect and looks amazing. With our color change, we took apart the entire vehicle and repainted every single part of the car including all door jams, back side of doors, trunk, hood, etc. A paint job of this quality since its a color change would easily cost $12-15k at a respectable body shop. We also added a brand new set of 18 AMG Staggered wheels 18×8 front and 18×9.5 rear along with brand new tires. This is the best looking CLK on the market.

The interior is in equally impressive as the rest of the car. The dash is in very nice condition with zero cracks or damage to be noted anywhere. The gray leather seats are all in very good condition and look great for the year and milage, they show no rips or holes. All wood grain is in excellent condition with zero flaws or cracks. The carpets are all very nice are not worn or damaged. The car also includes a original set of genuine Mercedes mats which do NOT have the typical rear padding dry rotting. All dials and controls function as they should and we just installed a new driver side seat motor. The sound system does work but the control unit does have dead pixels on the screen which is a very common defect on this generation MB. The trunk compartment is very clean and does have the original jack, tools, and the original spare tire and wheel. This car is all there and in excellent shape with all functions and accessories working as they should.

Mechanically, this CLK320 runs GREAT. Its starts up with no issues and drives like you would expect a low mileage Mercedes to drive like. The brake system works as it should with no issues. The steering is very tights and responsive. Overall its a great driving car. We also performed a full AC service on the car and the system blows ICE cold and the heat functions as it should.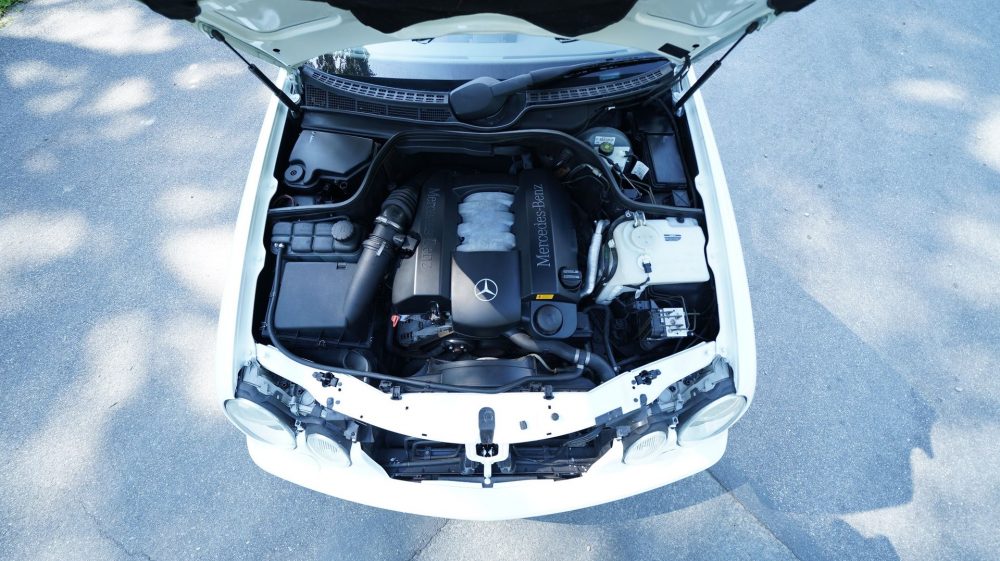 This is a confusing car. The seller took a 52,000-mile example that was originally finished in special Quartz Blue and took off all the panels and windows for a repaint in white. Why the color change? No idea. They then threw some Brabus replica wheels on it and called it "restored." The problem is, the interior is far from it. The driver's door card material is loose, the headliner is dropping, the instrument cluster display is starting to fade, the radio display is failing, and some other little things are in need of attention. I just don't understand removing all the glass and panels from the car but then ignoring all the interior faults. Even in the big picture of the car, it doesn't make sense to me at all to do all this work.
This one is a reserve auction and I'm willing to bet a lot of money it doesn't sell. The seller is quoting 12-15k just in paintwork, so you can figure out where this one is priced. If you asked me to price a CLK320 with 52,000 miles in above average shape I'd struggle to say over $10,000 given we saw a similar one in May bring $9,100. So a curious example, but I'm afraid a deep hole unless somehow the paint, labor, and materials were all free.
– Andrew