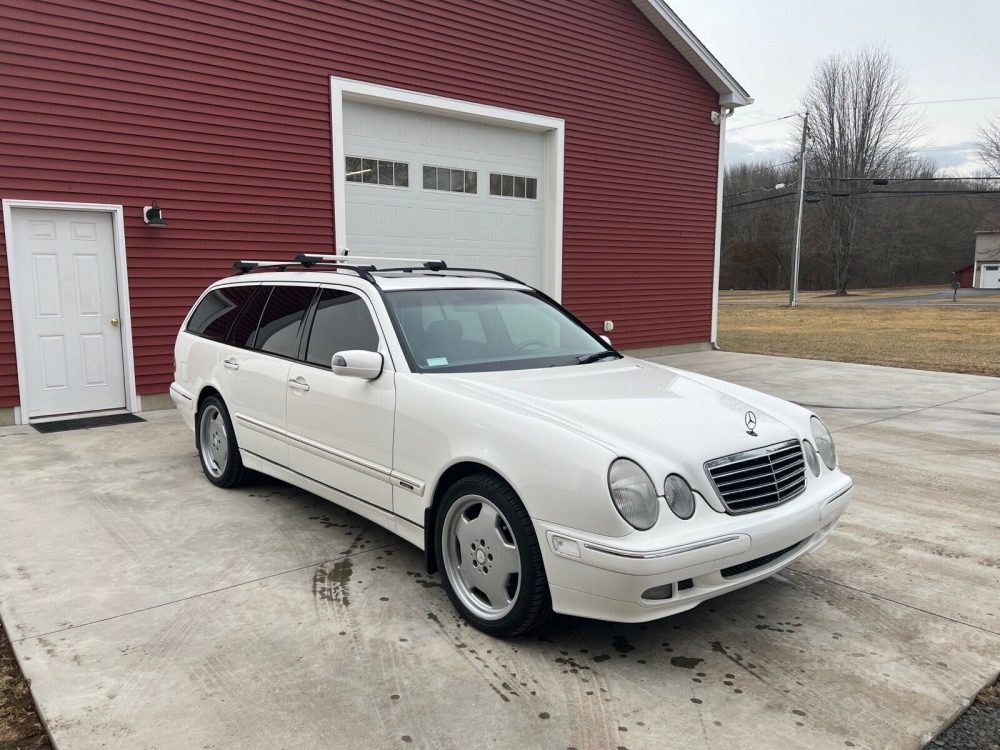 I love how a set of wheels can take a car from a "boring station wagon" to "getting 634 likes on Instagram" without much effort at all. For the W210 Mercedes-Benz E320 wagon, it is simple as throwing some 18″ AMG Monoblocks on it and calling it a day. Yes, it needs about a 2″ suspension drop, but we are certainly on the right track here with this 2002 up for sale in Connecticut. Especially since it is cheaper than the 2003 E320 wagon from a few weeks ago. Much cheaper.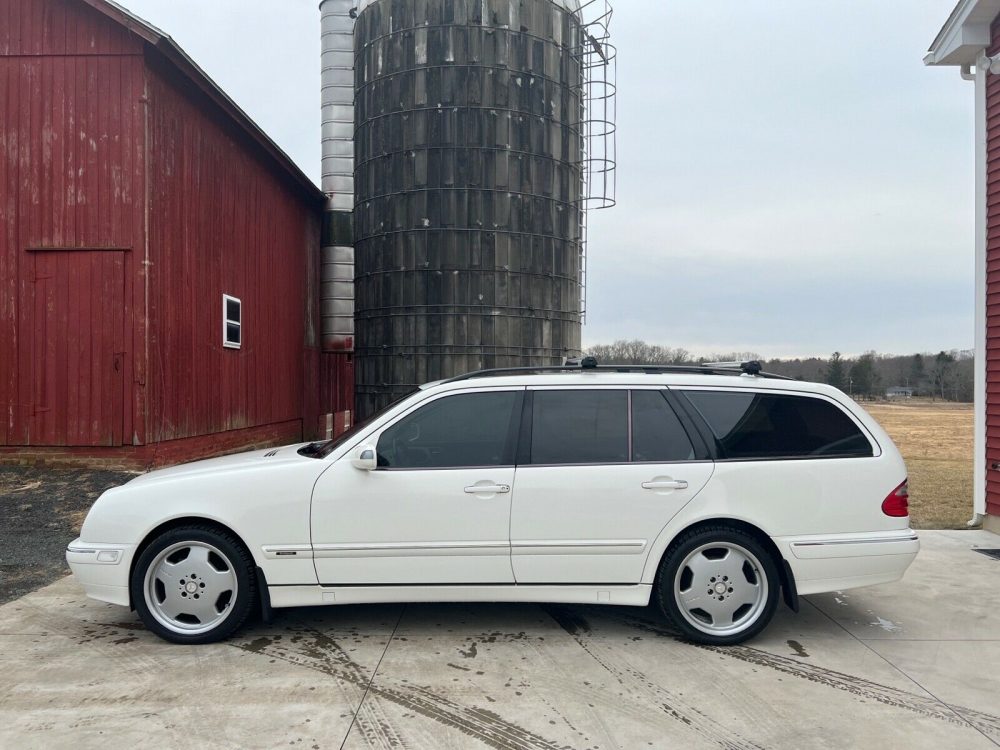 Year: 2002
Model: E320 Wagon
VIN: WDBJH65J92B410013
Engine: 3.2 liter V6
Transmission: 5-speed automatic
Mileage: 106,000 mi
Location: Suffield, Connecticut
Price: $12,000 Buy It Now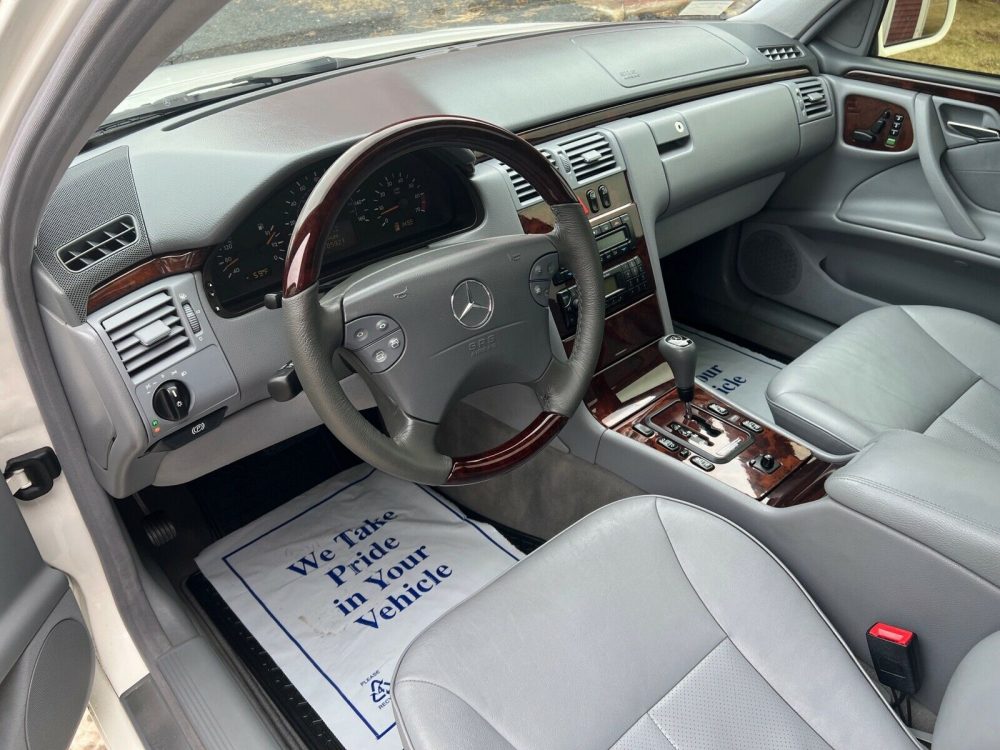 2002 Mercedes-Benz E320 Wagon

218 IMAGES AVAILABLE: https://share.icloud.com/photos/0efCoVF-ttJBviJSkMvz6faaw

*Please feel free to request additional photos!*

This is a RWD example that currently shows 106K miles (will go up slightly as it is a daily driver). Finish is Alabaster White over Ash Gray leather. I purchased the car for mobile detailing in 2020 with 97K miles and have since used it as a personal car, and have spent a great deal of time and money getting it as perfect as possible. I intended to keep it longer-term, but I'd like to free up garage space for a new project.

Overall condition, at least for a W210, is well above average. The vehicle was originally purchased in Georgia and according to what records I have, spent the majority of its life there or in Florida. The undercarriage is very clean. The body has seen some paintwork, and there is some slight bubbling beginning to occur at the edges of the front fenders and tailgate. Because these vehicles are known for corrosion problems, I am trying to be as upfront with the current state of rust. Other than these small areas there is no sign of perforation. There are a few small dings on the front doors that are hard to detect. As a detailer, the vehicle is washed and vacuumed at minimum twice a week. I performed a paint correction in the summer of 2021 before putting a 5-year ceramic coating on the finish, wheels, glass, and all other surfaces. At this time most of the rock chips were touched up and outside of this small wear and tear items, this vehicle has and still easily presents well at car shows or other events.

This is a list of everything that has either been replaced or upgraded since my ownership:

Staggered AMG Monoblocks with Kumho Ecsta tires (about 6K miles of wear)

New mirror turn signal lenses

Brand new old stock Ash carpet mats

Brand new all weather floor mats

Clear bumper side markers

New right mirror indicator lens

New Radio Display

New radio Knob

Wood/leather steering wheel (original non-wood wheel goes with the car)

European Avantgarde badging

European Avantgarde shift knob

"Taxi" button Easter egg on center console (original ESP button included)

New grille

Black Mercedes good ornament and badging

New dashboard vent/light switch assembly

New 2nd key

New Wheel Center Caps

New windshield wiper cowl trim/rubber

New front/rear splash guards

New door sill trim

New roof antenna gasket/cap

New serpentine belt/pulleys at 104K

New Instrument Cluster Bulbs (no dead pixels in the display as well)

New second row upper plastic trim (another complete set comes with the vehicle as they are known to crack)

Some small flaws to note:

– The tints have some scratching but are still serviceable

– Rock chips on the nose, which have been touched up

– small pits in the windshield

– Some dings in the front doors

– The roof crossbars have some wear, and I do *not* have the key to remove them

– Going over larger bumps is a little harsh, I believe new rear shocks are in order but have not looked into it further

– There is one small hairline crack that just formed recently on the right front door wood trim. A replacement piece is on order and included with the sale.

At 20 years old this is not a perfect car, but with 210 wagons skyrocketing in price, this is an extremely nice, liveable example that will serve you well for a long time to come!

Included in sale:

– Two keys

– All manuals

– Window Sticker

– 2002 E Class Brochure

– Mercedes Bose Sampler Cassette

– Original Steering Wheel

– Original Wheel Bolts

– NOS set of 2nd Row Seat Upper Plastic Trims

– Additional center console window switch wood trim, should the current one ever crack

If desired, an original Motorola Mercedes flip phone with carrier and wiring can be included, and an additional set of genuine rubber floor mats and cargo liner.

The monoblocks are the only set of wheels that go with the car.

Please feel free to reach out with any questions. The vehicle is being daily driven currently and is available to be shown almost anytime.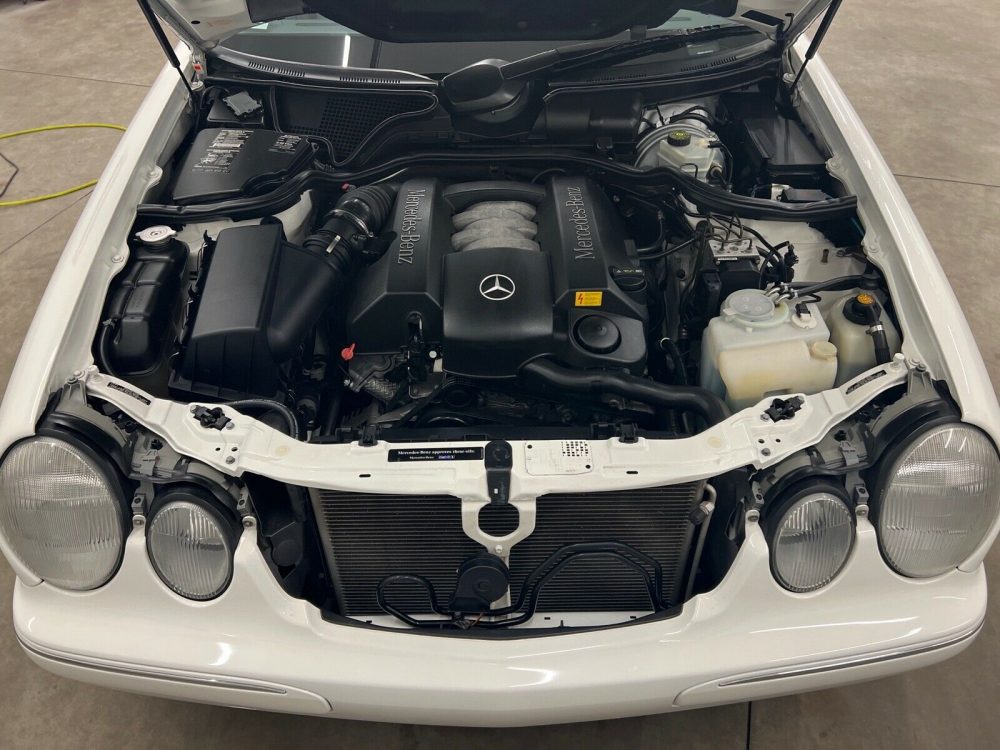 This is the type of seller you want to buy a 20-year old German station wagon from. Someone who knows what they are talking about and not just trying to turn a quick buck by giving it a drive around the block and saying everything works. They even went the distance to swap in the wood-trimmed steering wheel that is nice to grab on those extreme temperature days. The only downside on this one is that it is missing the optional heated seats, but it isn't like you can blame the seller on that one.
At $12,000, I think this is worth it – especially compared to the $23,000 example from earlier this month. This car even comes in at a reasonable amount of miles at 106,000, so it's not like it is anywhere close to ending its life. As long as you change the fluids on this engine and transmission, this one is a good buy in my eyes. Just maybe budget a set of sport springs.
– Andrew