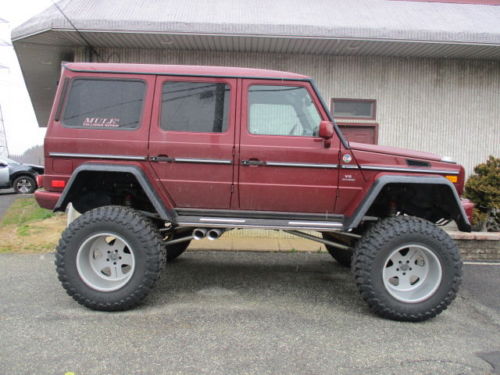 Do you really want a Mercedes-Benz G550 4×4² but short about $200,000? Well, I have a solution for you. This is a 2002 G500 up for bid in New Jersey that has been jacked up thanks to a suspension lift and 40 inches. Not to end it there, the body work has been added to mimic a 4×4² thanks to the W463 literally staying the same for the past 15 years. All this sounds pretty good in theory, but put in practice like we see here, I think it's a disaster. Let me tell you why.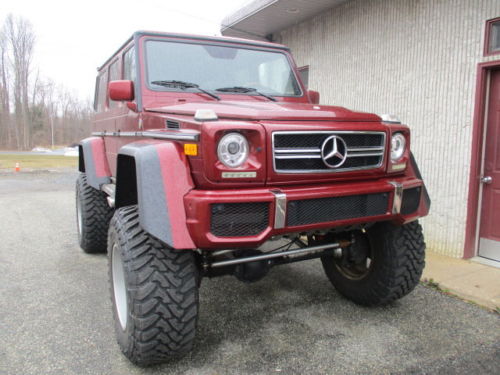 Year: 2002
Model: G500
Engine: 5.0 liter V8
Transmission: 5-speed automatic
Mileage: 95,600 mi
Price: No Reserve Auction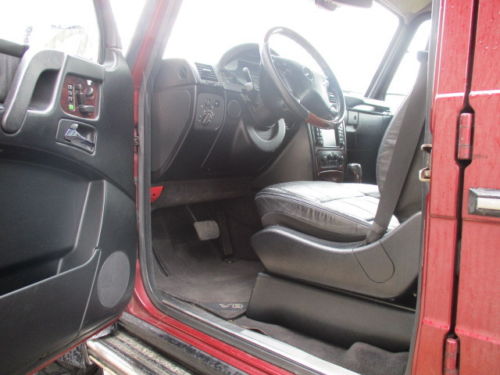 2002 MERCEDES BENZ G500
THIS DAILY DRIVER RUNS AND DRIVES GREAT AT ANY SPEED
NEW 40X15X20 FUN COUNTRY TOYO RADIAL TIRES
CUSTOM 20X14 AMERICAN FORCE WHEELS POWDERCOATED SILVER

THIS CUSTOM COILOVER 4 LINK CONVERSION USING ALL STOCK REARS AND TRANSFER CASE
TRANSMISSION HAS BEEN DONE FOR 5 YEAR AND HAVE BEEN DRIVING IT SINCE. NO ISSUES

COMPLETE OFF ROAD STAINLESS STEEL LONG TUBE HEADERS WITH CUSTOM G63 EXHAUST
2015 G63 CRILLE, HEADLIGHTS, AND BUMPERS
2018 G550 SQUARE FENDER FLARES
BODY IN GOOD CONDITION, HAS SOME SURFACE RUST SPOTS
CLEAR COAT HAS A LITTLE PEEL
LOOKS TO BE AL ORIGINAL PAINT
INTERIOR IN EXCELLENT CONDITION
2 POWER WINDOWS NOT WORKING
GAS GAUGE IS NOT WORKING

SOLD AS IS, NO WARRANTY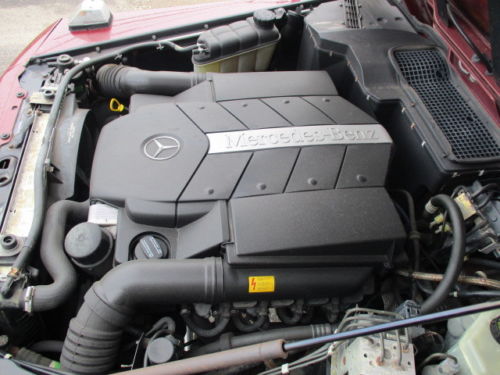 This thing is a total mess. I'm sorry, but nothing here makes sense to me as to why this G500 is 19 feet in the air in this manner. It has a bunch of issues with rust, non-functioning equipment and I can't imagine how poorly this thing handles. The entire point of the portal axles in the 4×4² is to give you that extra ground clearance. With this truck, nothing has changed to actually gain more clearance besides whatever increased height you picked up for the 40 inch tires. It's not like people haven't done portal axles conversions before either, but this suspension setup is put together like a brodozer truck ready to hit the mall. The wheels look even more ridiculous and I can't imagine the pain those wheel bearings are in giving how deep and heavy that wheel and tire combo is.
Even worse, the 4×4² bodywork color doesn't match the color of the original parts. My guess is they didn't bother buffing the entire truck when everything was installed so you are left a bunch of fresh looking paint next to some dull paint. I wish I could tell you what is going on inside, but the seller couldn't be bothered to climb into this thing so all the photos are at looking up. The photo that is inside this truck shows the faded gauge cluster with a non-function gas gauge.
The starting bid on this monster is $40,000. A 2002 G500 with similar mileage will run you about $25,000 right now. Doing the quick math here, this means you are paying a $15,000 premium for the body work, lift and tires. Is it worth it? Probably not. You have to understand that the G handles like a refrigerator on wheels in stock form, I can't imagine trying to reel in this beast at 70 mph. Add in the issues with this truck and I'm not touching this thing with a 10-foot pole. Good luck trying to fit it in a parking space as well.
– Andrew