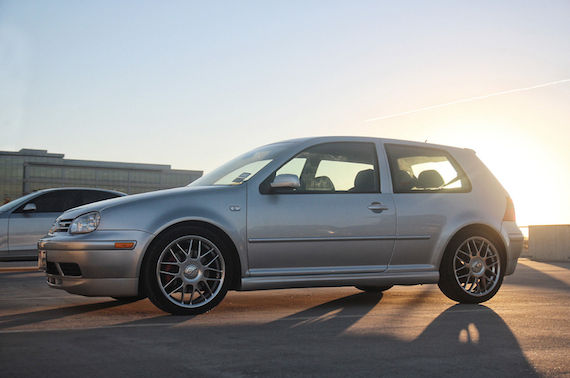 Last week, I popped a quick ad up on our for a stock Mk. IV GTi 337 Edition. Not only are GTis in just about any form rare to find stock once the warranty in over, but in the case of the 337 and 20th Anniversary Edition GTis, it is nearly impossible to find one that hasn't been modified to death. Lucky for us, we can take a closer look at this 337 because it failed to sell and was relisted this week. The 337 was an attempt by Volkswagen to bring the GTi back towards its roots; the VR6s made a great noise and were more refined highway cruisers, but the basis of the GTi was back in those peaky 4 cylinders that combined economy, light weight and performance into defining the hot hatch category. In that light, Volkswagen equipped the 337 – called the 25th Anniversary edition in Europe – with the 1.8T motor now churning out 180 hp coupled to a 6-speed manual gearbox. To keep weight down but looks up, the 337 received specially painted BBS RC wheels with a revised sport suspension and larger brakes. Additionally, the 337 came with a unique body kit and some awesome Recaro seats that again evoked memories of the 16V GTis and you could get it in any color you wanted – as long as it was Reflex Silver: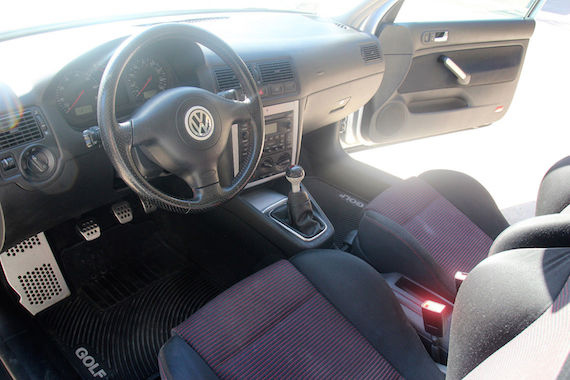 Year: 2002
Model: GTI 337
Engine: 1.8 liter turbocharged inline-4
Transmission: 6-speed manual
Mileage: 96,895 mi
Price: $7,600 Buy It Now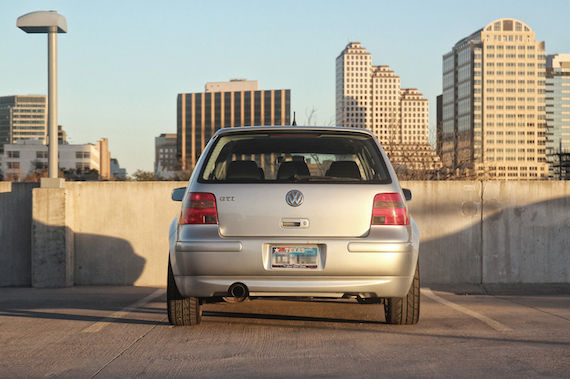 The time has come to sell my 2002 VW GTI 337. This is one of only 1,500 that were made and brought to the US. I love this car, but we need a vehicle that is more child-seat friendly. This is a very rare, sub-100k mile, factory-original 337. It hasn't been modded or accessorized with aftermarket parts. The only aftermarket accessory on the car is a stubby antenna (see photo). The original OEM antenna also comes with the car.

The car is located in Austin, TX. It is Reflex Silver with black cloth interior with red accents and stitching. It has a 1.8t engine, 6-speed manual transmission and only 96.9k miles. I'm the second owner. I purchased the car from a VW dealership (as a Certified Pre-Owned VW) in 2005, when it had 9,800 miles. I know the original owner personally. She purchased the car new from the same dealership and babied it. She traded it in when she bought a different car from the dealership. The car runs, drives and shifts beautifully, and has tons of torque. There are no CEL or other warning lights on.

**I have lots more high-res photos. Please send me a message for a link.

THE CAR:

Here are the details and features this car came with from the factory:

– One of 1500 made and sold in the US
– 1.8t engine (180HP)
– 6-speed manual transmission
– 18″ BBS RC alloy wheels
– Factory sport suspension
– Factory stainless steel sport exhaust
– Factory Recaro racing seats
– Factory golf ball shifter
– Factory body kit
– Factory rear spoiler
– Special edition GTI badging
– Black interior with red accents & stitching

VEHICLE HISTORY:

History-wise, the only "accident" the car has been in was minor. A few years ago, I rear-ended a pickup at a very slow speed in stop-and-go traffic. The truck's hitch damaged the grill and bumper, bent the lip of the hood and punctured the radiator. All repairs were done by a reputable Austin-area body shop (Cooke's Automotive), using OEM parts.

The car's VIN is: 9BWDE61JX24051004

I haven't run a CarFax, but you are welcome to.

ALL KNOWN ISSUES:

These are the only issues I am aware of that the car has:

1. The hinge on the right side of the driver's seat is broken, so there is some "flex" in the seat. I have driven it like that for months, but it will need to be repaired.

2. There was an air leak in the brake booster vacuum hose. I patched it with black electrical tape — which completely sealed the leak — but the hose should be replaced at some point.

3. There is a small scrape on the rear bumper, from when our garage door was put down, and the car was too close. The door scratched a small area on the vertical face of the rear bumper (see photo).

4. The logo emblem is missing from the engine cover (see photo).

5. One of the tiny plastic clips that holds up the carpeted, rear cargo tray/cover is broken (photo available in "extra photos" link).

6. There is a piece of rubber trim missing on the passenger's side roof. I didn't notice it until this weekend (see photo).

7. The right-rear tire needs replaced. (It is worn on the inside, so the car probably needs an alignment.)

ALSO INCLUDED WITH THE CAR:

1. A VW 6-disc CD changer — installed by the dealership in the rear of the car. It was purchased from VW DriverGear as an accessory when the car was bought new.

2. The original, almost-new embroidered floor mats that came in the 337. When I purchased the car, I bought a set of Monster Mats (from VW DriverGear) and have always used them. The original floor mats were barely ever used. They come with the original box (see photo).

3. Set of four (4) Monster Mat floor mats. They say "Golf" — not "GTI" (The dealership ordered the wrong ones, and I didn't want to hassle with returning them.)

4. A like-new VW DriverGear car cover.

Thanks for looking. You'll love this car.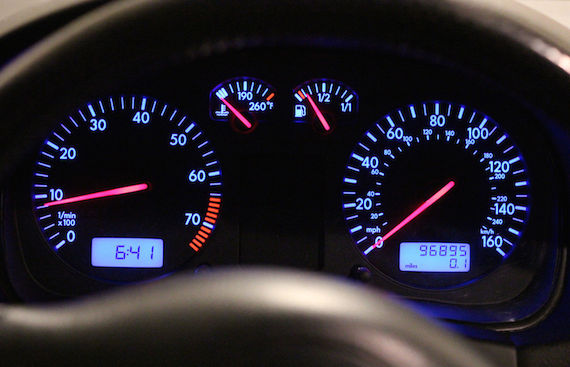 All in all, this car is well presented and honestly detailed. Usually first to leave the 337 are the BBS wheels which are great looking but notoriously a bit soft and prone to curb damage, so it's nice to see them – they're one of the best looking wheels on these 4th generation Volkswagens. The 337 marked a comeback towards performance for Volkswagen for enthusiasts; it wasn't that the VR6 wasn't quick, but it just wasn't really a hot hatch anymore. Consequently many of these cars had the boost turned up and they're certainly quick when that's done, but again it's nice (and rare) to find one in factory tune. The performance of the 1.8T won't shock you, but they get reasonably good fuel mileage and are pretty quick on the go. I haven't driven a 337, but I have driven a few of the nearly identical 20th Anniversary edition cars and they're quite fun and feel lighter and more responsive than the VR6 GLX models. The price for this fun is $7,600 – a little high compared to a regular Golf or GTi 1.8T from the same generation, but this is more car out of the box and a little more special. We've watched clean examples of the original and second generation GTi begin to demand more money than this already; it wouldn't surprise me if in a few years we're looking at this generation start to climb up too – especially special editions in all original condition like this.
-Carter