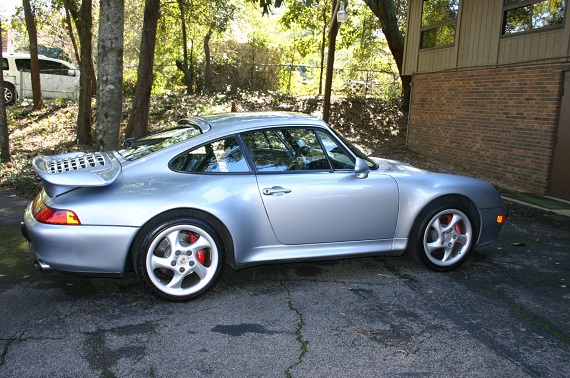 The collector market has been in love with air-cooled Porsches for some time now. Make the car an air-cooled 911 Turbo and prices can really start to escalate. Thus, as the last model of the air-cooled 911 Turbo the 993 Turbo tends to be held in especially high regard. The 993 Turbo utilized a refined version of the 3.6 liter flat-six found in the 964 Carrera and strapped on twin turbochargers that raised power to more than 400 hp. It was also the first 911 Turbo to utilize all-wheel drive. Though the Carrera 4 had debuted with the introduction of the 964, Porsche chose to refrain from using that system for the 964 Turbo. Even with the added weight of the all-wheel drive system the 993 Turbo still tends to be quicker than the 964. These were Porsche's final expression of their turbo-charged air-cooled boxer engine, which brings us to the car featured here: a Polar Silver 1996 Porsche 911 Turbo located in Florida.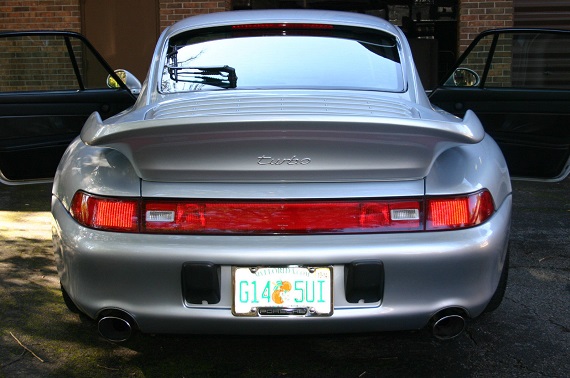 Year: 1996
Model: 911 Turbo
Engine: 3.6 liter twin-turbocharged flat-6
Transmission: 6-speed manual
Mileage: 66,137 mi
Price: Reserve auction (reserve met)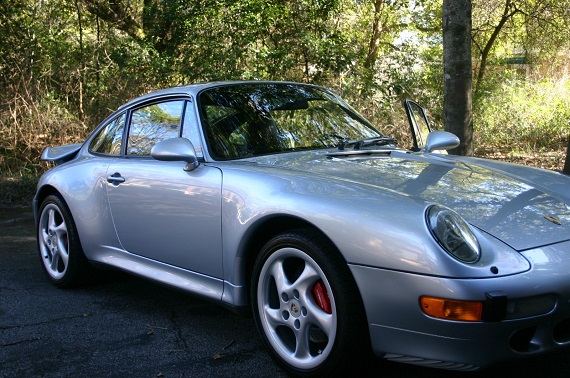 I am the 3rd owner of the car. I purchased the vehicle in 2005 and had only 13,000 miles. It now has 66,137 miles. The car has been pampered the entire time that I had it. It has been always garaged. The interior is in mint condition. Complete leather interior with embossed Porsche supple leather seats. Carbon fiber dash, door side panels, and stick shift. Heated seats both driver and passenger. New floor mats. The exterior is in almost mint condition. There is a small scratch on the driver side roof. New pads and rotors on the front. Tires have approx. 85% tread left. Car is an absolute dream. I am selling it because I need to make room for the purchase of another car. I can be reached by email or cell (850-384-8886).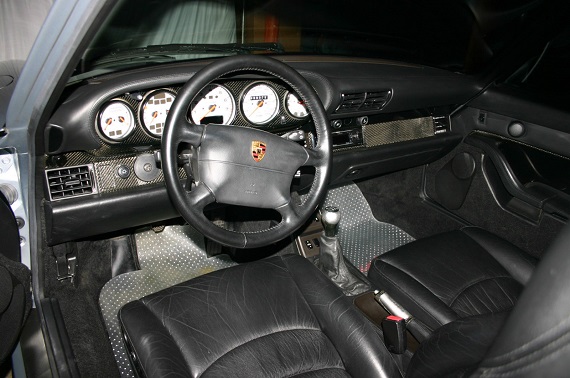 With the reserve on this auction already met, then this should give us a good sense of the current market for a driver quality 993 Turbo. I'm not a fan of the various carbon fiber interior pieces, but that's a relatively minor quibble and they certainly will appeal to others. Still, the mileage is fairly reasonable and things appear to be in good order with this car. It's sure to make for an excellent choice. As an aside, I do wonder how the market for the 993 Turbo will fare in the long run against the 964 Turbo. Both are sure to continue appreciating, I don't think there is much question there, but will the 964 Turbo, due to it being rear-wheel drive rather than all-wheel drive, ultimately become the more desirable of the two? Or will the 993 Turbo's pedigree as the last of the air-cooled turbos allow it to prevail?
-Rob