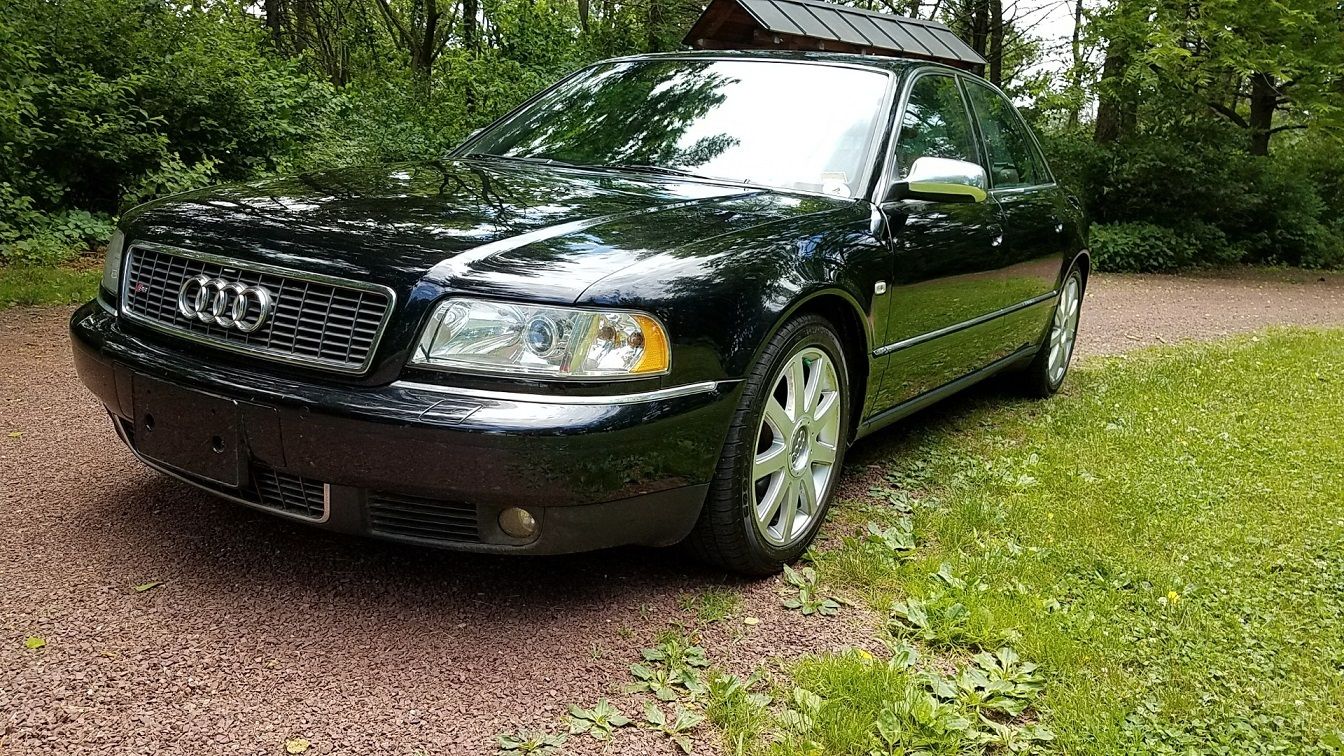 The Audi S8. Still, this car ranks as one of my favorite automotive designs from the company, from the 1990s and 2000s – heck, maybe even overall. While I'm not a huge sedan fan in general, there was just something so right about the proportions and presence of the D2 S8. Did it help that it was in a movie I also loved? Sure, without a doubt. But even without that aspect I think this car, and specifically the 2003 model year, are my favorite U.S. bound Audi.
I especially like the 2003 model year because of the limited Audi Exclusive package. Special colors and interiors were fit to the car, along with updated "RS" design wheels. Limited to only 100 copies each. my favorite for the past decade and a half has been the Avus Silver Pearl with Burgundy interior and I think I've pointed that out…well, more than a few times. However, at nearly 15 years old, these cars are far from new and we're deep into a territory were plenty of neglected examples are coming to market. As a result, rather than just find one in the color you want, with the D2 S8 in today's market condition and history needs to trump other considerations like location and color.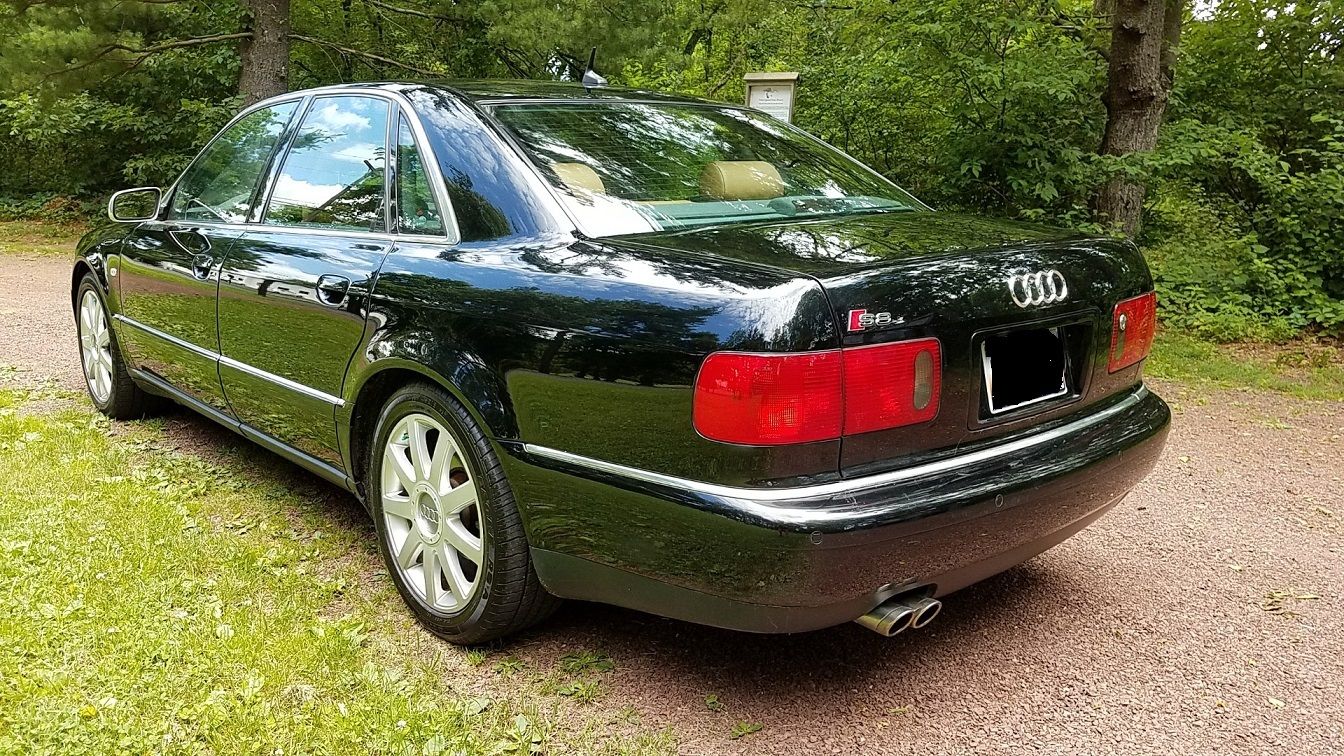 Year: 2003
Model: S8
Engine: 4.2 liter V8
Transmission: 5-speed automatic
Mileage: 91,881 mi
Price: $14,900 Buy It Now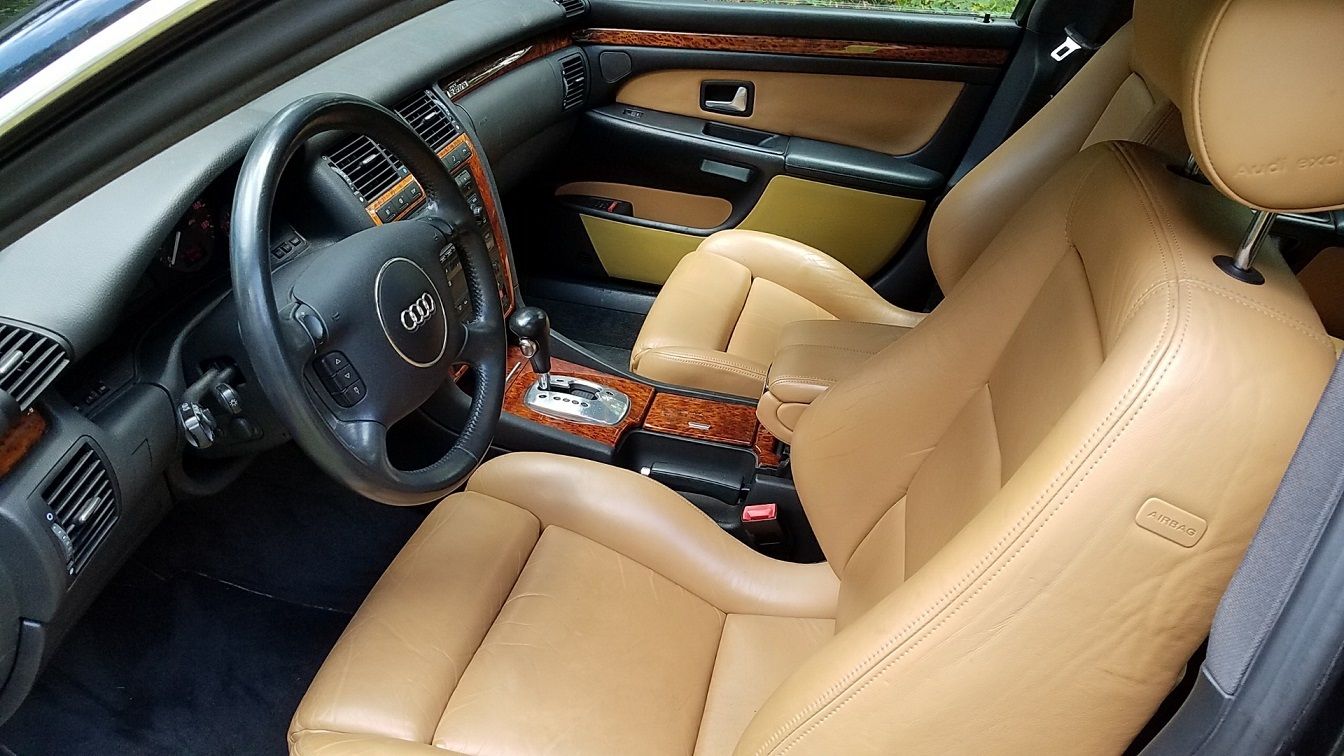 THIS IS A SWEET 2003 AUDI S8. A 360HP ALL-WEATHER QUATTRO MISSILE MADE FAMOUS IN THE MOVIE "RONIN." THIS IS MY ONE HUNDRED AND NINTH (!!!) S8 I AM SELLING, AND IT'S A FANTASTIC MINT COMBINATION OF COSMETICS, MECHANICALS, OPTIONS, AND SUPER LOW MILES. THE CLASSIC COLORS OF BLACK OVER CARAMEL/BLACK SPORT VALCONA LEATHER, ONLY 91K MILES, MINT CONDITION INSIDE AND OUT, NO PAINT OR BODYWORK EVER, AND NEEDS NOTHING EXCEPT A NEW OWNER. NO PROBLEMS, AND ITS INCREDIBLE FULL SERVICE HISTORY WILL BE PROVIDED TO THE NEW OWNER. I SOLD THIS CAR IN 2008 WHEN IT HAD 54K MILES, AND I KNOW IT WELL. IT'S EVEN BETTER NOW THAN IT WAS THEN, WITH NOTHING TO DO EXCEPT DRIVE!
— Here she is in all her glory —

PLEASE LET ME STOP YOU NOW IF YOU ARE LOOKING FOR A CHEAP S8. SOME OF THESE CARS HAVE BEEN FLOGGED, NEGLECTED, AND DO NOT FEEL RIGHT ANY MORE. THIS CAR WILL KILL ANY OTHER S8 YOU'VE SEEN FOR ITS COMBINATION OF COSMETICS, MECHANICALS, OPTIONS, FEEL ON THE ROAD, AND ESPECIALLY SERVICE HISTORY. THIS CAR IS HARD LOADED WITH OPTIONS; COLD PACKAGE, PREMIUM PACKAGE, PARKING SENSORS, NAVIGATION, POWER REAR SUNSHADE, AND MUCH MORE. AT THE BIN PRICE, I WILL INCLUDE A FULL AUDO EOM TIMING BELT JOB, INCLUDING TIMING BELT, WATER PUMP, TENSIONER, THERMOSTAT, AND MORE WORTH CLOSE TO $2000!!

Here's the deal:

— This is a 2003 Audi S8 in black over caramel Recaro valcona leather sports seats, and contrasting black carpets and dash. This S8 has 91,xxx miles, looks like a million bucks, and drives like a million bucks too! —

— Exterior 9.50 out of 10 (I'm finicky) – Fantastic overall condition original paint, body, glass, and trim. No dings, no dents, only a few scratches here and there, and many of those will come out in detailing. This S8 looks amazing, with a deep shine to the glossy black paint that's like looking into a mirror. This car looks great even under fluorescent light in a garage. —

— This S8 wears all its original body panels and bumpers. Even the lower side-body moldings are in great shape. Chrome, rubber, glass, trim is all very nice. No oxidation, fade, wear, rust, etc. —

— Check out the body panels, they are laser straight! –

— The 245/45/18 matching Goodyear RS-A tires have plenty of tread remaining, being over 75%. The factory alloy wheels are true with no bends. This S8 drives straight as an arrow at any speed you choose. —

— This S8's service history is exceptional, with TONS of work done. Service includes new steering rack at 88K miles with alignment and brake rotor resurfacing, hood struts, valve cover gaskets, radiator, coolant pipe, all tie rods at 71K, tires at 76K, O2 sensor, and multiple oil changes. Also new wiper blades, valve stem seals, and much more. –

— Interior 9.9 out of 10 – The interior overall including all seating and door leather, seat padding, dash, console, and carpets are in amazing original condition. No dash cracks, carpet rips, very little wear of any kind on the leather (driver's bolster shows nearly zero wear). Everything looks and feels near-new. —

— The door panels and wood trim are also in great shape, like the rest of the car. —

— Even the trunk is mint. —

— This S8 is FULLY loaded including premium, cold, shades, parking sensors, and navigation…….almost everything you could get on a 2003 S8! —

— Electrical 10 out of 10 – All lights, switches, radio, windows, wipers, seat motors/memory, nav system, and power mirror work perfectly. Headrest motors, power lock system, etc. all operating properly. The HVAC system is fast to respond, and perfect with hot heat and ice-cold A/C. —

–Mechanically 10 out of 10 – Engine starts, idles, runs, and revs to redline in every gear smooth and strong. Transmission is smooth yet very aggressive, and downshifts eagerly. She runs at high speed with no vibrations or noises. There are no leaks. —

— Engine is strong and VERY eager to run, transmission smooth and ready to drop down two gears at your command to rocket you past slower traffic. Brakes are solid and pedal feel is firm. Suspension is tight like new, but floats on a cloud just like an S8 is supposed to do. Steering nicely weighted with no play in the box (steering box is new!). This car drives and handles like new. —

— This S8 has her books, original navigation CDs, working switchblade remote key, and TONS AND TONS of service history. All will be provided to the next owner. With only 91K miles, it's not even broken in yet! All you have to do is drive. —

— If someone selects the buy-it-now option, I will provide the following: the full timing belt job mentioned above using OEM parts and a complete kit with water pump, thermostat, drive belt, tensioner, idler pulley, and more. Also a full $200 detailing including engine bay, carpet shampoo, leather conditioning, orbital polishing, etc. I'll also Audi OEM S8 floor mats, and black touch-up paint. That's almost $3000 worth of items included FRE at the BIN price!!! Wow!!! —

— Nits: A few touched-up rock chips ot the hood and front bumper, and a few minor scratches from being on the road for five years. THAT'S IT. NOTHING ELSE. And if I did not mention the wheels, it's unlikely anyone would even notice…I just want to be up front and honest. —

— I have good feedback, and sold many Audis, Acuras, and W126 Benzes that the new owners are thrilled with. They and others have offered to act as references to verify that I am honest in my descriptions of the cars I sell, and you are welcome to contact them. —

THIS IS A ONCE-IN-A-LIFETIME CAR, AND IT'S AN UNBELIEVABLE DEAL!!

If you have questions, please call Bruce at 856-912-2600 or email me in advance.

Winning bidder must send a $2000 deposit via wire transfer or bank/cashier's check within 48 hours, and pay the balance within five additional days. Car and paperwork are ready to be delivered when funds are clear in my account. Title may lag by a few days, but I provide a temporary tag to drive on until it arrives. There is a $199 documentation/FedEx/title transfer fee on ALL cars. Car is sold as-is, where-is, and there are no warranties expressed or implied, exclusive of what ebay may offer to the buyer.

Please have any financing lined up BEFORE you bid. Please check my feedback: I do not play games, and I have sold items on ebay for more than the value of this one.

No negative or hidden feedback buyers please, and I reserve the right to verify and/or cancel bids that come from users with poor/low/no feedback ratings. Good luck and happy bidding!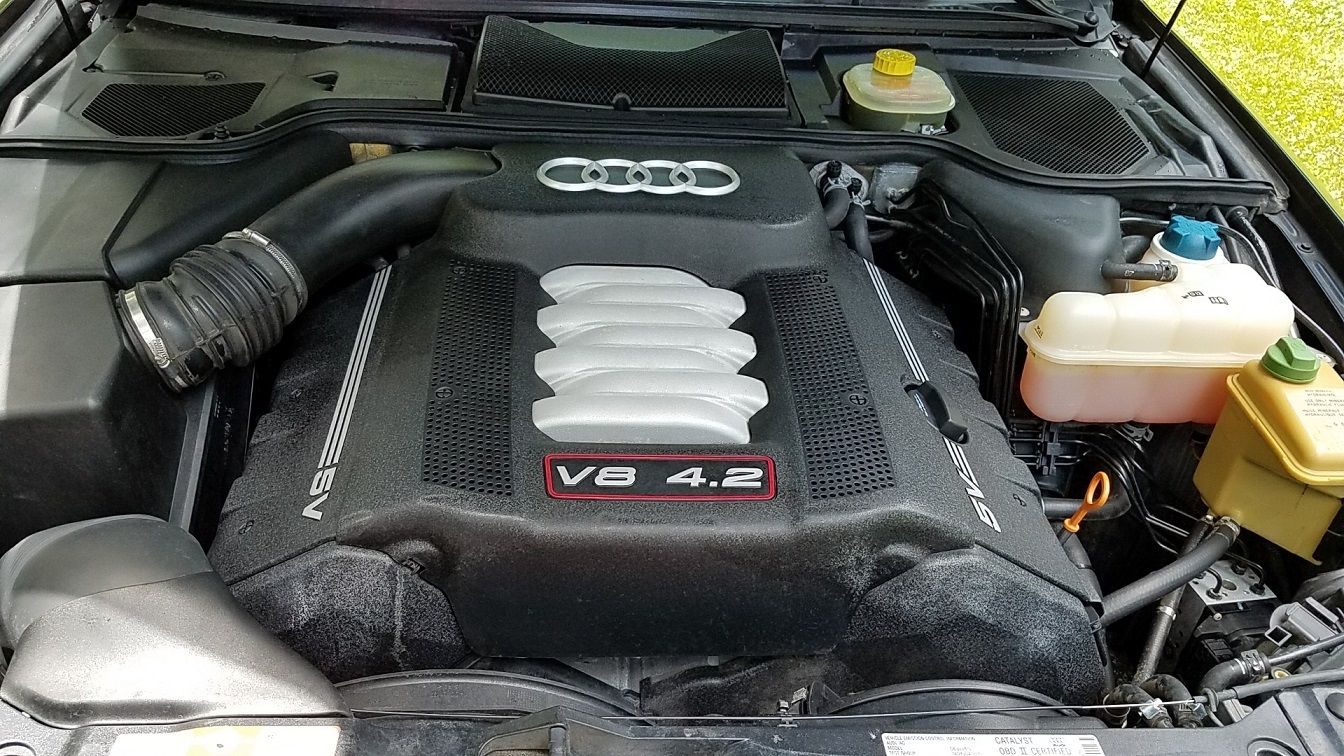 We've seen cars from this seller before, and they never fail to impress. Well known for picking good examples and well representing them, this 2003 S8 is no exception. Beyond it being quite a limited model to being with, the condition is outstanding and the mileage right where you'd want it for a driver. One of three color combinations offered by Audi Exclusive for the 2003 model year, Brilliant Black with Caramel is (on paper, at least) my least favorite of the three, but as I mentioned before condition at this point begins to trump color preference. Additionally, this car was the Premium Package (PPX) that included expandable ski sack (3X1), power rear sunshade with manual rear side sunshades (3Y5), heated rear seats (4A4), front and rear Parktronic (7X2), Audi Navigation System (7Q9) and tire pressure monitoring (7K1). As noted by the seller, the only further options were the solar roof, Motorola phone and OnStar (I don't see an indication this car has these options).
The package, in total, was seriously compelling enough to being with, but the seller further offers a mechanical overhaul with the Buy It Now price, bringing the actual out-of-pocket expenditure into even more comforting territory. This is not the cheapest S8 out there initially, but if you're looking long-term (and you certainly could with this car), buying an example like this might just save you money.
-Carter