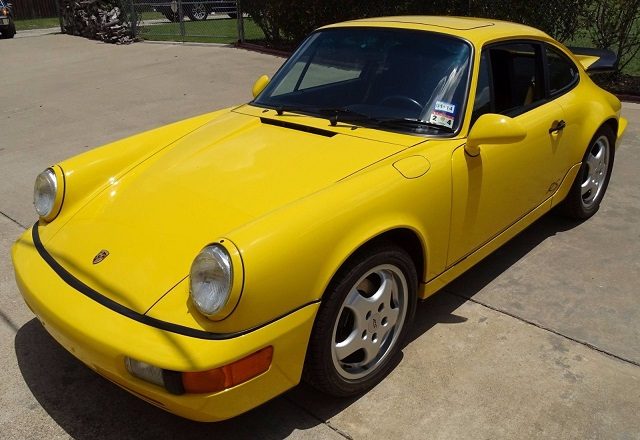 I am a fan of the RS America. I feel like I need to say this because I know sometimes the car is criticized for being somewhat half-hearted. Meaning: it isn't really that close to the Carrera RS that it serves to replace for the US market. I understand those criticisms; they are certainly valid. I like it anyway. I like the look, I especially like the whale tail on a 964, and I like that it's a bit paired down from the standard Carrera 2. I don't like the current prices and I know a hefty amount of the current criticism of the model stems from those prices and whether those prices make sense. That's a different conversation.
I also like yellow cars, especially bright yellow cars. So as you can imagine I really like this Ferrari Yellow 1993 Porsche 911 RS America. It is one of only four produced in this color and given the limited colors available as standard that makes this one stand apart even more. It was spec'd with three of the four available options: radio, A/C, and sunroof. Interestingly, we've featured one of the other three existing cars before. Only two more for the whole set!

Year: 1993
Model: 911 RS America
Engine: 3.6 liter flat-6
Transmission: 5-speed manual
Mileage: 30,873 mi
Price: Reserve Auction ($299,500 Buy It Now)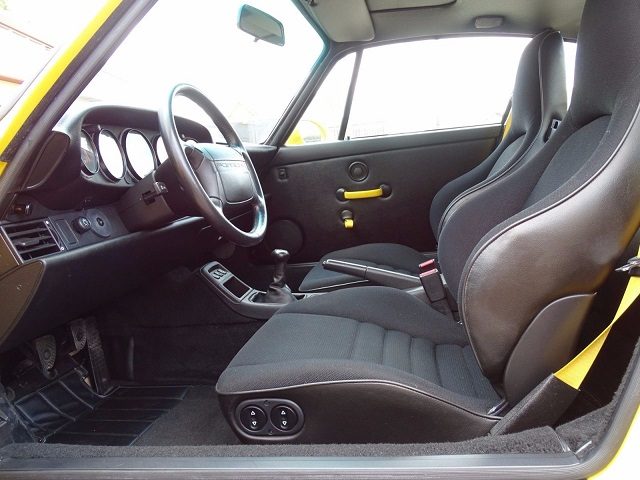 This 1993 Porsche FLY RS America up for auction comes from a distinguished collector's stable and is in superb condition. This is one (1) of Four (4) Ferrari Light Yellow RS Americas produced by Porsche in M.Y.1993. This is the ACTUAL car that was on display at the 1993 New York Autoshow (this car was specifically ordered for the show). We are the 3rd proud owners and have thoroughly enjoyed the car. This RS has been well taken care of. Having only 30,873 original miles, the car has been to many shows and rallys, but has never been "tracked", so to speak. The car has yellow belts and door handles/pulls, as well as black sport seats. Hidden in the driver rear compartment is a high-end Alpine amplifier, with an additional CD changer, mounted directly above. The car was outfitted with a clear bra approximately 2005. The car has an extensive file of documentation containing ownership and service history (original bill of sale & delivery report), AND both of the ORIGINAL window stickers issued by Porsche for the car, as well as all the original RS brochures, Owner's manuals, NY Autoshow pics etc. (see below). This is a very rare Porsche with full and complete service history and ownership history/provenance. This is a once in a lifetime opportunity to own an incredibly rare and superb representation of the legend that is the RS America. Please email or call me with any questions. Serious inquiries only, please. Good luck and happy bidding!!!

The new owner(s) will receive all ownership documentation and/or including:

Both original Window stickers for the car (One stamped in red "NOT FOR SALE")

All Ownership History/Provenance

All Service History

All original owner's/warranty manuals

The car's "file" with many different articles and references to the car

Porsche Certificate of Authenticity (COA)

Yellow RS America Polo Shirt (that came with the car)

Original 1993 RS America brochure for the car

3 Pictures of the car at the NY Autoshow on display

Porsche diagram layout of NY Autoshow display

All Correspondence from Porsche to respective owners of this car.

COA Highlights:

VIN: WP0AB2960PS419188

Model Year: 1993 911 RS America

Engine Number: 62P02407

Transmission Number: 1003180

Exterior Paint Color/Code: Color To Sample–Non Metallic

Interior Material Color/Type: Black Leatherette XZ
Optional Equipment:

AM/FM Radio Cassette Player with 2 Speakers

Air Conditioning With Full Climate Control

Electric Sliding Sunroof

There is also a website dedicated to RS Americas, and specifically, there is a wealth of information pertaining to the four (4) 1993 FLY's in existence, one of which you see here up for auction.

The website is: rsamerica.net

If you have any questions about this fine auto, please don't hesitate to email or call me and I will respond as soon as possible. Bid with Confidence!!! Thanks for L@@king!!!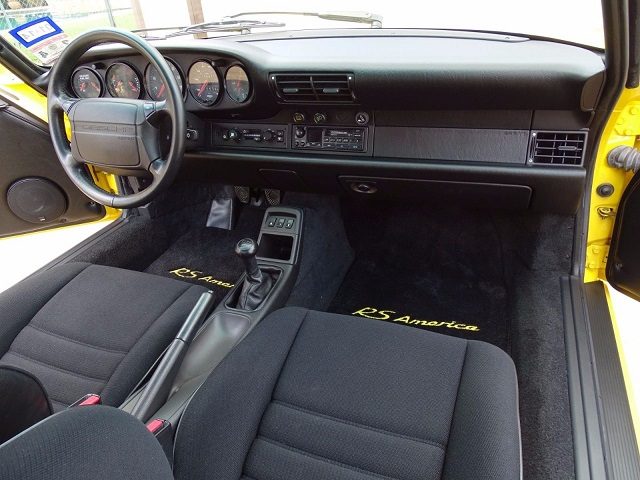 For those who are critics of the high prices for the RS America, you might want to look away. Given that the higher pricing of these cars stems from the combination of their relative rarity and that they are a performance upgrade it should make sense that a very rare version of said model would attract even higher prices. But this is absurd. The other Ferrari Yellow RSA we featured had an asking price just under $210K. The mileage was similar, albeit slightly higher. That one sold, I don't recall for precisely how much, but we can assume it was pretty close to asking. Adding nearly another $100K? That doesn't seem realistic. We'll have to see how this auction plays out to get a better sense of the market, but with the air-cooled 911 market itself not what it once was I can't really see it happening.
This is a great car and a car I would love to own. But for $300K I think I can find plenty of other options and still be quite happy.
-Rob