I'll be honest – this car haunts my dreams. Well, not this particular car, but any Avus Silver Pearl 2003 S8. I first saw one a few years ago at Coventry Motor Car – well, when I say I saw one, they actually had two there that day. I sat and contemplated how I could get myself into one and cursing the existence of such a tempting combination. Prior to that, I still was in love with the S8, but I was pretty sure I'd be happy with a Ming Blue one. Or a silver one, or green, or pearlesant…but then I saw this color combination and like a Rick Astley song, I just can't get it out of my head. This car has "Rick rolled" me! So as I sit here watching another one slip through my hands, perhaps you can enjoy looking at it too: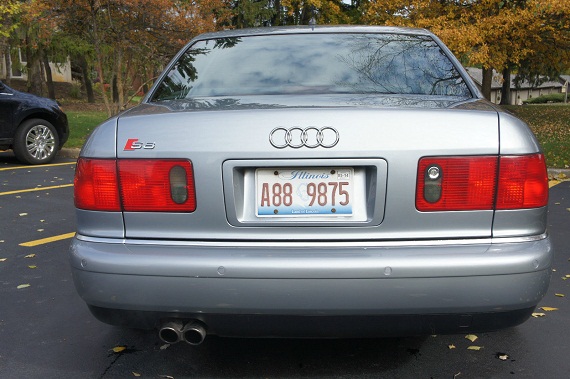 Year: 2003
Model: S8
Engine: 4.2 liter V8
Transmission: 5-speed automatic
Mileage: 93,700 mi
Price: $13,800 Buy It Now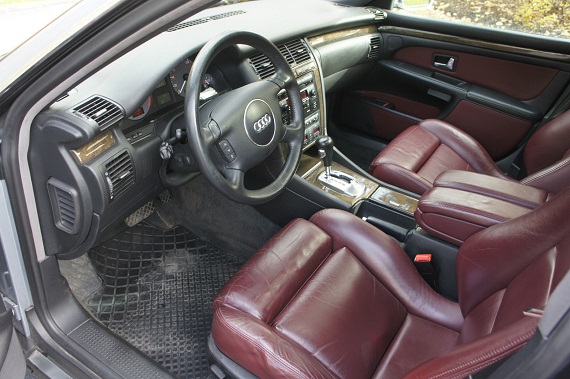 Classic 2003 Audi S8 for sale. Low mileage & exclusively serviced by the same Audi dealership using an Audi Pure Protection (bumper to bumper) warranty. 93,700 miles (average of 9,300 miles driven each year). Avus silver with Oxblood Red interior, a color combination unique to the last year of production. Automatic transmission recently rebuilt by the reputable Chicago Transcraft ($4,200) with a 1-year warranty on parts & labor. Quattro AWD. Summer tires with RS rims recently refinished and very clean. Electronic rear sunshade. Manual rear side sun shades. GPS navigation w/ OEM discs. Winter (rubber) & summer (cloth) floor mats also included.

Full maintenance receipts during my time of ownership and large folder of service records from the previous IL owner (also serviced via an Audi warranty). All routine & scheduled service current. Most recently, 90K mile service completed. It has been thoughtfully maintained and is in excellent mechanical & cosmetic condition. Minor scratches & rock chips on the front bumper, consistent for a 10-year old car driven primarily on the expressway to commute to/from work. Through consistent maintenance over the years, this car is offered in much better condition than lesser cared for S8's of this model range.

This car is a beast and handles beautifully. It is the most powerful and rewarding car to drive that I have ever owned, including the newer A8 I recently purchased. It's time to find this S8 a new home. Subsequently, this S8 will no longer be a daily driver and the low mileage will be preserved.

$13,800 FIRM (serious inquiries only/no low ball offers please)
630-207-4512
I could gush about the S8 performance and package all day long, and this example looks well cared for with typical miles. The rebuilt transmission is one less thing to worry about, though S8 transmission failure is less common than A8. With everything up to date and all records, I think the car is pretty appropriately priced – while you can get into a higher mileage S8 under $10,000, they're often not the ones to buy and a trip or two to the mechanic to sort them will quickly put you into this car's price point. As with many of the Volkswagen products that are complicated, you're best bet is to find the nicest one you can. Here it is. Never gonna give you up, S8!
-Carter