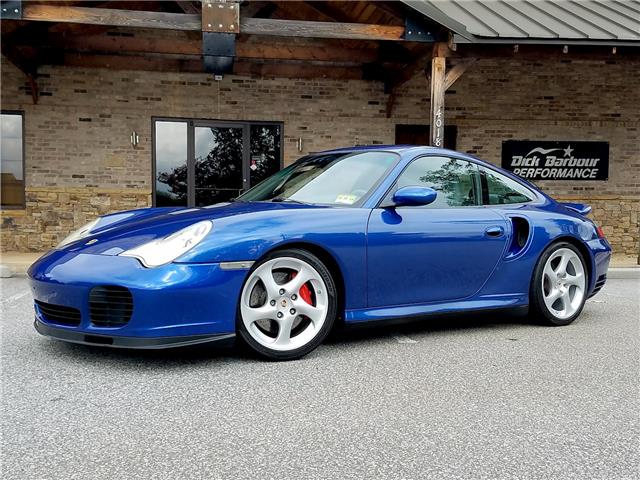 We feature the 996TT pretty frequently. Even as prices have risen they remain fantastic performers for the money and definitely one of the best performance values you can find, especially when you find one with the factory X50 package raising those performance heights even higher. I wouldn't say most of those we feature come in the best colors though. There's the odd Speed Yellow or Guards Red Turbo and, of course, there was the very rare Signal Green Turbo S, but most are in the standard shades of gray and silver that seemingly dominated the 996 line.
This one clearly is an exception. Here is a Cobalt Blue Metallic 2003 Porsche 911 Turbo Coupe, located in Georgia, with a Graphite Grey leather interior and 64,008 miles on it. Cobalt Blue was a standard color for the 996 so I have no idea why we don't see more of them, but for some reason it seems we don't. That makes this one a particularly pleasant find.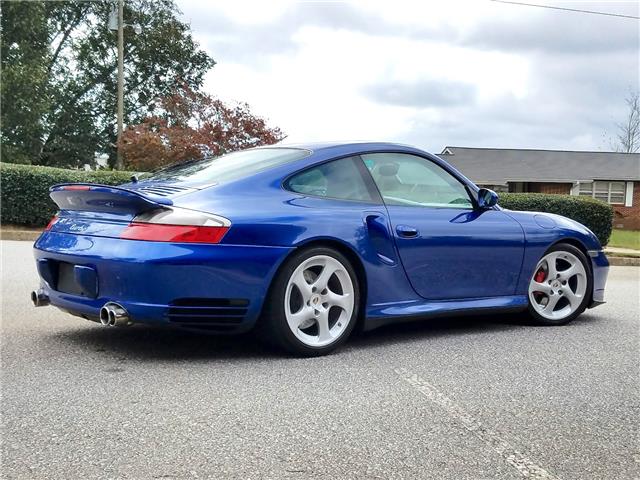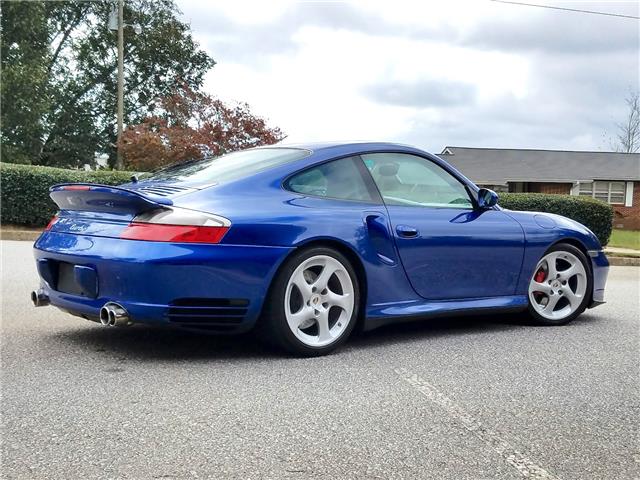 Year: 2003
Model: 911 Turbo
Engine: 3.6 liter twin-turbocharged flat-6
Transmission: 6-speed manual
Mileage: 64,008 mi
Price: $57,900 Buy It Now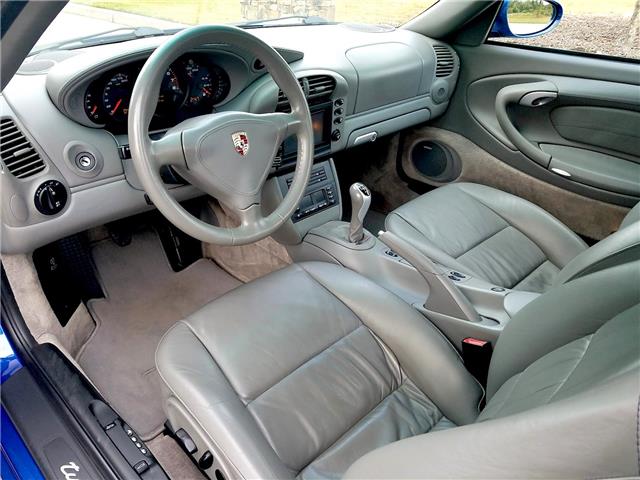 2003 Porsche 911 Turbo.

Vin WP0AB29993S686589.

6-Speed Manual.

64,008 miles.

Cobalt Blue Metallic.

Graphite Grey Full Leather Interior.

Clean Carfax.

125,630 MSRP.

Books, Manuals, Maintenance Records, Service Stamps, Certificate of Authenticity, Tools, Spare, and a Jack.

This mesmerizing, 996 Twin Turbo, comes in one of the rarest colors of Cobalt Blue Metallic. The paint glistens and the beautiful hue of blue truly stands out on this car. The paint is 100% all original!

The exterior is complimented by the Graphite Grey, Full Leather Interior, which appears as new.

Performance wise, this 415 hp Twin Turbo does not disappoint what so ever, and it is absolutely a blast to drive. The immediate "turbo effect" launches the car forward and the raw motion of the chassis lets you feel every inch of the road. The shifting action is impeccable and everything works perfectly in a synchronized manner.

The brakes are solid and the tires are close to new, with plenty of tread.

Factory Options For This Car:

XKL – Leather speaker covers
XNG – Leather instrument surround
XNN – Leather center air vent bracket
XNU – Leather dashboard trim strip
XSC – Porsche crest embossed in headrests
XJ4 – Leather covered ignition lock surround
XN3 – Leather dashboard side air vent
XV1 – Leather defroster trim
446 – Wheel caps with colored Porsche crest
692 – 6-disc CD changer Becker Porsche CDC-3
939 – Draped leather rear seats
982 – Draped leather front seats

"I would like to share my personal observations about the 996 Turbo's! The engine was designed by Hans Metzger, probably the best Porsche engine designer ever. Mr. Metzger designed the engines for my Porsche factory team cars that we won the 2000 American Le Mans Series with. They were absolutely bulletproof, enabling us to win 10 out of 12 races. We also won the European Le Mans Series in 2000. The 996 Turbo engines are not the same design as used in the normal 996 911's. There was a intermediate shaft bearing problem with those cars and some have thought the Turbo's also had a problem. Not true, Mr. Metzger's engines feature a totally different design. Serviced properly, they will provide many hundred's of thousands of miles with spectacular performance." Dick Barbour.

Collector car financing available at competitive rates.

Vehicle Disclaimer:
We make every effort to provide you the most accurate, up-to-the-minute information on all of our vehicles in our inventory. However, please do verify with us before purchasing that all the information is correct and up to date. Also, unless we take deposit, any car is fair play and up for sale.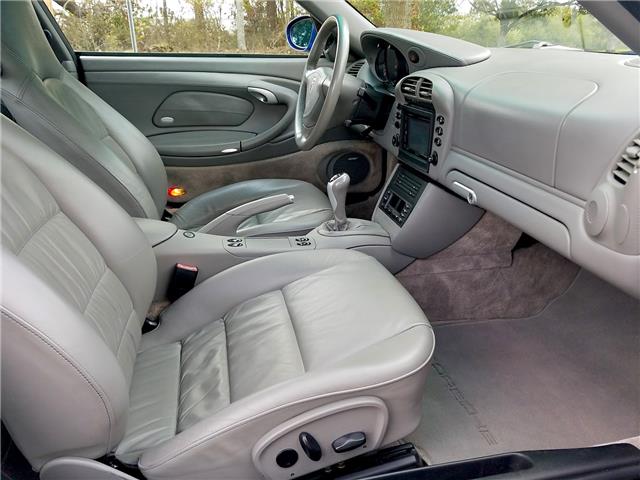 Cobalt Blue is a nice color for those who want something fairly bright, but don't want to go all the way to one of Porsche's pastel blues. It provides just the sort of look that can turn heads, but without seeming like you're shouting for attention. On this Turbo it looks great and looks to be in very good condition. Sadly, the interior is less exciting. Add to that the generally not great appearance of the 996 interior and it's a little bit of a let down. I haven't yet figured out what interior color seems to work best on the 996, but I think here I'd have gone with black. On the bright side, the interior also looks in very nice shape. It may not be pretty, but at least it's been well cared for.
All in all this is a very nice looking 996 Turbo. We're left in the dark regarding its history so interested buyers will need to do some digging, but we can hope everything will check out in good shape. The price is quite high given the mileage. This is well into X50 territory, but of course without the X50 package. We would certainly expect a premium given the color, but this one still seems a little high. I'd think something much closer to, and ideally just under, $50K would be much more to everyone's liking.
-Rob