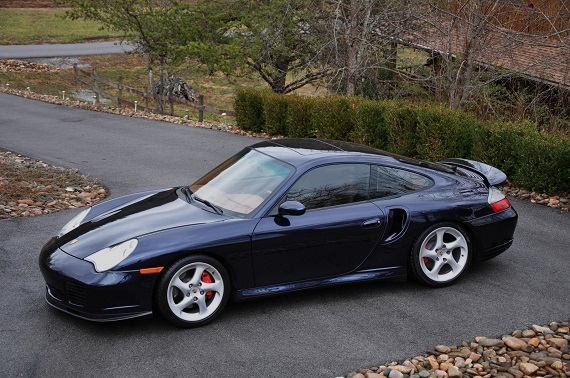 I've featured a decent number of 996TTs lately, but they've all been of a different sort than what is typical for us. They've all been shifted toward the pricier end of the spectrum and more collector quality for those who want to speculate on the possibility of that market moving upward. In most cases these have been the one-year-only Turbo S. Here I'm going to hope to move back toward the performance value side of the equation. This is the reason we're typically here in the first place after all. But that movement toward value doesn't mean we have to make sacrifices in performance. While the Turbo S may wear a different moniker and command more attention and value it's not really fundamentally different from a standard Turbo equipped with the X50 performance package. And what do you know, look what we have here: a Midnight Blue Metallic 2003 Porsche 911 Turbo, located in Knoxville, with Cinnamon leather interior, 79,700 miles on it, and that highly desirable X50 package. It is the higher mileage that will keep this Turbo's price in reasonable territory, but the condition shows us a very nice 911 that could compete with those lower-mileage examples and their higher prices.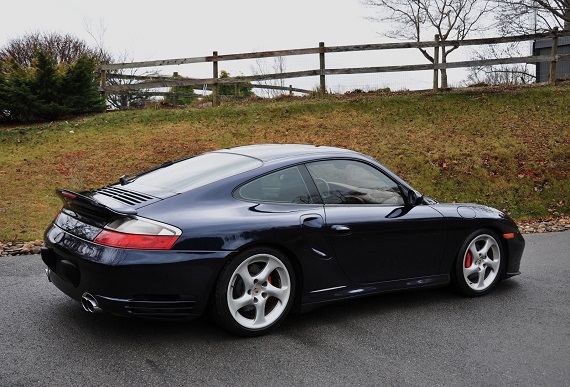 Year: 2003
Model: 911 Turbo
Engine: 3.6 liter twin-turbocharged flat-6
Transmission: 6-speed manual
Mileage: 79,700 mi
Price: Reserve Auction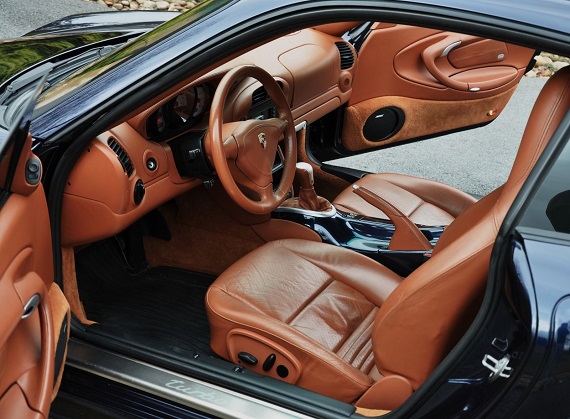 2003 Porsche 996 Turbo X50 6-Speed Coupe

VIN: WP0AB29953S685617
Engine: M96/70 3.6 Flat DOHC 6 Cylinder M96/70E64330899
Transmission: G96/50 6-Speed G9650400C3032
Interior: Midnight Blue Metallic E9
Exterior: Cinnamon Brown Full Leather

Here we have a beautiful example of a 2003 911 Turbo with the X50 performance package. First available in 2002, the X50 option bumped the horsepower from 415 to 450. This was done with larger k24 turbos and engine tuning. Typically the package was an additional $17000.00 to the sticker price. Although a Turbo S was not available until 2005, the X50 gave 996 turbos the "S" treatment. This particular Turbo has several other desirable options including special order full Cinnamon Brown leather, aluminum/chrome trim, and Bose premium sound. It has just under 80k miles and has been very well maintained.

The car was ordered in the very attractive Midnight Blue Metallic. The color is dark in low light and comes to life in the sun. Aside from a few minor rock chips on the front bumper, the paint is in like new condition. The car has never been involved in any accidents and has a very clear Carfax. The lights are in excellent shape without the typical fading from the sun. All of the glass is very nice and free of chips or cracks. The trim and rubber pieces are also in beautiful shape and show little to no age. Underneath, the car has not been scraped up, dented, or bottomed out. All of the skid plates are intact and the firmly secured. This is a very beautiful and well kept car for its age.

Ordered new thorough the Porsche Exclusive Program, this Turbo was optioned with full Cinnamon Brown Leather and Aluminum/ Chrome accents. It also has the black suede headliner and black Porsche floor mats. The interior is a perfect match to the Midnight Blue exterior. The leather is soft and fresh and has the new Porsche smell. All of the carpets are free from tears, stains, or discoloration. There is some minor wear around the interior as is expected for the age of the car but nothing major. All of the electronics work as does the cruise control, heat, and AC. An upgraded Alpine head unit was installed and incorporates Bluetooth and auxiliary access into the stereo. The car comes with all of the books, COA, copy of the window sticker, several Porsche Promotional items, two keys, tools, jack, and compressor. There is also a GT3 spare tire delete tray included with the factory spare.

This car performs on a supercar level. It is very easy to drive and delivers the incredibly enjoyable feedback to the driver that is expected from any 911. The engine is very strong and operates smoothly as it should. The transmission and the all wheel drive are in great condition. There are no issues shifting and the clutch was recently replaced. The clutch accumulator was replaced at the same time so there are no pedal issues. The car has four very new tires and the brakes in good condition as well. Techart springs were added to lower the car however the ride and drivability has not been affected at all. It is great driving car that handles and performs better than many of the new sports cars out there today. These Turbos are a great buy and an excellent investment. Please see all of the additional photos that include several detail shots. As always, if there are any questions, please feel free to ask.

Porsche 996 Turbo Photos

I WELCOME AND RECOMMEND A PRE-PURCHASE INSPECTION TO BE DONE PRIOR TO PURCHASE AND PLEASE ASK TO SEE THE ADDITIONAL PHOTOS. If you have any questions or concerns, please contact me through eBay and we can go from there. Car is advertised locally and I reserve the right to end the auction early. After sale, a $1000 non-refundable deposit will be required within 48 hours and the final payment will be required within a week via cash/wire transfer. Final payment is ONLY accepted via wire transfer or cash in person. NO other methods are accepted. Full payment must be within a week after the sale or buyer defaults on the sale. Shipping is the buyer's responsibility and the car is expected to be picked up within a month after sale unless we speak about otherwise. Winning this auction does not mean you get to come look at the car and then decide if you want to buy it. Winning the auction means that you ARE purchasing the car and plan to schedule pickup and delivery. I have tried to represent and describe the car to the best of my knowledge. There is no warranty implied or assumed within this description and the car is SOLD AS IS. Several photos on this car! Please contact me and I will send a link to the photos. Thanks again!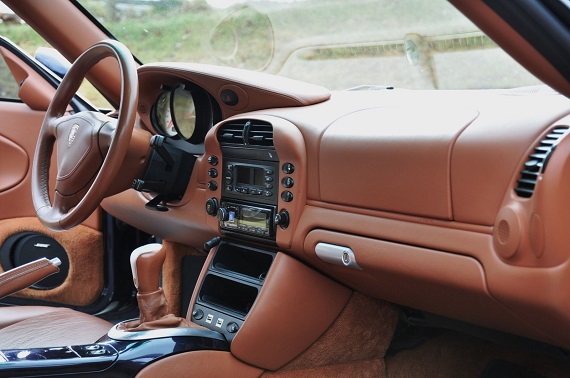 I will admit I was a bit shocked when I first saw the interior of this Turbo. I'm usually a big fan of Cinnamon as an interior color on earlier 911s, but this one is taking me some time. I don't know if it's the photography – these overcast pictures aren't helping with brightness – or the not great 996 interior or if Porsche simply changed the shade of the color, but here the color looks a lot darker. I do agree with the seller that it provides a nice contrast with the Midnight Blue exterior, and it's definitely one of the more rare interior options I've seen on the 996, but I might want to see this one in person. Color aside, the condition of the interior looks quite good. There are some signs of wear here and there, but nothing major or that would give me pause about it's upkeep. With regard to maintenance, the seller suggests everything is order, but we don't hear anything about available documentation. So we may be left with a PPI or perhaps documentation will be available. Given the mileage, we'll certainly want to know what services have been performed and what its current condition might be.
It looks good, looks in good shape, and comes in a rare and interesting color combination, but we don't know much outside of what we can see. For a driver, a high-performance one at that, that may be ok especially if bidding stays reasonable. Right now, bidding is very much so sitting only at $30,100. Obviously that will come up, almost certainly into the low 40s and possibly close to $50K if someone were to really desire this color. So we'll have an eye on this Turbo to see where it goes, but it is almost sure to be another case of a phenomenal 996TT performance bargain.
-Rob