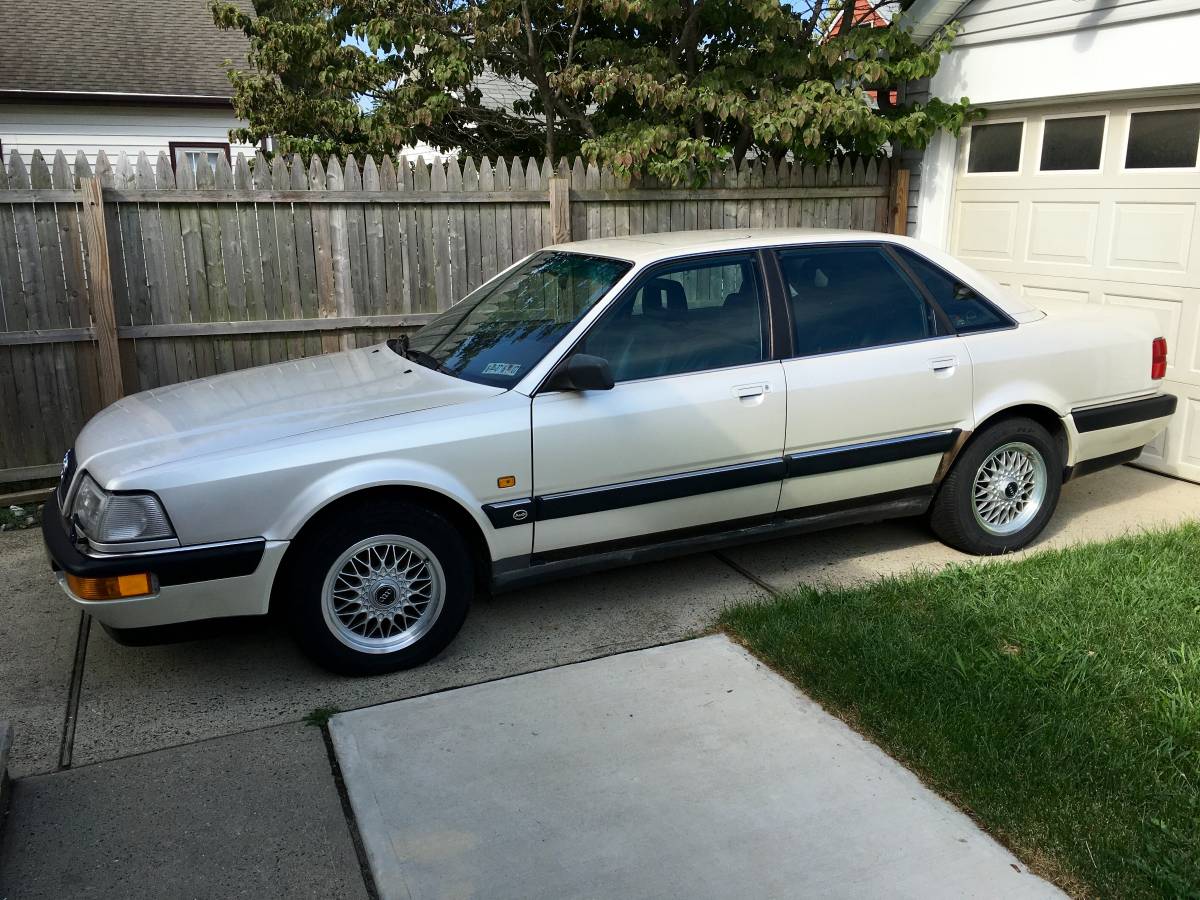 You know when you watch a horror film and the protagonist sees a door ajar with a strange light, noise or smell emanating from behind it? Despite the obvious warning signs and 100% metaphysical certitude of impending doom, they creep towards their demise as if unable to escape fate. As a viewer, I'm often baffled by their behavior.
But then I think about the V8 quattro.
There is nothing – and I mean nothing – that makes the V8 quattro a sensible choice for a car. Parts are hard to find, they seem needlessly complicated, and the reality is that now some 26 years old and vintage, the cutting edge of technology for 1991 is pretty easily outpaced by a Honda Civic. There are prettier, more significant, faster and more economical Audis, if you have the itch.
But like the open door, I'm always drawn to looking at them. So, cue the scary music and dim the lights, because we've got a twofer of 3.6 quattro action coming at you!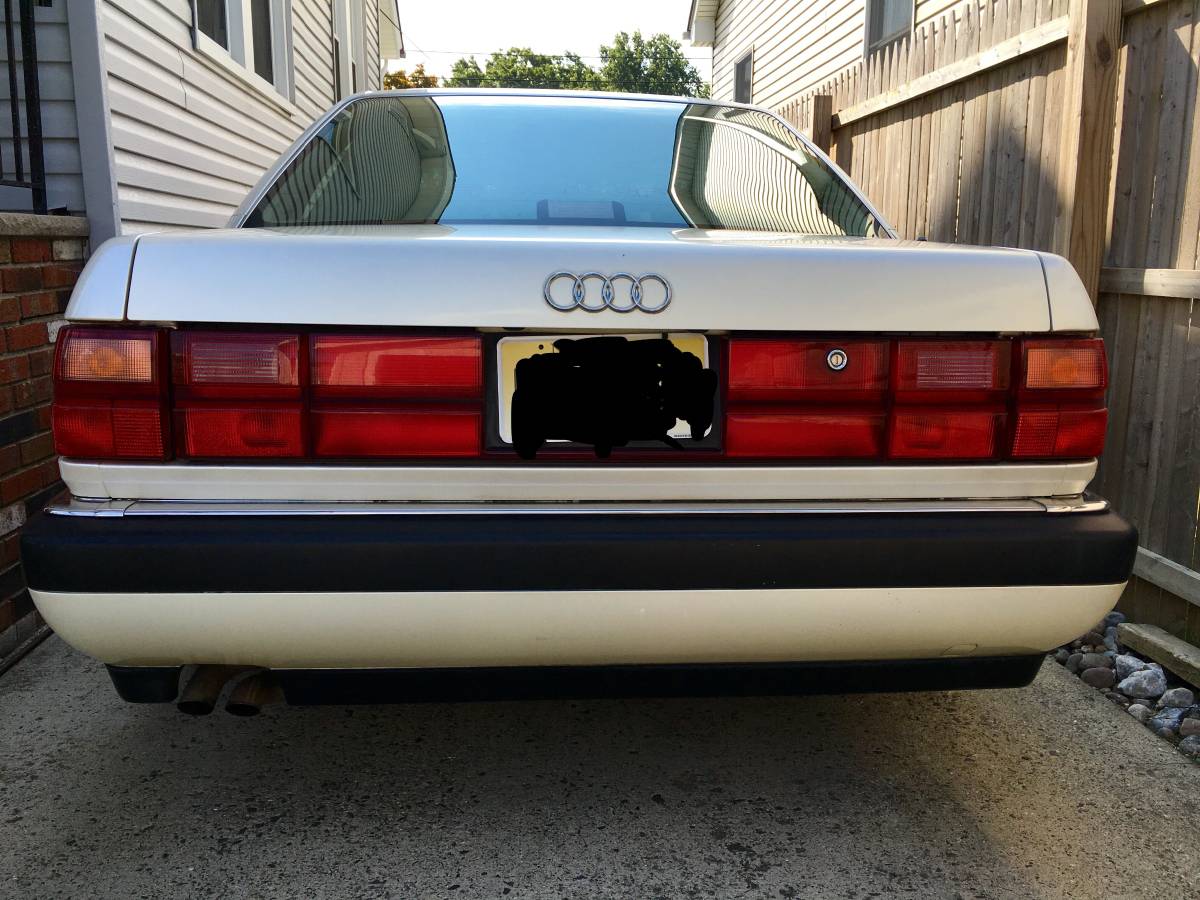 Year: 1991
Model: V8 quattro
Engine: 3.6 liter V8
Transmission: 4-speed automatic
Mileage: 83,319 mi
Price: $6,300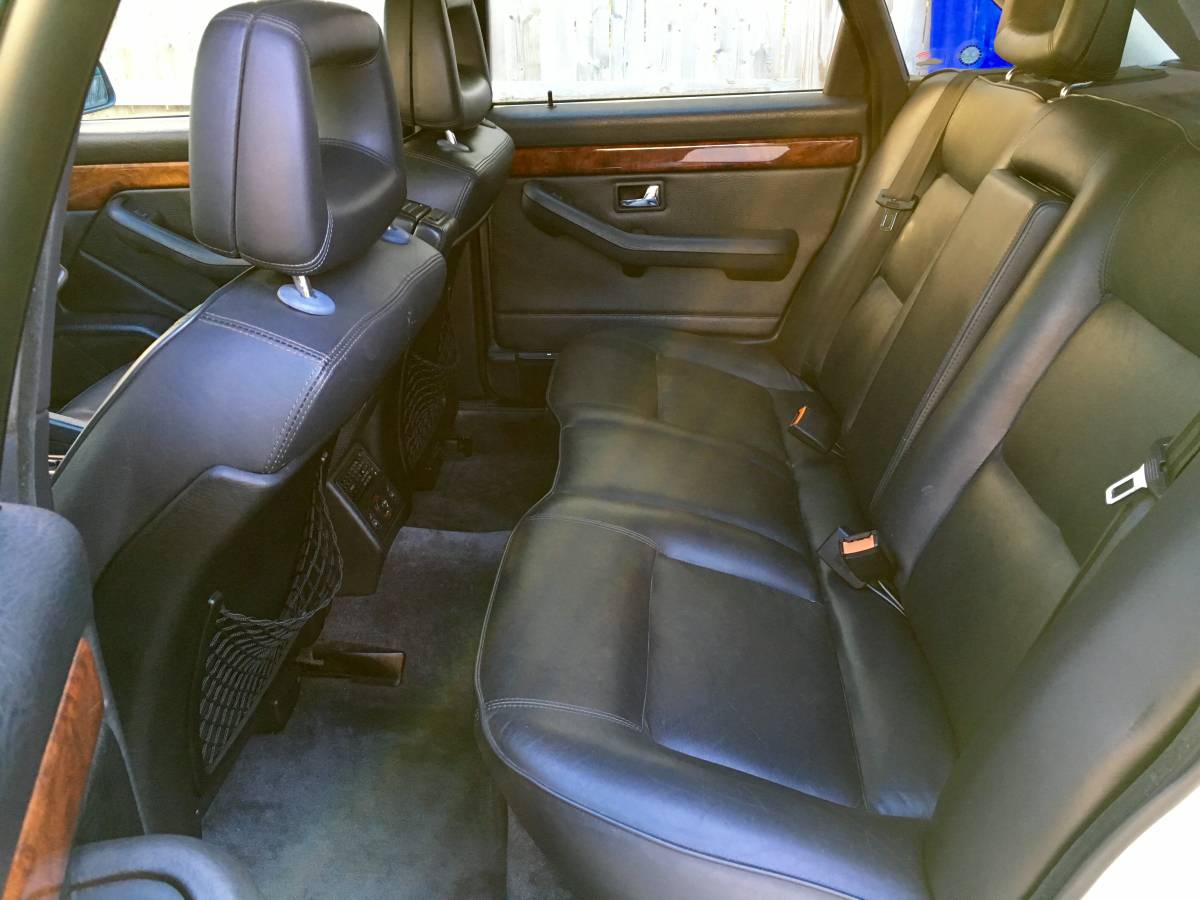 Hi folks! Here, is a CLASSIC 91 Audi V8 QUATTRO 3.6L Engine that i have for sale.The car only has 83,319 miles on it (ORIGINAL mileage).My uncle was the 1ST owner of the vehicle and I'm the 2ND owner.The car was well maintained by him until he had a couple surgeries and was unable to drive for quite some years.With that being said,the car was not being driven and was parked in his garage for years.I bought the car from him February this year in the intention of driving it.After i just spent NEARLY $3000 just in parts for the past 3-4 months and over $2500+ in labor for a full complete service to make the car a RELIABLE car,my BOSS LADY told me "sorry,we can't keep it" because our family is growing and we need a truck . So, i have NO CHOICE but to get rid of it with sadness :'( .Folks,believe me when i tell ya,this car came with EVERYTHING from Factory (4 set of keys,complete manual,telephone book,CD changer book,Radio book/code,Genuine Audi BBS RZ wheels,jack and tire wrench etc…Even the spare tire that came with the car NEVER been mounted on the car and that's 25 years.The interior of the car is in GREAT shape and has NO TEAR.The exterior is in good shape except for a tiny dent on the hood & a slight bend on the passenger side fender near the lower molding.My uncle told me while he was at a supermarket,someone backed into him while the person was coming out.The paint is good for a 25 year old car but there are two little areas on top of the trunk you can see a (small) fading but nothing major at all.NO CLEAR-COAT peeling and NO RUST FALLING APART off the body of the car. In addition,i have taken a lot (49) pictures of the car.It's unfortunate I could not upload all of them due insufficient space on here.As a result,I have decided to uploaded only the MOST relevant pictures of the car.However,they are all available upon request.

Spec:http://www.audiworld.com/model/v8quattro/91-v8.shtml

NOTE: Those are the parts that just got replaced on the vehicle for the past 3 to 4 months.
1) Timing Belt
2) Water pump and gasket
3) Thermostat
4) BRAND NEW & GENUINE Audi Radiator (very expensive) for this car
5) Coolant temp sensor (from radiator)
6) Oil pan gasket
7) NEW Bosch spark plug wire set (10 wires)
8) New NGK spark plugs (8)
9) Fresh Genuine Audi coolant
10) Fully Synthetic motor oil
11) Brand new Bosch fuel pump
12) NEW Mann fuel filter
13) NEW & Genuine fuel sending return unit assembly
14) Brand new Bosch distributor caps (2)
15) Brand new Bosch distributor rotors (2)
16) Brand new Starter
17) Brand new Alternator
18) Brand new FLO-MASTER catalytic converters (2)
19) Brand new Continental/Contitech serpentine belt
20) Gas tank was replaced by a used/genuine one with 6 months warranty.
21) New rear brake line
22) New Mann air filter
23) Original VW/Audi battery.
24)Alternator
25)Starter

The cons:
1) The coolant expansion tank is good but the sensor that's in it is bad and triggered the coolant temp warning light on the dash.NO OVERHEATING though.The expansion tank has to be replaced due to the sensor is built into it.

2) There is a warning light that reads (CAT) that keeps flashing on the dash after you start the car.Based on what i read from the manual,it said that the (CAT) light should go away after the car has started.For some reason,it kept on flashing.Im assume since i changed BOTH cats,"maybe" the light has to be reset by Audi.To be honest,It DOES NOT make the car drive funny though,simply flashing.

3) The radio does not come on.I'm not sure why but it can be a blown fuse.

I never looked into it because i was too focus on fixing and replacing some of the MOST expensive parts on the car.I have PROOF/RECEIPTS for all the parts/work that's been done to the car.I'm asking $6,300 or best offer.If interested or have questions,feel free to reach me at my contact info in the contact field above.Also please be respectful.If you don't have anything NICE/UPLIFTING TO SAY,DON'T SAY IT.

ALSO,DO NOT CONTACT ME WITH SOME PERSONAL BANK CHECKS STORIES NOR TELLING ME,YOU WILLING TO PAY ME MORE THAN WHAT I LISTED THE CAR FOR. I WILL ACCEPT **CASH IN PERSON** .ANY OTHER FORM(S) OF PAYMENT WILL BE VERIFIED BEFORE SIGNING THE TITLE.

***ONLY SERIOUS BUYERS***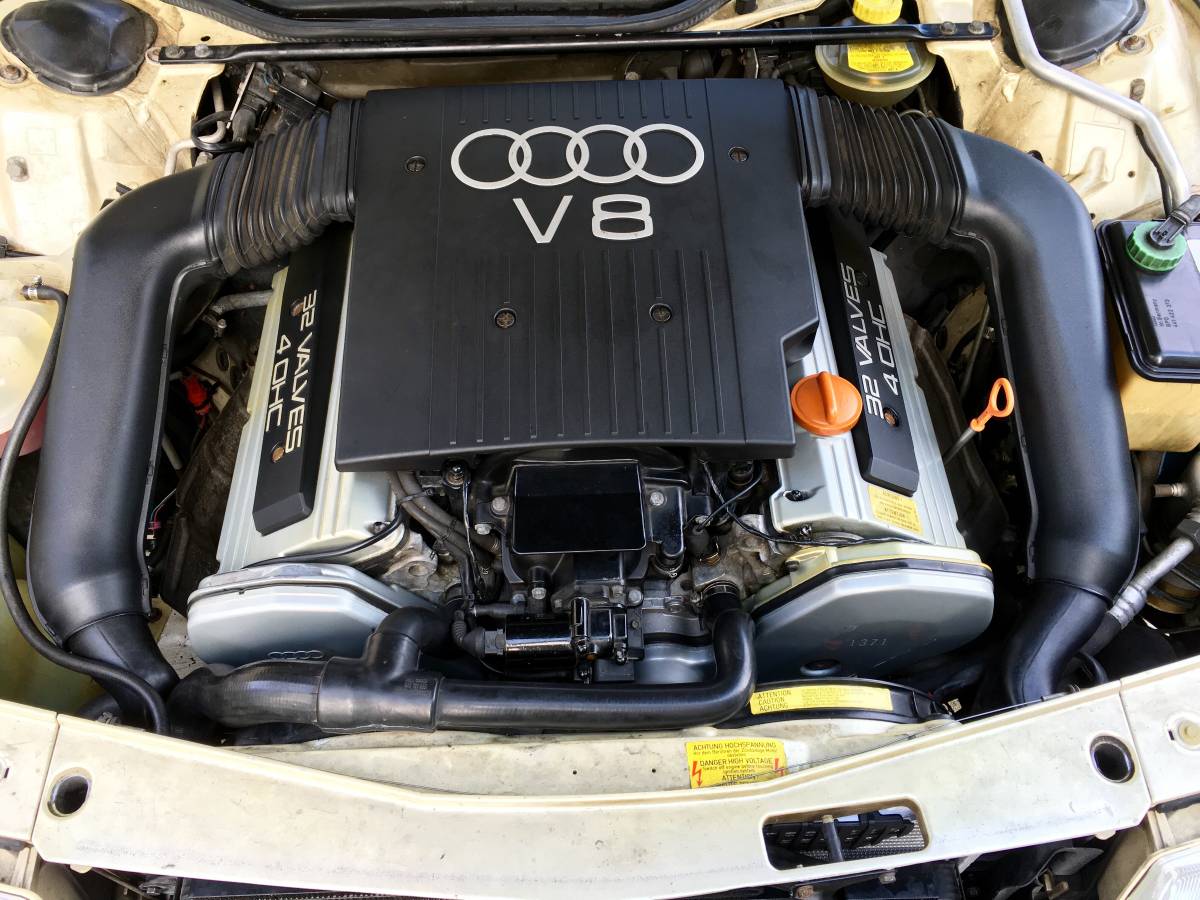 This is about as nice as '91s come to market, minus the color and comfort seats, and of course excusing the automatic transmission. Hooked to the less potent 3.6, the '90 and '91 V8s feel pretty flat if you're used to explosive acceleration of the turbo cars, but they make great cruisers. Changes to the '91 were the 15″ BBS RG forged wheels in place of the "Aero" wheels '90s had; otherwise, the '91s are pretty much the same car, though with only 527 sold they're not hugely common to see.
The recent maintenance is a plus, and all the expensive major items you'd want to check out look to have been serviced – outside of the transmission. '90 and '91s seemed to overheat their units a bit more easily, as the revised TCU and cooler on the '92-'94 models means they're more resilient. But the major problem here is the price; $6,300 isn't a bad price considering the good condition and maintenance, but unfortunately it also gets you into another class of Audi performance that is more reliable and much more impressive. It's also strange to me that no pictures of the front seats appear, or any other good angles of the car.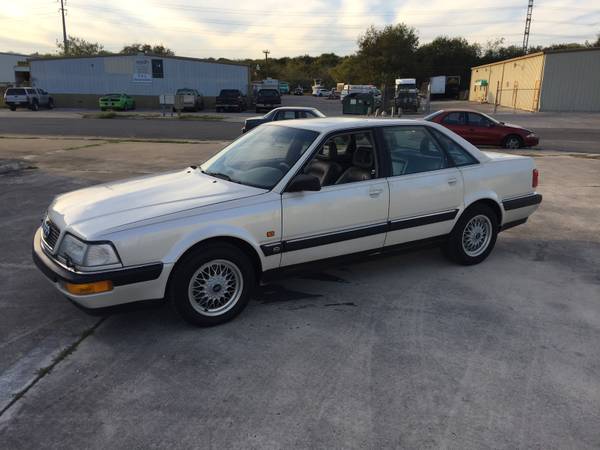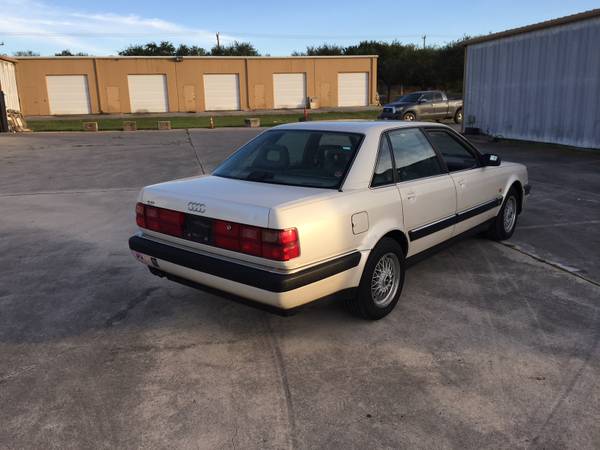 Year: 1991
Model: V8 quattro
Engine: 3.6 liter V8
Transmission: 4-speed automatic
Mileage: 139,000 mi
Price: $4,000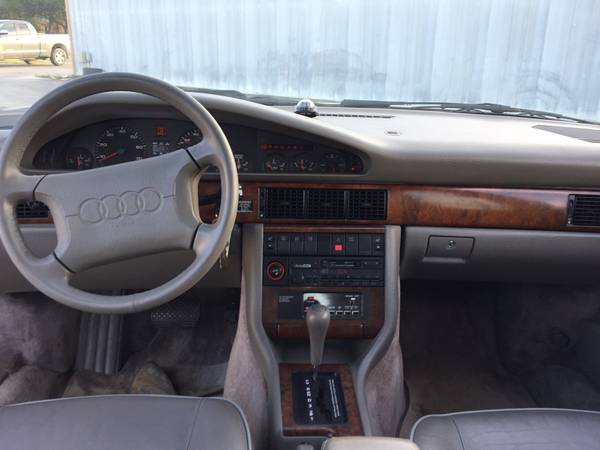 1991 AUDI V8 QUATTRO.ALL WORKS.RUNS GREAT! VERY RARE, HARD TO FIND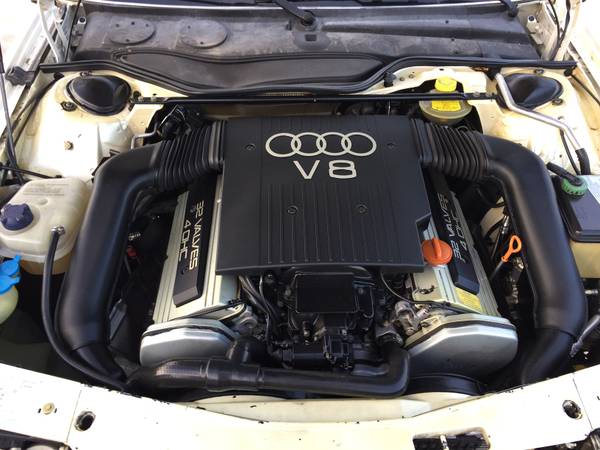 Don't adjust your screen; yes, it's a near exact Pearlescent White Metallic twin. The major difference here is the mileage, with 60,000 more accrued, and the grey leather interior. Usually the bell-weather of how these cars have been treated is the steering wheel, and this one looks remarkably clean. Another good indicator is the lips of the BBS wheels, which again appear in good shape from what is shown. Unfortunately, that's about all we have to go on, as no maintenance is disclosed. And when you're getting into a V8 quattro, simply choosing one because it looks generally pretty is like posting your bank account details on Twitter. So, even though it looks nice and the mileage isn't outrageous, there's simply no way I'd pay $4,000 for one with no disclosed maintenance.
Which is the winner? That's a hard call. The New Jersey car is preferable on history and mileage as well as full disclosure from the seller, but not on price. The Texan comes closer on price and condition looks nice, but it loses with no history. By default, that makes the winner by decision the lower mile, better documented car.
Thanks to our reader John for sending the first '91 in!
-Carter