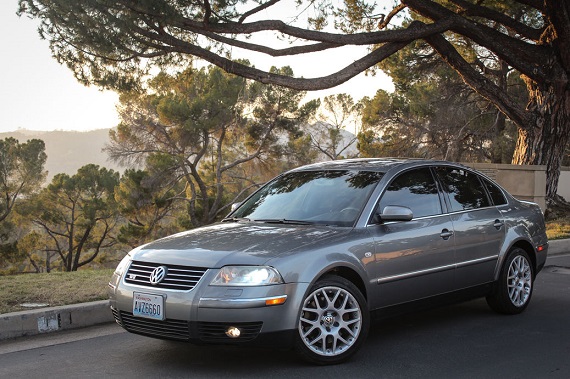 The words "Q-Ship" and "Sleeper" get tossed around a lot when describing the super-performing sedans, coupes and wagons from Audi, Mercedes-Benz and BMW – but truth be told, virtually any enthusiast and most non-enthusiasts can spot a high performance model a mile away. We have to go really pretty far back to find examples that were true sleepers – models where it was only the number of tail pipes, subtly wider wheels, or maybe one single badge that hinted at their greater performance. There were no extra gills, bulges, flared fenders, red trim, flashy colored brake calipers and 29″ wheels with 375 section tires. For models like the 450SEL 6.9, you had to know what you were looking at to fully appreciate the performance. But even as we got towards the E28 M5, manufacturers were slapping badges, lowered suspensions, spoilers and special trim to help set their client's substantial investments apart. In the vein of the 450SEL 6.9, though, Volkswagen launched a discrete performance sedan – a true sleeper – in the Passat W8: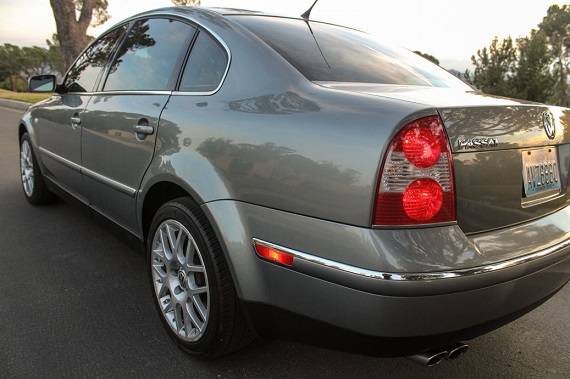 Year: 2003
Model: Passat W8 4Motion
Engine: 4.0 liter narrow-angle W8
Transmission: 6-speed manual
Mileage: 88,579 mi
Price: No Reserve Auction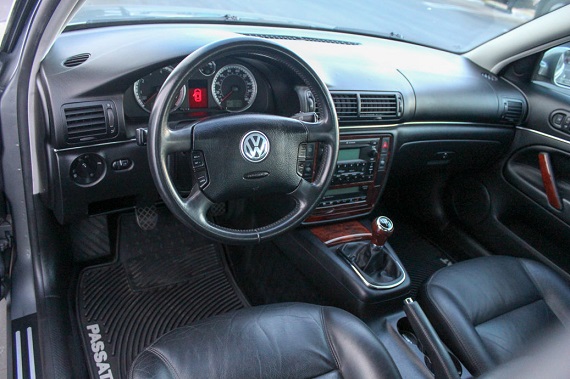 NO RESERVE
2003 VW Passat
4 Motion, W8, 6 Speed Manual
88,759 Fully Serviced Miles
ALL Original – NO Paintwork

You are bidding on a very rare and special car. This car is ALL original. NO paintwork or any mechanical upgrades. VW reportedly released less than 100 cars in 2002 and 2003 that were equipped with the W8, 4 motion, sport package, and most importantly the 6 speed manual transmission.

Fully loaded with all the options including Bi-Xenon headlights, 2 piece BBS (original) wheels, heated seats, etc…
The entire front of the car including the mirrors has 3M clear bra. This car was owned by a collector who made sure the car remained fully serviced and in original condition. This car drives and handles amazingly well.

All inspections are welcomed and encouraged.
Please contact John at 818-445-0699 with any questions you may have.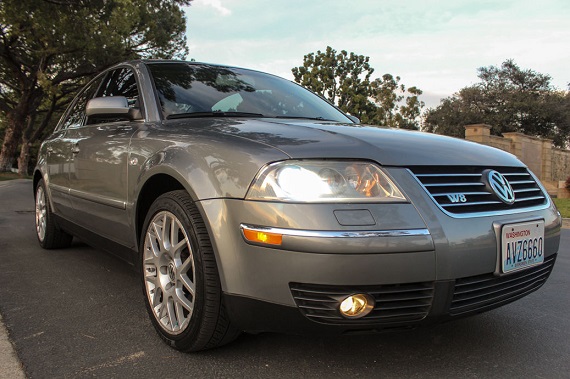 Few non-enthusiasts can tell the performance available from the narrow-angle W8 engine laying under the hood, but the Passat W8 put out 271 horsepower with matching torque – more power than the outgoing S4, meaning that in 2003 this was the most powerful manual car from Volkswagen or Audi that you could buy. Subtle details – special Xenon headlights and interior lighting, discrete "W8" badges, unique alloy wheels (in this case, the sport option BBS Madras 2-piece wheels), and 4 tail pipes were all that set the Passat apart from its less expensive brethren. Consequently, not many bought them for the substantial premium – in 2003, Volkswagen sold 79,914 sedans in the U.S.. 2,272 of them were W8s – already a very small percentage – and only 10% of those (228) were manuals. Silverstone Gray with Black leather was the second most popular option, with 37 sold (black over black is the most abundant), but no one would call these sedans common. Nor do you see many in this condition – perfect, effectively. Will you pay to keep the W8 running? Certainly. However, here's a true 4-season performance sedan that's both unique, fun to drive, capable and comfortable, and a true sleeper. If it were a wagon, bidding would be hotter – but right now, only $5,000 buys this impressive Passat with 2 days left on the auction. You could argue – and you'd be right – that the later B6 3.6 4motion Passat or makes more sense from a performance to dollar ratio, but you lost the manual option and somehow the W8 is a more special package to me.
-Carter