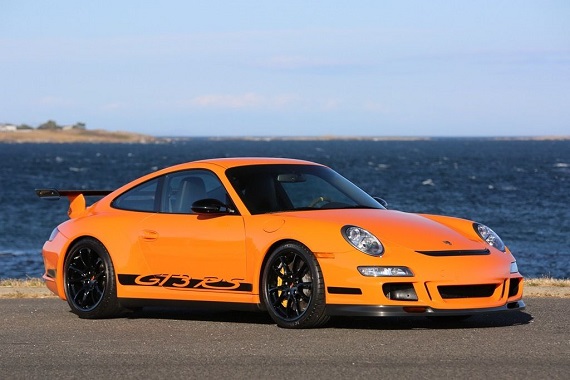 In recent features of the 991 GT3 RS I've talked about alternatives to these very high-priced machines given that most of them are currently priced above $300K. Of course, there isn't much of an alternative that's going to get you 100% there, but there are options like the Cayman GT4 or previous generations of the GT3 RS that at least begin to reach the dizzying heights of such machinery at a fraction of the cost. To present one such alternative I'll reach back to a reliable favorite of mine: an Orange over Black 2007 Porsche 911 GT3 RS. The one here is fitted with the optional carbon ceramic brakes and sits with just 17,069 miles on it. While the last of the 997 generation, the GT3 RS 4.0, remains extremely cost prohibitive even compared to the new 991 GT3 RS, these earlier examples with the 3.6 liter engine remain, at least in a relative sense, a pretty reasonable value. Even in these earliest examples you still get 415 hp delivered to the rear wheels via a 6-speed manual transmission along with a lightened and stiffened chassis to help keep all of that power directed precisely where you intend.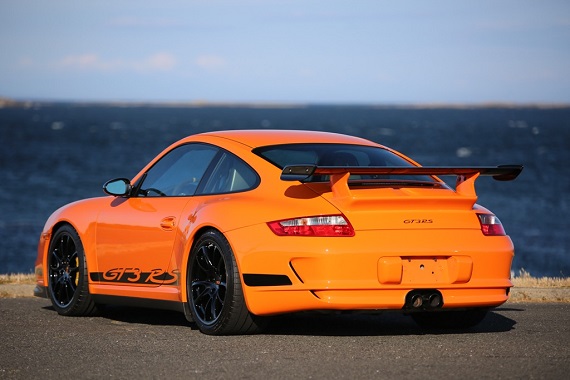 Year: 2007
Model: 911 GT3 RS
Engine: 3.6 liter flat-6
Transmission: 6-speed manual
Mileage: 17,069 mi
Price: Reserve Auction ($179,000 Buy It Now)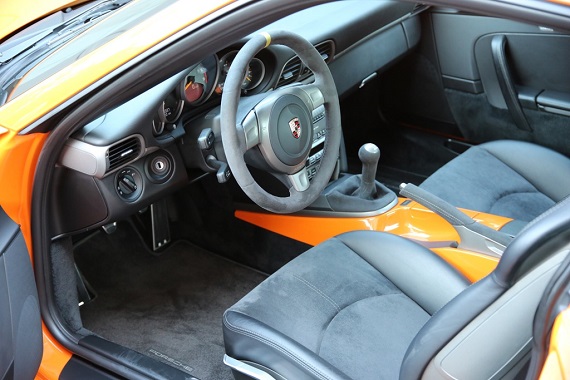 2007 Porsche 911 GT3 RS

VIN: WP0AC29957S792668
Color: Orange over Black
Mileage: 17,069 miles

* One of just 90 GT3 RS in this orange-black color combination for the 2007 model year.
* Highly Desirable "Track Bred", manual transmission lightweight Porsche

997.1 GT3
Production2006–2009
Engine3.6 L 415 bhp (309 kW) H6

Dimensions
Length174.3 in (4,427 mm)
Width71.2 in (1,808 mm)
Height50.4 in (1,280 mm)

997.1 GT3

In February 2006, Porsche revealed the first generation 997 GT3, commonly now known as the 997.1 GT3. In addition to a new 415 hp (309 kW) 3.6 litre flat-six engine, the vehicle featured "zero lift" aerodynamics, meaning the car creates only aerodynamic downforce and no grip-diminishing "lift" upwards and away from the road surface. The vehicle made use of a modified, track oriented version of Porsche's active PASM suspension making it the first of Porsche's RS or GT3 versions to feature an electronically adjustable suspension system. Also available was a navigation system and Porsche's "sports chrono" gauge package. The car went to sale in summer of 2006 and had a starting price of $106,000 USD.

The vehicle has a rated 0-60 mph time of 4.1 seconds and has a top speed of 193 miles per hour (311 km/h). Road and Track was able to achieve a 0-60 mph run in 3.8 seconds. Porsche's official test-driver Walter Röhrl completed the Nürburgring Nordschleife in 7 minutes 42 seconds with the 997 GT3 in 2006.

Factory Options on this car:

N2 Orange Paint
28 Black Leather Seats
450 Ceramic Composite Brakes-PCCB
810 Floor Mats in Interior Color
P74 Bi-Xenon Headlamp Package
XME Rear Centre Console Painted Exterior Color
XXZ Foot Rest Aluminum

This 997.1 GT3 RS, commission number 624687, left the Porsche factory in Stuttgart in March of 2007. MSRP with options listed above was a staggering $138,180 USD. The car was delivered to a Porsche Dealer in Los Angeles (#2040). It was sold new to the first owner in Costa Mesa, California on May 2nd, 2007. CarProof documents the cars move to Florida where it stayed until 2009. Records then show the car being titled in Illinios and finally Montana before being imported into Canada in February 2012 when it was sold by a Porsche Dealer as a Pre-Owned Certified Vehicle with just over 9,000 miles on the clock. In Canada it stayed with one owner until 2015. There are services noted on the in 2013 and two in 2014. We just ran the car for it's major service at the local Porsche Dealership January 14th 2016. All services are up to date and mileage is consistent throughout all records.

It completely bone stock, as delivered new. No modifications, and as far as we can know, it hasn't ever been tracked. The car comes complete with all books, tools, recent service records. CarProof records show no claims or inconsistencies whatsoever. This is a very clean first Generation 997 GT3 RS in a super rare color combination. A recent service and checkup at Porsche reveals only a few ignitions in range 1 and 2. It is a very clean car mechanically. As with all of our vehicles, we took this car to the factory dealership locally and asked them to do whatever they thought was necessary. The total invoice came to $2,194.79. You can view it here: 2007 Porsche GT3 RS Service

With ceramic brakes and a very rare orange centre console, this GT3 RS is clean and ready to drive. There are no documented accidents. If you are looking for one of the best optioned and cleanest GT3 RS with manual transmission and the right options, this is probably your next car.

DME Download Data (January 14 2016): PIWIS Tester Vehicle analysis log

Over-Revs:

Number of ignitions at speed > maximum speed, range 1: 41
Number of ignitions at speed > maximum speed, range 2: 5
Number of ignitions at speed > maximum speed, range 3: 0
Number of ignitions at speed > maximum speed, range 4: 0
Number of ignitions at speed > maximum speed, range 5: 0
Number of ignitions at speed > maximum speed, range 6: 0

Operating hours counter reading at overspeed, range 1: 323.500 h
Operating hours counter reading at overspeed, range 2: 323.500 h
Operating hours counter reading at overspeed, range 3: 0.000 h
Operating hours counter reading at overspeed, range 4: 0.000 h
Operating hours counter reading at overspeed, range 5: 0.000 h
Operating hours counter reading at overspeed, range 6: 0.000 h
Operating hours counter 553.600 h

We want to have the vehicle run its course in the auction process. Having said that, any realistic offer that is acceptable will end the auction early. If you would like to send us an offer, please do so, but do not ask what our reserve is. We value the eBay auction process immensley and feel it gives everyone an opportunity to participate in the bidding.

Please call Robert at +1 (250) 532-6547 or Tim at +1 (250) 812-6409 to have any additional questions answered or to see the car in person.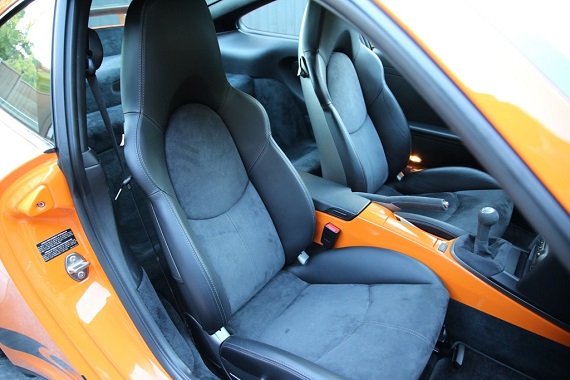 For reasons I can't quite put my finger on, this GT3 RS looks in better shape than many of the other examples I've come across. Maybe that is just a function of the photography, which does look good, or perhaps this one has been better cared for than past examples we've seen. Either way, it presents very well! As an alternative to newer models or as a comparison with the Cayman GT4 the asking price needs to be reasonable and here they're really asking a lot. We've seen these cars sell well below $150K and thus in that regard it isn't entirely surprising that this one sits unbid upon with a starting bid of $125K. Needless to say, the BIN price currently is well out of reach. Still it's worth some consideration and remains one of the best performance cars on the market.
-Rob