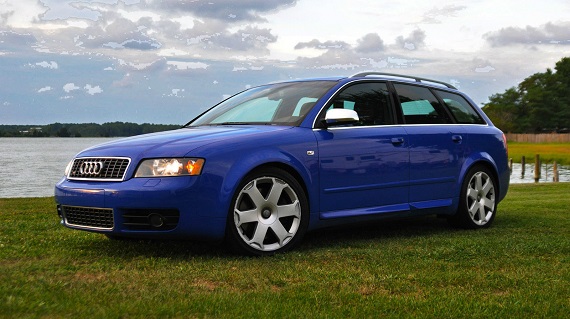 Audi S4 Avants have a semi-mythological status amongst enthusiasts. Like the great Greek Titans, they were heroic, with greater than man attributes. However, as with the Greek Gods, they're also inherently flawed, doomed to repeat the same failures over and over again. I can't help but look at the S4 Avant and think it's like Prometheus; a gift to inspire humanity, but one that you'll pay for every day. Recently, a close family member bought a 2004 S4 Avant 6-speed – there will be an article coming on it soon. I was lucky enough to spend a few days behind the wheel; it had been a few years since I was able to drive a 6-speed V8 S4, and I had some interesting perspective. The previous opportunity I had was on track in a then-new 2004 6-speed sedan at Watkins Glen – the car felt heavy but capable, shifted nicely, had barely adequate brakes and was a freight train from hell on the straights. Fast forward a decade, and what does a used one feel like? Well, my instant thought was that it felt surprisingly like my old '93 V8 quattro had; heavy and surprisingly slow to react to throttle inputs. The shifter felt clunky compared to my Passat, and the interior was positively claustrophobic compared to…well, even an A3, which itself feels far too small inside for it's exterior size. There's an immediate feeling of weight and girth that isn't as noticeable in the B5/5.5 chassis. The dashboard isn't as intuitive as it should be, visibility is remarkably poor, and for a 340 horsepower V8, below 5,000 RPMs it feels surprisingly slow. But then you get it moving, and on the fly it starts to make much more sense. Over bumps at speed that weight works to its advantage, smoothing out the ride and providing reassuring confidence that it's planted. For such a low car riding on massive 18″ wheels, it's amazingly comfortable. If the C4 and B5 S4/S6s felt a bit like slingshots with their turbo engagement, the B6 S4 feels like a battering ram, bullying everything out of the way. There's no need to downshift on the highway in 6th gear; mat it at 80 m.p.h. and it won't take you long to be over triple digits. And if you do downshift and that needle swings past the magical 5,000 RPM mark, the engine wakes up and comes alive, positively rocketing towards the redline. Of course, it comes with all-wheel drive and 5-door capability, so it's no wonder that such a package has a magical feel to it; however, it's still a flawed package – in my time with the S4 Avant (3 days), it failed to start twice – a still undiagnosed fault. I couldn't help but think the entire time that I just wished it wouldn't break (further) while in my stay. Still, like a freight train derailing, I can't help but look when they're presented in certain color combinations: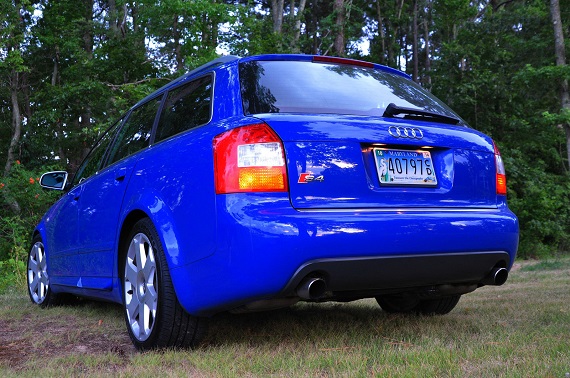 Year: 2004
Model: S4 Avant
Engine: 4.2 liter V8
Transmission: 6-speed manual
Mileage: 162,000 mi
Price: Reserve Auction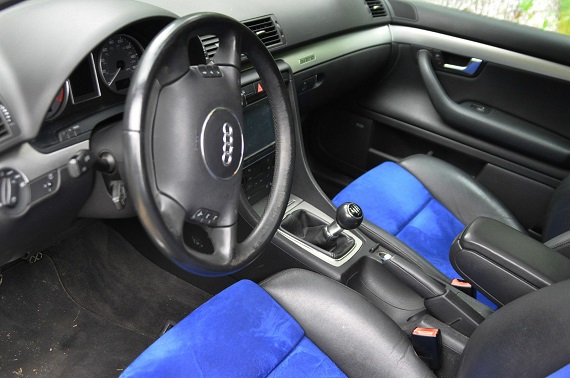 Fully Loaded and Unmolested (Stock) Nogaro Blue S4 Six Speed Manual Avant.

Adult owned and always pampered.

This is an incredibly rare example of an S4. According to Audi there were 17 Manual S4 Avants delivered with the Nogaro Blue on Blue color scheme. This one has the full winter package including heated seats, dimming mirrors, Bose stereo (currently has an upgraded navigation radio in place, happy to convey the original unit) carbon interior trim etc, etc… I love this car and strongly prefer it goes to someone who knows what it represents and how to care for it – happy to take you through the service history, you can also speak to the service technician who has meticulously cared for it the past 5 plus years. Do feel free to call, text ( Two Zero Two 422 Nine Zero Nine Five ) or email with any questions.

On Jul-16-15 at 14:41:08 PDT, seller added the following information:

Per your queries, I have added pictures of the two ding/dent/creases and a picture of the driver's seat – no holes, tears or cuts in any of the seats, including the driver's seat.
The front belt, idler pulley, bearing, motor snub mount and auxiliary coolers were replaced within last 15K miles. Had the timing chain and tensioner system checked by the local Audi dealer and they said it's a non-issue – I change oil religiously and have kept an ear on them, so to speak: no changes to report. I will be offline for a few days but you can check with my spouse via two zero two 446 seven three three seven and she will get an answer to you as best she can – Thanks for all the interest!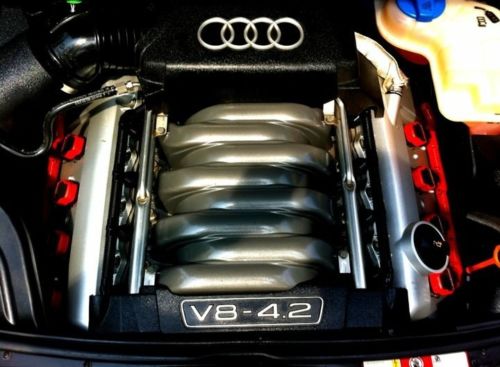 Nogaro over Nogaro is certainly one of the better – and signature – colors of the S4 Avant, and indeed that blue has long been associated with the fast Audi wagons from the RS2 through the S6 Plus. Condition overall on this one looks good considering the rather higher mileage. I was able to find two B6 Avant 6-speeds locally in the last month with 60,000 less miles than this car for around $12,000 – condition on both was on par with this example, so in this case you're buying the color if you're willing to go for the higher miles. The reserve is still on at nearly $9,000 with a few days to go; despite the claim that there's no issue with the chain, I'd plan on having a $4,000 plus reserve to fix that issue – or others that pop up. Honestly, I can't imagine paying any more than $10,000 for this example. It's a lovely color, but the threat of the Audi Gods eternally punishing me, strapped to a rock to have my wallet pecked apart by vultures every day would be too much for me to overcome my love of the look.
-Carter