Warning!
This post is in our archives. Links in this post may have been updated to point to similar cars available to bid on eBay.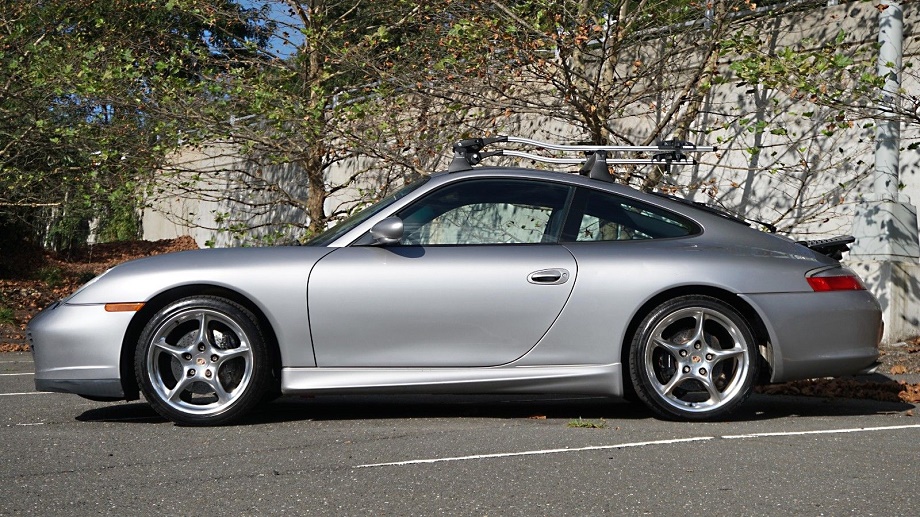 We like to rib Porsche for their penchant toward celebrating virtually everything by way of 'Special Edition' models. Most of that relates to how so many of those special editions aren't much more than cosmetic additions. This was especially the case in Porsche's earlier years. But not all of them are just paint and interior specials, like this 2004 Porsche 911 40th Anniversary Edition. Intended to celebrate forty years since the 911's introduction in 1963 the 40th Anniversary Edition included the X51 performance package (raising hp to 345 from the standard 320), sport suspension, and limited-slip differential. It also received the usual cosmetic updates – GT Silver paint, a unique set of wheels, and Grey natural leather interior – that would help set it apart from other 996s on the road. Only 1,963 were made. More power, better handling, and slightly different silver paint. Not bad!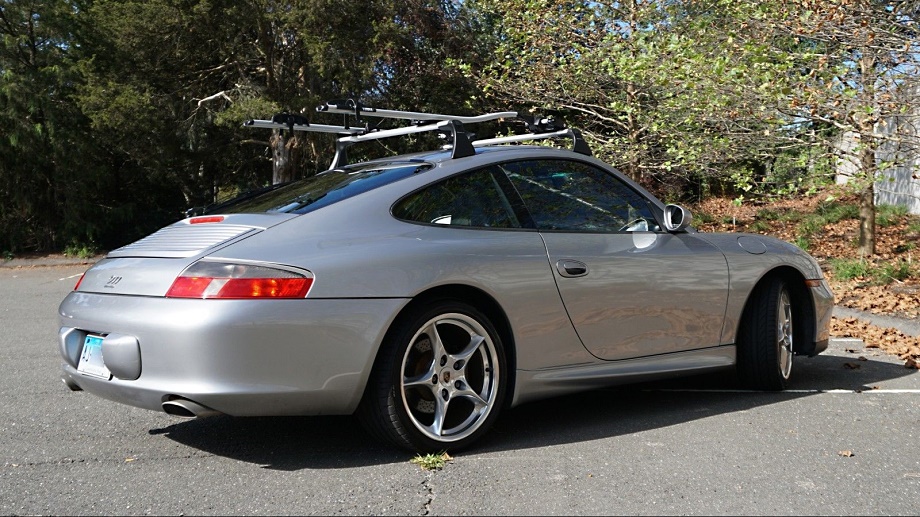 Year: 2004
Model: 911
VIN: WP0AA29964S621204
Engine: 3.6 liter flat-6
Transmission: 6-speed manual
Mileage: 127,200 mi
Price: Reserve Auction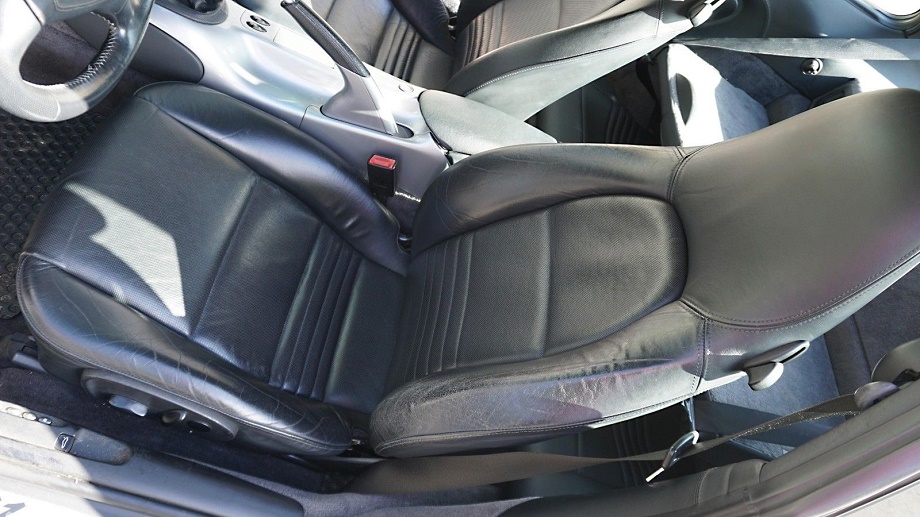 Most of Porsche's 996 models of 911 (model years 1999-2004) are at the bottom of their depreciation curve…decent performance for the cost of a well-optioned Ford Fiesta. The 996 model is the unloved black-sheep 911 (if only it had round headlights like all the others). Cursed as the first water cooled edition, the 996 started with a 3.4 (996, series 1) and ended with a revised 3.6 power plant 996, series 2). Between the much-maligned 966 Carreras and the Metzer engined 996 GT3 and Turbo (currently ~values at $70k and $45k) there is a small sweet spot where you get incredible value for money, extreme performance, and the luxury materials and finish expected from a $98k Porsche.

I'm talking about the 2004 911 40th-Anniversary Edition. More than a re-badged Carrera, these are very special 911s—not quite a GT3 but close. Limited to only 1963 units (the year the 911 was first released), each "40 Jahre" car has a plaque with its edition number in the production (approx 800 cars shipped to North America). All 40AE's have the X51 power package (engine upgraded to 345hp—a $17k option on regular 996s), factory Limited Slip Differential (available only on the 40AE and on some 1999 models with the smaller 3.4L engine), club sport suspension (M030 suspension lowered 10mm), GT Silver paint (the only other '04 model with that color option was the $440k Carrera GT), custom wheels, model-specific Natural Grey Full Leather interior with Alcantara headliner.

In my opinion, this is not a car that you get in and drive; this is a 911 that you strap into and wear like a tailored suit to a triathlon. No other factory 996 under $40k feels as exhilarating as the 911 40th-Anniversary Edition.

Unfortunately, in August I suffered a series of heart problems and need to sell my much-loved 911. No. 444 (of the limited edition of 1963 cars) is no garage queen! It has been my daily driver for 1.5 years (with winter wheels and snow tires) and I have enjoyed every minute of ownership and driving. I used the car to carry my mountain bikes (and skis) throughout that time. All the details of the options, maintenance, and condition are outlined below. The factory roof bars (designed to not touch the roof directly), winter wheels (need to replace rear tires) and factory floor mats and winter mats come with the sale.

VIN: WP0AA29964S621204

Limited Edition No. 444

Mileage: 127,xxx (daily driver)

Modifications: All original equipment (no mods) except for Rennline engine mounts (yellow bushings) installed 2 years ago.

Records: I purchased from a dealer in PA so my only records are the carfax and my own DIY receipts.

Mechanical/Maintenance: Mobil 1 oil changes every 5k miles. Yearly oil analysis—all clean (can send paperwork). Replaced the coils, plugs, oil sending unit, right window regulator, battery and rear tires. Added factory roof bars with new hardware and locks. Refinished headlight lens.

Note about IMS bearing and rear main seal: since I have no prior maintenance records, I can not confirm that the factory IMS bearing has been replaced but knowing the mileage and noting that the clutch engages at the top of the pedal travel, it is assumed by my shop that the IMS was replaced when the clutch was replaced. The IMS failure is such a well-known fix, it is extremely unlikely any mechanic would replace the clutch without changing the IMS and rear main seal. His position was reinforced by the oil report (see photo) that shows no metal particles.

Exterior Cosmetic/Condition: Overall all very good. Exterior showing the "patina" that comes with 14 years and 127k smiles. The photos illustrate the following: road rash on the front end; paint scraps (see photos, 12 o'clock over driver rear wheel; driver side, lower rear bumper cover; rear cover bumperette; hood, 1 o'clock from passenger headlight), slight no-paint damage door dings (see photos, 11 o'clock over driver rear wheel). The front bumper cover has a slight crease from a parking lot nudge (driver side of plate mounting holes). I have a replacement front plate mount and hardware.

Interior Cosmetic/Condition: Overall all excellent. All instruments, switches, etc work perfectly. The carpet under the drivers left foot is discolored. The leather doors and dash are perfect. The Alcantara headliner is beginning to droop slightly at the rear window (can be snugged up with the window trim). All seats have zero rips or tears. The drivers left bolster shows some wear but is in excellent shape.

Options/Features:

X51 power package

M030 sport suspension

4-Wheel Disc Brakes

ABS

Aluminum Wheels

Performance Tires

Traction Control

PSM Stability Control

Power Steering

Locking/Limited Slip Differential

GT Silver Metallic Paint

HID headlights

Engine Immobilizer

Sun/Moonroof

Rear Spoiler

Rear Wiper

Natural Grey Full Leather Dash/interior

Natural Grey Leather Steering Wheel

Natural Grey Floor Mats w/ Porsche Embroidery

Heated Front Seat(s)

Heated Mirrors

Power Mirror(s)

A/C

Driver memory full pwr adjustment

Remote Trunk Release

Keyless Entry

Climate Control

Cruise Control

Rear Defrost

Adjustable Steering Wheel Illuminated Visor Mirrors

Power Door Locks

Air Bags (STD)

Bose High-End Sound PKG:

Bose Two-State Modulation (TSM) switching, CD Player channel amp w/equalization, 100-watt amp 5×25 watt linear amps, 11 high-performance speakers with remote 6-Disc CD Changer

Follow the car on Instagram @betterdriven

More History on the "40 Jahre 911"

In late 2003, to celebrate the 40th anniversary of its 911 model, Porsche introduced a highly optioned special-edition model limited to 1963 numbered copies, each bearing the anniversary slogan "40 Jahre" representing "40 Fast Years". The "40 Jahre 911" is a normally-aspirated, rear-wheel drive, narrow-body Carrera with a myriad of aesthetic and performance enhancements, including the vaunted X51 engine package, GT Silver exterior paint, natural grey full-leather interior, limited-slip differential, shot-blasted and polished 18" Carrera II lightweight wheels, turbo front bumper with painted air-inlets, aluminum-trim rings on the instrument cluster, and M030 suspension (in North America – ROW030, which was lower, outside North America). While many of the 40 Jahre 911 owners have left their cars unmodified, others have personalized them. The most common exterior modification by owners of North American 40 Jahre 911 cars were replacing the orange side markers ("pumpkins") with clear markers like European 40 Jahre 911 cars. Others owners have added a fixed rear wing, blacked out the painted grill inlets, or changed or refinished the wheels (which often suffer corrosion in harsh weather environments). From a performance standpoint, one of the common misconceptions about the 40 Jahre 911 cars is that PSE (Porsche Sport Exhaust) was a factory available option. In reality, PSE was a dealer-installed option. In fact, the only available options from the factory were natural grey floormats, comfort seats with power package, rear window wiper, Bose high-end sound system, remote 6-disc CD changer, and Porsche Communications Management (navigation system – "PCM"), although buyers outside of North America could also choose two additional options: GT3 seats and telephone handset. After-market performance modifications by some owners included installation of cold-air intake, various exhaust modifications (Porsche PSE and other aftermarket brands), and suspension changes (such as PSS9 Coilover kit, ROW030, etc.). Preventive (or in some cases corrective) modifications included replacement of the legendary intermediate shaft bearing (IMS) and the rear main seal (RMS). The 40 Jahre 911, with its 3.6L engine, was not immune from the catastrophic engine failure due to failed IMS, although there is no research to indicate whether the 40 Jahre 911 cars were any more or less likely to suffer from that problem.

Please take notice:

This vehicle is sold "as-is" with no warranty, written or implied. All taxes and fees are the responsibility of the buyer and are not included in the listed price. The vehicle listed is described to the best of my ability. The information is based on our own research and statements made to me by the previous owner. To the best of our knowledge, the above information is accurate. I am not responsible for errors in my description of options or any other details. The above-mentioned vehicle is used and described as showing wear and tear. It is not a brand-new vehicle or show-car. This is a daily driver and meant to be enjoyed. I welcome local pre-purchase inspections paid by interested parties in order to independently verify condition.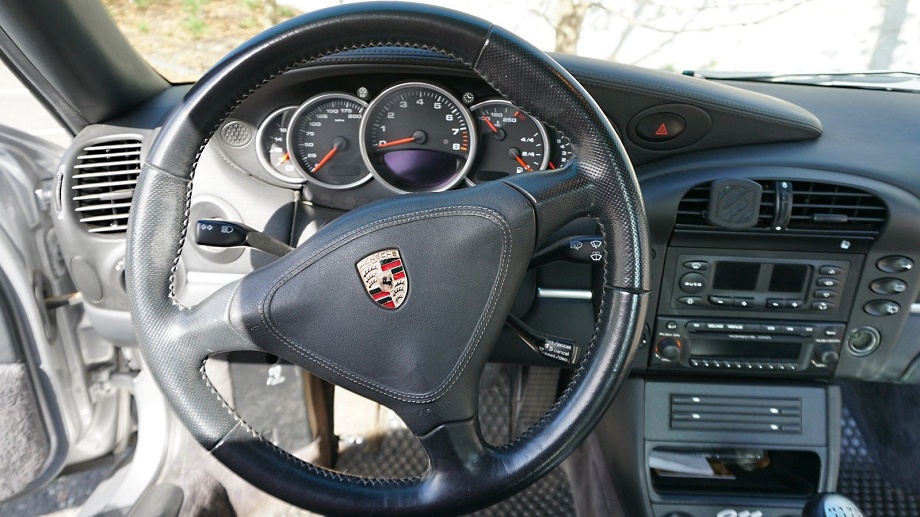 Like just about every 996 the 40th Anniversary Edition typically is a pretty good performance value. If you can live with its aesthetic shortcomings they can make for excellent options. The 40th Anniversary Edition itself tends to sell for a bit more than your typical Carrera, which shouldn't surprise us given how it's equipped. This particular example undercuts those usual premiums since it's got a decent number of miles on it. This 911 has been a daily driver and as such sits with 127K miles on it. It's got some scuffs here and there and the interior shows some wear, but there's not much that I think really detracts from it overall. The flaws seems mostly minor. It also comes with a second set of winter wheels and tires (and a roof rack!) should its new owner desire to continue the daily driver routine.
On the negative side, knowledge of its history and maintenance is fairly limited. The current owner thinks the IMS bearing has been replaced, thus mitigating that potential headache, but he can't guarantee that since documentation of its replacement does not exist. However, he has provided oil analysis that shows no metal particles in the oil. A PPI should sort out any other potential issues, but outside of its current ownership you'll be in the dark. I can't say I know exactly where this 996 should sell, but with a BIN price under $28K the overall value seems quite good and that doesn't seem like a bad price even when we factor in the mileage. I like this 911 and for someone looking for a daily driver or even just a fun weekend car it could make for a nice option without having to spend a ton.
Like the seller says, "this is not a car that you get in and drive; this is a 911 that you strap into and wear like a tailored suit to a triathlon." I have no idea what that means, but this is now my favorite seller and I want to know more about these triathlons.
-Rob