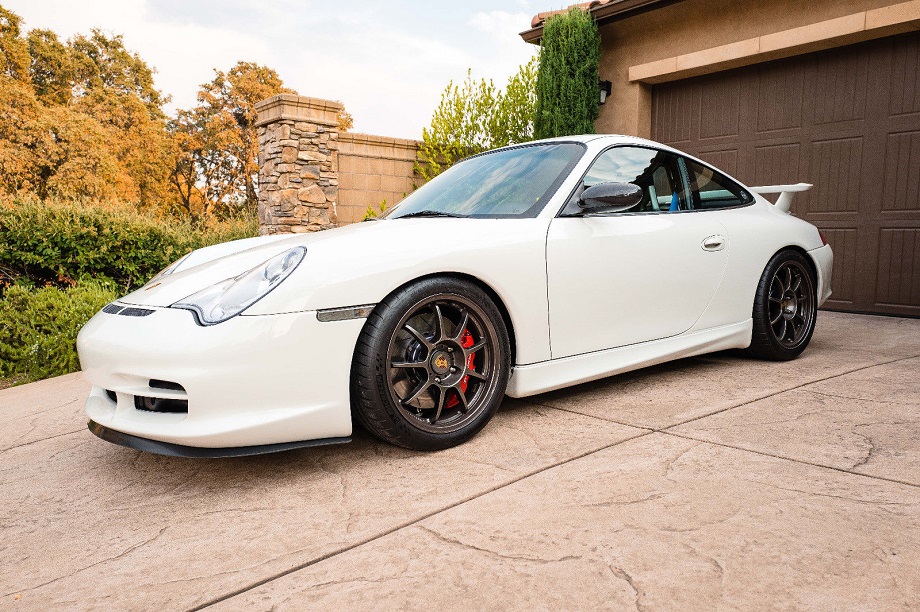 I saw this 911 GT3 on Rennlist a while back and kind of went back and forth on whether to feature it. The car itself looks phenomenal so that wasn't really my hesitation. My hesitation was with the price because it's quite high for a GT3. Also, I figured it either would sell almost immediately, even with that high price, or sit for a good while. Well, here we are and it's still available. The price has come down a bit, though it's still very much on the high end. But what you're getting definitely has value.
This is a Carrara White 2004 Porsche 911 GT3, located in California, with 25,500 miles on it. It has been extensively modified to both lower its weight – the seller claims a weight of around 2,780 lbs – and improve the performance of the engine and suspension. They say the devil is in the details, and here there are lot of details with a mixture of aftermarket and Porsche Cup or GT3 RS parts.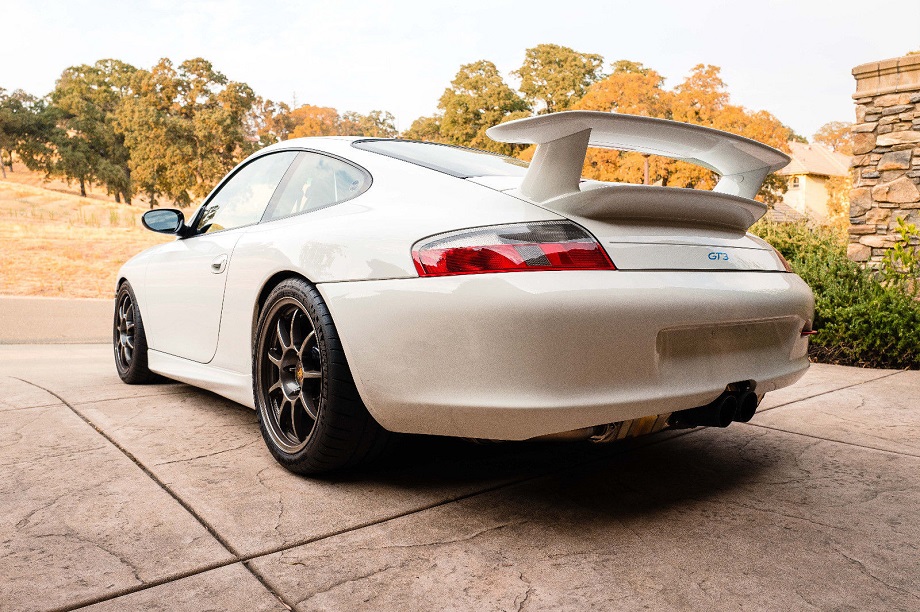 Year: 2004
Model: 911 GT3
Engine: 3.6 liter flat-6
Transmission: 6-speed manual
Mileage: 25,500 mi
Price: $104,990 Buy It Now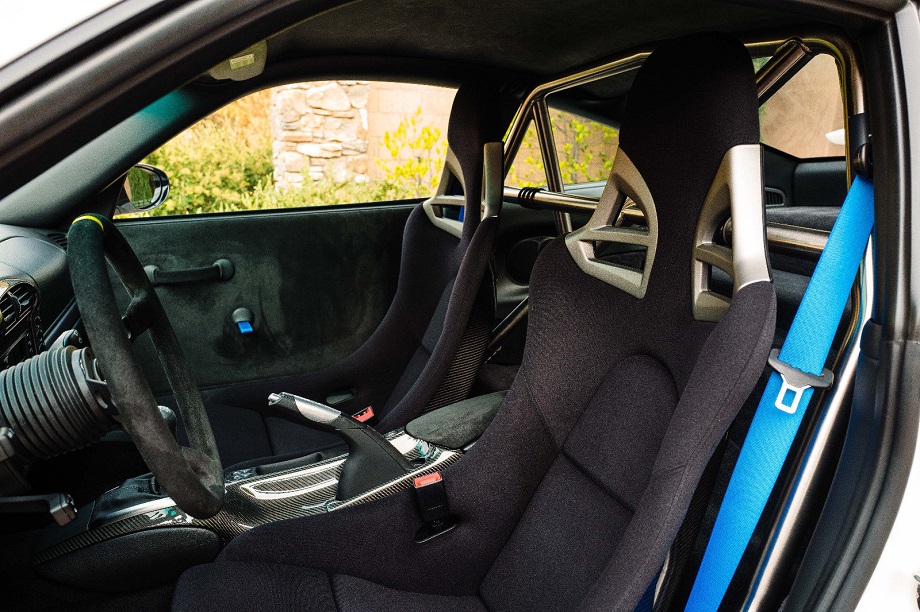 Up for sale is my one of a kind Porsche 996 GT3 "lightweight" (as I like to call it). I have owned this car for a year and actually bought it with the intention of reselling it through my dealership. However, I immediately fell in love with it and came up with the idea of turning this car in to the lightest possible version of itself without sacrificing any of it's "roadability". And I have done just that. My only reason for selling it is that I have less and less time to spend with it as I have a 6month old that is getting the bulk of my attention these days. My loss will definitely be someones gain.

The only reason I kept this car for myself was just how perfect it was in it's stock form. The paint was clean, no signs of track use, great interior and an incredible drive train. What this car lacks stock is it's suspension and exhaust flow/sound. So that's where I started. I went ahead and purchased brand new Porsche OEM 997 GT3 headers (I didn't want anything used to go on this car) BBI side muffler bypass pipes and a 997 GT3 center muffler along with black Sharkwerks tips. Along with that came the need for a different rear bumper because of the exit relocation. I wrestled with going with a knock off but ended up sourcing a brand new Porsche Motorsport 996 Cup Kevlar/Carbon fiber rear bumper which weighs absolutely NOTHING.

Next up was the suspension issue. I tried everything the OEM setup had to offer and coming off a GT4 I was not getting anything close to what I wanted. So literally every single suspension component with the exception of the thrust arms has been replaced with mono-ball fully adjustable bits. First order of business was the wheels carriers/uprights. I went ahead and got OEM Porsche lightweight 996 GT3RSMagnesium front and rear uprights which allow for more camber and obviously save weight. Next I went with MCS 2-Way adjustable's with external canisters for dampening, Eibach 700/900 springs with helper springs, new wheel bearings and hubs, RSS Front Toe Links, RSS Rear Toe Links, RSS Rear Dog Bones, RSS Front and Rear Control Arms with adjustable Thrust arm insert, Tarett Front and Rear Sway Bar Drop links, RSS Engine Mounts, Cantrell Motorsports Transmission Mounts, Girodisc Front and Rear rotors (350mm rear conversion) and to top it off everything was installed, corner balance and aligned by Tony and Joe at TC Design in Campbell California. I'll never forget picking the car up and instantly going "ok…this is what I was looking for". The car drives like a 997 GT3 with the rawness and light feel of the 996.

After living with the suspension for a few weeks next I wanted to have a little more fun with the engine/transmission. So I had the 997 RS 4.0 Lightweight Flywheel kit installed, a brand new Guards Limited Slip Differential (whole new unit…not rebuild), an IPD Plenum with 82mm 997 GT3 Throttle body and an EVOMsit tune. All of these parts (along with the suspension bits) were purchased through Sharkwerks and the install done by my local Porsche mechanic. At the same time these parts were installed all of the coolant lines were pinned (not welded) and all rubber, water pump, coolant expansion tank, seals, diff bearings, etc etc were replaced. Not because they needed it, but because I wanted it to be perfect. The engine and tranny were also cleaned while they were out along with the underside of the car. We also rebuilt/overhauled all four calipers. Again, was not needed, but for piece of mind in case I ever tracked the car. In addition to all of this I installed a Numeric Racing ball bearing Shifter, Numeric Racing shifter cables and a 997 GT3 Shift Knob. This only adds to the seamless feel of this car.

At this point you'd think I would be done but no… I went even crazier with my "lightweight" vision. I next ordered a brand new OEM Porsche 996 GT3RS carbon fiber hood, OEM Porsche 996 GT3RS Lexan rear window, OEM Porsche 996GT3RS front bumper cover and OEM 996 GT3RS carbon mirror covers. I did not do the rear wing because it isn't any lighter then the OEM one and I think this car flows with it's existing wing. After all, it isn't an RS… but a "lightweight" : ) To save weight even further I bought a Voltfreaks 5 pound lithium-ion battery (which shaves 43lbs off the front of the car), I did away with the windshield and headlight washer system (16lb weight savings) built my own custom lightweight door panels modeled after the 964 RS (9lb weight savings) and I also did an OEM Porsche MOMO 996 Cup steering wheel which definitely adds to the smaller car/lighter feel. I do have the original 996 Airbag if you want to add it back on, however after driving it you will not want to.

When installing the 996 GT3RS front bumper with vents I didn''t want this option just for looks …I wanted function. So with the help of the 996 GT2 chimney I executed the radiator tilt and made the center radiator functional for increased down force like you would see on the newer GT cars. This was NOT easy! Even the 996 GT3RS did not have this option from Porsche!!!

To finish it up a Porsche Tequipment Roll Bar was added, OZ Allegerita wheels with Michelin Pilot Sport Cup 2's and Titanium wheel studs, Riviera Blue Seat belts and door pulls from the 996 RS and of course…a Porsche OEM Riviera Blue GT3 sticker/badge with the RS cut off. Even though this car is every bit "RS" I refuse to badge it something it's not. All in all I have shaved 223 lbs off of this car with all of these parts/modifications. I'm very proud of the fact that every single part with the exception of some of the suspension is OEM Porsche. Nothing was overlooked on this car or dollars spared. The condition of the car when it came to me was near perfect but any interior piece that was even remotely scratched or worn was replaced. This car in every sense of the word is PERFECT. While the 996 may not be the prettiest 911, having owned and driven most every modern day Porsche this car is definitely the most engaging, raw, involved and exciting there is.

Now to the seats! I am a total seat collector and have three sets of seats for this car. I have a brand new unused set of Recaro SPG's, a flawless pair of black leather Euro 996 buckets and a brand new set of Perlon Carrera GT/997 Clubsport carbon seats… which only further add to the lightweight concept. I am including the 996 leather buckets in the asking price for the car. If you want the Recaro's I will include them for an additional $2k or install them in the car (and keep the 996 buckets) for $2k less then asking price. If you want the Perlon CGT seats I will include them for $14k extra and if you want all three sets of seats I will include them for $16,500 extra.

Below is a list of every single part and modification on the car if you do not feel like reading through the novel above. I am asking $105k with a small amount of flexibility. I bought the car with 21,500 miles on it and it currently has just over 25,000. The other major fact about this car is that it's 1 of 85 Carrera White cars that came to the US in 2004 and has never seen a track, sadly. These cars are trading anywhere from $80-$95k currently depending on mileage/color and will only keep going up… especially in white since… you NEVER see them. Yes you can get a 997 GT3 for right around this price and maybe even a decently spec''d GT4 …but TRUST ME, speaking from experience they WILL bore you after driving this thing. I have gone head to head with 997.2 GT3's and this car is as fast or faster.

2004 Carrera White 996 GT3
OEM GT3RS Front Bumper with radiatordownforce modification
OEM GT3 Cup Rear Bumper kevlar/carbon with OEM Cup tow hook
OEM GT3RS Carbon Fiber hood with Porsche crest decal (original hood included)
OEM GT3RS Lexan Rear Window
OEM GT3RS Decklid ram air scoop
OEM GT3RS Carbon fiber mirrors
OEM GT3RS Riviera Blue seat belts
OEM Porsche 996 Cup front splitter
OEM Porsche 997 GT3 full exhaust
OEM Porsche 997 RS 4.0 LWFW kit
OEM Porsche 996 Radio Delete shelf (reversible if you want music)
OEM Porsche 996 Carbon center console, dash surround, cluster surround and door sills
OEM Porsche 997 Alcantara shift ****
OEM Porsche 996 Euro Black Leather buckets (sub CGT Perlon seats for $15k, Recaro SPG's for $2k less)
OEM Porsche 996 Cup Steering wheel
OEM Porsche 996 GT3 Euro Black Leather Seats
OEM Porsche 996/997 Tequipment Roll Bar
OEM GT3RS Magnesium front and rear wheel carriers/uprights
RSS Rear Dog Bones
RSS Front and Rear Toe Links
RSS Front and Rear Controls Arms with Thrust Arm bushing
Tarett Front and Rear Sway Bar drop links
MCS 2-Way Adjustable Dampers with external canisters
Eibach 700F/900R Springs with helper springs
Girodisc Front and Rear (350mm Rear conversion) rotors
Numeric Racing ball bearing shifter
Numeric Racing shifter cables
RSS Engine Mounts
Cantrell Motorsports transmission mounts
Guards Transmission Limited Slip Differential
IPD Plenum 82mm 997 GT3 Throttle body
EVOMsit/Sharkwerks Tune
OZ Allergerita wheels (spare rear wheel included)
Titanium Wheel stud kit
Michelin Pilot Sport Cup 2 tires
Custom 964 RS replica door panels in Alcantara
XPEL full front end coverage, rocker panels, rear bumper, mirrors
Coolant Lines Pinned (not welded)
Caliper Overhaul/Rebuild, New Brake Hardware/Pads
Voltfreaks Lightweight 5LB Lithium-ion Battery(OEM battery included)

Last but not least, probably the coolest addition of all is Andreas Preuninger signed and "blessed" the car this year at Monterey Car Week. He said while sitting in it ""this brings me back to the most exciting GT car"". It will be sad to see it go but exciting for someone to get to enjoy the car as much as I have. Please feel free to contact with any questions! NO DEALERS/CONSIGNMENT OFFERS!!!

Phil
5106290643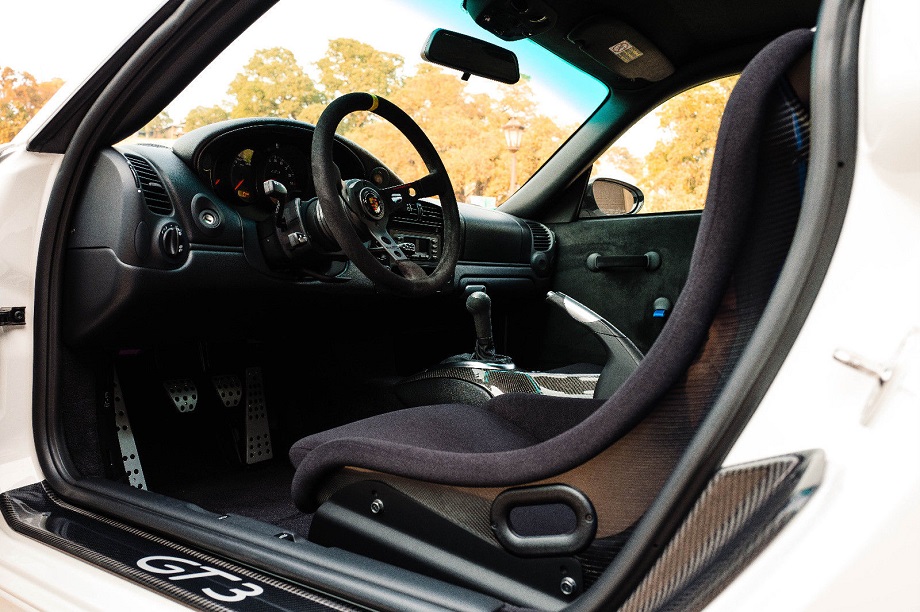 For what it's worth, the seller's price on Rennlist is at $103K so I guess there's some flexibility with the price quoted in the eBay ad. Still high, but better. The crux of the matter comes at the end of the last paragraph before the parts list: you could get a 997 GT3 or Cayman GT4 for this price. Any serious buyer will have to wrestle with that decision and it is likely why this GT3 remains unsold. Would either of those more modern Porsches feel as raw and connected as this GT3? Perhaps not. The performance probably is pretty close between them. For those concerned with collectability I'd assume an original GT3 would be a better bet.
But there is something very enticing about this GT3. The build appears very well thought out and executed. The condition looks great. It's like a GT3 RS-lite, but for a lot less money. That's where the price actually can make sense. Though like any modified car the execution of the build was to suit the specific vision of the owner. Could you replicate it for this price? No, but for the price to make sense you have to really love every detail.
You can get a good GT3 for $75K. That leaves you a healthy chunk of change to make it what you want, should that be your desire, or leave it as is and save the cash. The GT3 isn't exactly a bad car from the factory. This one is certainly better. My mind still lingers on the Speed Yellow GT3 I featured in July. This is another excellent alternative and it seems the more I see these 911s, the more I'm drawn back.
-Rob