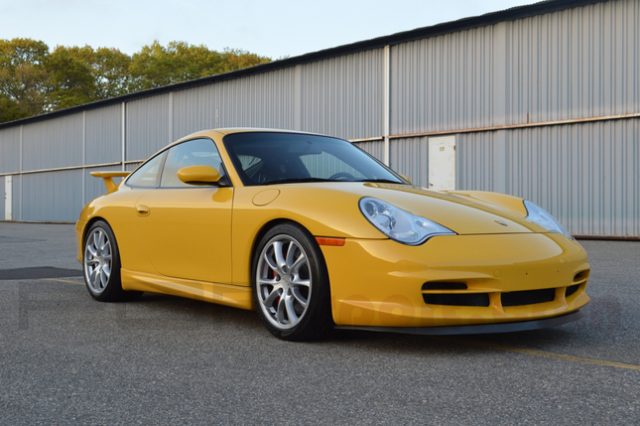 I have had my eye on this GT3 for a while. It is an example I absolutely love for its color, condition, and added equipment. I can't remember when I first came across it for sale, but I know it's been quite a few months, maybe even longer. So why post it now? I guess because it's my birthday. So if anyone was trying to think of the perfect present….
Anyway, here we have a Speed Yellow 2004 Porsche 911 GT3. It was originally ordered with the only options being a thicker steering wheel and red seat belts. It has since received a number of upgrades from Porsche's Clubsport collection: full factory roll cage, a pair of very sexy GT3 Club Sport seats, 6-point harnesses, fire bottle, and 993 Carrera RS engine mounts. The Clubsport options were all available as no-cost substitutions on RoW GT3s, but were never available for the US market. That makes this one that extra bit more special.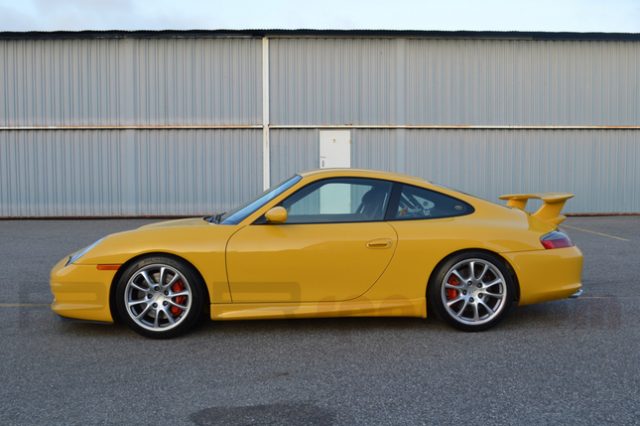 Year: 2003
Model: 911 GT3
Engine: 3.6 liter flat-6
Transmission: 6-speed manual
Mileage: 52,000 mi
Price: $80,000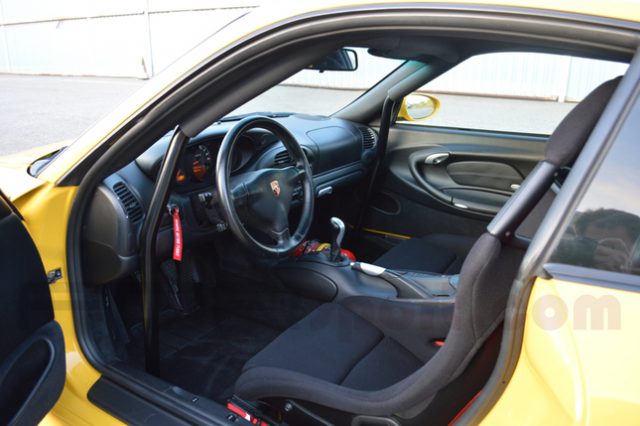 I ordered this GT3 back in '03 with thicker steering wheel as the only option, in Speed Yellow with red seat belts just like the promotional posters. This GT3 has full Clubsport equipment that includes a full factory roll cage, Nomex Euro GT3 Club Sport seats, 6 point harnesses, Cup fire bottle, console and ash tray deletes. A Guard LSD and 993 RS engine mounts have been the only updates.

In 12 plus years of my ownership it has been a dead reliable and fun Porsche. 52,000 miles all by one single caring owner, zero over revs. This GT3 has been maintained with an open checkbook by one single technician since new. If you are a serious, ready buyer please call me only, 631-786-6511.

Please visit link below for full images:
http://porsport.com/2004_gt3

http://www.PORsport.com

Follow @ http://www.instagram.com/porsche_DonAhearn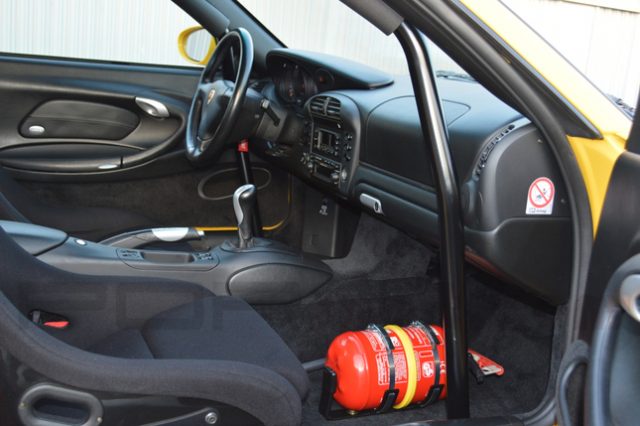 Of course anyone with an open wallet could fit their GT3 with the various Clubsport bits so that will need to be taken into account when determining whether the asking price here is worth it. And at $80K this asking price isn't low. Hence the somewhat long time it's been for sale. It is a one-owner car and the seller is well regarded (and always has a fantastic array of 911s available) so those factors certainly will count for something when considering the price.
That said during my foray into GT3 world a few months back I found plenty priced below this one with less than half the mileage. Granted, none of those had the Clubsport pieces, nor do I recall any of them being Speed Yellow, but at more than 50K miles we would expect a little lower price here. This is sure to be a fantastic example though with excellent provenance and shown great care. Add in the cost of the Clubsport options and we probably aren't too far off on price given that many others seem to be selling around $70K. If you do buy it, feel free to stop by D.C. and give me a ride.
-Rob