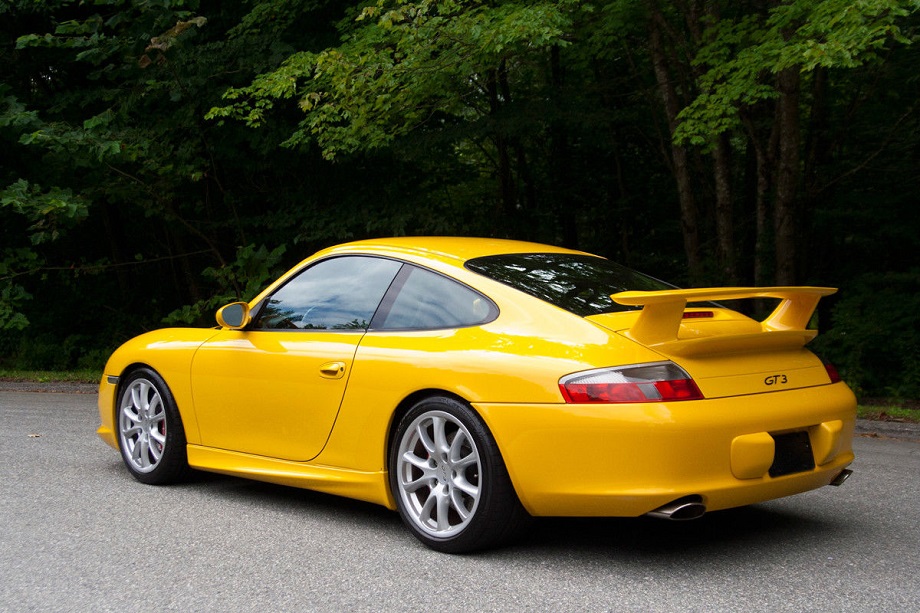 I don't really know why the 996 GT3 has become one of my favorite cars. Porsche always has produced wonderfully performing cars capable of serving double duty as a track car and daily driver and their various GT or, earlier, RS and CS models shift that balance between performance and luxury decidedly toward the performance side of the spectrum. So we know they're great and it isn't really surprising that many, including myself, would find them quite alluring. But the 996 GT3 still feels different to me in the way it more recently has captured my attention. I began to look at them in earnest a couple of years ago when, like pretty much every 996, they seemed like a phenomenal value and prices seemed poised to rise. Well, prices have risen. Not so much that you'd only consider one as a garage queen, but they've risen nonetheless. Yet I still find myself coming back to them.
I don't have any particular relationship to these GT3s; I've never driven one and these days see them very rarely. The last point may be part of the attraction as any rarely seen car is sure to elicit stronger emotions than something you encounter every day. Here's one in my favorite color among the standard offerings: a Speed Yellow 2004 Porsche 911 GT3, located in Connecticut, with 47,200 miles on it.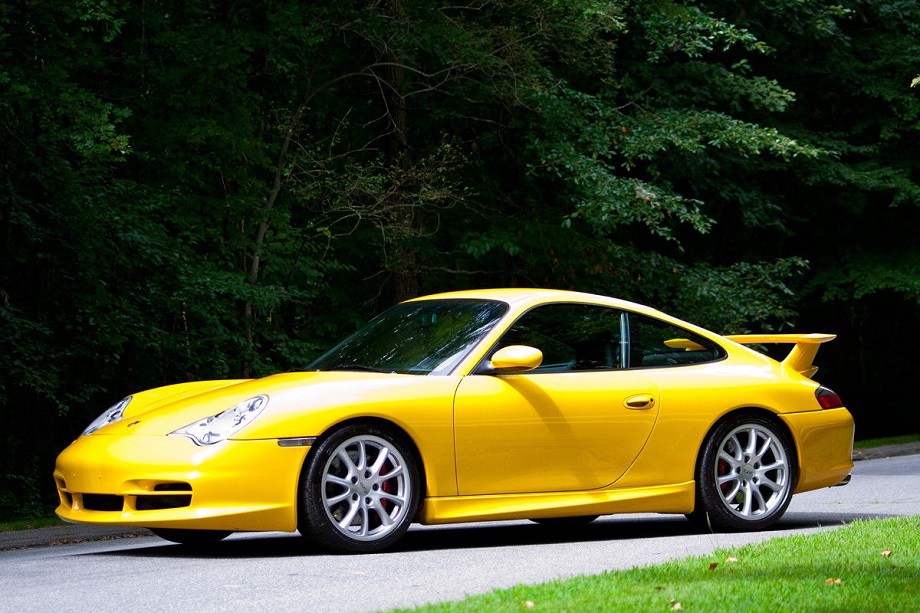 Year: 2004
Model: 911 GT3
VIN: WP0AC29974S692759
Engine: 3.6 liter flat-6
Transmission: 6-speed manual
Mileage: 47,200 mi
Price: $69,750 Buy It Now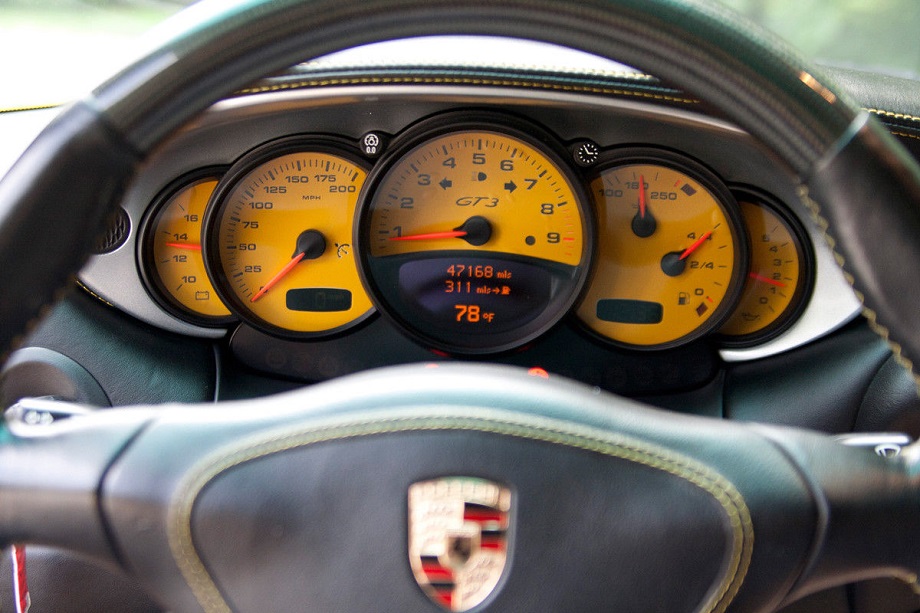 2004 Porsche 911 GT3 – Speed Yellow – Ready to go
Vehicle Location – Colchester, CT
Car comes with Records, COA, Books, 2 key fobs, and Tool kit.

Thank you for viewing my listing and photos. Please view all attached 130+ images!

Forsale is a beautiful condition 2004 911 GT3 finished in Speed Yellow on black leather with yellow stitching in dash, seats, shift and brake boots. This car is a clean example with recent service including all fluids, spark plugs, oil, brake rotors and a pads along with tires. An oil change, safety, and pre purchase inspection was just completed on 9/28/2018 by Hoffman Porsche in East Hartford, CT. The inspection shows the car in excellent shape and ready to be enjoyed by the next owner for many years to come.

The exterior of this car is in exceptional shape. Its been protected from day one with a clear bra across the front bumper, hood, fenders, headlights, and rear quarter lowers. The clear bra is showing its age a bit and I would recommend having it replaced at some point down the road but still does the job as intended. There is a small scrape on the underside of the car that it got at some point along the way but is noted as minor. This is on the undercarriage.

The GT3 was recently detailed, polished, and ceramic coated. Very easy upkeep on the exterior once you've ceramic coated I might add. The paint overall is in 9 out of 10 condition and presents very nicely as you can see in the photos.

Note there is a small scuff on one of the wheels that can be seen in the photo link at the top.

Inside the car is clean and well kept, a brand new set of OEM Porsche mats were installed just recently. The carpet, headliner, dash, glass, plastics and carbon fiber accents are all in excellent condition. The only interior flaw to note is a small cut in the driver seat leather crease that was professionally repaired but is still apparent. The glass is all original and very clean and clear. The front boot and engine bay respectively are clean and in good shape. This car is a rust free and was a fair weather only driver.

The car is in excellent shape mechanically as earlier noted and ready to be driven worry free. The car starts easily and is smoke free. Clutch engagement is perfect and predictable, acceleration is smooth throughout the powerband. The transmission shifts smoothly and firmly as it should. No popping out of gear or grinds or any sort.

This has been an adult owned and maintained GT3 throughout its ownership and it shows. Bottom line you would be unlikely to find a nicer example at this price point.

If you have any questions or would like to discuss this vehicle further please contact me prior to bidding!
Car comes with a clean and clear title (clean carfax also), all paperwork, spare keys, jack, tool kit, fire extinguisher and owners manuals.

Any questions please ask prior to bidding. Buy with confidence from a LONG time 14 year ebay seller. I will do my best to make everything as easy as possible for both of us.

Shipping is at the expense of the buyer however I can assist in getting a shipping quote from a very safe and secure shipper I know and trust. You will deal direct with him should you choose to do so.

Please have all funds secured prior to bidding, bank wire transfer will be the preferred method of payment and fastest for a smooth transaction. Certified Funds will still need to be held 2-3 days until cleared for Car and Title to be released.

Thank you again for viewing my listing.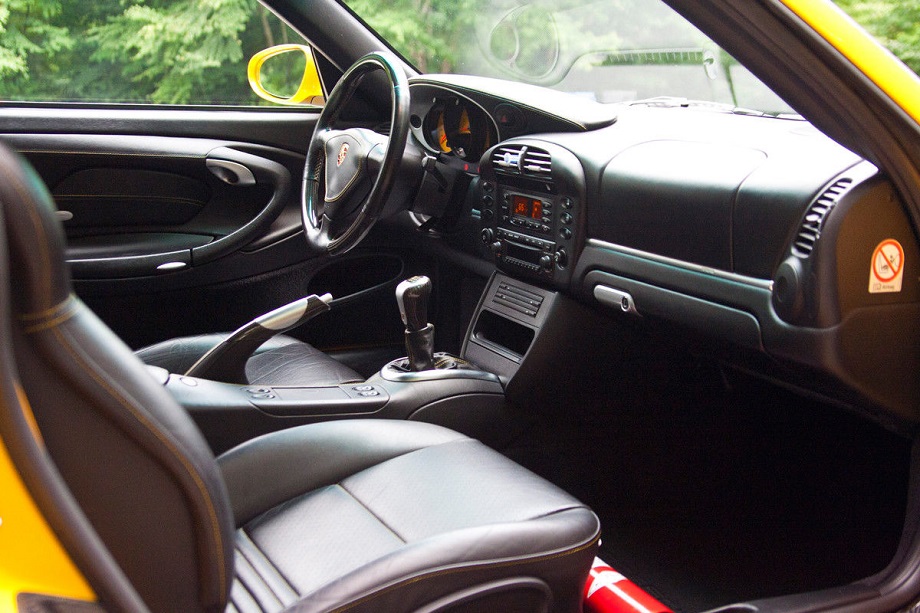 The GT3 is a car that deserves a bright color so while I've seen some very nice White and Black examples, along with the less common Guards Red, Speed Yellow really works well and easily is my favorite. It stands out in a crowd and though the 996 never will be a pretty design in yellow it doesn't look so bad. I've said before that I think the slightly different lines of the GT3 make the most of the 996's problematic curves so there's no need to hide them behind a dark color. Stepping inside we see that this one has a good bit of deviated stitching in the interior, an option I strongly prefer on yellow cars with a black interior. It still has all of the usual 996 interior problems, but I guess it makes the most of it. All in all everything here looks very well cared for and in the sort of condition you'd hope. It does appear to be missing its front splitter so a little investigation there probably is worthwhile. Get a PPI, of course, and then proceed.
As I noted above the market for the GT3 has indeed moved up. We've even seen some very low mileage examples exceed six figures. Those would not really be the cars I'd be interested in and as you can see this one isn't one of those cars either. I don't think the asking price here ($69,750) is too bad. It isn't low by any means, but doesn't seem too out of line with the market. It's been for sale for about a month now so the seller may even be open to offers.
-Rob