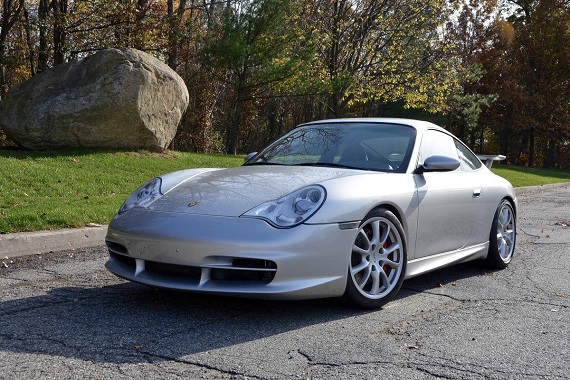 I've been looking at the 996 GT3 a lot lately. Last summer I featured this Speed Yellow GT3, which I loved and which I thought seemed like it might be a reasonable value at the time given that GT3s have appeared to be on the rise. It got me thinking and recently I began looking at them again. Let's say the GT3 has become my aspiration. Given that I currently own a car I almost never drive, and that I would not park a GT3 on the street, it's more of a long term aspiration. That said, since I'm not likely the only one with such aspirations, and for those who might have a more current time frame for acquiring one, it seemed worthwhile to look at what I've been seeing and what's currently available on the market.
The GT3 can be very hard to find. There aren't a lot of them since they were only imported near the end of 996 production. Also, as track-focused machines many have been modified and/or driven hard. So the crop is limited, but here we have three currently available. We'll begin with this Arctic Silver Metallic GT3, located in New York, with 15,329 miles on it.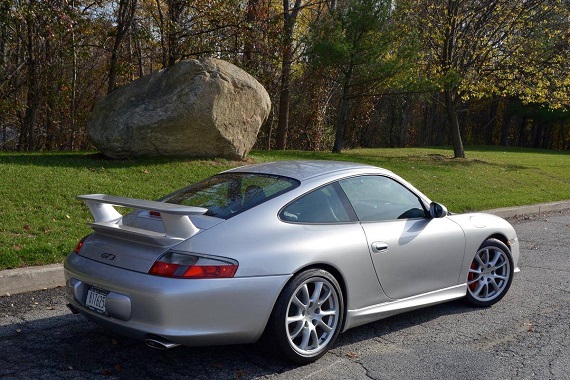 Year: 2004
Model: 911 GT3
Engine: 3.6 liter flat-6
Transmission: 6-speed manual
Mileage: 15,329 mi
Price: $87,900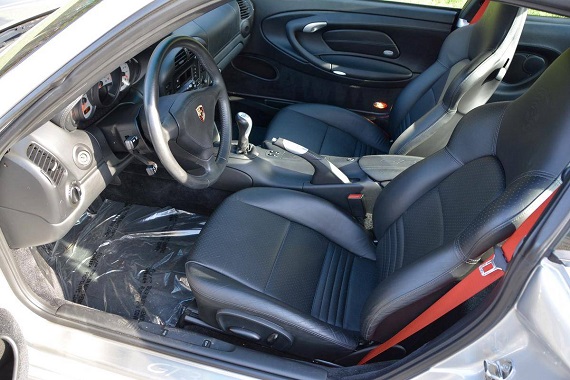 2004 Porsche 911 GT3 ( 996 ) Coupe finished in Silver Metallic with Full Black Leather Interior. Driven just 15,329 miles, this spotless GT3 has never had any paint work and has just been fully serviced with a new rear main seal just installed.

Equipment includes, a Full Leather Interior, Xenon Headlamps with Washers, Factory Air Conditioning, Aluminum Door Sills, Aluminum Finished Instrument Dials, Six Speed Manual Gearbox, Red Seat Belts, Embossed GT3 Glove Box Cover, Three Spoke Sport Steering Wheel, Factory Sport Seats, Original Factory Stereo with in dash CD Player and much more. Never tracked, smoked in or abused.

The car shows and drives as new. It's ready to be enjoyed by it's next lucky owner.

All serious offers should be directed to Mark Starr @ 914 217-4817.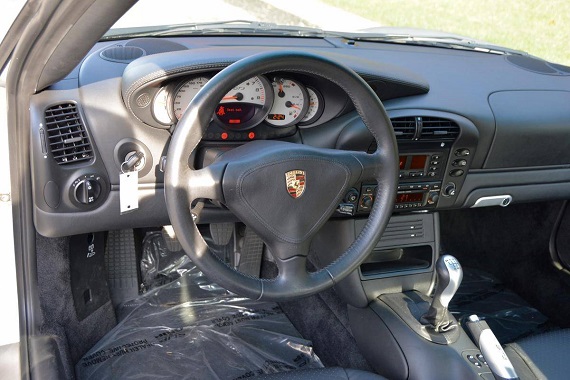 As we'll find is similar with the next two, we aren't provided with much in the way of documentation about this GT3's history or maintenance. Such things hopefully will be available through some questioning, but a PPI is probably in order regardless. Everything here looks quite good though. Both exterior and interior present well and the mileage is pretty low. It isn't as eye-catching as the Speed Yellow GT3 from the summer, but for the driver who'd like to blend in a little more Arctic Silver certainly provides that sort of cover.
Our next example comes in a slightly more interesting Midnight Blue Metallic exterior and sits with a very reasonable 25,356 miles: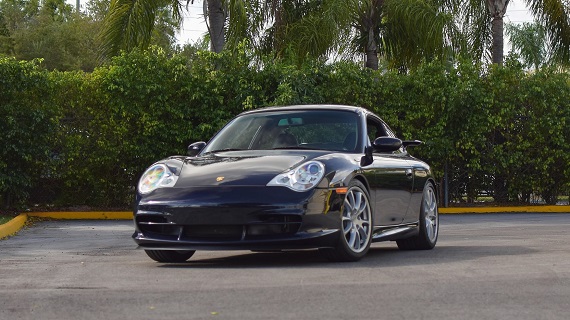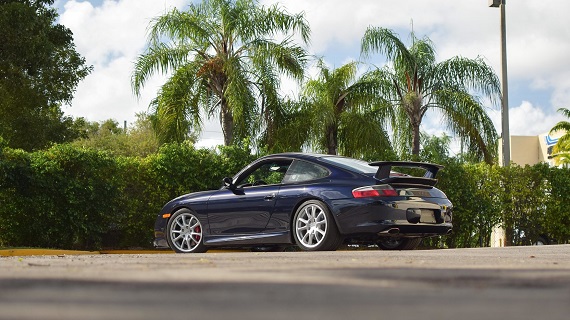 Year: 2004
Model: 911 GT3
Engine: 3.6 liter flat-6
Transmission: 6-speed manual
Mileage: 25,356 mi
Price: Reserve Auction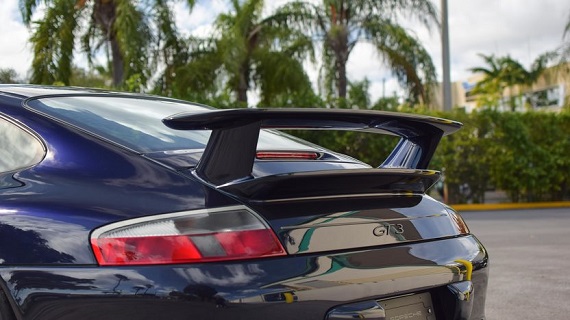 25,356 miles
Exclusive Program Built, Special Order car
3.6L flat 6-cylinder engine
6-speed manual transmission
Midnight Blue Metallic
Black leather interior
Xenon headlamps with washers
Silver vents and dash trim
Silver deviated stitching
Leather dashboard and door panels
Serviced in June 2016
Porsche Certificate of Authenticity
This striking Metallic Midnight Blue 2004 Porsche 911 GT3 has been sparingly driven with just 25,000 original miles on the odometer, having averaged fewer than 1,500 miles per year. The GT3 is best described as the spiritual successor to the legendary Carrera RS lineage of Porsche automobiles, which are essentially thinly veiled street-legal race cars. The Porsche GT3 was first introduced at the Geneva Auto Show in 1999. However, the Porsche GT3 did not become available to the American market until 2004. The GT3 is a performance-focused car, which subscribes to five basic principles: reduced overall weight, increased engine-horsepower output, precise handling characteristics, superb braking ability and aerodynamic efficiency. The engine in GT3 is a normally aspirated version of the highly regarded Mezger design—a 3.6L horizontally opposed 6-cylinder engine that produces 380 HP. The performance is stunning with a 0-60 MPH acceleration time of 4.2 seconds, a quarter-mile elapsed time of 12 seconds at 118 MPH and a top speed of 190 MPH. The GT3 has a lowered and retuned suspension, lightweight and wider wheels, and larger contact patch tires, giving it a skidpad testing score of 1.03 g. Massive braking capability is provided by cross-drilled and vented rotors—13.8-inch front and 13-inch rear—with 6-piston front calipers and 4-piston calipers in the rear. The curb weight has been reduced to 3,050 pounds. This GT3 is a special-order car that has an extensive list of options that add some creature comfort, while still maintaining its competition character, including air conditioning, a full leather interior—seats, dash and door panels—and Exclusive Program features, including silver deviated stitching, silver dash trim and a leather-trim steering wheel. This beautiful GT3 has recently been serviced, and comes with a factory-issued Porsche Certificate of Authenticity.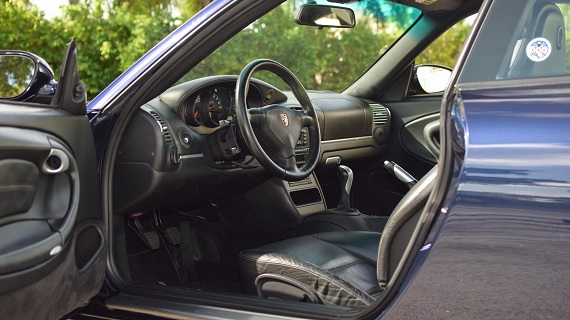 This GT3 will be up for auction today (Friday, January 13) at the Mecum Auctions in Kissimmee, Florida. Of the three cars here, it may be the only one to give us a good sense of the GT3's current value since it is the only one of the three that is up for auction, rather than simply shown with an asking price. However, as Carter mentioned in his roundup of racing Porsches, Mecum auctions tend more toward American muscle than imports so Porsches sometimes fail to achieve the prices they may otherwise be capable of given that much of the audience isn't necessarily there for this type of machine. Whether that will be the case here, we'll have to see, but this one should provide a nice gauge. And, frankly, it looks pretty nice all while providing a similar sleeper character as our Arctic Silver above.
Our last example will be the one aimed most at collectors. As such, it has by the far fewest miles and (most likely) by far the highest price: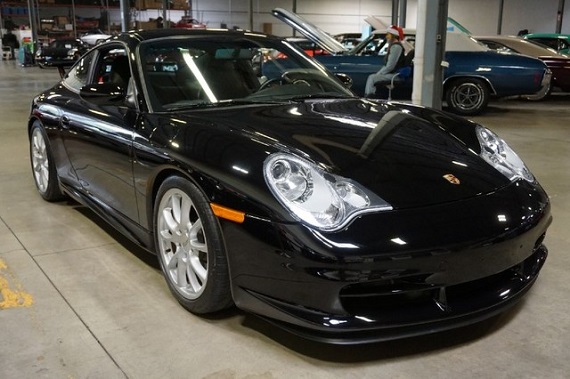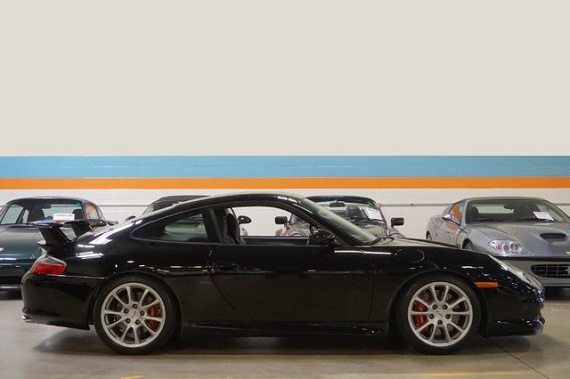 Year: 2004
Model: 911 GT3
Engine: 3.6 liter flat-6
Transmission: 6-speed manual
Mileage: 3,646 mi
Price: $129,990 Buy It Now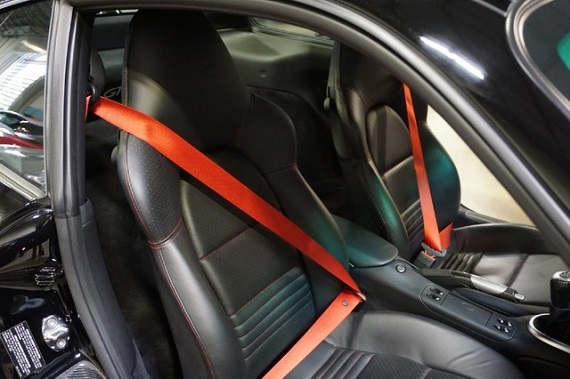 2004 Porsche 911 GT3
This is one of our private collection cars and is now available for purchase!

Description
Black on black
3,646 original miles
100% perfect
No modifications
Clean inside and out

The previous GT3 model was introduced at the Geneva auto show in 1999 and wasn't sold in the U.S.. It's purpose was to satisfy production rules for the Le Mans GT class which stated the automaker had to produce at least 500 cars for eligibility to race. The 2004 Porsche 911 GT3 became the first GT3 street car offered in the U.S..

The best part of this car is its engine's soundtrack. Revving at 8,200 rpm, the GT3 has the lightest engine internals. With its 24 valve, flat 6 all aluminum block and heads, the GT3 has 284 lb of torque. Add to that the 6 speed manual transmission and you'll see 0 to 100 mph in 8.8 seconds.

As for the condition of this car, it is sensational. Every aspect of this car is as it should be. There are no tears or scratches on the leather upholstery and the body lines and paint are perfect. The red stitching and red seatbelts are the added touches you expect from a car of this caliber.

At the Motor Car Group, we're enthusiasts first. We want you to enjoy your new car from the minute it's delivered and the trailer door drops. Before a car leaves our shop, it's gone through comprehensively, both visually and mechanically. We fill your tires with nitrogen, road test (if the weather permits us here in Cleveland!) and clean it inside and out. We buff the paint using a three-step process immediately before it's taken away so that it gleams when it arrives. Every car we sell, from Sunday drivers through the rarest exotics, is meant to be driven–get out there!

If you have any questions before, during or after the sale, do not hesitate to contact us. It's what we're here for! Call us at (440) 914-0000, write us at sales@motorcargroup.com or stop by and see the new shop at 6441 Davis Industrial Parkway, Solon OH 44139. We're 26 miles from Cleveland Hopkins Airport and we can pick you up when you come to inspect or purchase your car. We welcome any prospective buyers, their buyer's agents or inspectors from Monday through Friday during business hours, as well as evenings and weekends by appointment. We're car people who love what we do, and you'll feel it from the first time you contact us. Give the R&H crew the opportunity to serve you: Our passion and attention to detail set us apart!

Call 440-914-0000 or email sales@motorcargroup.com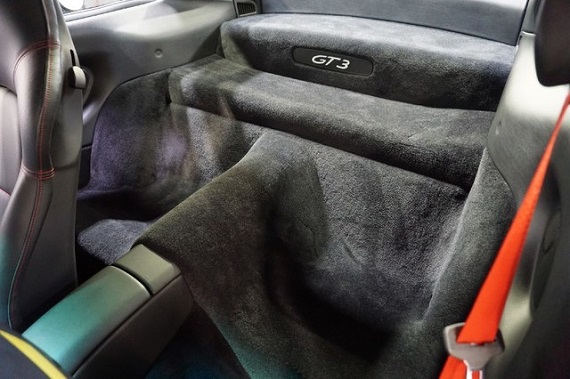 With only 3,646 miles on it we would expect this GT3 to look nearly flawless and from what we can see it does not disappoint. It presents the best of the bunch, showing the least wear, but all three present well so that is splitting hairs a bit. This one just happens to be a step up. With that step up in condition and step down in mileage comes a much higher price and while the GT3 market does seem like it's been trending upward this seems higher than we'd expect. With the 996, the three GT models are the surest bets for holding or appreciating in value over the long term, but that still requires you buy in at a reasonable point.
Of the three this is the one of least interest to me since I would hope to use it, but the collector market always has its place so I'm sure this GT3 will garner as much attention as the previous two. The other point buyers will have to have an eye on is the price of the 997 GT3. As 996 prices move up they narrow the gap to the 997, which opens up even more options. At least until the 997 market moves upward as well. I'm not sure you'd go wrong with either model and the more options open to us, the better.
-Rob