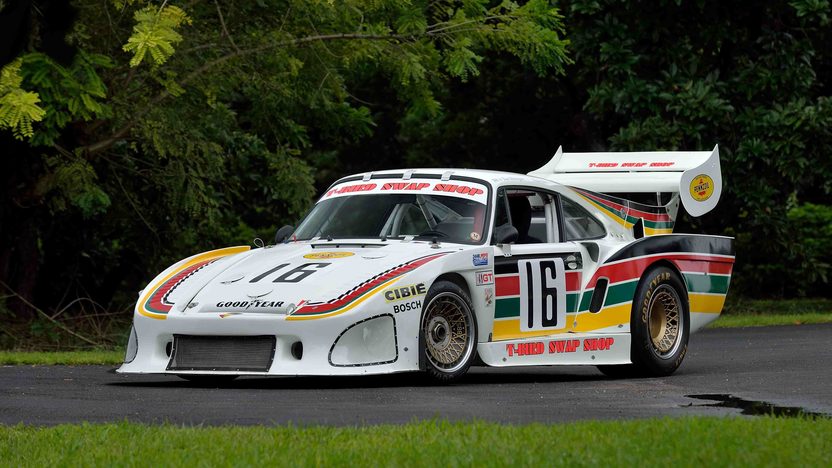 As Rob mentioned in his Jade Green Targa piece the other day, we're entering in quickly to auction season. Mecum, typically the purveyors of more muscle cars than European rides, nonetheless had quite an impressive lineup of signification Porsche race models that cover a few decades and many changes in the company's history, so I thought it would be pretty neat to take a look at them. It's very interesting to see over a relatively short period of time the many changes that Porsche's motorsports programs have gone through.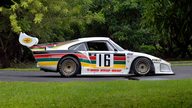 Year: 1977
Model: 934.5/935
Engine: 3.2 liter turbocharged flat-6
Transmission: 4-speed manual
Mileage: mi
Price: $750,000 – $1,000,000 Estimate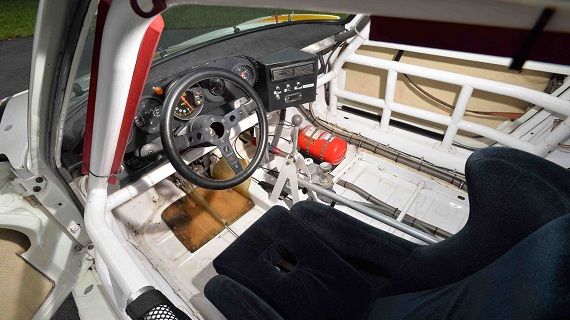 24

Engine
3.2/760 HP
Color
White
Interior
Black

Estimate
$750,000 – $1,000,000
Highlights

1977 Porsche 934.5/935 IMSA Swap Shop
5th overall at the 1980 Daytona Finale
3rd overall at the 1981 12 Hours of Sebring
Formerly owned by Ron Brown, Cliff Kearns, Mary Hinze and Mike Gammino
Famous race car driven by the Whittington Brothers, Preston Henn, Marty Hinze, Randy Lanier and Milt Minter
Driven to a HSR ThunderSport Championship by Mike Gammino
Wrecked at the 1978 Daytona Finale by Minter
The chassis was sent to Dan McLaughlin in Southern California where the 930770960 chassis was removed and the drivetrain was installed in a new chassis
Restored to T-Bird Swap Shop livery in 2007
Appeared at the RennSport Reunion
3.2L engine with 760 HP
White paint with stripes
Sold on bill of sale

With sports-car racing evolving at a breakneck pace in the mid-'70s, Porsche moved rapidly from the production Type 930 911 Turbo to a series of Turbo-based race cars. At the same time, the factory was supporting the demand for new cars from private teams and in 1977, produced a brief run of 10 cars under an IMSA rule allowing improvements to the 934 RSR race car. Featuring a wide body to accommodate massive rear tires, Type 935 rear wing and 590 HP single-turbo 3.0L engine, it proved easy—and tempting—to bring the 934.5s ever closer to 935 specifications.

No. 0960 was the very last of the 934- and 934.5-series of cars produced, originally sold to Ron Brown, who raced it briefly in the Pacific Northwest in late spring of 1977. Reportedly, it was too much for Ron to handle, and Cliff Kearns took over in June.

After brief teething problems, Cliff and his co-drivers campaigned the car hard, soon debuting his famous Desperado livery. But at the November 1978 Championship Finals at Daytona, having qualified in a strong sixth place, co-driver Milt Minter crashed 0960 hard.

Receiving the wreck at his American International Racing (A.I.R.) shop in Southern California, The wizard of fiberglass Dan McLaughlin determined the chassis was unrepairable. The famed Porsche builder, whose bodywork appeared on virtually every American 935, stripped 0960's mechanical parts and built a new car on chassis DMV47012CA. By March of 1979, Kearns and Gianpiero Moretti were driving at Sebring.

When the financial strain of a full IMSA schedule took its toll, Kearns appears to have leased the car to Dave Dopke for the end of 1979 and early 1980, before selling to Marty Hinze, who debuted at the 1980 Watkins Glen 6 Hours. There, he and Dick Whittington lost the transmission, and Hinze took the opportunity to take the freshly built car apart again, upgrading to full 935 K3 specifications, with twin-turbo 3-liter engine; 935 suspension with titanium axles, upside-down 935 transaxle and 935 big brakes.

Hinze then raced through 1987, generally with Gunnar Porsche/Southeastern Wine sponsorship. Toward the end of the car's racing career, however, Hinze had sponsorship from Preston Henn's T-Bird Swap Shop, and it was in those colors it made many of its later appearances.

After Sebring 1982, Hinze made 0960 his backup car, qualifying at several races just in case there was a problem with his March 83G. Increasingly uncompetitive in IMSA in the face of lighter, ground effects GTP cars, Hinze did still end up racing the swift and dependable 935 at Sebring two more times, in 1985 when he suffered suspension failure; and in 1986, when in yellow Tugboat Annie's livery Hinze, Jack Newsum and Tom Blackaller qualified 31st—and finished in 15th. In 10 years, 0960 made it to Sebring an amazing seven times. No. 0960 would eventually go through several other hands, including ex-Ferrari factory driver Mike Gammino, who won the HSR ThunderSport championship.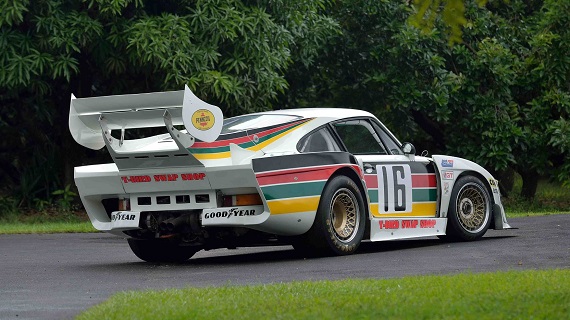 This 1977 934.5/935 represented the transition period between the prototype 917 and 956s. To compete at the top level, the basic shape of the 911 was molded and molested into the winged and flared monsters that dominated the world's racetracks, winning every major endurance and sprint race they entered. Power varied upon the year and model, as did the shape and aerodynamics.
This car went from its original 934 chassis into a new race chassis, and then subsequently was upgraded to Kremer 935 specification. Does that matter? As long as the "i"s are dotted and "t"s are crossed on documentation, not a whole lot. It was not the most successful chassis, nor was the Swap Shop backing the most iconic livery, and as such the expected price isn't hugely outrageous at "only" a million dollar maximum expected. As these cars can go for double or triple that depending on linage, this one is a relative bargain.
As a side note, I have a (admittedly very slight) connection to this car; Mike Gammino, one of the former owners and racers of this chassis, was kind enough to show me and my father his cars when I was about 6 years old, as my father occasionally played tennis with him. I'm not sure that I remember this car being in his very impressive garage, but I do remember the purple 512BBi Ferrari that greeted us when the doors opened up.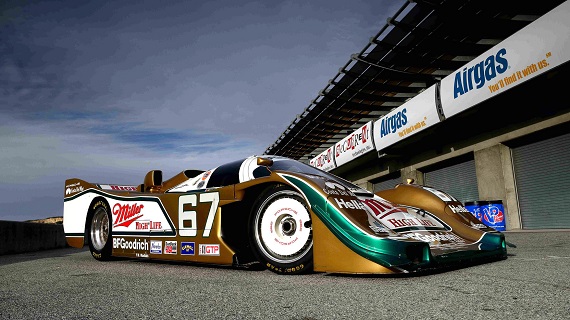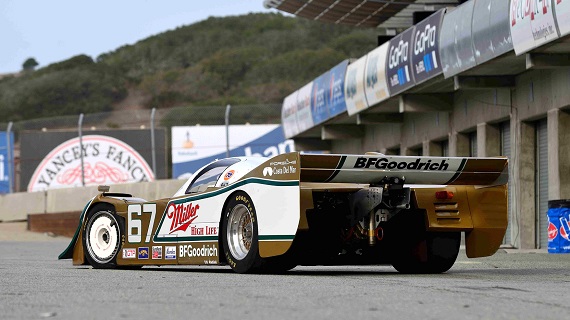 Year: 1989
Model: 962
Engine: 3.0 liter twin-turbocharged flat-6
Transmission: 5-speed manual
Mileage: Not Listed
Price: $2,000,000 – $2,500,000 Estimate
Estimate
$2,000,000 – $2,500,000
Highlights

Chassis no 108C-2
1989 Daytona 24 Hour Winner
1989 Palm Beach Grand Prix Winner
1989 Porsche Cup USA Winner
Acknowledged as the fastest 962 in period
Described by Derek Bell as his favorite 962 and driven to his last 24 Hour victory
Sponsored by Miller and BF Goodrich
Campaigned by Jim Busby Racing
11 top-five qualifying runs and 5 podium finishes during the 1988-89 seasons
Qualified first on the pole at Daytona in 1988 and led most of the race but finished 2nd
Jim Chapman honeycomb tub
Driven by Derek Bell, Bob Wolleck, John Andretti, Jim Busby, Mauro Baldi, Jochen Mass, Brian Redman and Daron Brassfield
Retired in 1989 and collector-owned since
Green, Gold and White Miller livery
Featured at Amelia Island, Rennsport and Daytona
Framed Miller 962 Michael Colucci firesuit, along with Miller jacket and t-shirts included
Framed Miller 962 lithograph and framed Miller 962 poster included
1989 Champion 24 Hours of Daytona two-sided placards and BF Goodrich competition brochure included
Sportscar Vintage Racing Association Log Book 2000-2004 included
Multiple vintage Miller 962 photos included
Historic Porsche brochure and Lime Rock Park '89 event sheets included
Sold on a bill of sale

Of the supremely dominant Type 962 racers built by Porsche from 1984 to 1991, this car, chassis number 962-108, was the fastest in the period, winning the 1989 Daytona 24 Hours with master endurance racer Derek Bell at the controls for his final 24-hour victory and the 50th win for the 962 in international competition. Campaigned by highly successful Porsche privateer Jim Busby and sponsored by BF Goodrich and the Miller Brewing Company, it prevailed against the onslaught of the factory Porsches, Jaguars and Nissans. Bell has described the car as his favorite Group C Porsche, high praise indeed from the man who drove Porsches to four of his five overall wins in the 24 Hours of Le Mans and three at Daytona, twice winning the World Sports Car Championship in the process.

When the Busby Racing 962 arrived at Daytona in 1989 in its now famous Miller High Life livery, prognosticators had mostly written off the Porsches as no longer competitive, although the marque had won the previous year's IMSA championship. But the Busby crew had on its side one of the best endurance drivers of all time, five-time Le Mans winner Bell, who with co-drivers Bob Wollek and John Andretti proceeded to steamroll the field. In a precise reversal of the 1988 edition, 962-108 finished in first place, just 1:26.65 ahead of the Nielsen/Wallace/Lammers Jaguar XJR9. It was the closest margin of victory in Daytona 24 history, and the third and final win there for the extraordinarily gifted Bell. It was also the 50th win for a Porsche 962 in the model's history, an event Porsche celebrated in a cleverly worded magazine ad headlined "The Porsche 962. 0 to 50 in 4.6 years."

The car's long list of racing achievements includes eleven top-five qualifying runs through the 1988-89 IMSA seasons, including the pole at Daytona in 1988 where it led most of the race and eventually finished second. During that same period 962-108 finished on the podium five times, including victories in the 1989 Daytona 24 Hours and Palm Beach Grand Prix. Its successes were hard earned, the direct results of the relentless development for which Busby was famous.

Built to IMSA GTP rules with the 3.0L air-cooled, single-turbo engine, 962-108 was one of four 962s eventually allotted to Jim Busby Racing. The car's debut was anything but auspicious. One of two 962s Busby fielded with BF Goodrich sponsorship for the 1985 Daytona 24 Hours, it was assigned to drivers Pete Halsmer, John Morton and Dieter Quester. Halsmer crashed the car at night trying to avoid an errant backmarker, damaging the front suspension and the tub; fortunately, he was unhurt. At first it seemed beyond repair, but further examination revealed that almost every remaining component was reusable.

With Porsche's approval, Busby hired former Lola Can Am engineer Jim Chapman to build a new tub using honeycomb aluminum and a milled billet-aluminum rear bulkhead in place of the factory-spec sheet-aluminum unit. Word of Chapman's project soon reached Porsche ally Al Holbert, owner of competing 962 team Holbert Racing and director of Porsche Motorsport North America. After several attempts to acquire the new tub, named CO1, for his own 962, Holbert reached an agreement with Busby and it became the foundation for Holbert's 962-HR1.

Chapman then built a second honeycomb tub, named CO2, for 962-108. At the same time, Busby's old drag-racing friend, engine wizard Ed Pink, was extracting more power from the turbocharged flat-6. Pink back-engineered the Bosch Motronic injection system's controls and performed some internal tweaks, raising output over 80 HP to upwards of 830 HP. Busby's Pink-equipped racers made so much power that IMSA soon mandated restrictor plates on all the 962 Porsches.

Busby and company finally completed the car, then titled 962-108B in time for the 1987 Daytona 24 Hours. Driven by Busby, Daron Brassfield and Bob Wollek, it retired with engine failure after 89 laps. It remained well in contention for the rest of the season, however, scoring second, third, fourth and two sixth places, but in the August 2 race at Sears Point with Wollek at the wheel, it crashed while in the lead when the right rear tire exploded entering Turn 1, once again damaging the bodywork and tub.

Rebuilt with a third Chapman tub and rechristened 962-108C, the car arrived at Daytona in January 1988 in fresh BF Goodrich livery. Daytona newcomer Mauro Baldi put 962-108C on the pole and shared driving duties with endurance aces Wollek and Brian Redman. The team set the pace for the entire field, ultimately finishing in second place a mere 1:48 behind the No. 60 Jaguar. It was a disappointing result for the crew whose car had started from the pole and hammered the field for most of the race, but it was an impressive return for 108C, and more success was on the way.

Development continued. Rear subframe bracing and suspension revisions improved stability and handling, while Gurney Eagle designer Roman Slobodynskj ordered 956-style front bodywork and other changes to increase aerodynamic efficiency. Engine development was also paying dividends, ensuring the Busby Porsches would remain competitive against the Jaguars and insurgent Electramotive Nissan team. Wollek scored two thirds (one with Baldi co-driving), a fourth and two fifth-place finishes over the course of the 1988 season.

The Jaguar and Nissan factory teams had hit their stride, and finding an edge for 1989 was an urgent priority for Busby and crew. With Pink's engine program bearing more fruit, it was again time to turn to aerodynamics. 108C was radically revised with more front-end sculpting and rear bodywork obviously inspired by the Nissans that had dominated the previous season. The most distinctive change was at the rear, where the standard upswept tail gave way to large, flat side-fences to maximize the downforce generated by the rear diffuser. Testing against a sprint-specification factory Shell Dunlop Lightweight 962C showed impressive results from these changes, with 108C running 1.75 seconds per lap quicker at Lime Rock and 2.5 seconds quicker at Road America.

The 1989 Daytona victory in hand, on April 23, 1989, Wollek and Andretti drove the newly designated 962-108C-2 to the only other Porsche victory in IMSA that year against the prodigious Electramotive Nissans. A number of third-, fourth-, fifth- and sixth-place finishes were capped by winning the 1989 Porsche Cup USA.

962-108C-2 was retired at the end of the season and for many years enjoyed a pampered life in a private collection. In 2005 it became a prized centerpiece of the world-class Historic Porsche Collection in England and was immediately reunited with Bell at the Goodwood Festival of Speed. The two appeared together again in 2007 at the Amelia Island Concours d'Elegance, where Derek was the guest of honor. Later that year for Porsche North America they appeared at Redman's wonderful Rennsport 3 celebration and at Daytona, starring during display laps with the new Porsche RS Spyder.

One of the most popular Porsche 962 racers in the model's celebrated history and the fastest of them all, 962-108C-2 was driven by some of the greatest talents of the day, including Jim Busby, Rick Knoop, Mauro Baldi, Bob Wollek, Derek Bell, Jochen Mass, John Andretti, Brian Redman and Daron Brassfield. Still festooned in the famous gold, green and white Miller livery, 962-108C-2 is an icon from an exciting era in American motorsports and Daytona history.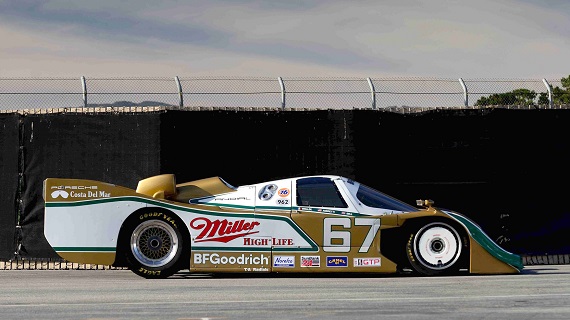 Coming towards the end of Porsche's Group C efforts, this 962 represents much of the change that had occured in aerodynamics and top-tier racing from the early 1980s. While again not the most memorable of the 956/962 shapes or liveries, this Miller/BF Goodrich 962 shows us what a difference provenance makes in these race cars. Attaching names like Derek Bell, Bob Wolleck, Jochen Mass, Brian Redman and a few very significant wins such as the 24 Hours of Daytona makes a huge difference in the value, which should easily eclipse 2 million dollars.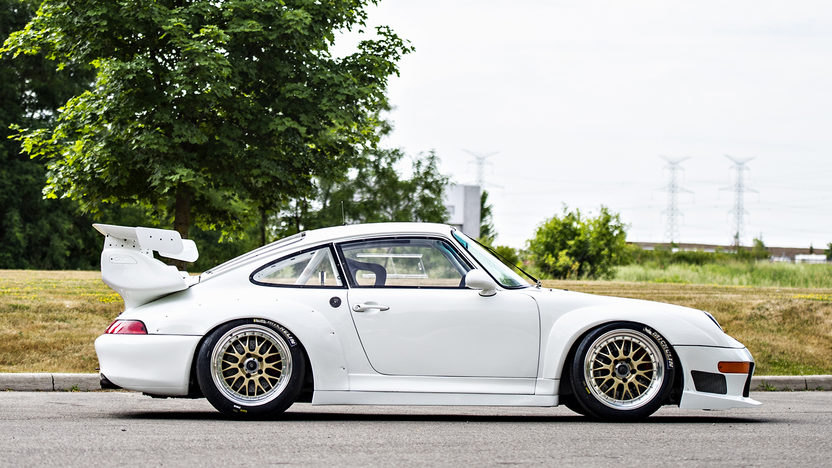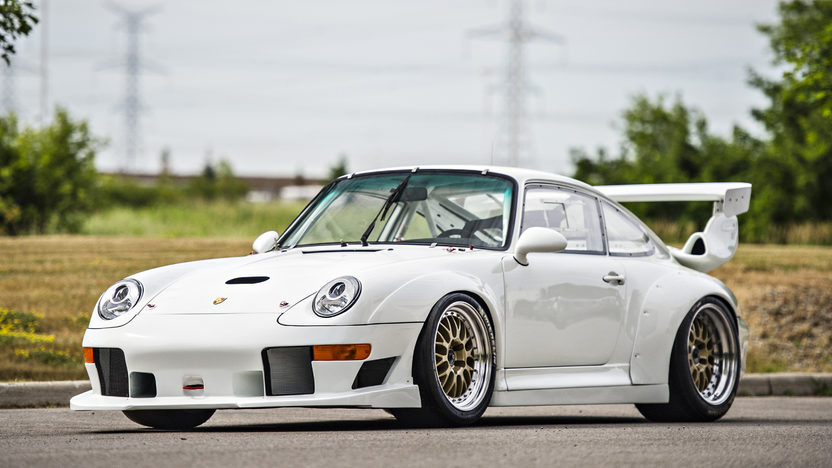 Year: 1996
Model: 911 GT2 Evo
Engine: 3.6 liter twin-turbocharged flat-6
Transmission: 6-speed manual
Mileage: 4,350 mi
Price: Not Listed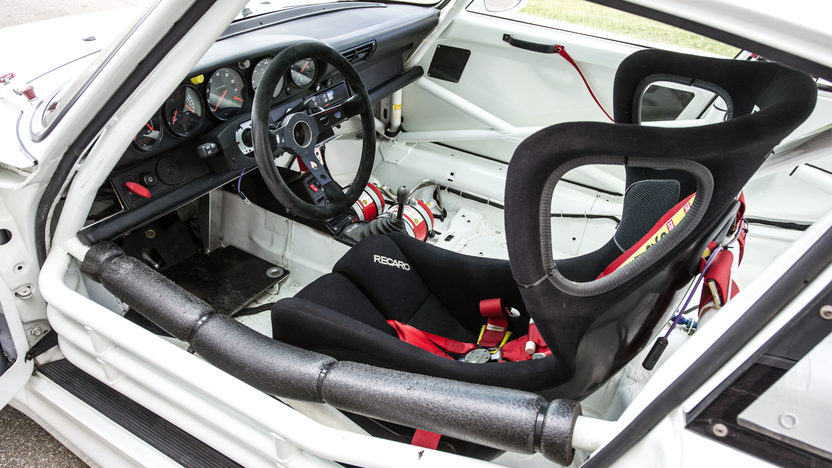 Estimate
Call for estimate
Highlights

Rare factory GT2 Evo, one of 11 produced
Top specification ever produced for any air cooled Porsche
Twin turbocharged 3.6L flat-6 engine
Factory rated at 600 HP and 490 ft/lbs torque
6-speed manual transmission
One owner car
7,000 original kilometers

Porsche responded to the reorganization of international GT racing with a series of homologation specials beginning with the naturally aspirated 911 RS and culminating in the GT2 Evo. The lightweight RS set the basic template, using a non-turbo air-cooled flat-6 punched out to 3.8L and rated at 300 HP, bolt-on Turbo-style wheel-arch flares, larger brake discs clamped by 4-piston calipers and adjustable front and rear anti-roll bars. More obviously equipped for the track, the RSR incorporated a full roll cage, a front strut brace, an adjustable tail spoiler, 6-point harnesses and a fire extinguisher. The subsequent GT2 combined the RS/RSR's purity of purpose with a tuned version of the 993 Turbo's twin-turbocharged engine rated at 444 HP. Essentially a street legal race car, the GT2 sported an aggressive-looking front spoiler with upturned side winglets, wider bolt-on wheel flares and a huge rear spoiler with integrated air scoops. Using 2-wheel drive instead of the production Turbo's all-wheel system shaved even more weight, resulting in a top speed of almost 190 MPH and road-holding that bordered on the supernatural. This exceptionally rare one-owner 1996 Porsche 911 GT2 Evo represented the top specification ever produced for any air-cooled Porsche. Designed to compete in FIA GT1, it incorporated a twin turbocharged 3.6L flat-6 engine rated at a full 600 HP and 490 lb-ft of torque. Porsche widened the rear fender extensions to cover wider modular wheels and added a new front spoiler with inlets for oil and brake cooling. A second deck appeared on the already outlandish rear spoiler, which could be mounted higher in the air stream for added downforce. Alas, by then the competition in GT1 had already left the Evo behind. Only 11 were ever built before Porsche moved onto the 996, making these cars among the rarest in the 911 racing lineage. With approximately 7,000 kilometers on the odometer, this GT2 Evo is exactly as it left the factory, an unmolested artifact from one of the most exciting periods in Porsche's racing history.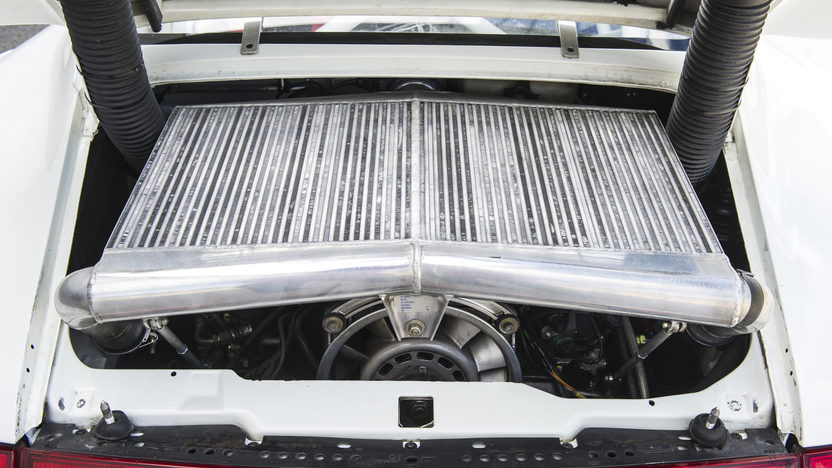 As with the 962, the 911 GT2 Evo represented the end of an era as Porsche wound down its air-cooled 911 racers, replacing them with new watercooled 996-based cars and working on the 911 GT1 effort. But the 911 didn't die without a bang, and the GT2 Evo probably represents the ultimate development of the air-cooled 911 in race form. With the 993 market still red hot, this rarest of the model should bring an exceptionally high number. However, this also isn't the first time Mecum tried to sell this car, listing it in August at 1.25-1.75 million but failing to find a buyer.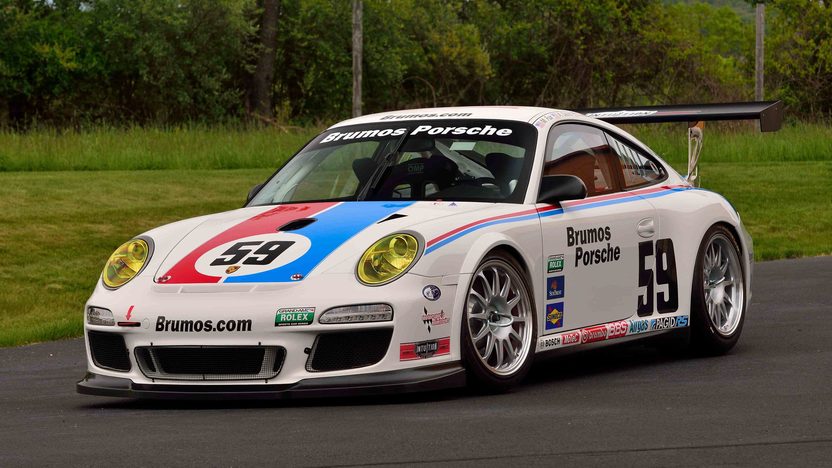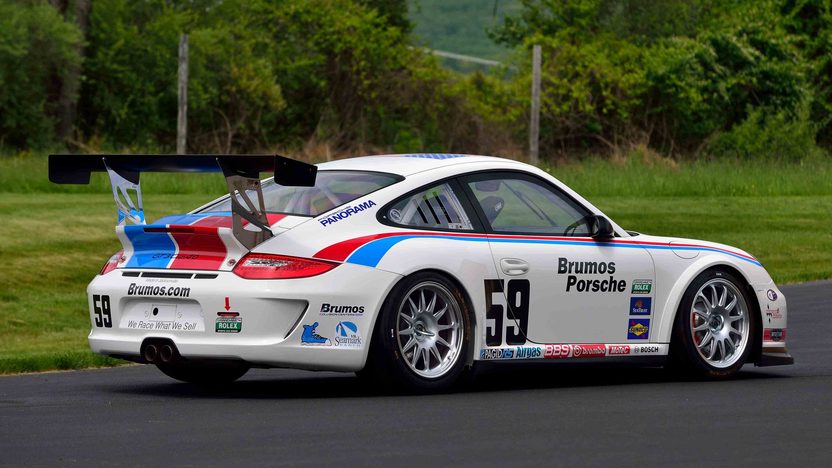 Year: 2012
Model: 911 GT3 4.0 Cup
Engine: 4.0 liter flat-6
Transmission: 6-speed sequential
Mileage: Not Listed
Price: No Estimate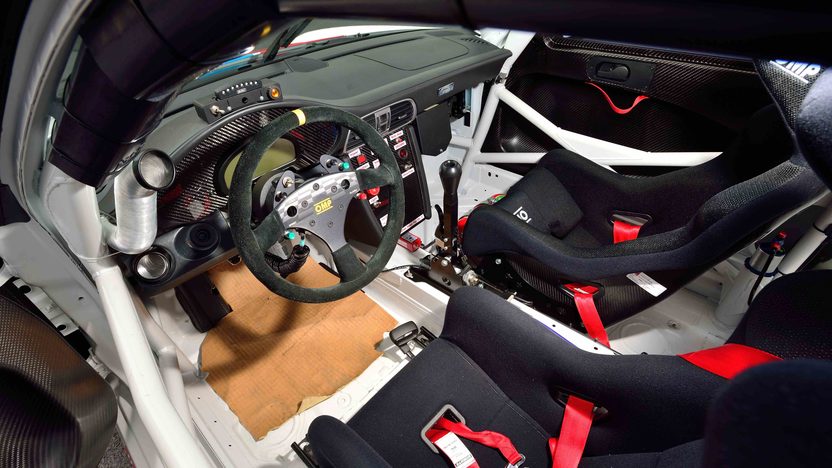 Engine
4.0/450 HP
Trans
6-Speed
Color
White/Red/blue
Interior
Black

Highlights

Limited Edition, 1 of 5 produced for Brumos Racing
Naturally aspirated 4.0/450 HP flat six engine
Sequential multi-port fuel injection
Bosch electronic engine management system
Racing exhaust with regulated race catalytic convertor
6-speed manual transmission
Limited slip differential
Adjustable McPherson strut-type axle
Multi-link rear suspension
Steel brake discs, Red aluminum calipers
Adjustable carbon fiber rear wing
Carbon fiber doors
Wide body shell, front splitter
MoTec ADL2 with integrated data recording
Welded-in roll cage
Electronic fire extinguishing system
APP Aluminum centerlock wheels
Test driven and approved by Hurley Haywood
SOLD ON BILL OF SALE

This 2012 Porsche 911 GT3 Cup 4.0 is one of the last five U.S.-specification GT3 Cup cars built by Porsche that year, all of which were offered by Porsche's long-time American racing partner, Brumos Porsche in Jacksonville, Florida, as exclusive Brumos Commemorative Editions. The partnership between Brumos and Porsche dates back to the late 1950s, when it first became an authorized Porsche dealership. Brumos Racing entered competition in the 1960 Sebring 12 Hours, fielding a Porsche RS60 famously driven to second place overall by Bob Holbert, Roy Schechter, and Howard Fowler, beginning a decades-long tradition of racing victories at the highest levels of motorsport in such hallowed theaters as the original Can Am, Sebring, Daytona and Le Mans. Longtime company president Hurley Haywood is a standout among the star drivers who have built Brumos' unparalleled record, having captured five Daytona 24 Hours victories, three at the 24 Hours of Le Mans and two in the Sebring 12 Hours, contributing to a series of championships that included six IMSA GT and three Trans Am titles in a single decade. More recently, Brumos won the 2009 Rolex 24 at Daytona in a Porsche DP prototype, then returned to the American Grand-Am series to take the 2011 championship in a specially prepared Porsche GT3 Cup racer driven by team drivers Leh Keen and Andrew Davis. Like its four stable mates, this Brumos Commemorative Edition GT3 Cup car was meticulously prepared by Porsche Motorsports North America to those same Grand-Am Championship-winning specifications. At its heart is the 4.0/450 HP high-torque flat-6 racing engine built by Porsche exclusively for its factory Grand-Am teams, combining sequential multi-port fuel injection, Bosch electronic engine management and full racing exhaust with regulated catalytic converter. A computerized throttle "blipper" system aids downshifting through the 6-speed manual transmission to the limited-slip differential. Other features include a MoTec ADL2 data-acquisition system with steering and braking sensors, predictive lap timing and other monitoring functions. The multi-link rear and adjustable McPherson strut front suspension, APP aluminum center-lock wheels, steel rotor disc brakes with red-painted aluminum calipers are also Brumos competition-grade pieces. Inside the stripped-down cockpit is a welded-in full roll cage, carbon-fiber floor plate and dead pedal, padded steering wheel and sequential shifter, two OMP racing buckets with 5-point harnesses and an electronic fire-extinguishing system. The exterior finish faithfully emulates the 2011 Brumos GT3 Cup car with its white, red and blue livery and includes the requisite wide body shell, carbon-fiber doors, front flares and splitter and adjustable carbon-fiber rear wing of the original; even the decals are specific to the 2011 Grand-Am Championship winner. Test driven and approved for delivery by Hurley Haywood, this very exclusive Brumos Commemorative Edition Porsche GT3 qualifies for SCCA, Porsche Club of America, and Porsche Owner's Club competition. It is a truly unique race car that represents the longstanding and very special relationship between two giants of sports racing history.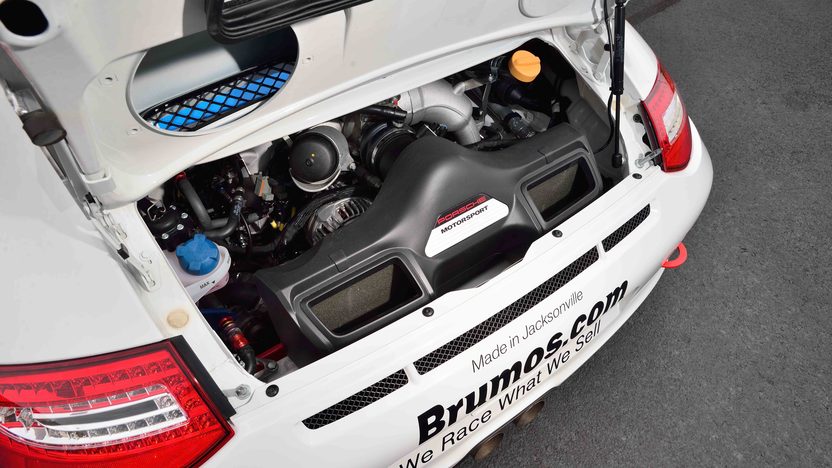 Again, we reach the end of an era – this time, the last of the 997 Cup cars in its ultimate 4.0 form. On top of that distinction, this car car is one of the very limited Brumos cars. Throwback livery has been all the rage in the Porsche world over the past few years, and this car wears the Peter Gregg colors well. The GT3 represented a shift back towards the 934/935 with Porsche providing customer support to race while it worked on development of the 919 Hybrid and shifted to the new 991 package. What is this car worth? New, these were multi-hundred thousand dollar cars, but on the used market they get cheap quickly. Still, the limited nature and auction format could surprise.
-Carter