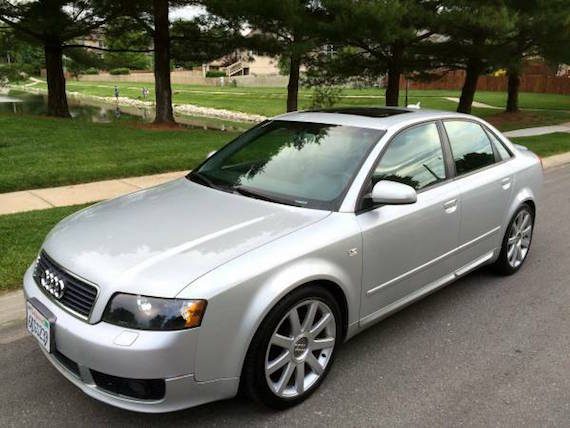 I see B6 platform A4s all the time in DC, often driven by young people in their mid to late twenties. I tend to assume that many of them are hand-me-downs from wealthy parents who live in the affluent suburbs. When equipped with all-wheel drive, these cars make for competent year-round daily drivers ideal for the mid-Atlantic climate, and they still give off that expensive, German vibe even though by now they are relatively inexpensive to buy. But while the overall design remains attractive, I think the standard models can look a bit plain. If, like me, you prefer the sportier looks of the S4, but don't want to deal with the possibility of the $8k timing chain job that afflicts the 4.2 V8 motor, the next best thing is a regular A4 equipped with the Ultrasport package. Available as a factory option, this added S4-style door blades, revised front and rear bumpers, sports suspension and 18″ multispoke "celebration" RS4-style wheels. So equipped, the ordinary looking A4 is instantly transformed into a sportier, more aggressively styled car. The USP package was available on both sedan and wagon models, and for today's post I've written up one of each.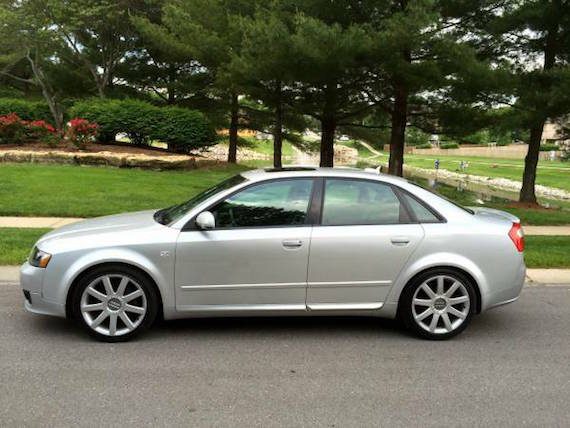 Year: 2005
Model: A4 1.8T Quattro Ultrasport
Engine: 1.8 liter turbocharged inline-4
Transmission: 6-speed manual
Mileage: 108,567 mi
Price: $7,700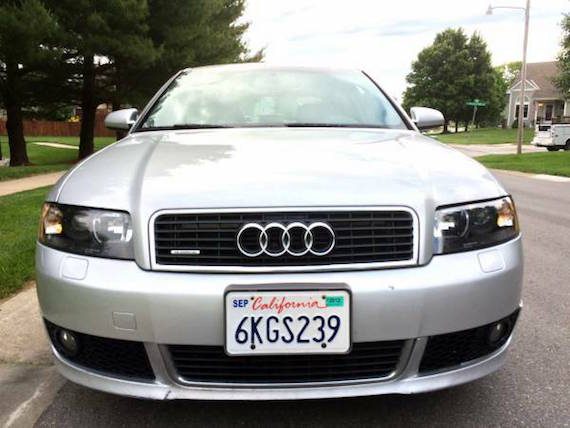 FOR SALE IS ONE OF A KIND 2005 AUDI A4 QUATTRO 1.8 TURBO ULTRA SPORT PACKAGE (VERY RARE)
6 SPEED MANUAL TRANSMISSION !!!!
DEALER MAINTAINED CAR HAVE RECEIPTS IN HAND !!!
FRONT BRAKES 85%, REAR BRAKES 90%, TIRES 90% TREAD !!!
METALLIC SILVER OUTSIDE WITH BLACK LEATHER INTERIOR !!!
NON SMOKER CAR, STILL SMELLS LIKE NEW IN/OUT IMMACULATE CONDITION
IT IS EXCEPTIONALLY CLEAN, LIKE NEW !!!
IT HAS 108K MILES, GREAT GAS MILAGE CAR, OVER 28-30MPG
LEATHER INTERIOR WITH HEATED SEATS
PREMIUM SOUND SYSTEM 6CD IN DASH CAPABLE, SATELLITE
ALL MAINTENANCE UP TO DATE OIL CHANGED SYNTHETIC, WINTERIZED
18′ SPORT OEM WHEELS
IT DRIVES LIKE HAS 20K MILES
DON'T MISS THIS DEAL !!!!!
E-MAIL ME I'LL CONTACT YOU ASAP OR CALL EIGHT 1 SIX 7 TWO 8 SIX 1 FOUR 4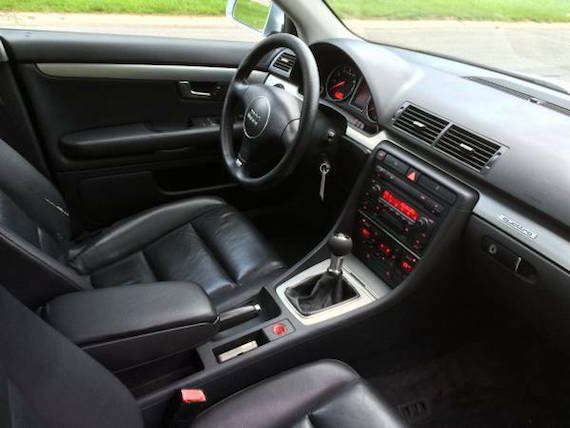 This particular car presents nicely in silver over black leather, and while some will say that the silver is a little boring, I think it befits the body shape very well.  This car has the winning combination of the 1.8 liter turbo-charged four-cylinder motor, a slick six speed gearbox and quattro all wheel drive for keeping the car planted in poor weather. With about 170 hp on tap it's by no means a rocket ship, but the turbo adds some punchiness to the performance, and it will at least return decent fuel economy – it's not unreasonable to expect nearly 30 MPG on the highway. For those who are so inclined, this engine is also easily chipped and tuned and for more power. Both the interior and exterior on this one look to be in good shape, with the possible exception of a small crack on the front bumper (it's not easy to tell from the photos, but there is a mark there of some sort). The ad mentions the presence of service history receipts but no specific details are given. It looks like the seller has added aftermarket smoked headlights; while they are not to my taste, they don't look too bad.
If you want the Ultrasport looks with the cargo space of a wagon, then this Avant version might be more appealing.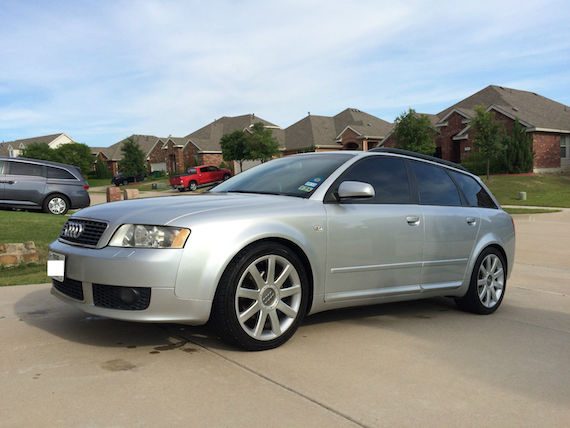 Year: 2004
Model: A4 1.8T Quattro Ultrasport Avant
Engine: 1.8 liter turbocharged inline-4
Transmission: 5-speed automatic
Mileage: 147,700 mi
Price: $12,000 Buy It Now or Make Offer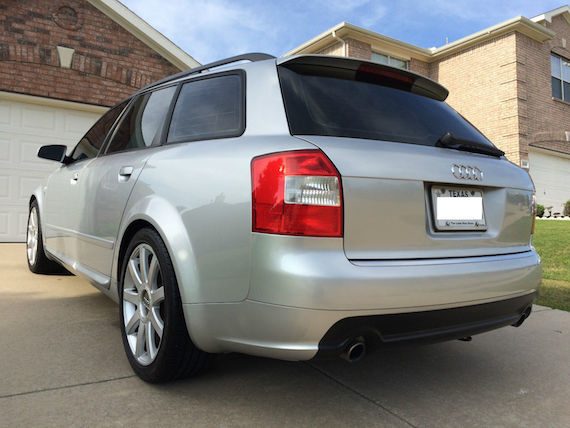 2004 Audi A4 1.8T Ultrasport Quattro Avant. Extremely Rare.

Selling my Avant. It is a genuine Ultrasport Avant. It is an EXTREMELY RARE model that Audi produced for one year, the next year a very similar S-Line package was available. There were only a handful of these packages that made it to the US and even fewer onto an Avant. When I purchased it, I needed something more practical and bought this. It has been a great vehicle and I no longer have a need for a second vehicle. I'd like to see the car in someone's hands who truly appreciates what it is. It lived it's whole life in CA before making the trip to TX two years ago. It has never seen salt and when we get inclimate weather here in North Texas, from time to time, they use sand.

I have many of the records from the end of the Audi Warranty on. I suppose the others can be had by going to an Audi dealer? Not sure. The car was under an extended warranty after the original ran out. I have had a lot of maintenance done and replacing of parts that it needed. All work has been done by a Certified VW/Audi Mechanic. I have made a list of what has been done and anything still outstanding I can think of. I have included a link to a full set of pics, interior and exterior were a few weeks ago and under valve cover pics were when doing the Valve Cover Gasket. These should reflect the shape it is in currently…. imperfections and all.

Prior To My Ownership:

Replace Rear Brake Pads 47,720
Replace Front Brake Pads 47,720
Oil Change 47,720
Replace Oil Filter 47,720
Replaced Brake Fluid 47,720
Oil Change 56,831
Replace Oil Filter 56,831
Replace Air Filter 56,831
Replace Cabin Filter 56,831
Replaced Front Passenger Wheel Bearing 56,831
Replaced Glove Box Lid 56,831
Replace Cam Seal 59,962
Replace Valve Cover Gasket 59,962
Replace Driver Front Window Regulator 59,962
Replace Driver Front Window Clips 59,962
Replace Driver Front Window Bolt 59,962
Replace Driver Sunvisor Clip 59,962
Replace Oil Filter 62,909
Oil Change 62,909
Replace Grill 62,909
Replace Fog Light 62,909
Replace Three Coil Packs 62,909
Oil Change 67,716
Replace Cabin Filter 67,716
Replace Oil Filter 67,716
Replace Rear Brake Pads 68,754
Replace Rear Brake Discs 68,754
Replace Fuel Filter 68,754
Replace Air Filter 77,909
Replace Cabin Filter 77,909
Replace Spark Plugs W/ NGK 77,909
Replace Oil Filter 77,909
Oil Change 77,909
Lubricate Door Hinges 77,909
Replace Prop Shaft Seal 80,723
Replace Breather Check Valve 80,744
Replace Breather Hose 80,744
Replace Breather Pipe 80,744
Replace Breather Valve 80,744
Oil Change 93,955
Replace Oil Filter 93,955
Replace G12 Coolant 93,955
Replace Timing Belt 93,955
Replace Timing Belt Damper 93,955
Replace Timing Belt Tensioner 93,955
Replace Serpentine Drive Belt 93,955
Replace Water Pump 93,955
Replace Fuel Pump 117,727
Replace Fuel Pump Washer 117,727
Replace Check Valve 117,727
Replace Fuel Sending Unit 118,188
Replace Washer For Sending Unit 118,188
Replace Fuel Sending Unit 119,616
Replace Oil Filter 119,616
Oil Change 119,616

No Miles Given:

Replace Misc Screw 4/19/12
Replace Tailgate Actuator 4/24/12
Replace Tailgate Fastener 4/24/12
Replace Misc Bulb 9/12/12
Replace Window Regulator 2/23/13
Replace Window Clips 2/23/13
Oil Change 6/2013
Replace Oil Filter 6/2013
Oil Change 9/2013
Replace Oil Filter 9/2013

During My Ownership:

Replaced 4 Tires NEW Goodyear Eagle Sport 245/40/18
Performed 4 Wheel Alignment
Replaced License Plate Bolts With Stainless
Plasti-Dipped Rear Lower Valence
Replaced Coolant Flange
Replaced Coolant Temp Sensor
Replaced Coolant
Replaced Related Rubber O-Rings
Replaced Cam Tensioner Gasket
Replaced Cam Tensioner Seal
Replaced Valve Cover Gasket
Replaced Motor Mounts
Replaced Snub Mount
Replaced Passenger Front Inner CV Boot
Replaced Passenger Front Outer CV Boot
Replaced Axle Nut
Installed LED License Plate Lamps
Replaced Armrest Lid Assembly
Reconnected Rear Hatch Actuator to Latch Assembly
Replaced Coolant Overflow Tank Cap
Replaced Oil Dipstick Tube
Replaced Oil Dipstick
Replaced Engine Air Filter
Replaced Cabin Air Filter
Replaced Front Brakes
Replaced Rear Brakes
Replaced Coolant Temp Sensor
Replaced Coolant Temp Sensor Clip
Replaced Related Rubber O-Rings
Performed Tire Rotation
Performed Tire Balance
Performed Alignment Check No Adjustment Needed
Replaced Fuel Filter
New Spark Plugs
Replaced Tail Lamp Bulb
Replaced Coolant Temp Sensor
Replaced Oil breather Adapter w/ 034 Motorsport Billet Adapter
Performed PCV Simplification
Removed PCV Valve
Removed PRV Valve
Routed Valve Cover and Oil Breather Tube under vehicle
Changed Oil Mobil 1 0w-40
Changed Mobil 1 Oil Filter
Repaired Clogged Rear Washer Nozzle
Repaired Clogged Front Washer Nozzle
Replaced Battery w/ Brand New Interstate Mega Tron Plus Battery 9/2015
Replaced Main Engine Fan 10/2015
Replaced Auxiliary/AC Condenser Fan 10/2015
Replaced Upper Radiator Three Way Hose 10/2015
Lubricated Sway Bar Bushings 5/2016

The car has some minor issues, and I will continue to update these as found or fixed. I am willing to reduce the sales price due to the minor things listed below. Message me with any offer or questions.

Small tear in the driver bolster. Was like this when I bought it. Been covered with a small piece of painters tape so it wouldn't get worse.

The windshield has some pitting, mostly seen on extremely sunny days. The car has seen multiple thousand and two thousand mile trips and this is just what happens with highway driving.

The rear section of headliner in the cargo area has sagged. This happened recently as the car does not get driven much. I may attempt to "steam" it back into place. This is a common occurrence among Audi vehicles.

AC is VERY weak right now, basically non existent. At the last service visit it was charged. The AC was confirmed to be working. It is now suspected there is a slow leak as opposed to a major issue with an AC component. I purchased a Control Valve prior to this thinking this may be it and will include it with the sale, since it was already purchased, even though it does not appear to be the issue.

I should also note that the car has an aftermarket Denison Bluetooth/iPod/iPhone Module that connects to the factory radio. There is a cable that comes out of the glovebox for a physical connection to the iPod/iPhone along with an external Mic for the Bluetooth setup. This plugs into the Satellite input so even though it is wired and has hardware for Satellite, if you would like to use it you will have to disconnect the Denison Bluetooth/iPod/iPhone Module.

Here is a link to a gallery that has many pics and a complete walk around: http://flic.kr/s/aHsjNnXJo5

If you are interested feel free to make an offer. Worst I can say is no.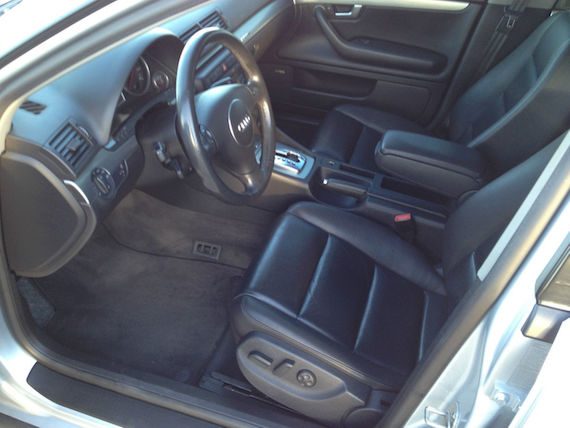 This Avant presents nicely in the same color combination of silver on black as the sedan, and there is no denying that the overall package works very well on the wagon body style. Unfortunately, this one has rather high miles and is also saddled with the unappealing automatic gearbox. Along with faulty A/C, I think these features conspire to make the $12k asking price rather cheeky. It is true that the listing contains a reassuringly extensive maintenance history. But this can be read in different ways depending on one's perspective. On the one hand, it's a testament to the fastidiousness and attention to detail shown by the current owner, and that's surely a good thing. On the other, it shows just how much work and commitment (not to mention money) is required to keep a B6 A4 in good shape.
And ultimately this goes to the heart of the matter: the downsides to these cars have always centered upon their build quality and reliability. The interiors tend not to hold up as well as one would expect for a premium German car, with plastic accessories like cupholders, glove boxes and other interior fixtures tending to break, squeak or rattle. Moreover, mechanical repairs on these are costly and not infrequently required, with well known weaknesses including coil packs and the expensive triumvirate of the timing belt, water pump and thermostat (which need to be replaced every sixty thousand or so miles).
The Ultrasport package adds a considerable premium to the price of a used A4. Either of these cars could be a good buy if you want all the show of the S4, if not the go. Just be sure to become friendly with your local indy Audi mechanic, whose services you'll inevitably need during the course of ownership.
– Craig