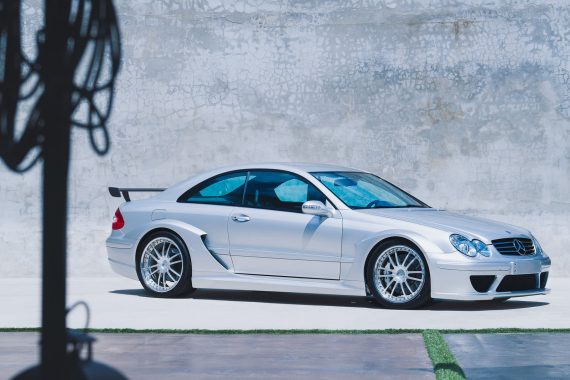 Back in September I featured the ultra rare and ultra expensive CLK-DTM that was for sale in Florida. To my surprise, another CLK-DTM popped up on eBay and of course it is my duty to report this information to everyone. Seeing as there is a handful of these cars in the United States I figured this had to be the same car. The problem was is that the original ad literally had one sentence of information. The only thing I could go on was the mileage and location. So as I compared the numbers, 2,936 miles on the car back in September while today's car has 2,948 miles and both are in Florida. Bingo. I mentioned this to the eBay seller and to his surprise had no idea this car was listed on Hemmings back in September. His digging found that a broker was using his cars to make their own listings in order to sell this car. He also found out that the Hemmings seller also used a SLS AMG Black Series and Carrera GT of his without his knowledge either. Needless to say he wasn't pleased and will be making some phone calls to said broker.
Now back to this car, it's still for sale in Miami with an asking price of $425,000. I predicted that this was would be listed at over $400,000 and hit it pretty square. I don't know if collectors are licking their lips for a 11 year-old CLK at almost a half a million dollars but then again I don't run in the same circles of people that spend four bedroom home prices on cars either. Do I think prices will ever fall on these cars? Probably not. Is this a blue chip stock that you can sell for a million dollars in 10 years? Probably not as well. If you are looking for an "investment car" there are plenty of Ferraris and Porsches out there will perform better, but if you are a Mercedes nut like I am, this one would be at the top of my list if I had the money to blow on it.
The below post originally appeared on our site September 2nd, 2016:
Move over Black Series, your body work is out classed here. A little over 11 years ago Mercedes took their normally tame CLK and went insane. Modeled after the 2003 CLK which won the DTM championship that year, the road-going CLK-DTM was much more than the typical AMG offerings that simply added on to the standard car that came from Mercedes. This car was totally rethought and the majority of it was re-engineered. That's what makes this car so different from a CLK55 both inside and out. Even more special is that they only produced 100 coupes and 80 convertibles, with none of them being sold in the U.S.. But today we have this 1 of 100 car for sale in West Palm Beach, Florida. So let's take a closer look at this DTM monster for the streets.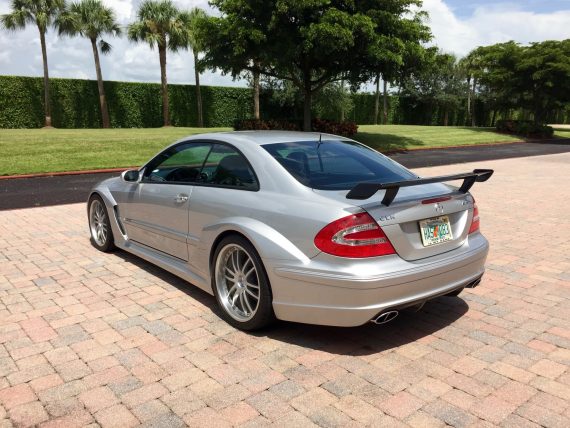 Year: 2005
Model: CLK-DTM AMG
Engine: 5.4 liter supercharged V8
Transmission: 5-speed automatic
Mileage: 2,948 mi
Price: $425,000 Buy It Now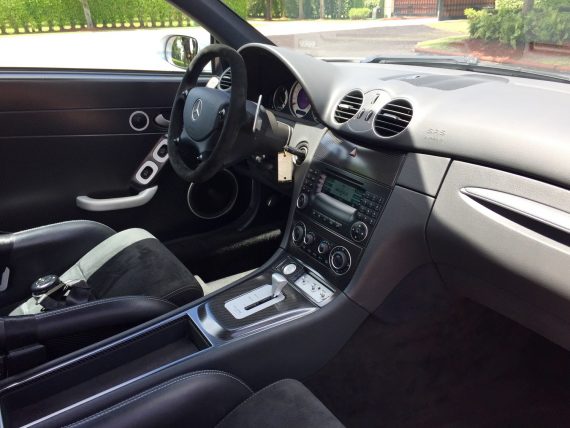 New Description

2005 Mercedes CLK DTM
2,948 Original Miles
Silver over Black
1 of 100 produced for the world
Only a handful imported into the USA
Investment Quality Supercar

DESCRIPTION

2005 Mercedes CLK DTM

2,948 Original, One Owner Miles

> We recently purchased a very rare 2005 Mercedes CLK DTM from its original owner. It sat amongst a Porsche 959, Ferrari FXX, Lexus LFA, Mercedes SLS Black Series and Porsche Carrera GT to name a few. Of all the incredible supercars in the garage, the CLK DTM was the owner's favorite.
>
> In 1967 Hans Werner Aufrecht founded potentially one of the greatest tuning companies in automotive history, AMG. AMG cars frequented the covers of automobile magazines and rivaled the wildest 200mph supercars of the time.
>
> Today, the original AMG "Hammer" 6.0 V8 supercars are coveted by collectors and enthusiasts. In 1999, Mercedes acquired majority share of AMG, and Aufrecht used his initials to launch the spin off, and official racing team for Mercedes, HWA.
>
> Between 2000-2005 HWA dominated the European DTM racing series and collaborated with Mercedes on all racing endeavors including the famous CLR and CLK GTR LeMans contenders. In celebration of its successful CLK based DTM racing program, HWA hand built 100 special edition CLK DTM street cars.
>
> The CLK DTM is folkloric car. It is admired and adorned by each connoisseur it encounters. A car that makes grown men giggle, and after a few conversations it seemed as if the CLK DTM was the "drivers" favorite of many impressive collections.
>
> Don't get fooled by its CLK moniker, the DTM is a purpose built supercar. Directly inspired from the 2003 DTM winning racecar, the car has massive fender flares, factory 3 piece racing wheels, race buckets and an ostentatious carbon fiber wing. Limited to 200mph, the CLK DTM V8 Supercharged boosts over 582hp and close to 590lbs ft of torque and does 0-60 in 3.8 seconds. Statistics made possible by HWA specification pistons, crankcase and a modified valve gear, cooling system, intake ducting, supercharger and exhaust.
>
> Literally every component on the CLK DTM is unique or Carbon Fiber. Not accent or aesthetic Carbon Fiber but purposeful Carbon Fiber. Literally everything on the CLK DTM is purpose built, lightweight and special.
>
> The CLK DTM is a car to fall in love with. It is not a poser, it is not a parts bin special edition… it's the real deal. These are the type of cars that set our heart on fire.
>
> These are the types of cars that collectors seek out and enthusiasts dream about. Between 2015-2016 two USA Mercedes CLK DM cars were sold at Gooding and Co. auction for $405,000.00 and $450,000.00. This is the price of love. This is the price of exclusivity.
>
> For $400,000 plus you are paying to be part of a club with the likes of Jensen Button, Mika Hakkinen, Juan Pablo Montoya and Takuma Sato. All CLK DTM owners whose hearts have been set on fire.
Old Description
1 of 100 produced. Books, tools, service up to date. US street legal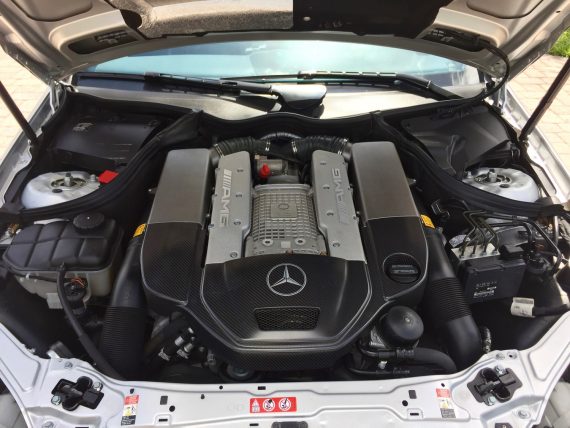 We start with the exterior that has boxed out fender flares that have large enough openings to suck in birds as you speed by. It still blows my mind that in 2005 Mercedes gave the green light to a street legal car that was basically a copy of the DTM body work. Just to put a cherry on top, those fenders – along with the front and rear aprons, side skirts and rear spoiler – are all carbon fiber. The wheels are a story because in something very un-Mercedes-like, they are 19 inches in the front and 20 inches in the rear. Inside is where you realize this isn't just an CLK with some tacked on strips of carbon fiber and some AMG gauges. It looks like they basically threw away everything but the bare bones and went from there. Carbon fiber is everywhere and it's not just for looks. The gauges are a really nice detail as it's a totally different setup from the CLK55. The tachometer is actually built directly into the speedometer, and the steering wheel is unique to the DTM with the majority of it being wrapped in alcantara. The seats are rigid back which is totally forbidden fruit to North Americans. As we know with all the cool cars we get, Europe gets the amazing seats while we get the ones that were designed at the last minute before a three day weekend. Of course the rear seats were tossed and replaced by you guessed it, more carbon fiber. Under the hood is a M113K that Mercedes basically put in every AMG car during the mid-2000s but this is the CLK-DTM, so of course it is one-off build for this car. Modified cam timing, more boost, a little stiffer crankcase that was all flushed out through a new exhaust bumped power from the normal 493 hp and 516 lb-ft to a new height of 582 hp and 590 lb-ft. The transmission wasn't just the normal 722.6 5-speed automatic but rather a system called AMG speedshift that featured a tiny little knob you moved back into reserve, neutral or drive. All the combined meant this CLK could get to 60 mph in 3.8 seconds.
So what are we looking at in price for all this? Brand new, Mercedes put a price on these at just under $300,000. They all sold immediately. Now on the secondary market if you can find a place selling these, they are asking around $375,000. So congratulations to those buyers, they broke even on their cars. But those currently for sale are all in Europe, not here in the U.S.. How many are here really isn't really known. I remember seeing one years ago in the Pacific Northwest that was a silver coupe, there's another silver coupe without the wing that's been for sale off and on with the price unknown for awhile and then a black convertible that has been seen at some events. So if I had to guess, I'd say this one is asking over $400,000 easily. They probably won't ever lose their worth, but it's almost the perfect car to fly just enough under the radar in.
– Andrew