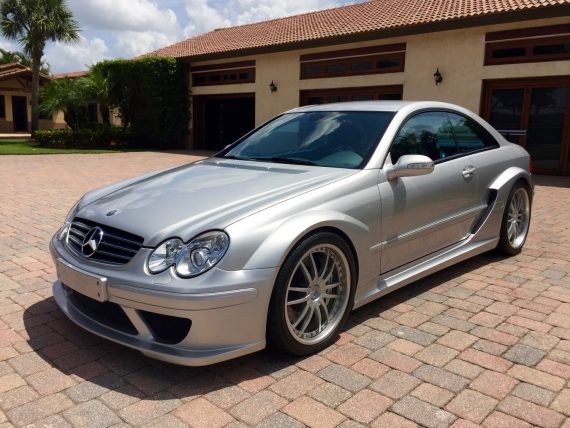 Move over Black Series, your body work is out classed here. A little over 11 years ago Mercedes took their normally tame CLK and went insane. Modeled after the 2003 CLK which won the DTM championship that year, the road-going CLK-DTM was much more than the typical AMG offerings that simply added on to the standard car that came from Mercedes. This car was totally rethought and the majority of it was re-engineered. That's what makes this car so different from a CLK55 both inside and out. Even more special is that they only produced 100 coupes and 80 convertibles, with none of them being sold in the U.S.. But today we have this 1 of 100 car for sale in West Palm Beach, Florida. So let's take a closer look at this DTM monster for the streets.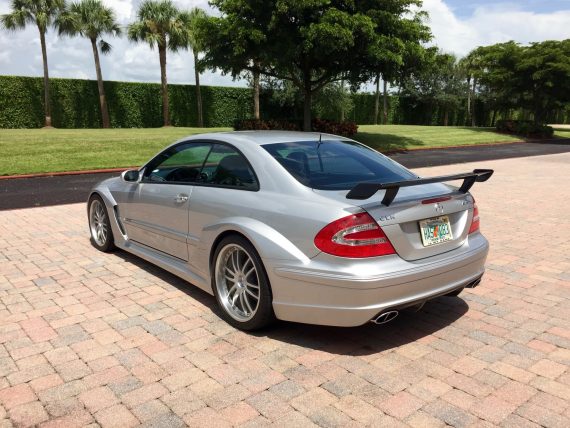 Year:Â 2005
Model: CLK-DTM AMG
Engine: 5.4 liter supercharged V8
Transmission: 5-speed automatic
Mileage: 2,936 mi
Price:Â Unlisted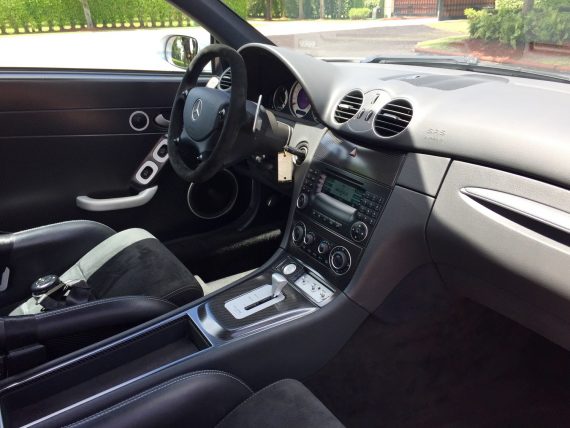 1 of 100 produced. Books, tools, service up to date. US street legal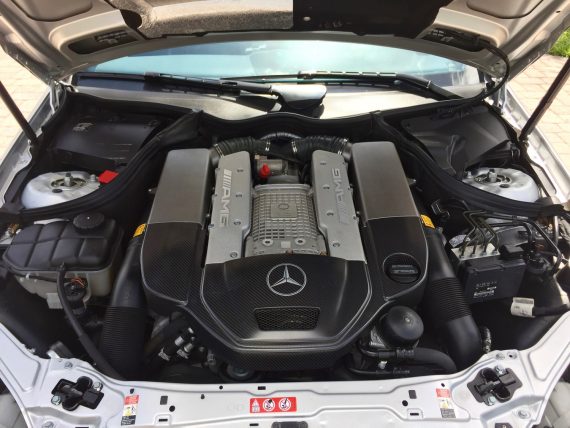 We start with the exterior that has boxed out fender flares that have large enough openings to suck in birds as you speed by. It still blows my mind that in 2005 Mercedes gave the green light to a street legal car that was basically a copy of the DTM body work. Just to put a cherry on top, those fenders – along with the front and rear aprons, side skirts and rear spoiler – are all carbon fiber. The wheels are a story because in something very un-Mercedes-like, they are 19 inches in the front and 20 inches in the rear. Inside is where you realize this isn't just an CLK with some tacked on strips of carbon fiber and some AMG gauges. It looks like they basically threw away everything but the bare bones and went from there. Carbon fiber is everywhere and it's not just for looks. The gauges are a really nice detail as it's a totally different setup from the CLK55. The tachometer is actually built directly into the speedometer, and the steering wheel is unique to the DTM with the majority of it being wrapped in alcantara. The seats are rigid back which is totally forbidden fruit to North Americans. As we know with all the cool cars we get, Europe gets the amazing seats while we get the ones that were designed at the last minute before a three day weekend. Of course the rear seats were tossed and replaced by you guessed it, more carbon fiber. Under the hood is a M113K that Mercedes basically put in every AMG car during the mid-2000s but this is the CLK-DTM, so of course it is one-off build for this car. Modified cam timing, more boost, a little stiffer crankcase that was all flushed out through a new exhaust bumped power from the normal 493 hp and 516 lb-ft to a new height of 582 hp and 590 lb-ft. The transmission wasn't just the normal 722.6 5-speed automatic but rather a system called AMG speedshift that featured a tiny little knob you moved back into reserve, neutral or drive. All the combined meant this CLK could get to 60 mph in 3.8 seconds.
So what are we looking at in price for all this? Brand new, Mercedes put a price on these at just under $300,000. They all sold immediately. Now on the secondary market if you can find a place selling these, they are asking around $375,000. So congratulations to those buyers, they broke even on their cars. But those currently for sale are all in Europe, not here in the U.S.. How many are here really isn't really known. I remember seeing one years ago in the Pacific Northwest that was a silver coupe, there's another silver coupe without the wing that's been for sale off and on with the price unknown for awhile and then a black convertible that has been seen at some events. So if I had to guess, I'd say this one is asking over $400,000 easily. They probably won't ever lose their worth, but it's almost the perfect car to fly just enough under the radar in.
– Andrew