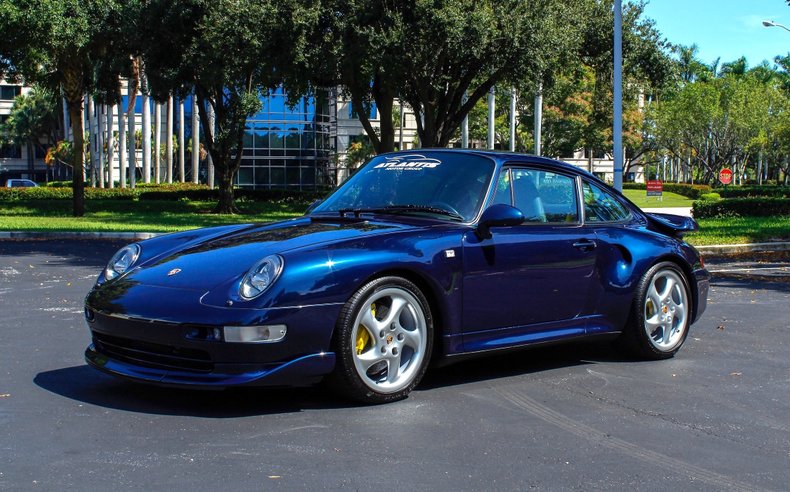 As they had with the 964 Turbo, Porsche continued the ultra-exclusive Turbo S package on the actually new 993 Turbo. With 430 horsepower pumped through two turbos to all four wheels, these were not as outrageous as the GT2, but plenty fast and luxurious to make up for it. Big yellow Brembos, a revised aerokit and flank vents that were a nod to the prior generation all helped to distinguish these cars. And with only 345 produced originally, from the get-go these were big dollar collectables. Of course, Porsche made a splash recently when it made a special brand-new one-off 993 Turbo S, ultimately selling it for a touch over $3,100,000.
So I'll introduce this post by saying that this car is not one of the original Turbo S models. However, if anything, it's a bit more interesting and even more exclusive. This car started life as a normal 993 Turbo, but was sent through the Porsche Special Wishes/Exclusive department (production coincided with rebranding of the Special Wishes Department to Porsche Exclusive) and given the bulk of the Turbo S details with a few GT2 bits thrown in for good measure. Further, it was then draped in a Paint To Sample color, Ocean Blue Metallic. The main difference between this car and a S is the rear spoiler and badges, which remained standard 993 Turbo items. In many ways, this car is the spiritual successor to the 911 Turbo S 3.6 'Package' I just looked at, and it's equally exclusive at a claimed one of two produced:
Year: 1997
Model: 911 Turbo X50
VIN: WP0ZZZ99ZVS370087
Engine: 3.6 liter twin-turbocharged flat-6
Transmission: 6-speed manual
Mileage: 14,000 mi
Price: $329,000 Buy It Now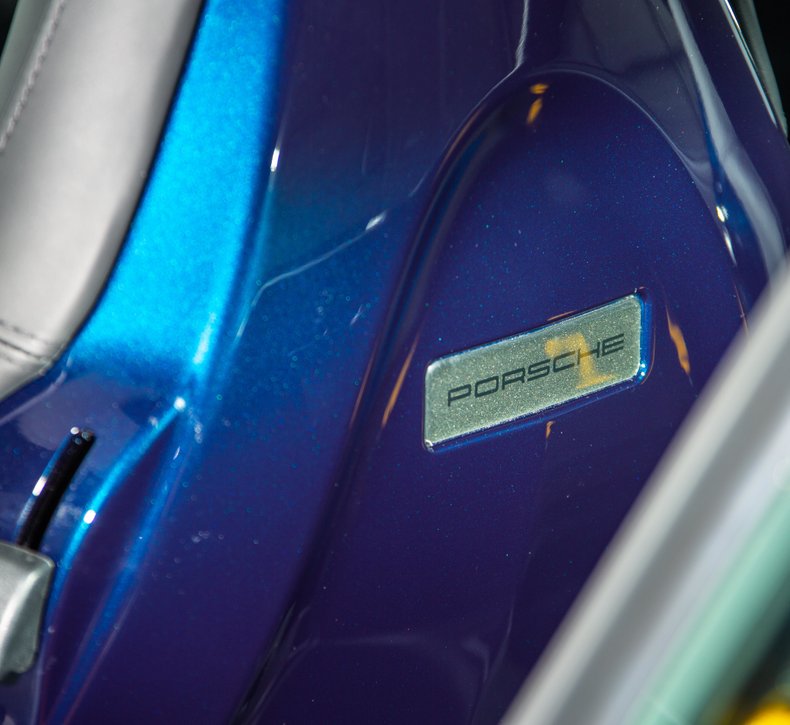 1997 Porsche Twin Turbo "Special Wishes" X50 Turbo S.

This is the rarest of the rare in Porsche. 1997 "Special Wishes" Turbo. 100% factory and 1 of only 2 in the world. This is basically a Turbo S with the standard tail and GT2 Splitter. In fact, when this car was ordered, adding the Turbo S badging was an option.

WP0ZZZ99ZVS370087

The 993 Twin Turbo is all factory coded with the following options:

Turbo S rear quarters
Factory S powerpackage (X50)
Factory front RSR/GT2 Splitter
Sports seats with hard back color coded
Carbon Fiber interior
Yellow seat belts
Yellow calipers

Ocean Blue Metallic with Black interior
23,000 klm (14,000 miles)

Option Codes:
XE7 Extra oil cooler for 993 Turbo SÂ
139 Seat Heating – LeftÂ
340 Seat heating – RightÂ
373 Left Sport Seat w/ Power Height AdjusterÂ
374 Right Sport Seat w/ Power Height AdjusterÂ
454 Automatic speed controlÂ
650 SunroofÂ
X50 Power package TurbosÂ
X54 Dual Chrome Exhaust Pipes
X79: Side air ventsÂ
545 92-litre fuel tank
315 MHz anti-theft system
09991 (Special Wish / Exclusive Program)Â

Contact us for more info. 877-894-4420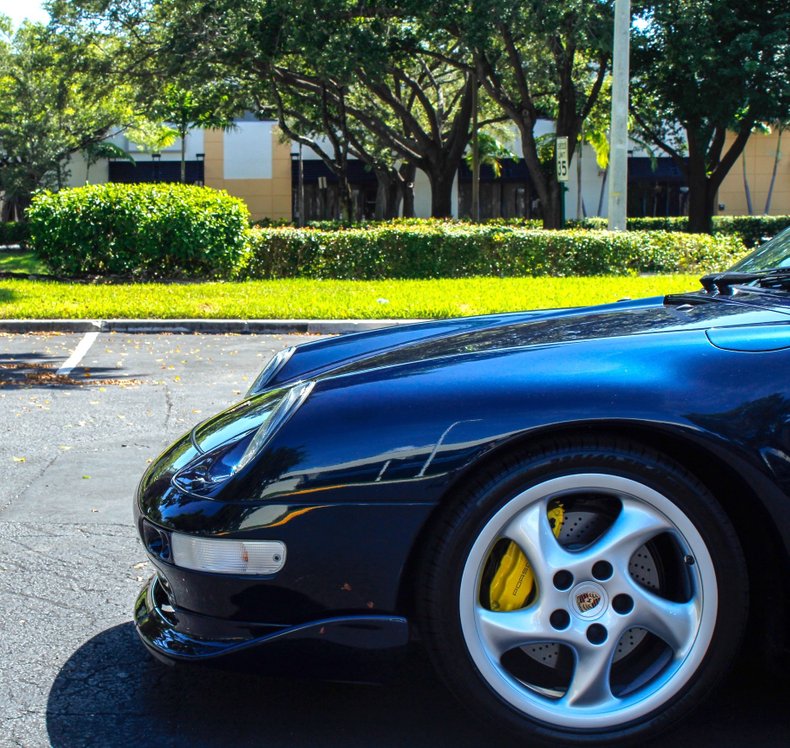 There's an interesting discussion of value of this car that went on over on Rennlist. Is it more rare than a Turbo S? Yes. Is it a Turbo S? No. So should it be more or less valuable as a result? That's the rub. Condition is, of course, outstanding – but not quite as outstanding at that color. Wow. It's just beautiful and refreshing to see in a sea of black and silver 911 Turbos.
Values of Turbo Ss, which this car should probably be placed close to, vary wildly. We've seen $600,000 asks and $270,000 asks recently. One thing we lack is actual comp sales numbers. The most recent was a $290,000 bid on a 13,000 mile '97 Turbo S via Bring a Trailer. It ultimately failed to sell, as did the prior example that bid to $222,000. One did sell last October at $231,000, but it had quadruple the mileage. Rennlist comments contend that, without the "S" moniker, no matter how this car was optioned it won't be worth the same amount. Still, you know you're looking at something special here – and in the air-cooled Porsche world, that still costs.
-Carter