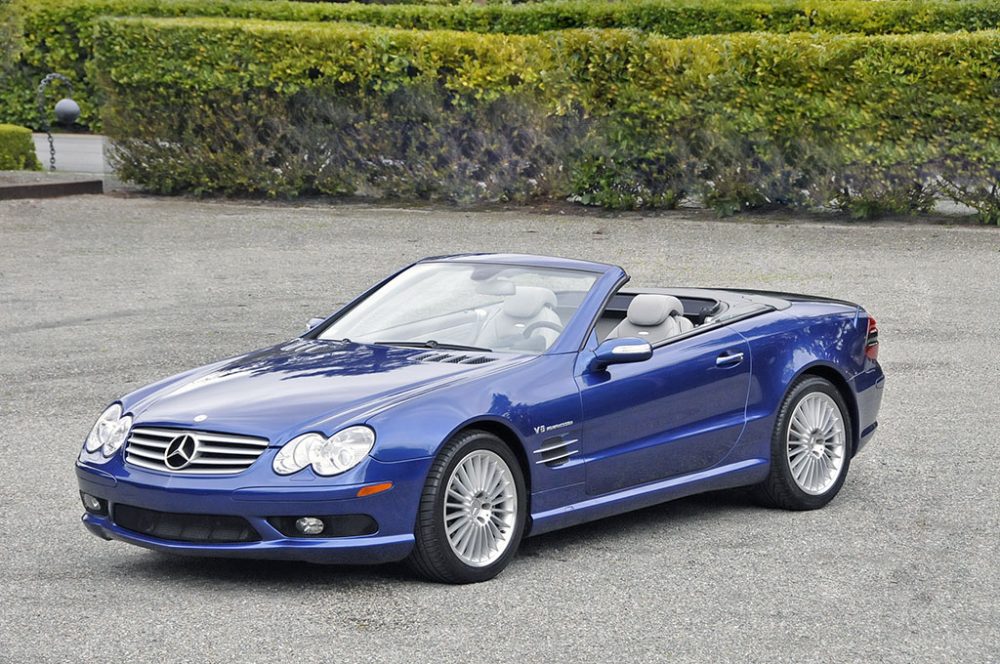 Earlier this year I took a deep dive into what the R230 Mercedes-Benz SL55 AMG is and where it might be headed into the future. It is a car that can hold its own without a doubt, but certainly is not at the top of anyone's list when it comes to buying a convertible for around $25,000. However, today we have a 2005 that might change everyone's opinion at how these things look. This SL55 up for sale in California is painted in the very rare Orion Blue and shows just under 30,000 miles. The condition is nearly perfect and frankly, I love it very much. Where do I send my money?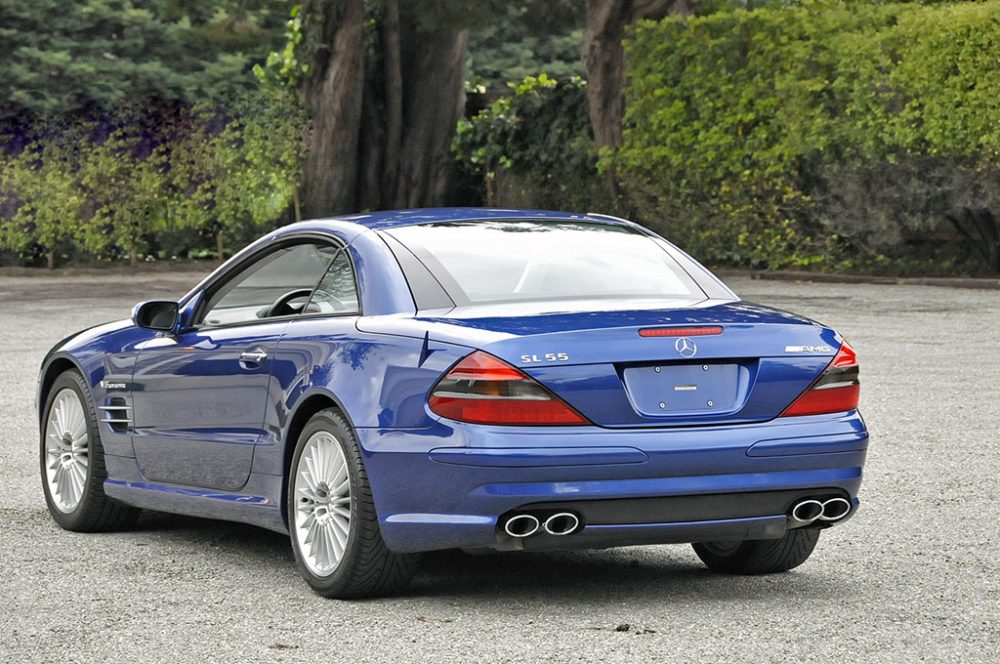 Year: 2005
Model: SL55 AMG
VIN: WDBSK74F25F091186
Engine: 5.4 liter supercharged V8
Transmission: 5-speed automatic
Mileage: 29,850 mi
Price: $29,000 Buy It Now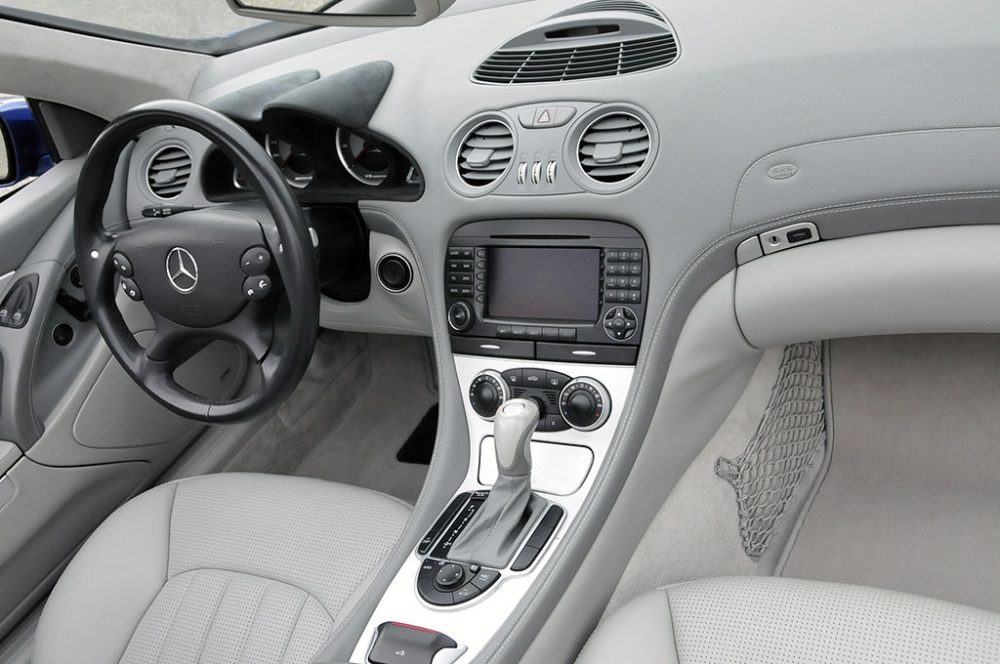 2005 SL55 – ID# WDBSK74F25F091186 – Engine # 113992 60 033943 – Delivered new on 9-20-2004.

Full handbooks – Two keys – Original MSRP: $123,300 – Data card on hand – Recent tires.

The SL55 stunned the motoring world when introduced as 2003 model in spring of 2002.

Combining contemporary supercar power and Mercedes-Benz refinement and sophisitcation.

The SL55 became the ultimate 'all arounder'.

You could loaf around town running errands and when in the mood, fly past 99% of automobile humanity.

It was, and still is, a stunning achievement.

And a future collectible, particularly in its original conception before the the exceptionally pure design was slowly eroded with gimmicky styling add-ons.

Car and Driver noted "493 horsepower at 6,100 RPM, 516 pound-feet of torque manifesting itself along a wonderfully flat curve from 2,650 to 4,500 rpm.

It's the most potent factory Benz we've ever tested: 0-60 in 4.5 seconds, 0-100 in 10.9 seconds, the quarter mile in 13 seconds flat at 110 mph."

MB DATA:

GARAGE DOOR OPENER WITH 284 – 390 MHZ FREQUENCY

LEATHER AMG – TELEAID USA – MULTI-CONTOUR SEAT, FRONT LEFT.

MULTI-CONTOUR SEAT, FRONT RIGHT – 5-SPEED AUTOMATIC TRANSMISSION

ABC SUSPENSION (ACTIVE BODY CONTROL) – COMAND DVD APS USA WITH NAVIGATION

COMAND APS – RADIO REMOTE CONTROL WITH PANIC SWITCH (315 MHZ)

AMG STYLING PACKAGE-FRONT SPOILER, SIDE SKIRT.

AMG MULTI-SPOKE WHEELS 18″ WITH MIXED TIRES – PREMIUM SOUND SYSTEM.

CD CHANGER – SEAT HEATER FOR LEFT AND RIGHT FRONT SEATS.

HEATED SCREEN WASH SYSTEM – KEYLESS – GO – H70 TRIM PIECES.

"AMG" ALUMINUM M001 ENGINES WITH SUPERCHARGER – LUGGAGE NET SET IN LUGGAGE COMPARTMENT

DVD PLAYER WITH REGIONAL CODE 1 – DESIGNO ALCANTARA ALPACA GRAY ROOF INTERIOR TRIM.

Essentially unmarked paint and coachwork – Virtually unmarked alloy wheels.

Spotless engine bay – Brilliant headling/tail light lens assemblies – Excellent grille assy and lower front intake screens.

Spotless trunk area. Excellent bumper faces – Fabulous paint depth and gloss.

Negligible evidence of use in the interior – Spotless leather – Spotless cargo area.

Unmarked console – Spotless door jambs – Unmarked entry thresholds.

Beautiful alcantara instrument binnacle/headliner trim – Spotless carpets – Never smoked in.

A spectacularly preserved SL55 in an unusually rare color. You're unlikely to encounter another orion blue SL55.

Just serviced including rear brakes, air/fuel filter, 'consumer' battery replacement.

Ready for touring. Roy Spencer 650-343-7980

Global references available – Pre-purchase inspections available locally.

Providing exceptional cars to the global Mercedes-Benz community for 29 years.

This SL55 can be inspected at my facility in Burlingame, CA – 5 minutes south of SFO.

Be sure to fully scroll this description field as well as the page to see all 60+ images.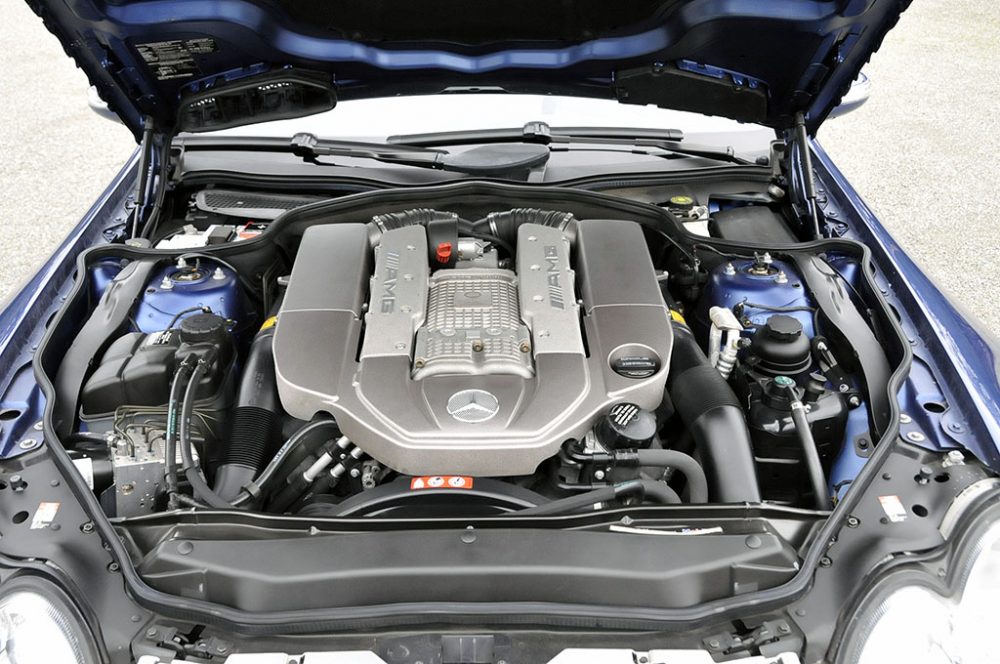 Sign me up. I didn't know a R230 could look this good in factory form. Usually I'm not one for lighter interiors, but this one just works for me. The funny thing is, if you put this color on a R129, I don't think I'd like it. But the bigger, more rounded body of the R230, I'm all for it. It is tough to even find any flaws with this car and it makes sense having only 30,000 miles, but still it is nearly 15 years-old. Dare I say this car looks even better with the top up?
Of course you should expect a premium price for this car and in all honesty, $30,000 is pretty reasonable all things considered. $20,000 would buy you a decent example of an early R230 SL55 with some miles, so an extra $10,000 for outstanding condition and premium color seems totally fair to me. It is hard to imagine these cars even getting to the point where they will be examples you need to snap up for a collection, but if there ever was one, this is it. My guess is this one doesn't stay for sale long.
– Andrew