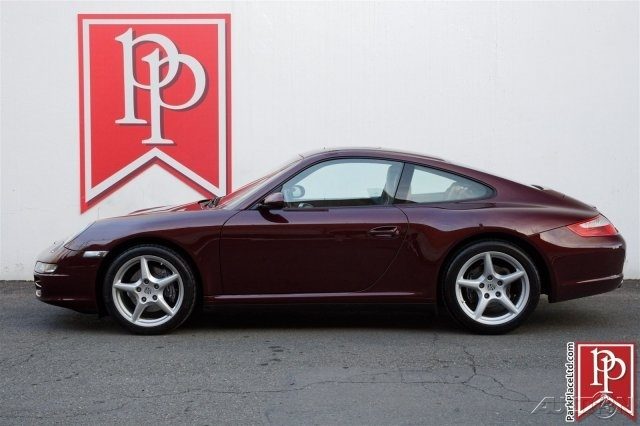 There isn't very much time remaining on this ad, but since it isn't an auction and doesn't appear to be going anywhere too quickly that shouldn't be overly problematic. I expect it will be relisted. It is, however, an interesting 997 in its color combination and likely its selling price, which should be very much on the reasonable end. The mileage is high, sitting at 110,235, but if its maintenance has been good, then I would see no reason why it couldn't continue to provide enjoyable motoring in a pretty sophisticated package. Here we have a Carmona Red Metallic 2006 Porsche 911 Carrera 4 Coupe, located in Washington, with Terracotta leather interior and desirable 6-speed manual transmission.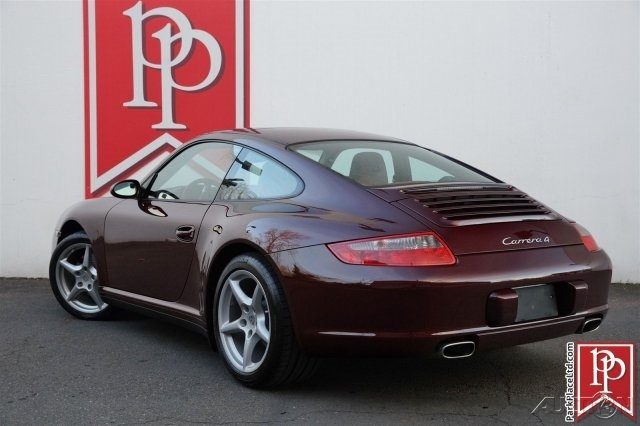 Year: 2006
Model: 911 Carrera 4
Engine: 3.6 liter flat-6
Transmission: 6-speed manual
Mileage: 110,235 mi
Price: $33,250 Buy It Now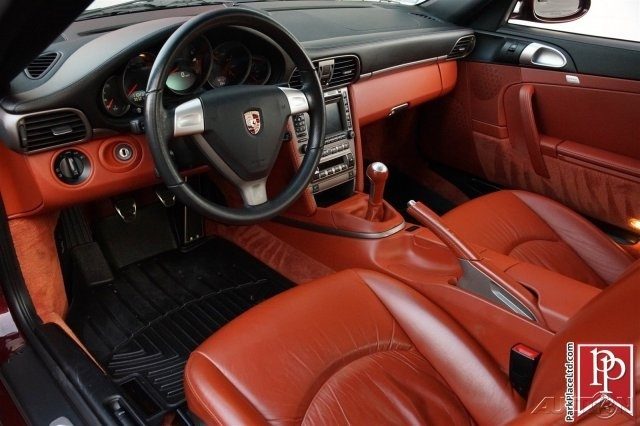 2006 Porsche Carrera 4 Coupe in Carmon Red Metallic with Black and Terracotta Interior. 3.6L/325hp 6-Cylinder Engine. 6-Speed Manual Trans. All-Wheel Drive (AWD). Original MSRP was $87,750 with Factory options for this scintillating C4 Coupe including; Bi-Color Interior in Black/Terracotta, Carmon Red Metallic Paint Color, Supple Leather Front and Rear, Power Seat Package, Heated Front Seats, Bi-Xenon Headlamp Package, Self-Dimming Mirrors, TPMS, Fire Extinguisher, 5mm Wheel Spacers, Black Mats with 'Porsche' lettering. This is a great looking Carrera 4 that has been well maintained and properly serviced. Runs and drives excellent and shows in outstanding condition throughout – much finer than the mileage might indicate.

The Carrera 4 has earned a cult-like following and they are highly desirable 911's, as they combine the best parts of the 911 range. Starting with the widebody that is shared with the turbo model, the Carrera 4 adds standard all wheel drive, sport tuned suspension, and the precision braking system from the Turbo, creating a menacing looking car that is equally happy being briskly driven on a twisty backroad as it is tackling the dreary winter evenings.

This example also has the enthusiast required manual transmission, making it the perfect everyday sports car for the PNW.

The cockpit of this Porsche maintains basic design themes from the past but boasts cleaner layouts and enhanced functionality, particularly the classic instrument cluster and an ignition lock to the left of the steering wheel. Though the cabin has a function-oriented layout, upscale materials on the doors and dashboard, and remarkable craftsmanship and attention to detail throughout welcomes both driver and passenger. The heated power seats in front, wrapped in optional supple leather, are firmly bolstered and deeply contoured, offering miles of comfortable driving. The Porsche 911 Carrera is considered as one of the most iconic models in the history of the industry. There aren't many sports cars that have been around as long as the 911, and none that have stayed as true to the original's formula. At the same time, Porsche has managed to transform the 911 into a modern sports car with the performance and amenities buyers expect. It's an icon of the sports car world.

For more information on this fabulous 2006 Porsche Carrera 4, or any of our 40+ Porsches always in stock, contact our friendly and knowledgeable eBay Mgr., or feel free to drop by our Bellevue, WA showroom and ask for the eBay Mgr for the best possible deal – Home of the West Coast's most exciting inventory of luxury, exotic, sports and collectible cars. With 200+ Always on Site, Nobody Has What We Have!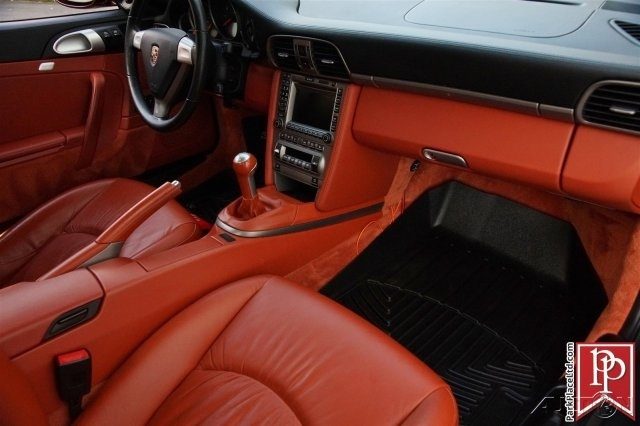 This color combination almost tells two different stories. The burgundy-hued exterior brings with it some elegance, but little in the way of flash. It's a very pretty shade of red, but like most of the darker hues it allows one to blend in to a degree. The Terracotta interior, however, suggests no such intention of blending in with the crowd. While certainly not as bright as Can-can Red, the contrast with the exterior is somewhat pronounced. I think it makes for an attractive combination and it looks to have been well cared for during its life.
Given that it has more than 100K miles a PPI would be a good idea. While the seller is correct that the Carrera 4 came with a wider rear, I'm not sure the sport suspension or Turbo brakes were standard. That seems to be a confusion with the 4S. I believe the suspension would have been optional and perhaps it was selected (though the listed options in the ad do not mention this), but given that this Carrera 4 lacks red calipers we can probably assume these aren't the Turbo brakes. Those looking for a Carrera 4 probably will be aware of these differences, but it is the sort of thing that tells us we should look at little closer at whatever records are available. At the end of the day, this higher-mileage 911 comes in at a pretty nice price and surely offers a heck of a lot of performance for that price. That it comes in an interesting color combination and with a 6-speed manual just makes everything that much sweeter.
-Rob