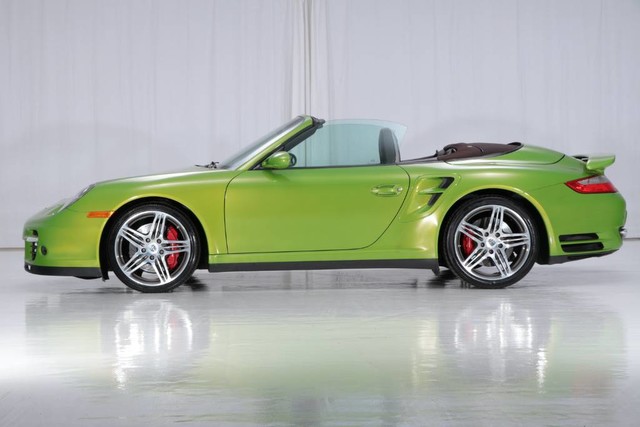 With asking prices continuing to move upward for the 996TT – though we probably should note that judging from a few auction outcomes the selling prices may not be moving up quite so much – I have been on the search for certain 997TT models. While prices certainly aren't as low as what we used to see from the 996 the 997 is beginning to represent pretty good performance value, especially given how much performance you get.
Truth be told, this particular example wasn't really what I was looking for, but I'm glad that I found it. Once I saw it, it was near impossible to pass by. This is a Viper Green Metallic 2008 Porsche 911 Turbo Cabriolet with 6-speed manual transmission. It's fitted with an interesting Cocoa leather interior and sport seats. This version of Viper Green comes from the late 70's after Porsche had modified the original non-metallic color. It's a bit lighter in shade and a bit brighter with the typical metallic sparkle. It makes for an attractive light green and the juxtaposition of light and dark in the interior gives the whole thing a rather earthy feel. Generally when we see Viper Green as a PTS option this is not the version we see, but rather the original version. That makes this 997TT a little extra unique.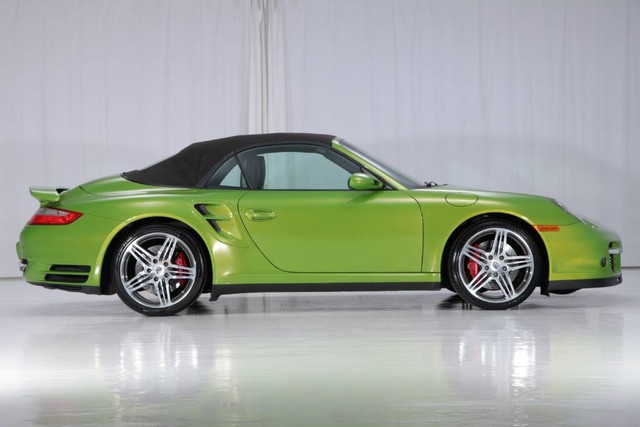 Year: 2008
Model: 911 Turbo Cabriolet
Engine: 3.6 liter twin-turbocharged flat-6
Transmission: 6-speed manual
Mileage: 70,975 mi
Price: $61,900 Buy It Now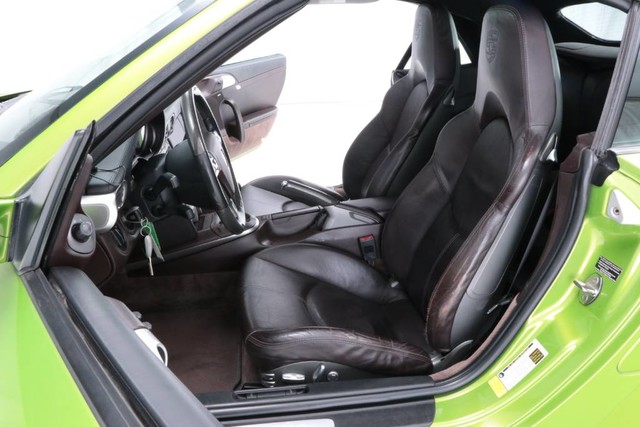 Highlights include: $148,890.00 ORIGINAL MSRP!! 6-SPEED MANUAL, ALL-WHEEL-DRIVE 911 TURBO CABRIOLET!! VIPER GREEN 997 METALLIC PAINT TO SAMPLE, CARBON PACKAGE, TURBO SPORT CHRONO PACKAGE, NATURAL COCOA LEATHER, CABRIOLET ROOF IN COCOA, NAVIGATION, PORSCHE CREST IN HEADREST NATURAL DEVIATING STITCHING ON THE DOORS / DASHBOARD / SPORT CHRONO, POWER HEATED ADAPTIVE SPORT SEATS, MULTI-FUNCTION CARBON STEERING WHEEL, REMOTE CD CHANGER, 1-OWNER, CLEAN CARFAX!! This vehicle will be reviewed by an independent certified mechanic in accordance with PA state inspection regulations. If for any reason this vehicle does not pass inspection it will be noted. THERE IS A REPAIRED STONE CHIP IN THE WINDSHIELD. THE CD CHANGER IS INOP. !!PLEASE CONTACT OUR SALES TEAM AT 877-864-0274 WITH ANY QUESTIONS!! We are pleased to show you another great opportunity! Sky Motor Cars is in the wholesale business and that represents the majority of what we do. When we have a vehicle this nice we present it to the public. Our turn time is quick and depending on auction schedules we may end listings early and take the vehicle to a dealer only auction. Do not hesitate if you are interested! We have supplied many detailed photos to give you an accurate sense of just how nice this one is! !!A VARIETY OF EXTENDED WARRANTY OPTIONS ARE AVAILABLE!! This is a previously enjoyed vehicle so there MAY be a few light scratches and small chips around the vehicle. Please study the photos provided. Anything unusual or significant will be shown in the pictures. PLEASE NOTE THAT UNLESS SPECIFIED OUR VEHICLES ARE NOT MATTE FINISHED. THE PICTURES OFTEN SHOW THE REFLECTION OF OUR PHOTO BOOTH CURTAINS IN SHINY PAINT AND THAT CAN MAKE THE FINISH APPEAR DULL. Also note there are many shadows cast on the vehicle due to the conditions in which the photos were taken. If you are unclear of anything please contact us PRIOR to making an offer!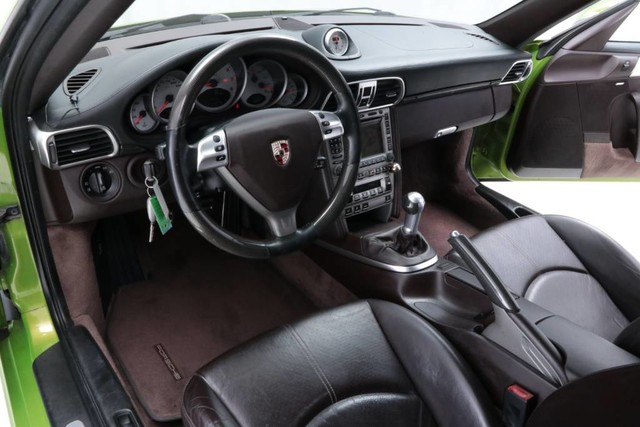 It's not easy to gauge given that this is a fairly rare PTS example, but even with its relatively reasonable pricing I think this one likely remains a bit overpriced. A manual Turbo Cabriolet is a little more rare and of course the colors are very rare so those interested in this 997 may not have a lot of leverage until it's been for sale for a while, but generally speaking with this mileage I'd probably expect a price below $60K. Were it a standard set of colors I might even be thinking below $50K, but a premium is worthwhile here. Of course that means we're not too terribly far off.
It's nice to see that this Turbo has been driven though. While the miles here aren't high given that it's over ten years old, they're certainly more miles than many other Turbos. The previous owners definitely have taken joy in showing off that exterior. I imagine it attracts plenty of attention and given its top-down nature you'll need to enjoy that attention if you want to continue adding the miles. Overall those miles don't seem to have detracted much from this Turbo's appearance. The paint looks in nice shape and the interior shows minimal wear. We aren't told anything about its history or available records so that would be a good place to start. We are told the cd changer is inoperable, but that's our only clue to its current condition beyond the cosmetics. A 70K mile Turbo isn't something you approach lightly, but if its maintenance has been completed on time there isn't much reason to expect that it won't continue to provide enjoyable motoring.
The 997 can many times seem a sea of black and silver, whether you're looking at the 997TT or a base Carrera. This one, in Viper Green Metallic, stands well apart from that mass!
-Rob