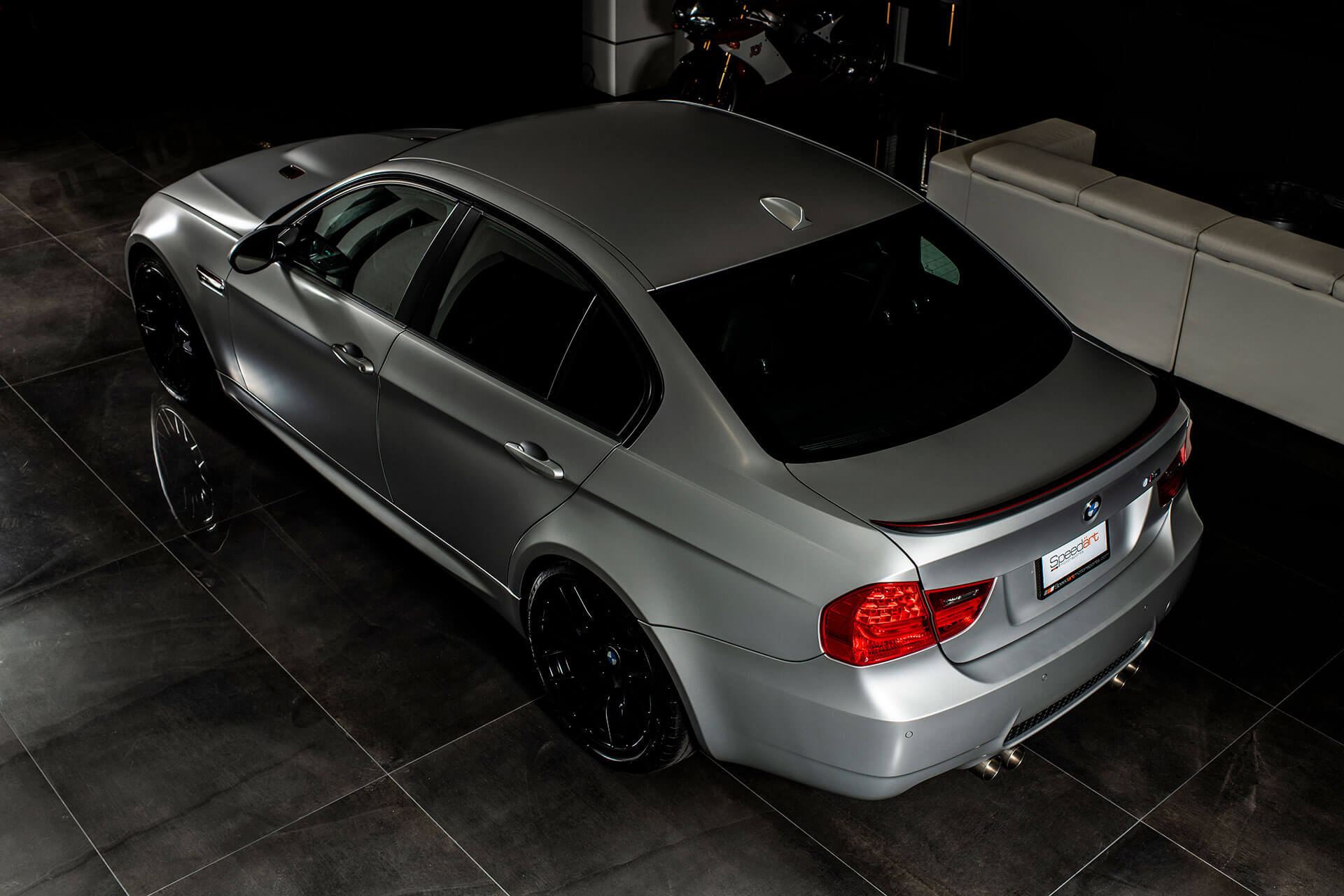 Continuing on the theme of lightweight, Europe-only specials of a fan-favorite chassis, here's one I'm willing to bet a fair amount of you aren't aware of. BMW launched several special variants of the E9x chassis, and we saw some of them – the Lime Rock Park Edition being the most notable – but in total BMW produced a hard-to-fathom 28 special variations of the E9x Ms. As a result, you're forgiven if you didn't remember all of them!
CRT stands for "Carbon Racing Technology", but perhaps ironically it was BMW's carbon-intensive road cars that led to the model. Spare cuttings from the carbon passenger cells of the i3 and i8 models were recycled and molded into body pieces for this special M3 sedan, while motivation came from the M3 GTS's upgraded S65B44 V8. Stroked to 4.4 liters and with a lightweight titanium exhaust, the enlarged V8 was rated at over 440 horsepower (20+ over a standard S65B40), while torque was up 30 to 325 lb.ft at a lower 3,750 rpms. BMW produced a total of 68 cars, of which 67 were sold to the public, all in identical Frozen Silver Metallic with Sahkir Orange accented interiors:
Year: 2012
Model: M3 CRT Sedan
VIN: WSPK91060E810823
Engine: 4.4 liter V8
Transmission: 7-speed dual-clutch semi-automatic
Mileage: 452 mi
Price: $225,000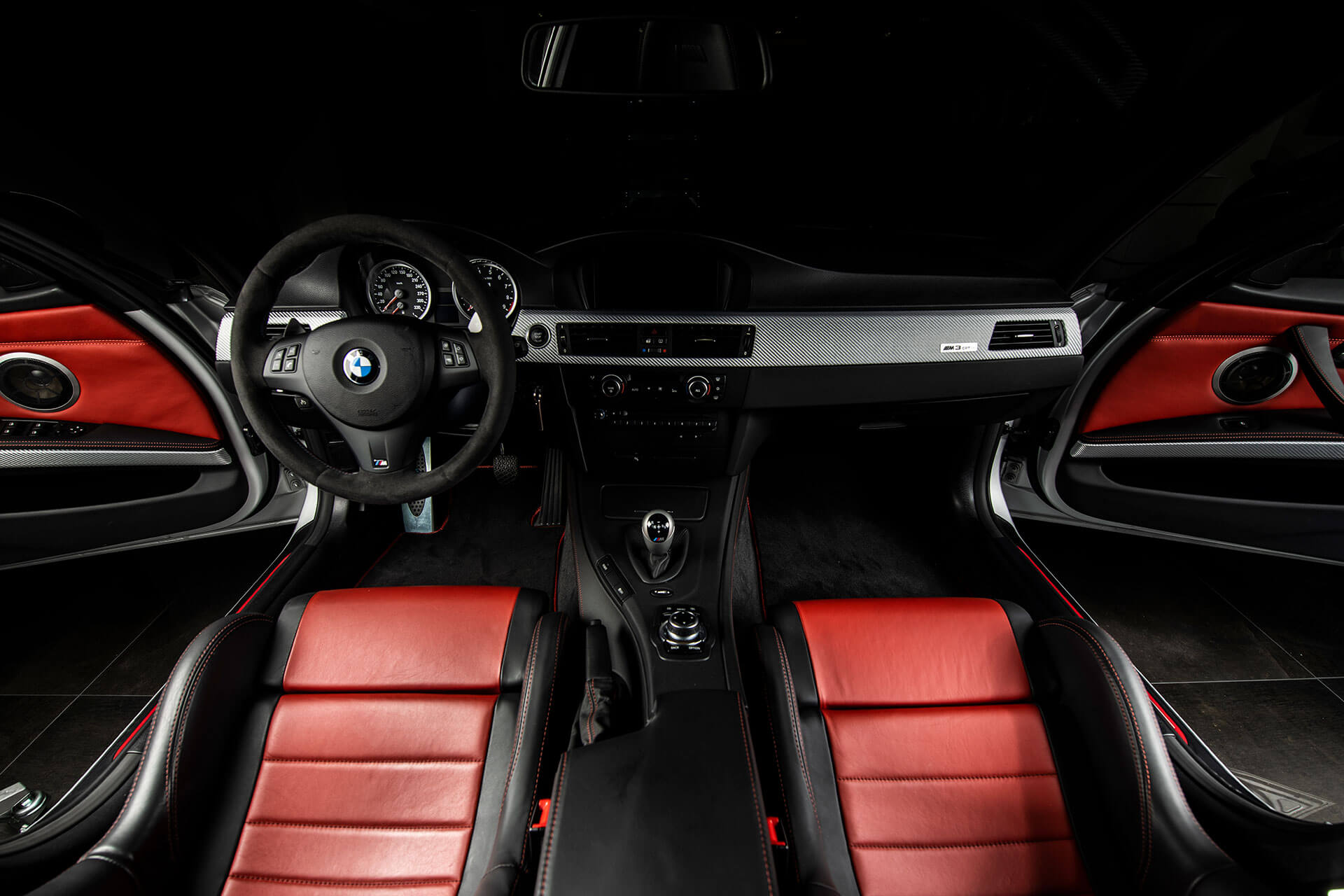 About This Car

"The BMW M3 CRT (Carbon Racing Technology) embodies a concentrated blend of state-of-theart development expertise – inspired directly by motor sport – in the areas of drive system and chassis technology and intelligent lightweight design."

One of the most rare and collectible M-Cars in the world, the BMW M3 CRT (Carbon Racing Technology) was announced in June 2011 as a 2012 model. Powered by a naturally aspirated 4.4 litre V8 with customary M high-revving characteristics, 443bhp and 324lb of torque and based on the S65B40 4.0 litre engine from the standard E90/E92 M3, the car is the sedan version of the Europe-only 2009 BMW M3 GTS coupe (135 cars built).

With a weight distribution of 52:48 front-to-rear, a power-to-weight ratio of 272bhp/ton and a twin-clutch SMG transmission, the car achieves 0-62mph in 4.4 seconds and the electronic engine management of the car caps its top speed at 290 km/h.

The exclusive character of the CRT is emphasized by bespoke lightweight design components manufactured as part of an innovative production process.

Despite generous standard equipment, the car benefits of a 155lb weight reduction compare to a similarly specified production M3 sedan thanks to the use of lightweight panels made from carbon fibre reinforced plastic (CFRP) on the bonnet, seats and body panels as well as a sonorous titanium exhaust. The M3 CRT was the first production BMW to debut cellular carbon honeycomb materials, subsequently used more extensively on its i3 and i8 ranges.

The specially tuned DSC (Dynamic Stability Control) system – including ABS and M Dynamic Mode (MDM) – responds to both the greater dynamic potential of the BMW M3 CRT and its optimized axle load distribution. Meanwhile, the 245/35 R 19 front tyres and 265/35 R 19 rears (fitted on 19-inch M light-alloy wheels in Y-spoke design) ensure the engine's acceleration and braking power is transferred to the road with maximum impact.

Expertise from race competition also makes its presence felt in the chassis technology of the BMW M3 CRT. The BMW M3 Saloon's front and rear axle construction has been enhanced by a rigid rear axle subframe and coil over suspension whose dampers are individually adjustable in their compression and rebound. The six piston, fixed caliper high-performance brakes of the BMW M3 CRT boast a low-weight compound construction. The vented brake discs measure 378 x 32 millimeters at the front axle and 380 x 28 millimeters at the rear. The new M3 variant also uses Stahlflex brake lines and model-specific comfort brake pads.

The exclusive Frozen Polar Silver metallic exterior paint shade in combination with Melbourne Red metallic applications and special treatment for the BMW kidney grille also help to set the BMW M3 CRT apart from the standard M3.

Whilst the Q car appearance from the outside will slip under the radar for most, the same cannot be said for the unique cabin. With deeply bolstered Sakhir Orange CFRP bucket seats, and acres of adjoining stitching throughout, the interior feels like an event at stand still complimented by special aluminum trim, Melbourne Red sill strips and a super soft Alcantara steering wheel which has an M-Drive button allowing the driver to call up his preferred set-up instantly. Although the focus on performance is in no doubt, BMW still engineered the latest refinements into the car with Nav, Bluetooth and the sensational Individual Audio whilst still achieving a 70 kg saving over the standard saloon.

The BMW M3 CRT was only available for sale in Continental Europe, and never homologated for the North American, British or Asian markets. Production was limited to 67 cars, all numbered with a plaque on the dashboard. 65 motorcars were assigned to private entities and 2 were retained by BMW AG – one of the CRTs is prominently displayed at the BMW museum in Munich.

Speedart Motorsports presents one of its finest offerings, motorcar number 24 that is believed to be the only CRT for sale in North America at the time of this listing.

This sport saloon, was originally registered to a dealer in Italy on February 28, 2012. It was then purchased by its first and only registered private owner in April 2016 and shipped to JK Technologies of Baltimore, where it was federalized for U.S. Show & Display making it fully road-legal to use up to 2,500 miles a year in 49 states (CA will require CARB certification at extras cost.)

Due to its current unmolested status and rarity, Speedart Motorsports will deliver this impossibly perfect M3 CRT to its new custodian with a full service performed by a marque specialist upon contract.

We will be delighted to discuss an ownership possibility of this race-bred saloon as well as arrange a private viewing in our gallery of what arguably is destined to be one of the most significant chapters in the M pantheon.
Disclaimer

Whilst Speedart Motorsports, LLC. ("We") make a sincere effort to contain information that is accurate and complete, we are aware that errors and omissions may occur. We are not able therefore, to guarantee the accuracy of that information and we do not accept liability for loss or damage arising from misleading information or for any reliance on which you may place on the information contained in this website. We highly recommend that you examine the vehicle to check the accuracy of the information supplied. If you have any queries with regard to any information on our website, please contact us at sales@speedartmotorsports.com. This disclaimer does not affect your statutory rights.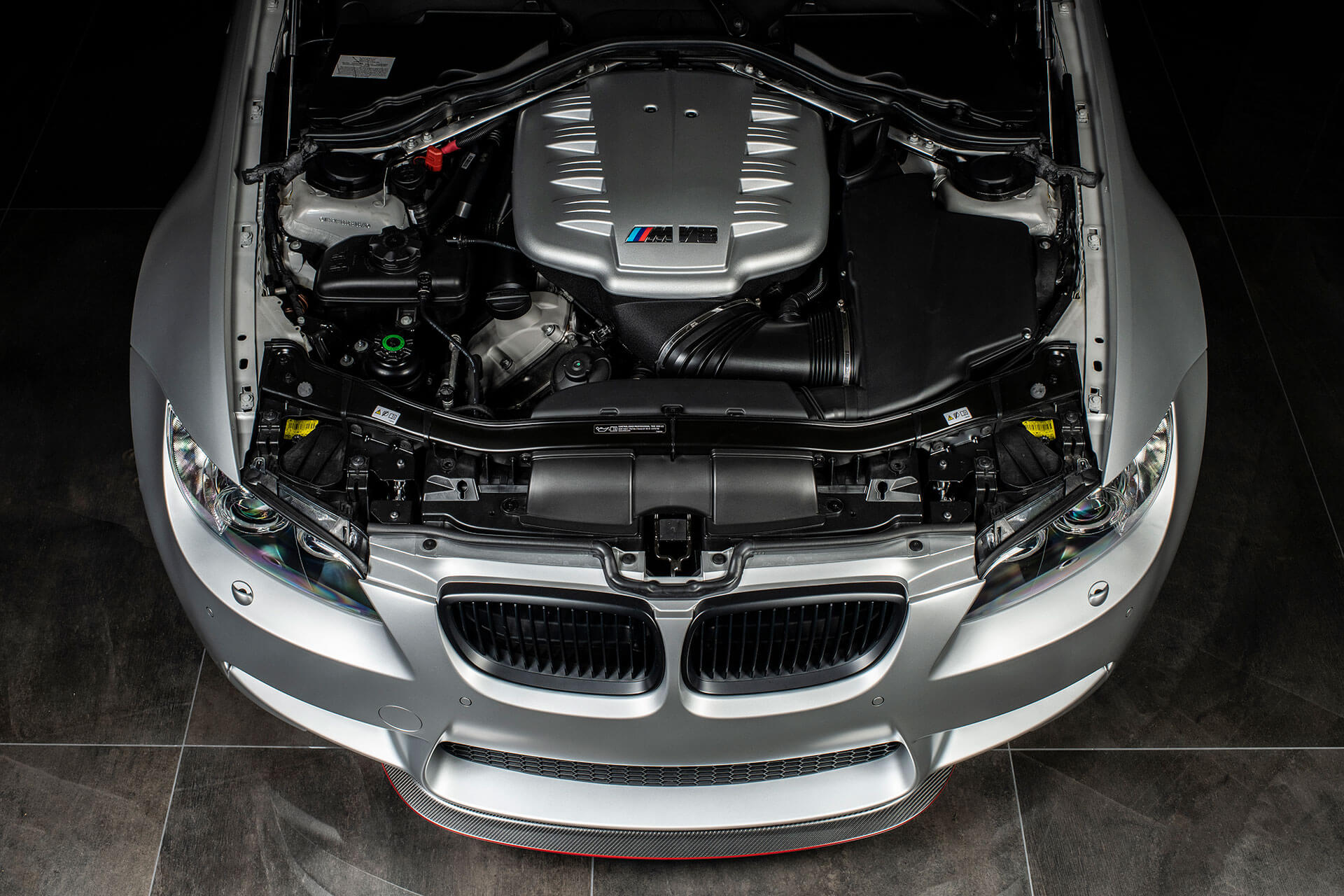 The rarity of this car aside, it's compelling in that it's both in the U.S. and has been approved for Show and Display already. That alleviates many headaches in potential ownership for collectors. Special M models have also proven to be a pretty good investment long-term over the past few years, as models such as the Lime Rock Edition have sold for a substantial premium over standard models. To me, while the M3 was synonymous with 2-door models prior to its rebranding to the M4, the E90 M3 is one of the better looking packages from the period. This one is pretty flashy with red accents and truth told I'm not the biggest fan of black wheels, but in all this is a really cool package. So here you have the "ultimate" and very limited M3 CRT which is both upgraded with the GTS motor and special on its own, along with nearly no miles from new. If that weren't enough, the reality is that long-term there aren't likely to be all that many more CRTs crossing over to the U.S.. If you want exclusivity and one of the last 'pure' M-cars from Garching,
-Carter