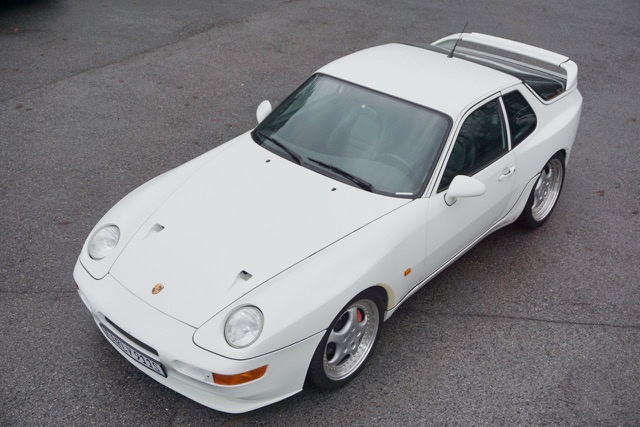 Although it certainly added up to more than the sum of its parts, on paper the Porsche 968 was a bit lacking compared to most of its competition. For example, for $2,000 less than the base price of a non-Sport package equipped 968, you could get a twin-turbocharged 300 horsepower Nissan 300ZX packed full of the latest technology. Or the also twin-turbocharged Dodge Stealth/Mitsubishi 3000GT VR-4 twins. Or the sublime turbocharged Mazda RX-7. And while the Supra Turbo came at a higher price, its performance was also on another level. One thing was clearly missing from the 968 package in order to compete.
Porsche's Motorsport department, under the leadership of Jurgen Barth, solved this problem in 1993 by offering a turbocharged version of the 968 Clubsport. The 16V head was dropped for a development of the 944 Turbo S head and turbo, but the car retained the 3-liter bottom end. This comprised the M44.60 engine. The result was 305 horsepower and 368 lb.ft of torque. Unlike the 944 Turbos, the 968 Turbo S also got the 6-speed manual (G44.01) and 75% locking differential out of the Clubsport, too. Outside, an homage to the 924 Turbo came in the form of twin NACA ducts on the hood, and the Turbo S gained a huge spoiler in the rear with an adjustable center plane. The Turbo S also nabbed 911 goodies in the form of Turbo brakes and 3-piece Speedline wheels. The Clubsport's 20mm lowered suspension was dropped even further. For good measure, Porsche Motorsport chopped another 45 lbs off the already lightened Clubsport, too. They featured the lightweight Clubsport interior, no rear seat, and few options. The performance figures were reportedly good enough to best 911 Carrera 3.8 RSRs of the period.
As well as anyone can figure, Porsche only constructed 14 968 Turbo Ss – 11 '93s (VINS ending 061-071) and 3 '94s (VINS 001, 061, and 062). Because they're so rare and were never sold in America, in fact, even some Porsche fans on this side of the pond aren't aware of their existence. They don't come up for sale very frequently, but -001 is available right now:
Year: 1994
Model: 968 Turbo S
VIN: WP0ZZZ96ZRS890001
Engine: 3.0 liter turbocharged inline-4
Transmission: 6-speed manual
Mileage: 28,345 mi
Price: POA
Year of manufacture
10/1994
Mileage
45 630 km / 28 354 mi
Car type
Coupé
Climate control
Yes
ABS
Yes
Reference number
444

Drive
LHD
Condition
Original condition
Exterior brand colour
GRAND PRIX WEIß P5
Interior colour
Black
Interior type
Leather
Number of doors
2
Number of seats
2

Location
Exterior colour
White
Gearbox
Manual
Performance
300 PS / 221 kW / 296 BHP
Drivetrain
2wd
Fuel type
Petro

DESCRIPTION:
ORIGINAL 968 TURBO S
PERFECT NEW CAR CONDITION
GREAT SERVICE NEW

ONE OF 14 ROADS SUPPLIED 968 TURBO S
EXHIBITION VEHICLE NR1 MODEL YEAR 1994

AUTHORIZATION: 20.10.1994
VEHICLE TYPE: 968120 968 TURBO S
DELIVERY COUNTRY: FRG
CHASSIS NUMBER: WP0ZZZ96ZRS890001
MOTOR TYPE / NUMBER: M44 / 60 41R00501
GEAR TYPE / NUMBER: G44 / 01 2002008
ORIGINAL COLOR: GRANDPRIX WHITE P5
INTERIOR: BLACK

INDIVIDUAL EQUIPMENT:
STRONGER BATTERY
REDUCED RADIO PREPARATION
AIR CONDITIONER
EXHIBITION VEHICLE
TIRE FACTORY DUNLOP
IDENTIFICATION HOLDER EXECUTION II
LOCKING DIFFERENTIAL
EXTERNAL MIRRORS MANUALLY ADJUSTABLE
SHELL SEAT LEFT
SHELL SEAT RIGHT
RS-CUP WHEEL 18 "POLISHED
FOND BAG ANST. H. SEATING
THEFT ASSURANCE F. WHEELS
FOG LAMP LEFT
6-SPEED MANUAL TRANSMISSION
SIGNS IN GERMAN LETTERING
BRD EXECUTION
968 TURBO S / RS
ANTI-THEFT SYSTEM
WITHOUT AIRBAG
REAR SPOILER IN WAGENFARBE
VERTICAL ADJUSTMENT
POWER STEERING

WE'LL LIKE TO HELP YOU WITH A FINANCING OR LEASING OFFER.
VISIT ONLY TO TERMINAL ADDRESS.
WE HAVE A FLOOR OF OVER 100 2.0S, 2.2S AND 2.4S.
IF YOU HAVE PARTIAL REQUESTS OR SPECIAL REQUEST, CONTACT US 0049 172 8840640
ERRORS PROHIBITED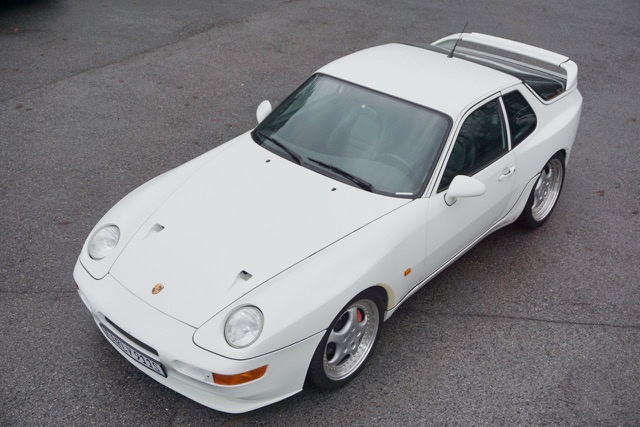 There are a bunch of articles floating out there about how the Clubsport is the "ultimate" development of the 924/944/968. But for many, the Turbo S represents the Holy Grail of these cars, taking the Clubsport to the next level. Of course, there's also an even hotter version – Porsche built four competition-ready Turbo RS models with even more power and less weight for the ADAC GT series in Germany.
These cars are now very highly prized as some of the most limited production Porsche models ever made. And, as a consequence, it's going to cost you quite a bit if you want to buy one. The dealer doesn't even bother to post pictures of the car, which is unfortunate for us dreamers. Clubsports are currently heading towards $100,000, and compared to the Turbo S they are positively commonplace – some 1,538 were made after all. Back in 2012 – before Porsche mania had fully taken off, mind you – one of the Turbo RSs sold for $346,500. While no price is listed on this particular Turbo S, it's a safe bet that you'll have to pony up close to that number or maybe even a bit more to join this exclusive club.
-Carter