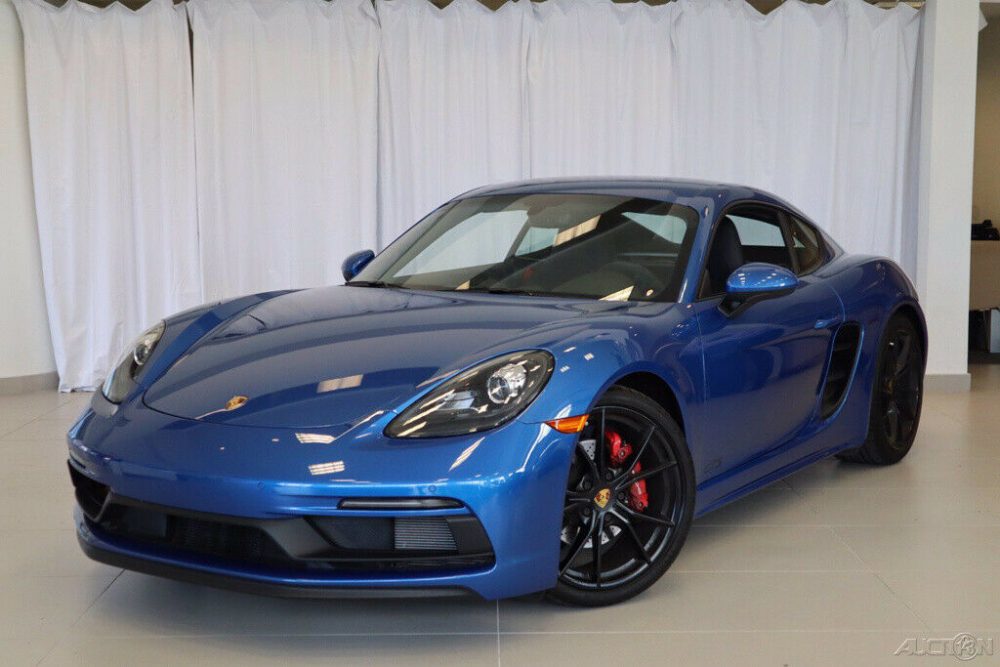 The Porsche 718 Cayman GTS is one of the few new Porsche's that launched with a thud. Everyone wanted the classic 3.4-liter flat-six, maybe even a 3.6-liter, but instead they were served up a turbocharged 2.5-liter flat-four. To make it even worse, it sounded like a Subaru WRX. Porsche owners don't want Subaru sounds. The numbers on paper were mightily disappointing as well, given their performance in the real world was nearly identical to the 718 Cayman S. That means you paid over $12,000 more just to get the standard GTS stuff like brake-based torque vectoring, the Sport Chrono package, adaptive dampers with a lower ride height, 20-inch wheels, and sport seats that are otherwise optional on the Boxster S. In that light I suppose that was a good value? Either way, Porsche knew they screwed up so went back to the drawing board and thankfully gave us the GTS 4.0. However, that doesn't mean the flat-four versions suddenly fell off the face of the earth.
Today, we have a 2018 up for sale in New York with the great color of Sapphire Blue Metallic and just 6,200 miles. But I hope you aren't expecting a deal on this one.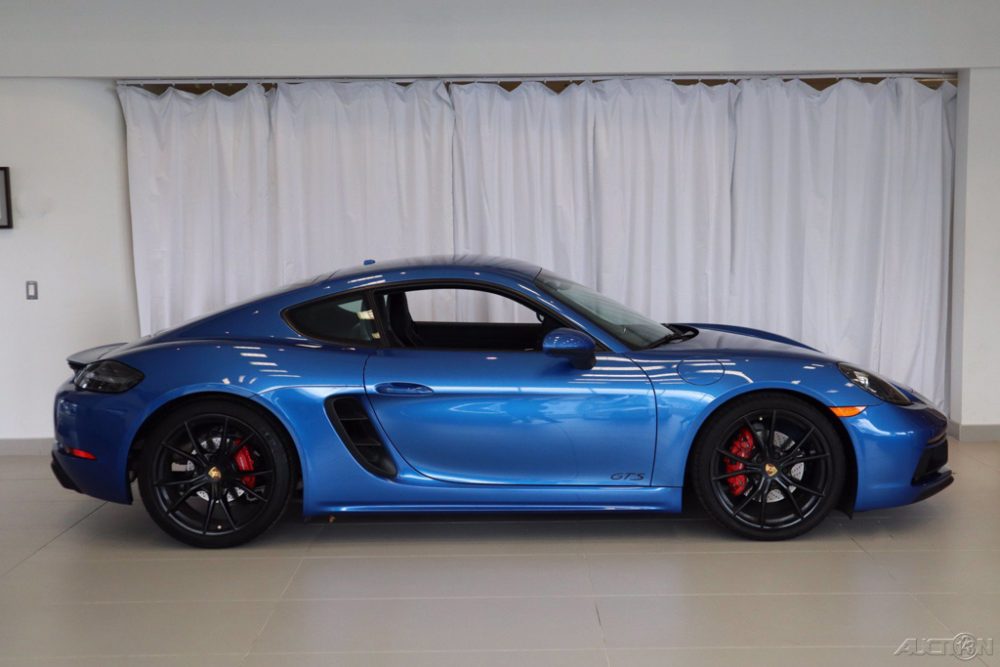 Year: 2018
Model: 718 Cayman GTS
VIN: WP0AB2A81JK279348
Engine: Turbocharged 2.5-Liter Flat-Four
Transmission: 6-speed manual
Mileage: 6,208 mi
Location: Great Neck, New York
Price: $87,895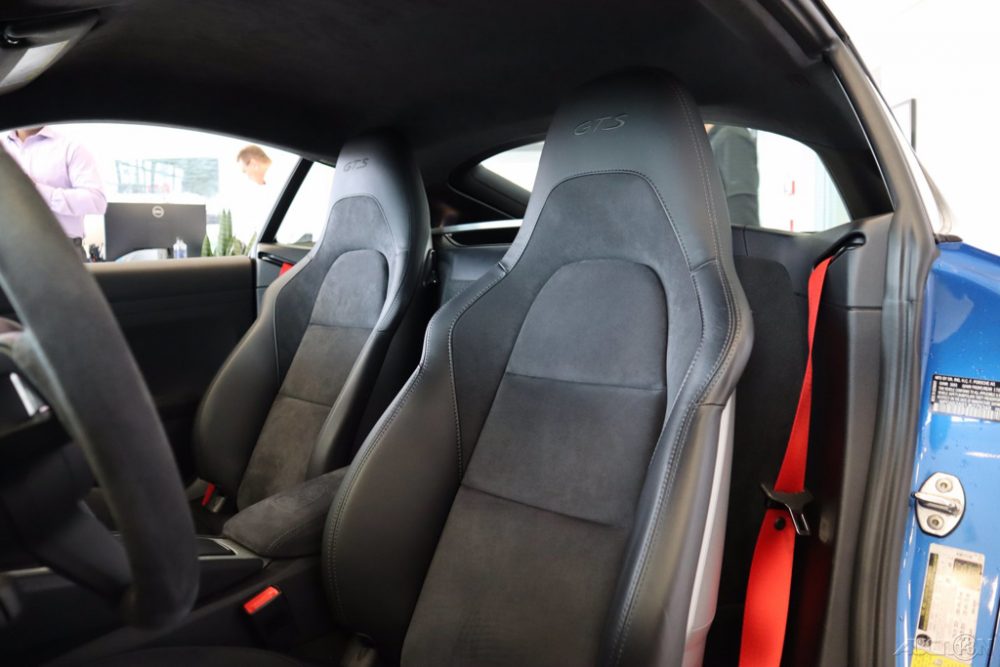 Porsche 718 Cayman S Manual

Gold Coast Maserati Alfa Romeo is proud to present this stunning Porsche 718 Cayman S. Finished in Sapphire Blue Metallic over Black Alcantara and Leather, the 718 Cayman S has barely been driven by two previous owners. Expertly maintained by authorized Porsche dealers, it is in pristine condition inside and out.

This 718 Cayman S has been equipped with:
– Manual Transmission
– PASM Sport Suspension (20 mm Lower)
– Sport Chrono Package
– Sport Chrono Dial in Guards Red
– Instrument Dials in Guards Red
– Seatbelts in Guards Red
– Bose Surround Sound System
– Seat Heating
– 2-Zone Automatic Climate Control
– Brushed Aluminum Interior Package
– Pedals and Footrest in Aluminum
– Porsche Logo in Satin Black
– Porsche Connect
– Metallic Paint
– Auto-Dimming Mirrors with Rain Sensor
– Door Sill Guard in Stainless Steel
– Storage Compartment Lid with Porsche Crest
– Fuel Cap in Aluminum Look Finish
– Luggage Net in Passenger Footwell

The Porsche Cayman S is the performance variant of the razor-sharp Cayman. More power, bigger brakes, and a more sporting suspension combine to create one of the most rewarding mid-engine sports cars ever created. Its precise handling is a perfect match for its high-revving performance engine. This Porsche does not sacrifice creature comforts as it retains all of the luxury and balanced road manners one would expect from the finest German engineers. Smile from ear to ear as you pilot this enthusiast's dream!

If you are in the market for a 718 Cayman S, please call or email us today.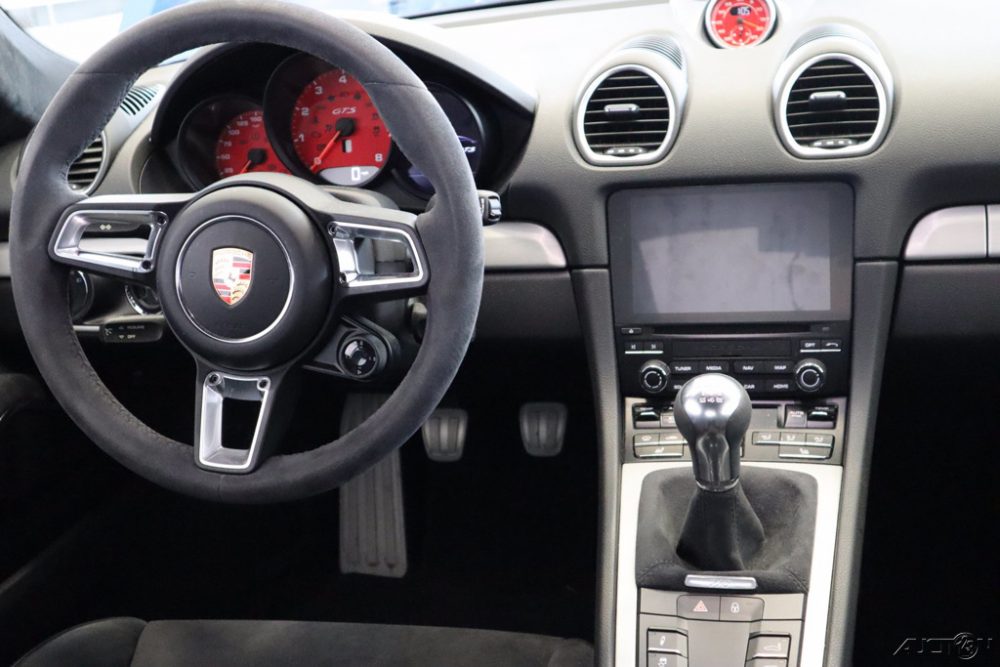 Thankfully this is six-speed car, but that is where the fun ends. The sticker price on this one was $89,620, and today we have an asking price of $87,895. Yikes. I get that Porsche GTS cars are generally in demand, but this is one of the rare exceptions that there just isn't a huge line of eager bidders for – especially when priced nearly at sticker from five years ago. Porsche screwed up so badly that they literally had to put a new engine in the car within the same generation; a very bad sign for the model we're looking at. If these were priced at $60,000? Sure. I can see maybe living with this engine, but not at $87,000, which is of course exactly where the new GTS 4.0 starts. I live in reality and know you aren't buying a GTS 4.0 for that, but that doesn't mean one should run out and buy this one. I think these will go as a black sheep in the modern Porsche world, and one day prices will reflect that. One day. Hopefully.
– Andrew