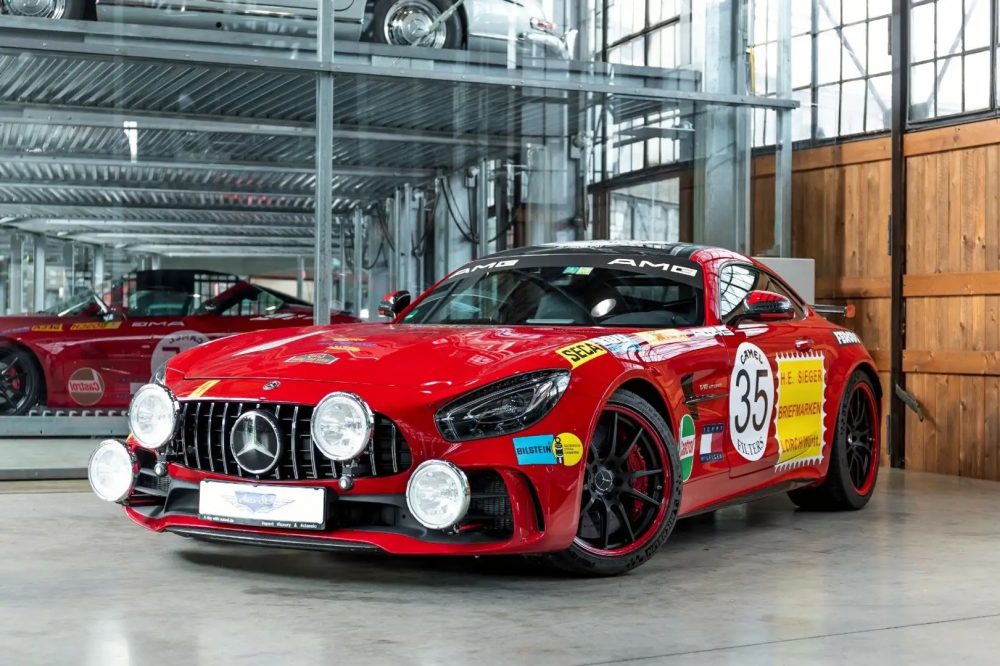 What do a Mercedes-AMG GT R, the red pig, and Ferris wheels all have in common? Let me try to explain. This 2018 AMG GT R up for sale in Düsseldorf pays tribute to the 1971 Mercedes-Benz 300 SEL 6.8 AMG that ran at the 1971 24-hour race at Spa. What does that have to do with Ferris wheels? Apparently, there were 5 of these tributes produced by design company Bussink. Who is Bussink? They are a leading designer of giant Ferris wheels and similar structures for over 25 years and produced more than 60 giant wheels. I guess they got a little bored of designing Ferris wheels are now they are doing engineering and design work on Mercedes-Benz with their blessing. Can't say I blame them. Now one of these is up for sale to the public and oh boy is it expensive. I was not prepared for this price.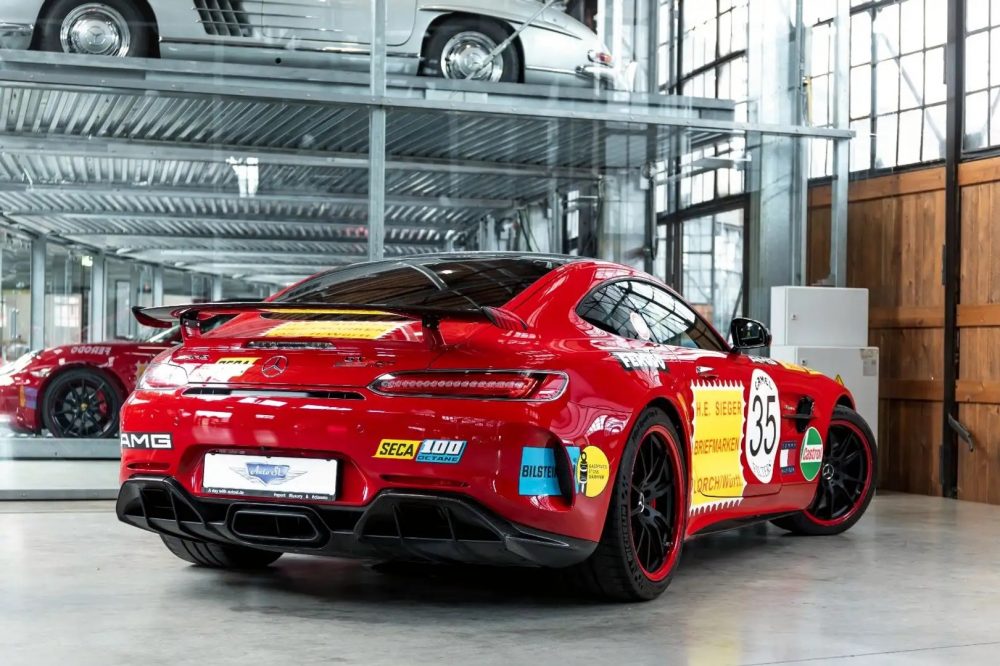 Year: 2019
Model: AMG GT R
VIN: N/A
Engine: 4.0 liter twin-turbocharged V8
Transmission: 7-speed automatic
Mileage: 6,100 km (3,790 mi)
Location: Düsseldorf, Germany
Price: €388.890 ($400,380)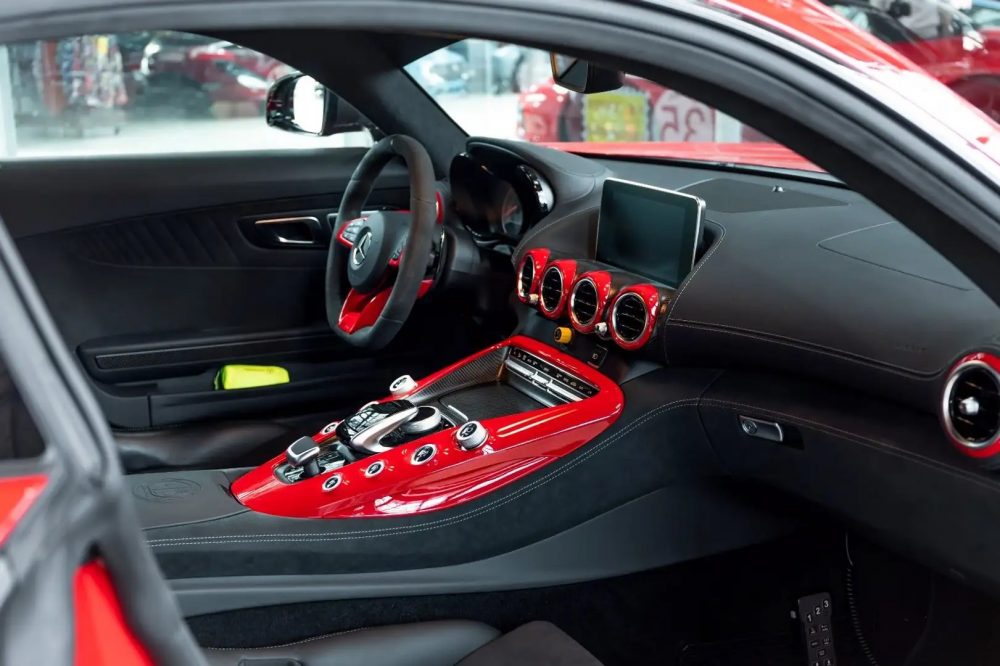 Mercedes-Benz AMG GT-R
One of five vehicles!
Safety car equipment with flashing lights and megaphone
German vehicle

When AMG entered their modified Mercedes-Benz 300SEL 6.8 at the Spa 24 Hours on July 24, 1971, no one could have foreseen the impact this car would have belonged to their company and motorsport at the time. Against all odds, the 300SEL 6.8 went on to a class win and an incredible second overall behind a works Ford Capri. 'Die Rote Sau' or 'RotSow', as the car was affectionately known, immediately became iconic and popularized AMG as a Mercedes-Benz tuning company. In 2017, Mercedes-AMG celebrated its 50th anniversary. To honor this event, the decision was made to partner with BUSSINK® to develop 5 limited edition high performance sports cars with a nod to the past. When BUSSINK® presented the unforeseen idea, to pay tribute to AMG's first officially participating race car of the Mercedes-AMG team they could only give the green light! Based on the Mercedes-AMG GT R (577 hp), the Mercedes-AMG GT RS Rote Sau was built and equipped with an amazing 840 hp and 1038 Nm of torque. The interior was carried out by AMG Performance Studio Affalterbach

Paint number:
589 (jupiter red)

Interior:
600 (upholstery leather exclusive nappa / microfibre DINAMICA)
621 (black)

Equipment:
02B USER MANUAL AND SERVICE BOOKLET-GERMAN
058 YEAR OF CHANGE 27/2
110 FUEL QUANTITY FOR SELF PICK -UP
11U PRE-EQUIPMENT FOR REMOTE ONLINE
201 AMG REAR
AXLE STEERING
220 PARK ASSISTANT PARKTRONIC
229L GERMANY
22P LANE PACKAGE
231 GARAGE DOOR OPENER
234 BLIND SPOT ASSISTANT
239 ACTIVE DISTANCE ASSISTANT DISTRONIC
244 AMG BUCKET SEATS
249 INTERIOR AND EXTERIOR MIRROR AUTOMATICALLY DIMMING
253B MB-MOBILO WITH DSB
299 Pre-Safe® System
2S1 SC for vehicle width/length above 2m/6m
2U8 refrigerant Alternatively 2xxl Federal Republic of Germany 332b Language
combination
instrument/HU
-German 351 Mercedes-Benz emergency system
360 Communication module (UMTS) for the use of Mercedes
Me Connect Services
367 LIVE TRAFFIC INFORMATION
386 CONVENIENT TELEPHONY
397 CARBOND
ROOF 3U1 HEADUNIT EUROPE/CIS COUNTRIES/MONGOLIA
429 AMG SPEEDSHIFT DCT 7G
466 AMG DYNAMIC ENGINE MOUNTS
467 AMG REAR AXLE LOCKING DIFFERENTIAL ELECTRONIC
476 LANE KEEPING ASSISTANT XLEXISTENT
479 AMG RIDE CONTROLY
SPEED+1.LOVINDY SPEED1/06ADINDY SUSPENSION 47 XL
500 external mirror electrically foldable
502 3 years free card updates
513 traffic sign assistant
531 Comand online
537 digital radio
551 burglary and theft warning system
600A padding leather exclusive nappa / microfiber dinamica
608 adaptive high-beam
assistant 61u inner sky microfiber dinamica black
632 LED performance- HEADLIGHTS
675 PRE-ASSEMBLY FOR MAINCHARGER
6P5 CONTROL CODE DISTRIBUTION FOR CODE 475 REQUIREMENT
70B HIGH-VISIBILITY VEST FOR DRIVERS
735 EXCLUSIVE TRIM PACKAGE
773 AMG CARBON PACKAGE EXTERIOR I
811 BURMESTER® HIGH-END SURROUND-SSYSTEMOUND
840 HEAT-INSULATING DARK SMOKE GLASS
877 AMBIENT LIGHTING
882 INTERIOR SECURITY
889 KEYLESS-GO
915 FUEL TANK WITH 75 LITERS VOLUME
969 COC PAPER EURO6 TECH. WITH APPROVAL CERTIFICATE. Part 2
B07 brake caliper yellow painted
B14 AMG engine cover Carbon
B25 AMG Track Package
B28 AMG Carbon Package Exterieur II
C52 AMG Indoor Car Cover
GA Gearing Automatic
H77 AMG decorative elements Carbon Matt Hinter axle
Halfs
on
the
left
Mr. KM
K31 NOISE REGULATION ACCORDING TO ECE R51-03
L6G AMG PERFORMANCE STEERING WHEEL IN DINAMICA MICROFIBRE
M016 HIGH-PERFORMANCE ENGINE
M030 GT R VERSION
M178 V8 GASOLINE ENGINE M178 – AMG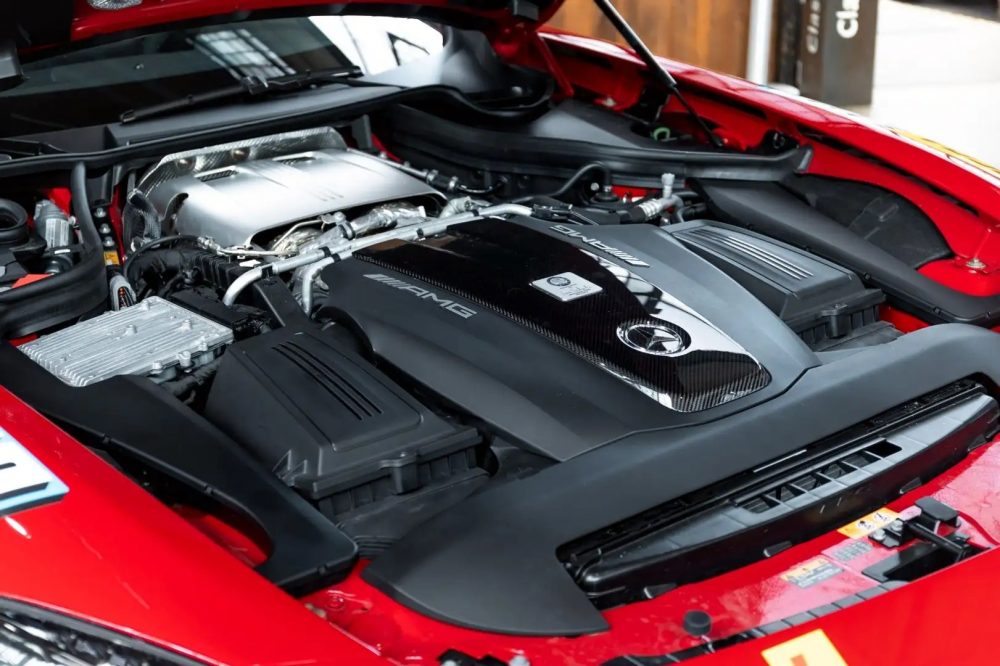 As you can see, they mimicked the livery with some stickers along with some giant driving lights that probably need covers on at all times to prevent them from shattering. Inside, all the trim was color-matched Jupiter Red which might be a little much, but I think all that is the least of your worries when looking too flashy. Now, this is where it gets interesting. Bussink claims they increased horsepower to 828 and torque to 765. That is a giant jump over the factory 577 horsepower and 516 lb-ft of torque when new. I wish they would say what it took to get those numbers because that seems like a far cry from a simple ECU tune.
As for the price. A normal 2019 AMG GT R is around $170,000 depending on mileage. This one? $400,000. Wow. I was not expecting that. I knew there would be some premium for the cool homage, but another $230,000? I think this one might sit for a little.
– Andrew